Caviar vs. DoorDash. What's the difference between these two food delivery apps?
DoorDash is a company most of you reading this have probably heard of before. It was launched in 2013 and is now the largest food delivery app in the United States in terms of market share. If you've ever ordered food delivery before, you've probably ordered food using DoorDash.
Caviar, meanwhile, is a food delivery app that was previously owned by Square. In 2019, DoorDash bought Caviar and has now fully rolled it into the DoorDash brand. While Caviar still maintains a separate Caviar app, the restaurants on both apps are the same, although Caviar avoids including fast-food places and instead sticks to more traditional and higher-end restaurants. 
In this post, we'll take a closer look at Caviar vs. DoorDash and see what the differences are between these two apps in 2023x. 
Caviar Vs. DoorDash
At the outset, it's important to remember that DoorDash owns Caviar. As a result, the differences between these two apps these days are slight. 
That being said, while DoorDash offers regular restaurant delivery, fast food delivery, and delivery from grocery stores and convenience stores, Caviar only offers regular restaurant delivery, typically from higher-end or more traditional, sit-down restaurants.
The look of both apps is the same. Since DoorDash owns Caviar, both apps look like the DoorDash app. The only difference is that if you open the Caviar app, the color scheme is orange, rather than red. But you're still using your DoorDash account to log in to the Caviar app and the buttons are exactly the same between DoorDash and Caviar. 
DoorDash and Caviar both work in the same markets. In the past, Caviar was limited to select markets – primarily large cities – but since the DoorDash and Caviar merger, Caviar is now available in any city that DoorDash operates in as well (although if you're in a city that only offers fast food options, you might not find anything on Caviar).
Delivering For Caviar Vs. DoorDash 
In the past, Caviar and DoorDash were two separate food delivery apps, with delivery drivers working for each respective app. Indeed, I started my food delivery career on Caviar way back in 2015, when Caviar was the first food delivery app to launch in my city. 
However, since DoorDash now owns Caviar, all orders on Caviar are now completed by DoorDash delivery drivers. That means if you are delivering for DoorDash, you'll receive both DoorDash and Caviar orders. You can't tell which orders are Caviar orders when you pick them up, but from a practical perspective, it doesn't really matter.
As usual, you'll want to follow all the important strategies with DoorDash to earn the most money you can.
Final Thoughts
The differences between Caviar vs. DoorDash are slight – almost non-existent at this point. DoorDash owns Caviar, so the apps look the same. Both apps also use the same delivery drivers to deliver orders, so there is no difference in the level of service you'll receive. 
From the driver's side, you can't work specifically for Caviar anymore. Instead, to sign up to deliver for Caviar, you have to sign up to deliver for DoorDash.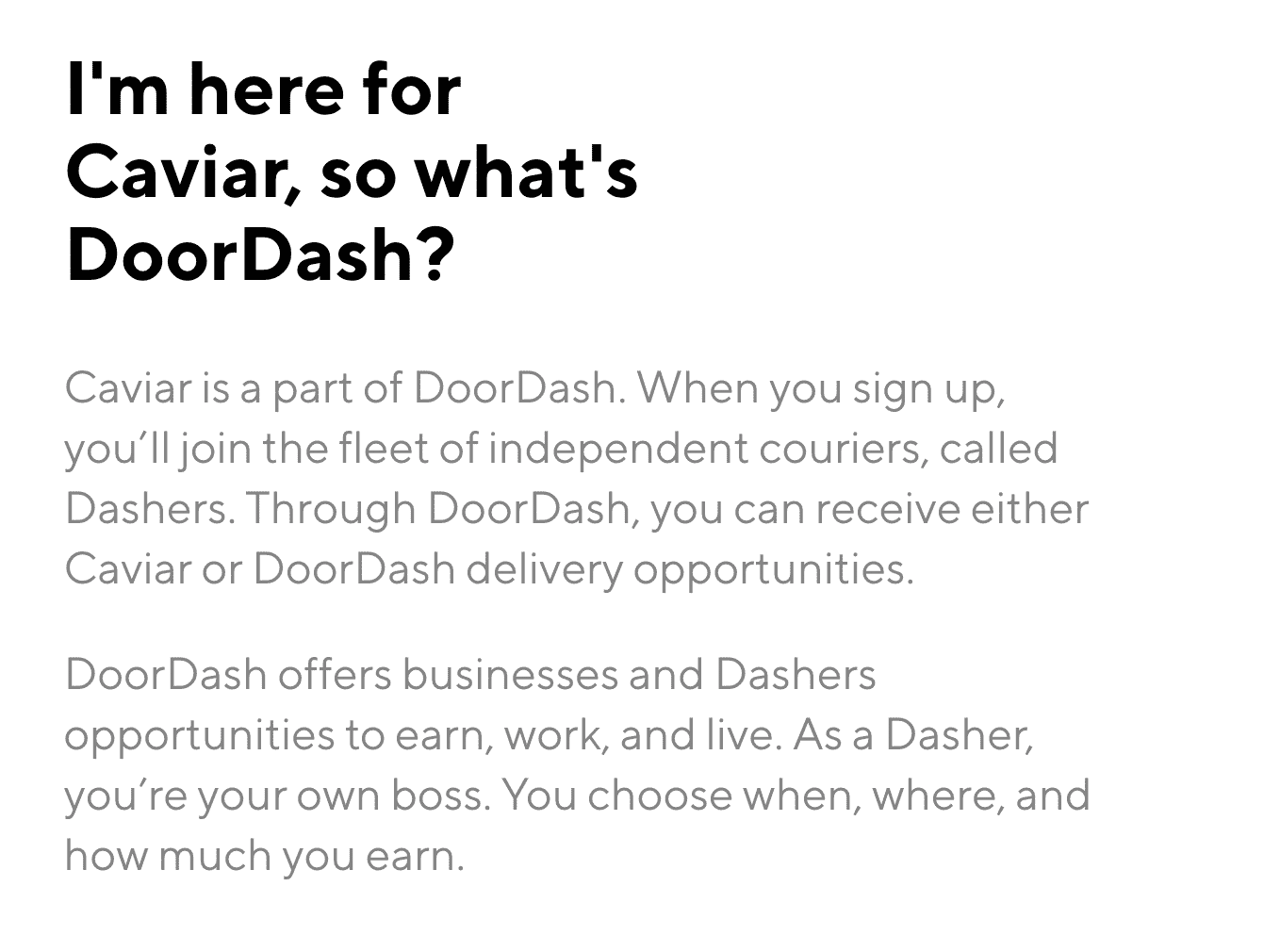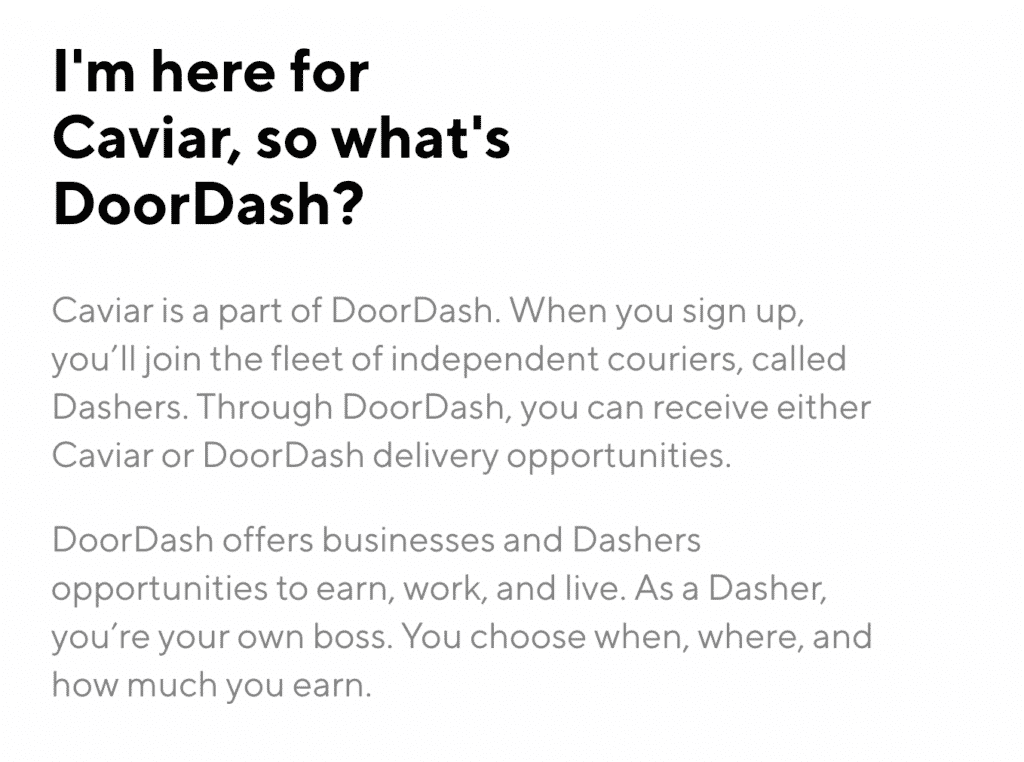 Personally, I don't really use the Caviar app anymore for anything. The restaurants are largely the same. Some people say that Caviar has restaurants that aren't on DoorDash, but I don't believe that's true anymore. From a business perspective, it doesn't make sense for DoorDash to keep exclusive restaurants on Caviar.
And as a delivery person, it doesn't matter if the customer orders with DoorDash or Caviar. It's all getting delivered in the same way.