If you're searching for DoorDash DC, you're probably checking out what restaurants you can order from in Washington DC with DoorDash. I've compiled a list of what I think are some of the top restaurants you can order delivery or pickup from in Washington DC using the DoorDash app. 
Washington DC is the capital of the United States. It's not only politics in DC. There's a vibrant local food scene too.
This post will hopefully give you some good places you can check out via the DoorDash app. 
Dumplings and Beyond
This dumpling spot in the Glover Park neighborhood serves amazing dumplings. They have both meat-based and vegetarian dumplings, so you'll probably find something you like on the menu. In addition to regular dumplings, they also have soup-based dumplings that are delicious too. Dumplings work well for delivery or pickup, so if you're looking for a good restaurant to try out on DoorDash, check this spot out. 
Address: 2400 Wisconsin Avenue Northwest
Phone: 202.338.3816
Type: Chinese Restaurant
DoorDash DC Rating: 4.8 ★
Google DC Rating: 4.4
View on DoorDash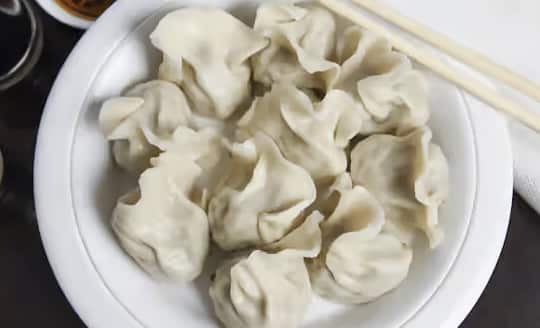 Top DoorDash DC Reviews
Shrimp dumplings were fantastic. And get the cucumber salad, it's shockingly good. -Paul
The treasure delight is the best thing on the menu. You will not regret it! -Vanessa
Both the dumplings and the beyond are fire -Thomas
Top Google DC Reviews
Took everyone's suggestions and ordered the fish and cilantro dumplings… whaou. Truly amazing. -Tess
Take out only!!! Fish and cilantro dumplings are so good!!!
-Ndia
Very tasty and authentic dumplings! As someone who spent her childhood in China, believe me when I say this restaurant sells the real deal. They also have other tasty dishes on the menu, ranging from Westernized takeout staples like kung pao chicken, to really *Chinese* Chinese dishes like red-braised pork and Szechuan spicy boiled fish. All in all, highly recommended. -Anna
Ben's Next Door
Ben's Next Door is an offshoot of the landmark restaurant, Ben's Chili Door. Located next door to Ben's Chili Bowl, they offer more upscale food options compared to the regular chili and half-smokes at the original Ben's. You'll find food like Jerk Chicken Pasta, wings, and cheesy mashed potatoes. Ben's Next Door likes to say they offer a Washingtonian take on local fare. And I'd say it's worth checking out. 
Address: 1211 U Street Northwest
Phone: 202.667.8880
Type: American Restaurant
DoorDash DC Rating: 4.3 ★
Google DC Rating: 4.2
View on DoorDash
Top DoorDash DC Reviews
The blackberry mojito and mango daiquiri were great! -Kellie
Food was so good Omge -Taylor
Top Google DC Reviews
The food was sooo good !! I got the shrimp and grits, along with the bread pudding for dessert. Very flavorful, the vibe was amazing. Our waiter Kash was very entertaining, attentive and funny. BEST waiter EVER. 10/10 I recommend!! -Makeda
Omg what more can I say food , service & staff are excellent. PRESLEY & from the moment you walk in I felt welcomed. Blackened shrimp pasta so delicious everything just check them out!!! -Deirdre
Food was absolutely delicious for Saturday brunch! I enjoyed unlimited mimosas with chicken and waffles with 5 other people. Waitress and the rest of the team was nice and helpful. Will definitely return. -Shanel
Busboys and Poets
Busboys and Poets is a DC institution, with locations throughout the city. It's a restaurant, bar, coffee shop, and bookshop all in one. If you can't make it there in person though, order some food from Busboys and Poets with DoorDash. You'll find great sandwiches, paninis, soups, salads, and more.
Address: 2021 14th Street Northwest
Phone: 202.387.7638
Type: American Restaurant
DoorDash DC Rating: 4.6 ★
Google DC Rating: 4.5
View on DoorDash
Top DoorDash DC Reviews
One of the best places in D.C., especially for Vegan/Gluten Friendly options! -Caroline
Shrimp & Chicken Chorizo pasta was the stand out! -Nina
I never leave reviews but….DE-LI-CIOUS! Wow! Fresh, light, flavorful and filling. I added blackened chicken and corn to my dish. The chicken was good and juicy. Great portion. I will be ordering again! -Ashlee
Top Google DC Reviews
Best shrimp and grits out there! Wait time to eat was a little lengthy. Great atmosphere -Sheila
Very lively spot. Great service. Was there during an event and the place was awesome. Definitely try their mojitos. -Erick
Got brunch here and their portions are huge! Loved the cappuccino and great service. The grilled chicken pannini was delicious and well prepared. Definitely coming back here -Simran
Federalist Pig
If you're in the mood for BBQ, Federalist Pig is a great option. It's a two-time Michelin Bib Gourmand winner, serving up some of the best BBQ in Washington DC. Everything is made in-house and delicious. As a side note, it's also owned by a guy I went to high school with. 
Address: 1654 Columbia Road Northwest
Phone: 202.827.4400
Type: Barbecue Restaurant
DoorDash DC Rating: 4.6 ★
Google DC Rating: 4.7
View on DoorDash
Top DoorDash DC Reviews
The pitmaster special for 2 was a great deal and really delicious! -Adlena
The fries and sprouts are must have sides! -Matthew
Best food I've had in DC. Pitmaster special was A1 -Bryant
Top Google DC Reviews
Food was incredible, guys who work there are awesome, highly recommended this place -Patrick
We were visiting from Virginia and South Carolina for the weekend and gave these folks a try. Great staff and absolutely delicious, juicy barbecue with very tasty sides. Had the spare rib ends and pork belly with mac and cheese, potato salad, and fries. -Glenn
Stopped in for lunch after the zoo. Had sandwiches, Mac and cheese, coleslaw, French fries, and Brussels. All was amazing and delicious. Tried 4/5 of their sauces which were also amazing. Eat here, it's fantastic.
-Rosanne
District Doughnut
Are you in the mood for donuts? If you are, District Dougnut is a place you should definitely check out. You'll find all sorts of mouth-watering doughnuts here. Get them for breakfast or as a snack during the day. 
Address: 5 Market Square Southwest
Phone: 202.836.4222
Type: Doughnut Shop
DoorDash DC Rating: 4.8 ★
Google DC Rating: 4.4
View on DoorDash
Top DoorDash DC Reviews
I love District Doughnut. Way too much, actually… lol I get the assorted half dozen all the time -Lucyna
Chocolate creme brûlée and sufganiyah are especially goid -Suzette
LOVE The Surprise box!!!! The team put together an amazing and scrumptious selection!! Thank you District Doughnuts! -Ann
Top Google DC Reviews
They have some cool flavors. -Dan
I'm not a doughnut person, but I know a good product when I see it. I went in to get doughnuts for my coworkers and the staff was super friendly and helpful. Also the doughnuts were a huge hit in the office. If you like doughnuts, stop here. Do it! Do it now! -Jessica
The donuts were lovely! Great place. A tad on the expensive side, and I only say that because I've had donuts with similar flavors for less. I would still highly recommend this place! -Alex
Founding Farmers DC
Founding Farmers serves great food. You'll find eggs and coffee during the breakfast hours, and delicious burgers and sandwiches during the lunch and dinner hours. Founding Farmers is unique among restaurants because it's farmer-owned. They also have an emphasis on sustainable restaurants. It's a restaurant with great food that you can also feel good about supporting too.
Address: 1924 Pennsylvania Avenue Northwest
Phone: 202.394.3010
Type: American Restaurant
DoorDash DC Rating: 4.5 ★
Google DC Rating: 4.4
View on DoorDash
Top DoorDash DC Reviews
The Reuben Melt is INCREDIBLE -Conor
Love founding farmers! Can't go wrong here. -Maggie
Glazed cedar plank salmon is always wonderful. The apple pie is one of the best I've ever had. -Joan
Top Google DC Reviews
Fantastic spot to grab some delicious food and a good drink. Stopped in on a wh while walking around town and was promptly seated without a reservation. The service was great, food was good, and prices were reasonable. Definitely recommend! -Brandon
Very nice place for its brunch! Recommend its French toasts with fruits and the hash browns. We waited for about an hour but worth it! -Wei
One of the best restaurant to go to in DC. I decided to stop by here based on other peoples recommendations and was just as good as everyone says. I ordered the skillet cornbread to start and it was a big portion and tasted really good. For the entree I ordered the butternut squash mascarpone ravioli and it was absolutely delicious. The made from scratch pasta was fantastic. The butternut squash was really good. Staff was friendly and fast. Would recommend stopping by here if you want to have a delicious meal. -Alok
Bua Thai Cuisine
Bua Thai is a Thai restaurant located in Dupont Circle. It's a popular delivery option, offering great Thai meals like Pad Thai, Thai curry, and other options. It's a very small restaurant, so ordering takeout or delivery is usually the best option to get your Thai craving satisfied. 
Address: 1635 P Street Northwest
Phone: 202.265.0828
Type: Thai, Noodles
DoorDash DC Rating: 4.8 ★
Google DC Rating: 4.2
View on DoorDash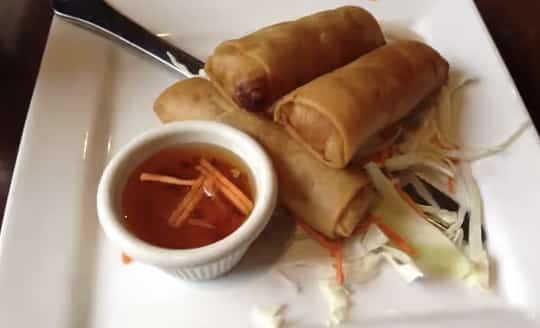 Top DoorDash DC Reviews
Very delicious -Shirin
Best Thai food in DC! Egg rolls are amazing (the sauce omg). Curries are amazing. Drunken noodles are amazing. -Kaylon
Best Thai in D.C.! Kapow and spring rolls never disappoint! -Christopher
Top Google DC Reviews
Best Pad Woon Sen in DC! I used to go to Bua all the time when I lived in Dupont! -Frank
Our go-to place for a casual Thai dinner. Happy hour drinks are strong. Food is great. It's our friendly, neighborhood Thai diner — great food minus the frills. -Harry
The food was amazing. The prices are fairly high but the food was worth it I had the Gang Pad Yang and the duck was so soft the source was amazing. -AlSidre
We, The Pizza
A delicious option for pizza in Washington DC is We, The Pizza. You'll find pizza here made with great dough, fresh sauce and herbs, and mozzarella cheese made from farm-fresh organic milk and hand-spun in-house. There's a big emphasis on pizzas made with local ingredients. In addition to pizza, you can also order house-made Italian sodas. Order a slice or two – or get a whole pie.
Address: 305 Pennsylvania Avenue Southeast
Phone: 202.544.4008
Type: Pizza
DoorDash DC Rating: 4.7 ★
Google DC Rating: 4.4
View on DoorDash
Top DoorDash DC Reviews
Absolutely amazing, came fresh and warm. I ordered 25 garlic twists and Mexican cinnamon twists ! -Mars
The Farmer's Market salad is always fresh and well prepared! And of course, the pizza is the best in DC. -Gwendolyn
We, The Pizza! YES you are!!!! First time, tried a sample of slices! Worth every penny!!! We, will be ordering again! -Shelly
Top Google DC Reviews
Great pizza, decent prices, can't go wrong with this choice, highly recommend -Javier
Great pizza in DC. Pizza by the slice or whole pie with great toppings and vegetarian options. A must if you are craving pizza while in DC. -Dave
Great food! I love the white pizza. The Buffalo chicken was also good. I had a strawberry lemonade soda, which was delicious. Great food and great service! -Beth
Zaytinya
Zaytinya is a great option for Mediterranean food in the DC area. You'll find great falafel or chicken pitas here, delicious flatbreads, and great hummus and cheese spreads. If you're in the mood for Turkish, Greek, and Lebanese cuisine, this is the spot you should check out.
Address: 701 9th Street Northwest
Phone: 202.638.0800
Type: Mediterranean Restaurant
DoorDash DC Rating: 4.8 ★
Google DC Rating: 4.5
View on DoorDash
Top DoorDash DC Reviews
The soup was great, the cauliflower was delicious and the brussels were fantastic! No complaints at all!! -Kelsie
Greek yogurt with apricots is to die for! I always get two and eat one the next day. -Gayle
The crispy Brussels Amelia are out of this world! -Taylor
Top Google DC Reviews
Hard to beat for delicious food, impeccable service, and a great environment -Miguel
Incredible food. Ordered several small plates to share and each one was delicious.
-Jeff
Zaytinya is a solid, reasonably priced restaurant to get some fabulous Mediterranean fare. The kebabs are delicious and the various vegetable small plates are all excellent. Our favorites were the mushrooms, cauliflower, and kebabs. -Fred
Duke's Grocery
Duke's Grocery is a neighborhood pub and supper spot, with locations in Dupont Circle, Foggy Bottom, and Woodley Park. The owners liken their restaurants to the corner cafes and bodegas of East London. You'll find great, scratch-made sandwiches, curries, and salads, all sourced locally with sustainable ingredients. With a few locations throughout DC, you'll probably find one near you that will deliver. 
Address: 1513 17th Street Northwest
Phone: 202.733.5623
Type: Pub & Restaurant
DoorDash DC Rating: 4.8 ★
Google DC Rating: 4.5
View on DoorDash
Top DoorDash DC Reviews
The proper English breakfast is an incredible meal/hangover cure! -Christopher
Love Dukes every time we order -Autumn
Top Google DC Reviews
A regular go-to for burgers and futbol matches on the telly! Happy hour from 12-7, unmatched! -Kelly
Sat outside on the patio which was a cozy environment with the heat lamps on. Split the Wagyu burger and the brisket— both were delicious! Highly recommend. Staff was friendly and service was quick. -Jessica
I had the proper burger. The flavors of each ingredient melded perfectly, with nothing needing to be added or taken away. I will be very happy to revisit Dukes on future visits to DC. -Zoe
Final Thoughts 
Washington DC has a thriving food scene, with more options than I can possibly include in a single post. If you're in DC and looking for some great food delivery options you can order with DoorDash, this post should give you a good starting point.