At the beginning of this year, my wife and I officially hit the housing market. We've had our current house for 10 years and with a growing family and a bigger income, we thought it was finally time to allow ourselves to upgrade our lifestyle. The home buying process isn't something I'm very familiar with, however, so I went out looking for guidance. As luck would have it, I found a book that recently came out that was perfect for me. It's called First-Time Home Buyer: The Complete Playbook to Avoiding Rookie Mistakes.
The book is written by Mindy Jensen and Scott Trench over at Bigger Pockets. If you've never heard of Bigger Pockets, it's one of the leading real estate investing websites and podcasts out there. They also have a huge library of books they've published to help real estate investors. And fun fact, I was actually a guest on episode 107 of the Bigger Pockets Money podcast.
Mindy and Scott are two people I trust when it comes to real estate. So, when I found their book, I reached out to Mindy and she was kind enough to send me a copy.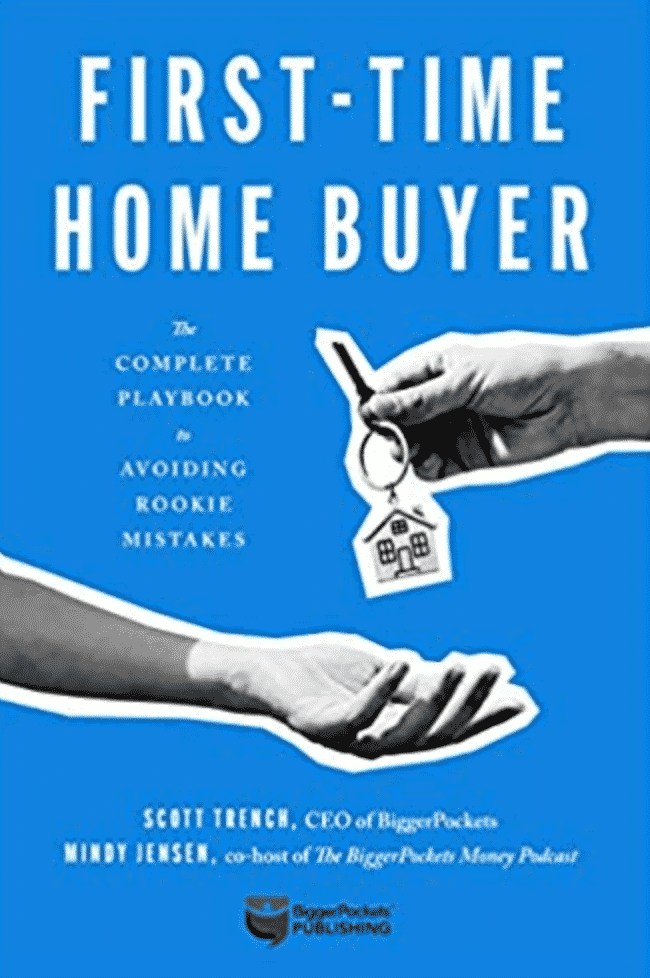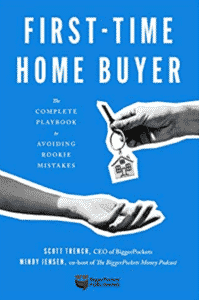 At the outset, this isn't a book directly aimed at real estate investors. If you're looking for a book geared more towards real estate investing, Bigger Pockets has a lot of books better suited for that. Instead, this is a book aimed towards the vast majority of people simply looking to purchase a primary residence. 
The short of it is that this is an excellent book that will help guide first-time home buyers and anyone else who is looking to purchase a home and wants to make sure they're doing things in a smart way.   
How First Time Home Buyer Is Organized 
First-Time Home Buyer is organized into three parts with 13 chapters. Here's how the book is laid out:  
Part 1: Home Buying Strategy

Is buying a house a good investment?
Understanding exit options
How to take control of appreciation
Analyzing rental opportunities
Part 2: Before You Buy

Preparing to purchase
Your loan
Choosing the best lender
Hiring the right agent
Part 3: Buying A House

Listings, viewings, and starting your search
Making an offer
The home inspection
Under contract
After you close
In part one, Mindy and Scott guide you through a basic home buying strategy. They teach you how to think about a home purchase and where you should be financially before you purchase a home. Importantly, the book also teaches you to think about what you'll do with your home after you're done with it. Too often, people buy their houses without thinking about what will happen later. Will you rent or sell your home? How can you make your home more valuable? Is your home one that could make a good rental property? All of this is addressed in this section of the book. 
Part two gets into the things you need to think about before you actually get into your house hunt. The authors walk you through how a mortgage works, how to go about picking a lender, and how to find the right real estate agent to help you with your home purchase (hint – it's not about finding a random agent on a bus stop). 
Finally, in part three, Mindy and Scott go through the actual home-buying process. They give you advice on how to narrow your home search, how to make an offer in a smart way, and all the things that go into the home buying process after your offer is accepted (i.e. the inspection, closing, etc).
Overall, this book is very well organized and easy to read. The book flows logically and is a good reference for anyone looking to buy their first home. One very helpful thing is at the end of each chapter, the authors give you a chapter summary which gives you the key points from each chapter. This makes it easy to jump back to each chapter if you're looking for a quick reference. 
Key Takeaways From First Time Home Buyer 
There's a lot in this book to cover – far more than I can cover in a blog post. That said, here are my key takeaways from First Time Home Buyer.
Be Realistic In Your Home Search. When my wife and I started our house search, we really didn't know what the market was like. First Time Home Buyer teaches you to do some research before you buy your house and define the house you want. A great strategy that the book recommends is to search for homes in the area you want that have sold within the last 6 months. This will give you an idea of what a house with your criteria will realistically cost and give you a sense of what is a good deal and what isn't. 
Don't Give Yourself False Timelines. You want to buy your home from a position of strength. The mistake a lot of us make is we buy our homes on short timelines that we give ourselves. Maybe our lease is ending soon. Or we have a baby on the way. If you go into home buying with a short timeline, you're asking for trouble. Instead, give yourself a reasonably long timeline. You'll make better decisions and get better deals this way.
Think About Exit Options. Perhaps the biggest takeaway I got from First Time Home Buyer is to think about what you'll do with your house in the future. With any house, you basically have three options after you buy it: (1) live in the house forever; (2) turn it into a rental property; or (3) sell it for a profit. Most people approach a house thinking they'll live in it forever. In my experience, this doesn't happen often – I think it's rare for anyone to buy a house once and live in it forever. Looking back at my own childhood, my family lived in three different houses. That means, in the first 18 years of my life, my family moved, on average, every 6 years.
Given this, we need to think about what we'll do if we don't live in our house forever. Turning your home into a rental property is an easy way to get your foot into real estate investing. But if you want to do this, you need to buy a home where the numbers make sense. You can also sell your home for a profit. But profit isn't guaranteed either – you need to plan.
Prepare Calmly To Act Aggressively. This is one of my favorite lines in the book. In essence, preparing calmly to act aggressively means you've already taken care of everything else. You have a reasonably long purchase timeline. Your finances are in order. You know what type of home you're looking for and what numbers make it a good deal. When the time comes, you'll be ready to pounce!
Final Thoughts
After six months of searching and countless rejected offers, my wife and I finally had an offer accepted. We're excited about it. And this book ended up being an invaluable resource while we went through the home buying process. 
If you're looking for a more advanced book about real estate investing, this probably isn't the book for you. But if you're looking for a simple, straightforward book that will teach you how buying a home works and how you should go about doing it, then First Time Home Buyer is an excellent book that should be on your shelf. 
Remember, a house is most people's largest asset. And it's likely the most expensive thing any of us will ever buy. You don't necessarily need to be an expert in everything when you buy your house, but you should take the time to at least learn something before you buy your house. Spending $12 on a book like this is going to be well worth the investment.
If you're interested, you can purchase the book on Amazon.