One of the best ways to get into real estate is to start house hacking – that is, using the house you already live in to generate income. Since housing is likely going to be your biggest monthly expense, if you can figure out ways to reduce those costs, you can dramatically increase your ability to save and speed up your path towards financial independence.
House hacking can come in many forms, but the traditional view of house hacking says that you should get a multi-unit property (a duplex, triplex, or something similar), live in one unit, then rent out the other units. If you do this right, the income you generate from your other units should be enough to cover some or all of your monthly housing expenses.
However, there are a lot of ways to get into house hacking besides getting a duplex, and perhaps the easiest way to get started is to just take advantage of the extra space you already have in your house. For the past three years, my wife and I have done exactly that by renting out a spare room in our house on Airbnb. It's worked out well and has substantially reduced our monthly housing expenses. (Read more about why we rent out our guest room on Airbnb here).
In today's post, I want to go over some of the numbers from this latest year of Airbnb hosting to help you understand just how valuable Airbnb hosting can be for you. 
Our Airbnb House Hacking Setup 
Before jumping into the numbers, I think it might be helpful to go over our particular Airbnb set up so you can get a sense of how things work on our end.
My wife and I live in a four-bedroom house near a large, flagship state university. As an income producing property, this comes with a lot of advantages, namely that a large university creates a ton of demand for housing. 
Since it's just my wife and me living in our house (along with our dog), we have a lot of space that would otherwise go unused. Below is a general floorplan of our second floor so you can get an idea of our current living situation: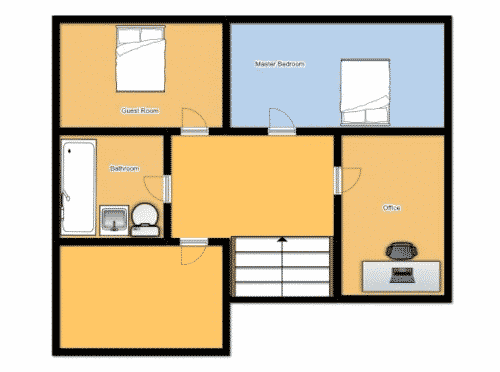 The blue room in the above floorplan is our master bedroom. The room directly to the left of our room is the guest room that we have listed up on Airbnb. The other two rooms are a kid's room for when our niece visits us and an office, neither of which are listed on Airbnb. 
We have our home listed up on Airbnb in two ways: 
A private room listing where the guest rents out the guest room and stays in the house with us. 
A whole house listing where the guest rents our entire house and we move out while they are there. 
Our primary listing – and the one that we've been doing since 2016 – is the Airbnb guest room. This room has a queen bed and can fit two people. Since we're near the University, our guests are primarily students coming into town for interviews or conferences. You'll note that we only have 1 bathroom on this floor, which means that we technically share the bathroom with our Airbnb guests. This actually isn't too problematic for us since we also have a full bathroom in our basement that we can use when guests are around.
Our second listing is the whole house listing that we listed up at the beginning of 2018. We've set this up to be a two-night minimum stay and it's only available on weekends. The way we make this work is that if someone books our house, we just clean up our house, put our valuables into a storage room in our basement, and then either stay with family or go on a trip somewhere. 
After years of doing this, our Airbnb runs pretty smoothly now. We have a house manual that I set up using Hostfully, which contains all of the important info for guests to know. Messages are automated with Aviva IQ. And I've got dynamic, automated pricing set up with Beyond Pricing. My friend also recently got a Roomba and has been raving about it, and I think I'm going to get one of those soon since I feel like they could really reduce my vacuuming time. 
The Numbers 
With that background out of the way, let's get into the numbers. Below is a screenshot of my 2018 Airbnb earnings (courtesy of my Airbnb dashboard). 
You'll see two rows in the above chart. The first row shows the earnings from our whole house Airbnb listing. The second row shows the earnings from renting out our guest room on Airbnb. As you can see, we ended up making over $13,000 from Airbnb in 2018. In previous years, we'd made between $6,000 and $9,000. As you can guess, the increase in Airbnb earnings this year came about because we started renting out our whole house as well.
Total earnings for the whole house listing came out to $4,815.08 with 10 total nights booked. This comes out to an average nightly rate of $481.50. However, there is a big caveat here, as two of those nights were booked during the 2018 Super Bowl. We ended up making $2,500 for that two-night Super Bowl stay, which is obviously a unique situation that isn't regularly repeatable. Although, it might be more repeatable than you think since almost every major city has big events each year that you can take advantage of. Still, if you take out the $2,500 Super Bowl weekend booking, we're looking at an average whole house rental rate of closer to $289 per night.  Still very good, and just two nights is enough to cover a significant chunk of our mortgage.
Our guest room is our primary Airbnb listing, and we ended up with 176 nights booked in 2018. The room itself brought in $8,870.31 over those 176 nights or an average nightly rate of $50.39. Again, this is pretty significant income, especially when you consider that our guest room would otherwise sit unused.
As a note, you'll notice that Airbnb charges a service fee. This is a 3% fee that Airbnb charges to the host that essentially covers the credit card transaction costs. It's a fee that's pretty much unavoidable, even if you were to run your own short-term rental business outside of Airbnb.
Cost Benefits of House Hacking With Airbnb 
What's big about Airbnb isn't just the income we generate – it's about what that income means when it comes to our housing expenses.
Our mortgage payment, which includes principal, interest, taxes, and insurance, comes out to approximately $1,300 per month, or about $15,600 per year. This payment can vary slightly based on changes to our property taxes and insurance costs, but generally, our mortgage payment fits in around those numbers.
Breaking it down a little bit more: 
2018 Housing Expenses: $15,600 
2018 Airbnb Income: $13,685.39
What this means is that house hacking with Airbnb covered about 87% of our 2018 housing expenses. Obviously, we have to take money out of our Airbnb income for taxes, but the point is still there that Airbnb is a fairly accessible way to reduce or subsidize your housing costs. Indeed, our spare room alone, which takes us very little work to maintain, and importantly, would sit unused otherwise, brought in enough to cover 56% of our yearly housing expenses.
Things get really interesting when you break down the nightly rate compared to what a traditional roommate would bring in. The market rent for a full-time roommate in our house would be about $600 per month or an average nightly rate of $19.72. Our average nightly rate on Airbnb hovers around $50, so, by renting out the room on Airbnb, we're increasing daily revenue by about 2.5 times. I've found that it usually only takes me between 10 and 14 days to earn the same amount as I would from a full-time roommate. And we get the added benefit of less wear and tear on our house since an Airbnb guest is in our house for much shorter periods of time compared to a traditional roommate. 
In terms of expenses, the beauty of house hacking with Airbnb is that a lot of your expenses are pretty minimal. We already spend money on heating our house. I suppose more water and electricity gets used, although I don't think it's significant enough to really make a difference. 
Takeaways from My Airbnb Experience
A Low-Risk Introduction To Real Estate. Unlike getting a duplex or other multi-unit property, renting out a guest room or your entire house on Airbnb doesn't really require you to do anything special. You might already own a house already, and this is just an easy way to take advantage of the things you already own. The worst-case scenario is you find out that Airbnb isn't for you, and then you're just living in your house like you were before. 
Better Than A Roommate. A lot of people think renting out a room on Airbnb is the same thing as having a roommate, but the truth is, it's completely different. An Airbnb guest comes into your house as a guest, which is a totally different mindset then coming into a house as a roommate. I barely notice most of my Airbnb guests – they're just there to sleep and shower, and the rest of the time, they're out and about. And if you get someone you don't really like, they're gone in a day or two, unlike a roommate who's probably going to be stuck with you for a year. My friend The Mastermind Within is a house hacker himself that goes with the traditional roommate route, but I keep trying to convince him to go with Airbnb. He's got the perfect setup for a great Airbnb listing.
The Ability To Turn Your Primary Residence Into An Income Producing Property.  For most people, your primary residence is really more like a consumption item, rather than an investment. After all, the house that you live in doesn't generate any income (and indeed, costs you money to live there). But by using the extra space in your house, it's possible to monetize your home and make it act more like an income producing asset.
A Big Impact On Your Financial Independence Journey. Even small amounts can mean a lot on your journey to financial independence. Under the frequently mentioned 4% rule, you can typically pull 4% of your portfolio indefinitely to fund without running out of money. So, if you wanted to generate $5,000 of income each year, you'd need to have $125,000 in your portfolio. But this rule also works in reverse – if you can make $5,000 per year from Airbnb, you'd need $125,000 less in your portfolio. Generating $5,000 from Airbnb in a year is something that I think a lot of people could do.
I hope this post was helpful to you. Take what works with my situation and consider using it for your situation. If you feel like supporting this blog, you can sign up to be an Airbnb host with this link. Feel free to hit me up if you have any questions.