Welcome to this month's side hustle report!  If you've been following along, each month, I document what I made using various sharing economy and gig economy apps.  It's pretty great to have a little bit of extra income coming in each month for things that I'm basically already doing.
I primarily have four sources of side hustle income:
Side Hustle Income for January 2017
I calculate side hustle income based on the payout date.  Accordingly, if I perform a side hustle in December, but get paid for it in January, I count January as the date the income was earned.
For January, my side hustle income was as follows:
Airbnb:  $395
DogVacay/Rover: $127.50
Postmates/DoorDash/Uber Eats: $153.36
Selling Trash Finds: $105
Jobspotter: $25.98
Total Side Hustle Income for January 2017 = $806.84
The side hustle income continues to stay steady as we go through the winter months, although it's a pretty big drop from what I saw in the warmer months.    This is pretty expected, though.  Deliveries naturally decline in the winter since I'm not really biking around as much when it's cold.  And Airbnb income decreases in the winter months since not too many people are coming to Minnesota in the winter.
You might notice a new side hustle source this month.  I recently found an app called Jobspotter and have been having a blast trying it out.  Basically, you get paid by taking pictures of hiring signs outside of businesses.
While the side hustle income isn't enough to live off of, I'm still pretty happy with what I've been bringing in.  I don't rely on any of this side hustle income, so any amount I earn beyond my day job is basically icing on the cake.  The great thing is, when you don't need the income, you can have a lot of fun trying things out.  There's not a lot of pressure to make money.  Plus, my startup costs for all of these gigs are basically zero.
Here's a more detailed breakdown of how I earned my side hustle money this month:
Airbnb Income: $395
Airbnb income continues to be pretty low compared to what I brought in during the summer months. It's sort of expected that Airbnb demand would dip during the winter.  There aren't a ton of people itching to come to Minnesota in the dead of winter!
Even with the chilly weather, we still had a decent number of people come into town.  As in past months, most of our guests were students who were coming to town for interviews.  I always love these type of guests because they're super considerate, are easy to talk to, and basically only come to my house to sleep.
An upside of the lower demand is that we've had the house completely to ourselves a little bit more often.  I have to admit, it's been pretty nice to have the open space on our calendar and I suspect that we may host a little less often this year.
Related: Making Money With Airbnb: Why I Rent Out Our Guest Room
DogVacay and Rover Income: $127.50
We've been dog sitting now since 2015 and I've noticed that the beginning of each year is always pretty slow.  A lot of people probably aren't going on vacation to start off the year.
We only ended up watching one dog this past month – a younger pup belonging to a couple that lives not too far from us. The pup was a fine pup, but since she was younger, she was a bit more energetic compared to what we usually like.  In a rare moment, we managed to capture the pups cuddling up on the couch together: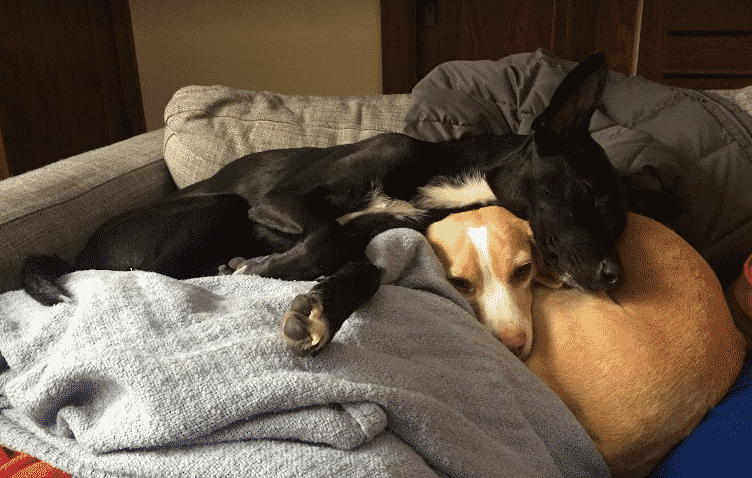 My goal each year is to bring in around $2,000 from dog sitting.  I'm not quite sure if I'll reach it this year, but I guess we'll see. My listing on Rover basically gets no action these days, while my DogVacay listing is staying fairly consistent.
For whatever reason, my Rover listing keeps falling down in the page ranks.  I really don't understand how their search algorithm works because it seems to push sitters who have no reviews towards the top.  Rover also appears to be way more saturated with sitters.  If you don't end up on the first page, it just makes it much harder to get bookings.  That's why, if you're interested in trying out your hand at dog sitting, you should put your listing up on both platforms.
If you're interested in trying out dog sitting, consider signing up to be a Rover sitter using my referral link here.  If you host a pup within 90 days of signing up, I get a small bonus!  DogVacay doesn't offer a referral bonus, but you should also set up a profile there too.  It doesn't take any more work to have your profile up on both platforms.
Related: How I Make Over $2000 Per Year On DogVacay and Rover
Postmates/DoorDash/Uber Eats Income: $153.36
I only did a handful of deliveries this month due to cold weather, but surprisingly, the bike delivery income stayed high. The reason for this can be traced back to a referral promotion I signed up for several months ago.  Back in November, I found out Uber Eats had opened up in my city and I signed up to be a bike messenger for it using a referral link I found online.  I then promptly forgot that I had done that.
Fun Fact: the Uber people told me that I was the first person to sign up to be a bike messenger in my city.  People are missing out on the possibility of getting paid to bike!
Two months later, I decided to pick up a random order on my way home from work.  Once completed, I got a ping on my phone notifying me that I had earned a $100 bonus for completing 10 deliveries. Score!  And a nice little bonus that I had completely forgotten about.

I'm all about taking advantage of those referral bonuses while they're there, so you can probably guess what happened next.  I signed Ms. FP up using my referral link.  The plan is to have her do 10 deliveries whenever she gets the chance.  Since it doesn't appear that there's any specific time limit in which the ten deliveries need to be done, we can pretty much take our time.  If successful, we're looking at $200 for me (my bonus for referring her) and $100 for her.  That's good for a $300 payday for just 10 deliveries, which honestly, shouldn't take us more than a few hours to do.
If you're interested in taking advantage of this pretty easy referral bonus, you should sign up to do 10 deliveries on Uber Eats using my link here.  Uber Eats isn't available in every market, so if you're considering it, double check to make sure that it's available where you live.
Related: My Postmates Side Hustle: How I Get Paid To Bike Around Town
Trash Income: $105
January was another pretty good trash income month.  The big money sale was a dining room table we found back in August.  I actually had this listed up for $80 originally but didn't get many bites on it.  I ended up lowering the price down to $50 this month in order to get it moving.  That must've been the market price for it because it sold pretty much right away after that.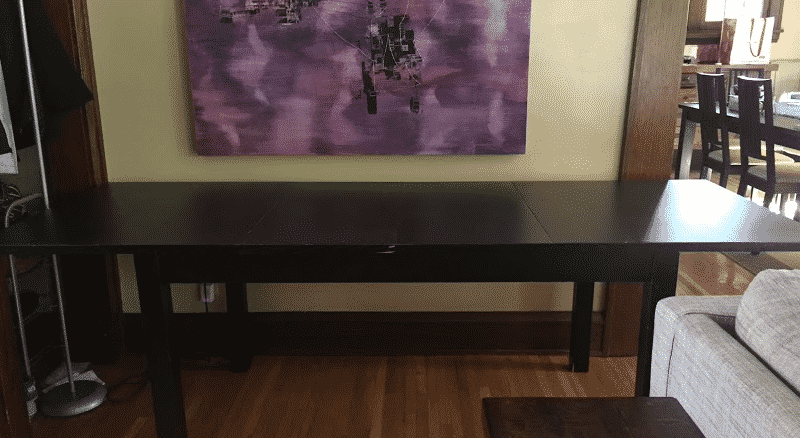 Tables are pretty easy to pick up because you can take them apart.  Once you get the legs off, it's basically just a flat piece of wood that you can store in your garage.
Another decent sale was this chair that we found at Ms. FP's mom's apartment.  It was still in great shape and I sold it for a quick $30.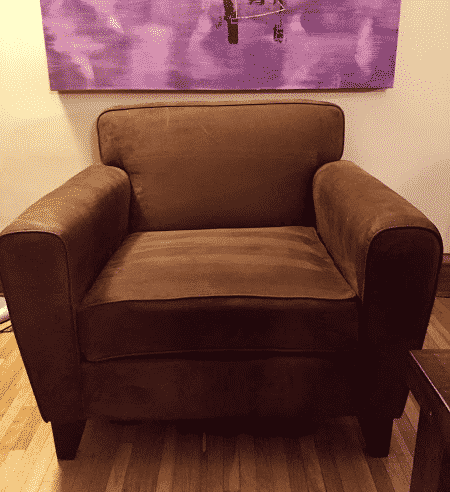 We're starting to run through our trash haul from August, but I imagine we'll see more stuff out there when spring rolls around and people are doing their spring cleaning.
Related: Making Over $1000 Selling Trash Finds Found In One Dumpster
Jobspotter Income: $25.98
Jobspotter is a fun new app that I recently discovered that I think might be worth trying out some more.  It was created by Indeed, which is the big job search engine you've probably used before.
The idea of the app is to help crowdsource hiring signs.  Anytime you see a hiring sign, you just snap a quick picture of it with the app.  Jobspotter pays you between 5 cents and 1 dollar for every hiring sign that you see.  You make more for businesses that legitimately look like they are looking for someone to work (as opposed to generic hiring signs that a lot of large businesses have).
Here's what I made in my first month using it:
It's a fun little app that's perfect for when I'm out walking my pup or doing deliveries.  I plan to write a more in-depth review about my experience with this app in a future post.  Right now, I think it's worth trying out next time you're walking around town or hanging out at the mall.
And that concludes this month's side hustle report!  An extra $800+ in a month isn't a bad thing to have!  Be sure to tune in next month to learn more about my side hustle adventures.
And be sure to check out my side hustle report page, where you can find all of my monthly side hustle reports.