Hello folks!  Just wanted to recap my July side hustle report.  This is an ongoing series that I plan to do each month to document my side hustle earnings through the sharing economy.
As detailed in my first side hustle report from June 2016, I have several side hustles that I perform using sharing economy websites.  These side hustles are great because they are super flexible, yet can still bring in a significant income.  I recommend saving that side hustle money and using it to turbocharge your savings.
I primarily have four sources of side hustle income:
Renting out a spare guest room using Airbnb
Dogsitting using DogVacay or Rover
Making deliveries using Postmates or Caviar
Selling things I find in the trash using Craigslist or OfferUp
To simplify the math, I calculate side hustle income based on payout date.  So if I perform the side hustle in June but get paid for it in July, I count July as the date the income was earned.
For July, my side hustle income was:
Airbnb = $1210
DogVacay and Rover = $63.75
Postmates and Caviar = $198.77
Trash Finds = $60
Total Side Hustle Income for July 2016 = $1,532.52
This month was particularly Airbnb heavy.  There's a couple of reasons for the heavy imbalance this month.  First, I was out of town for the first two weekends of July, so I had to block out those days for potential dog sitting clients.  Since summer is typically busy, blocking out those weekends likely cost me at least $150 or so.  I also had a longer stay through DogVacay that began near the end of July and lasted until August 1st, so that dog sitting income will actually appear on the August side hustle report.
As you can see, one of the great things about doing side gigs using sharing economy websites is the freedom to work on your own time.  If you aren't going to be available for some period, all you have to do is simply block out certain days on your calendar.  It's work I choose to do if I want to do it.  And it costs me nothing to set up my side hustle business other than a few hours of time.
A little more background on how I earned this money:
Airbnb
We had our college intern staying with us again for this month.  He paid (or his mom paid) our nightly Airbnb rate, which ended up costing him $1210 per month.  After this experiment, I think Ms. Panther and I will no longer accept long term Airbnb guests like this.  While it does save time in having to clean and flip the room for the next guest, the issue with having a long term guest is that they become a roommate, rather than a traveler.  There's too much idle time.  I much prefer the short term stay of a traveler.
DogVacay and Rover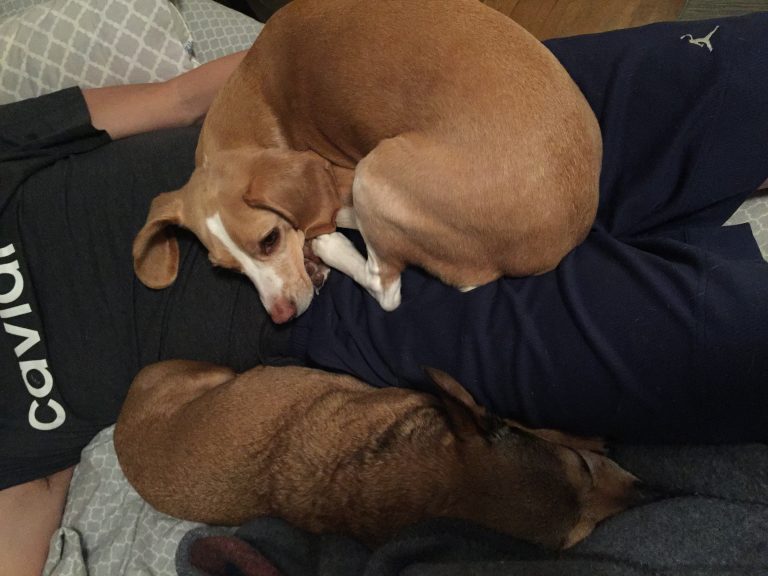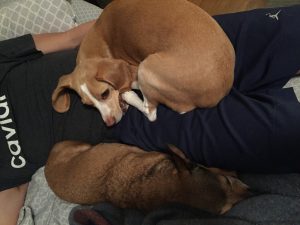 We actually watched two dogs this month, but one of our stays didn't pay out until August, so for purposes of this side hustle report, only our single weekend stay with our favorite guest pup, named Brewksi, appears.  As I noted before, I was out of town for the first two weekends in July, so we didn't watch any dogs during those first two weekends, which likely cost us a decent sum of money.
Here's a picture of our dog Charlotte (on the right) with her buddy Brewksi.  Not a bad way to make a little extra cash.
Postmates and Caviar
I love biking and getting exercise, and have been having a blast biking around town making deliveries.  It's an easy way to make some money and get some exercise – basically kill two birds with one stone.  Unfortunately, Caviar shut down at the beginning of July, so going forward, I have to rely fully on Postmates to satisfy my delivery/biking urges.  This figure is about what I expect to make considering I don't do that many deliveries per month.
Trash
We sold a bunch of stuff we found in the street this month.  This included a solid condition Samsonite suitcase we found by a dumpster of an apartment building in our neighborhood, a coffee table our neighbor across the street tossed when he was moving, a TV stand I found on the sidewalk, and a small drawer thing I found by a trash can.  This stuff was essentially $60 in cash I found in the street.
There is gold out there people!  You just gotta keep your eyes open.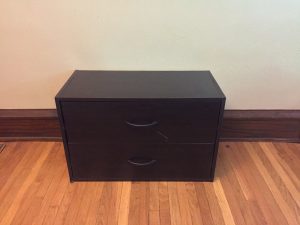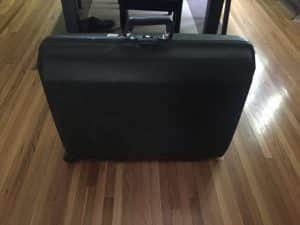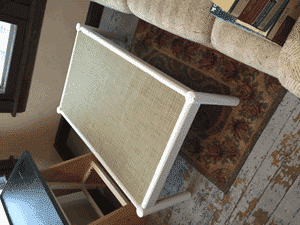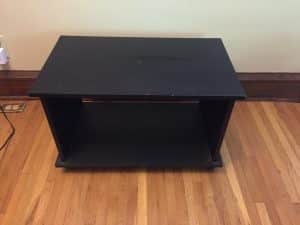 And that concludes the July Side Hustle Report.  It's pretty sweet to be able to make some decent money on the side without having to invest significant money into building a business.Until next month…