Thanks for stopping by for another side hustle report!  Sorry about putting this out a little later than usual. For those of you new to this, each month, I document what I earned doing various side hustles outside of my day job.
With the rise of the sharing and on-demand economy, it's super easy to pick up a flexible side hustle. There's literally never been a time in history where you could work in your spare time like you can today.  The beauty of your side hustle income is that you can save every single dollar of it!  Just think about what that can do for your savings rate.
Related: Your Side Hustle Is Worth A Lot More Than You Think
I primarily have four sources of side hustle income:
Side Hustle Income for November 2016
I calculate side hustle income based on the payout date.  Accordingly, if I perform a side hustle in October, but get paid for it in November, I count November as the date the income was earned.
For November, my side hustle income was as follows:
Airbnb:  $0
DogVacay/Rover: $21.25
Postmates/DoorDash/Uber Eats: $1,095.42
Selling Trash Finds: $105
Total Side Hustle Income for November 2016 = $1,221.67
A surprisingly good month considering the fact that we earned $0 on Airbnb!  This is exactly why it's a good idea to have multiple side gigs that don't take up too much of your time.  You just get a ton more flexibility in figuring out ways to make a bit of extra money.  If you're not making money in one area, you can make it up in another.
Here's a more detailed breakdown of how I earned that side hustle money this month:
Airbnb Income: $0
We ended up having to block out the entire month of November from Airbnb guests because of a family emergency, which is why we ended up with no Airbnb earnings for November. Ms. FP's sister had a baby at the beginning of November, and for a variety of reasons, she needed to move into our house for the month.  So, even though we had a break from Airbnb, we still had a full house, compete with a toddler and a newborn baby.  Fun!
The tricky part came with canceling our Airbnb stays for the month.  We already had about half of November booked and needed to cancel those stays on fairly short notice.  Airbnb absolutely hates when hosts cancel on their guests. I totally understand why. I'd be super pissed if I booked a place and then found out the host had canceled on me right before I showed up.
To deter hosts from doing this, Airbnb charges you a penalty if you cancel a stay.  You also automatically lose your Superhost status, if you have it.  I really didn't want to lose our Superhost status or have to pay a penalty to cancel those stays, but luckily, Airbnb does have an exception for extenuating circumstances and allowed me to cancel my bookings, penalty free, as long as I provided some documentation showing that Ms. FP's sister was pregnant and due in November.  We sent over a doctor's note to Airbnb and they immediately cancelled my stays for me.
I was pleasantly surprised at how accommodating Airbnb was to my situation.  My guess is that I've been a host now for a little bit of time and have some good reviews under my belt.  They probably figure that it's better to keep good hosts on the platform, rather than lose them.
As a learning experience for folks, if you are renting out a room on Airbnb, be sure to understand that it can be a hassle to cancel an already booked stay.  But think about it.  You wouldn't want someone to cancel your booking right before you showed up.  So if someone books with you, try your best not to cancel on them either.  As an aside, you can see why I think Airbnb is way better than getting a roommate.  If I need the house, it's mine.
Related: Making Money With Airbnb: Why I Rent Out Our Guest Room:
DogVacay and Rover Income: $21.25
Because we had a full house for November, we also had to limit our dog sitting duties for the month.  We only had one pup stay with us in November, a repeat guest named Milty, who was also one of our first dog clients.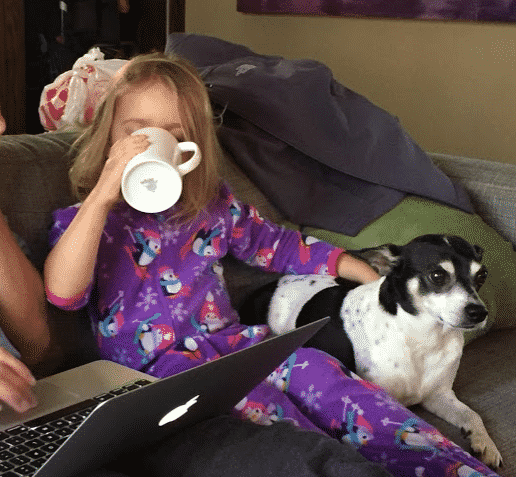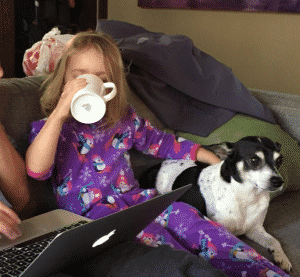 Our niece (pictured above probably spilling milk all over herself) absolutely loved this dog!  I think the key with any dog sitting business is to build a base of repeat clients.  Anytime you take in a new dog, you have a little bit of risk.  You never know what a dog might act like once their owner is gone.  But once you know the dog, it makes it so much easier.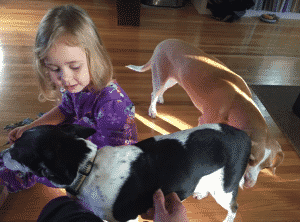 We were sad to see Milty go.  And for the next few days, my niece kept asking me where Milty was and when he was coming back. From the point of view of a toddler, doing some dog sitting on the side must be the ultimate side gig.
If you're interested in becoming a host on Rover or DogVacay, consider signing up for Rover using my referral link here. You should also list yourself on DogVacay as well, in order to get your profile out there to as many people as possible.
Related: How I Make Over $2000 Per Year On DogVacay and Rover
Postmates/DoorDash/Uber Eats Income: $1095.42
The bike messenger delivery game was off the charts this month!  Back in October, I received the below email from Postmates.

99% of people won't do anything when they receive an email like this.  But when I see something like this, the wheels start spinning in my head.  I managed to refer Ms. FP, and after it was all said and done, we pulled in around $800 for about 15 hours of bike messenger deliveries.  I wrote about it in a previous post, which you can find here.
You may also notice that I've now added DoorDash and Uber Eats into my stable of delivery services.  DoorDash is a bit of a funny story.  Last summer, I signed up to do deliveries on DoorDash.  In order to get started, I needed to go to the local DoorDash office to get my account activated.  The only problem…because I was coming from work, I showed up to the DoorDash offices wearing a full suit.  I think showing up in my lawyer clothes confused the guy. He even asked me what I did for a living, and foolishly, I was honest and told him I was a lawyer at a large law firm downtown.
Most delivery people don't look fancy.  And most don't have high paying jobs.  I think he thought I was up to something.  Why would a lawyer sign up to be a delivery man, right?  Ultimately, the DoorDash guy refused to activate my account and made up an excuse that they didn't need any more delivery people (which is laughably ridiculous, as the entire business model of DoorDash or any other on-demand service is to have as many people working on it as possible!).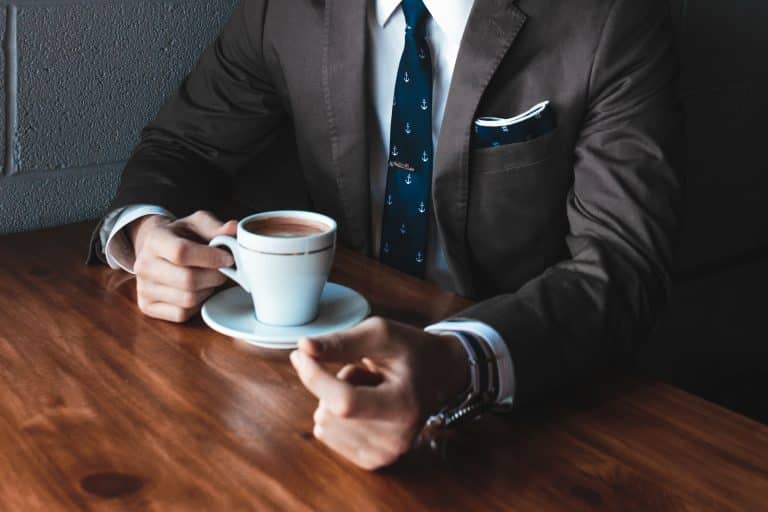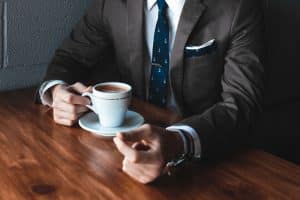 A year later, I'm now in a government job that actually gets holidays off.  It was Veterans Day a few weeks ago, so I showed up to the DoorDash offices again, only this time, I was wearing my shabbiest clothes.  They activated me right away and I got to work that day making some deliveries on the platform.
I also signed up for Uber Eats this month.  The Uber guy was super excited for me to be there because I was the first bike messenger to sign up in my city!  Guess the others all like to drive.
The delivery income won't be like this normally.  But heck, I'll take it while it's there.  Over 1,000 bucks for the pleasure of biking!?  You really can't beat that.
Trash Income: $105
I sold a couple of good trash finds that have been sitting in our garage since August.  The big sale was this glass cabinet we found outside of some college kid's house: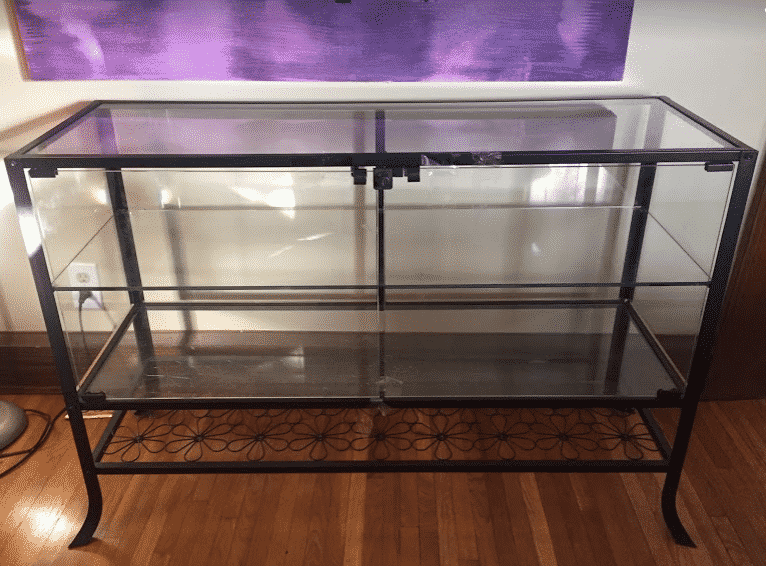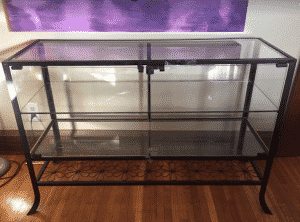 When Ms. FP and I saw this, we knew it was big money!  Sure enough, I found this thing on Ikea selling for around $140 new.  I listed it up for $80 and had a buyer within a week.  I probably could have pulled in $100 for it, but I'm not the savviest businessman, and I'm still happy with getting $80 for something we literally found on the side of the road.
We also found a few coffee tables during the summer.  Coffee tables are usually a pretty easy sell and are easy to transport.  I sold this one to a family whose kid had shattered their coffee table.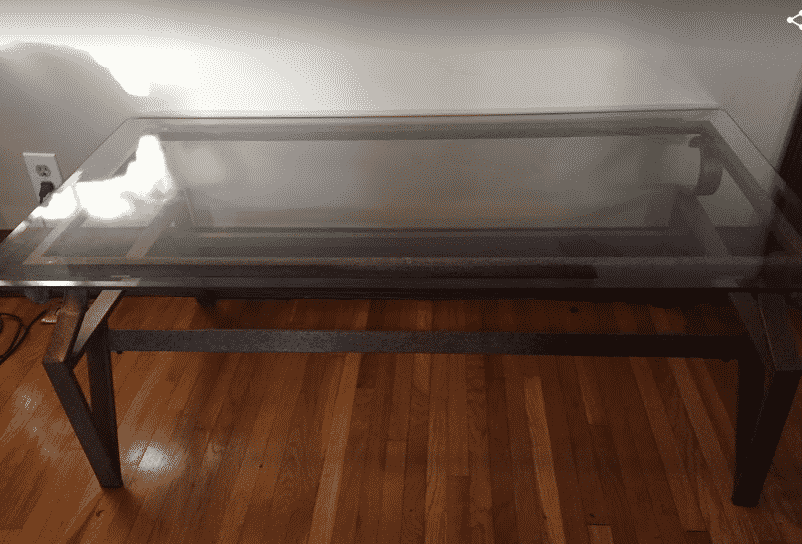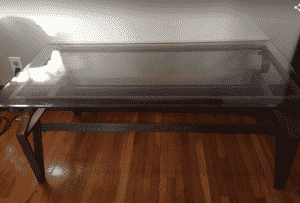 All in all, not too shabby of a month for selling trash finds!  We still have some more trash finds in our garage to go through.  Hopefully, we can start getting that stuff sold in the next few months.
Related: Making Over $1000 Selling Trash Finds Found In One Dumpster
And that concludes this month's side hustle report!  It's really easy to make some money on the side and have some fun while doing it.  So get out there and see what you can do!
If you're interested in seeing what I earned in previous months, be sure to check out my side hustle report page, where you can find all of my monthly side hustle reports.