Welcome to another side hustle report! Each month, I document what I earned doing various side hustles outside of my day job.  I'm a firm believer that anyone can find a way to make some extra money on the side. Even just a few years ago, starting up a side hustle required a bit of work and might have required some upfront capital costs. And picking up a second job meant you'd have to go to work whenever your boss scheduled you.  But not anymore. Today, with the advance of technology, anyone can find a way to make some extra money on their own time, whenever they want!
Remember, your side hustle is worth a lot more than you think.  Even making a few thousand dollars a year can add up to a ton of money over time.   That's because every dollar you earn in your side hustle is another dollar you can save.  If you're living fine on your regular income, then you don't need to spend your side hustle income at all!
Whenever I pick up a side hustle, I try to follow three basic principles: (1) I find a side hustle that's fun to do; (2) I find a side hustle that generally incorporates tasks that I'm already doing; and (3) I find a side hustle where I derive a benefit from it beyond just making money.  I do some dog sitting because I already have a dog and I think it's fun. And I make deliveries on my bike because I think it's fun and I can use the exercise.
The great thing about side hustling is that there isn't any commitment.  If you find that a side hustle isn't for you, all you have to do is stop doing it.  You can try many of these side hustles out without any upfront costs. What do you have to lose other than a little bit of time?
I primarily have four sources of side hustle income:
Side Hustle Income for October 2016
I calculate side hustle income based on the payout date.  Accordingly, if I perform a side hustle in September, but get paid for it in October, I count October as the date the income was earned.
For October, my side hustle income was as follows:
Airbnb:  $807
DogVacay/Rover: $148.75
Postmates: $67.28
Selling Trash Finds: $40
Total Side Hustle Income for October 2016 = $1,063.03
Admittedly, I was pretty lazy this month.  Dogsitting and Airbnb brought in about what I expected for the month.  I could have done much better on the trash selling front – we have a garage filled with all the stuff we found during the August move out season. I've just been lazy in getting this stuff listed up for sale.  The Postmates earnings should also be higher than it was this month.  Ms. FP and I worked together on a little scheme that I'll write about in a future post.  I'm sure you'll find it entertaining!
Here's a more detailed explanation of how I earned my side hustle money this month:
Airbnb Income
The Airbnb experiment continues to go well.  It's grad school interview season around the campus, so the majority of our guests have been folks coming to interview for their various programs, mainly med students and dental students. These are our favorite type of guests.  They basically come to our house, do their interviews, sleep, and then they are on their way.  We barely notice they are here!  And it's been fun chatting with folks about what they are studying.
Airbnb has also really been a great way to extract some income out of our otherwise unused room.  It's way better than having a roommate.  As a bonus, our house stays really clean.  Seriously, when we don't have guests around, our place just starts turning into a pig pen.  If you need motivation to pick up after yourself, try hosting on Airbnb.  I guarantee your house will never be cleaner.
Here's a screenshot of our October earnings.  I've redacted sensitive information, such as names and bank account numbers: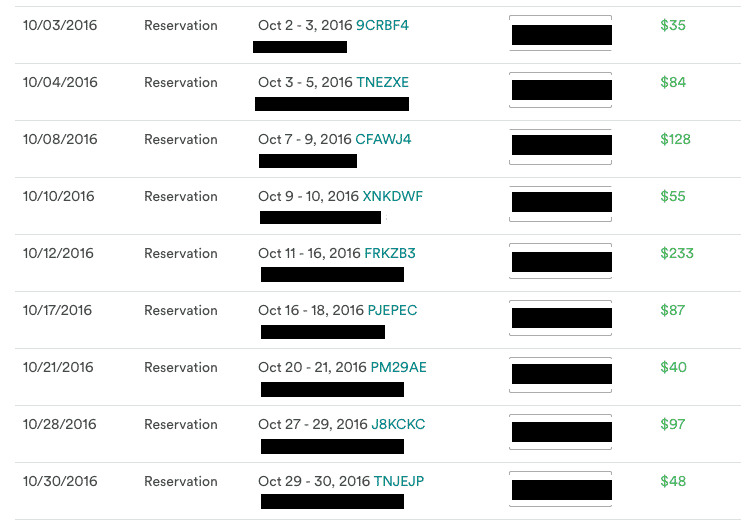 We have family staying with us for all of November, so we're taking a break from hosting this upcoming month and will return to Airbnb in December.  Again, another great advantage of Airbnb compared to a traditional roommate. When we need the house, it's ours!
DogVacay and Rover Income
Dogsitting picked up again after a slow September.  We watched three different pups this month, with our longest stay being our regular guest, Brewski (see below), who stayed with us for a week.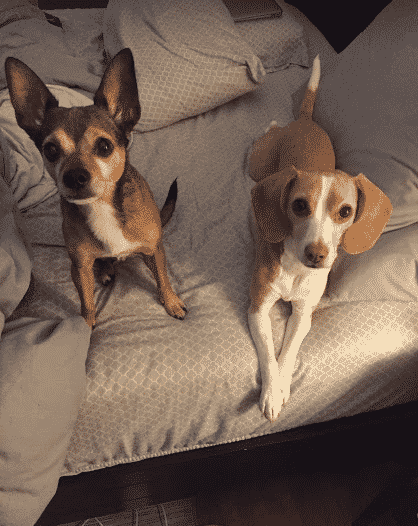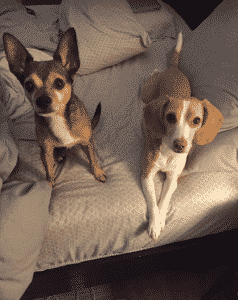 Other guests for the month included a 4-month old puppy.  We don't usually watch puppies just because our schedule doesn't work well with young pups and we don't want to have to do more work.  However, the puppy that stayed with us this month only needed to stay for one night, and since we love pups, we'd thought we'd give it a shot.  In the end, this puppy was great!  Really fluffy and cuddly.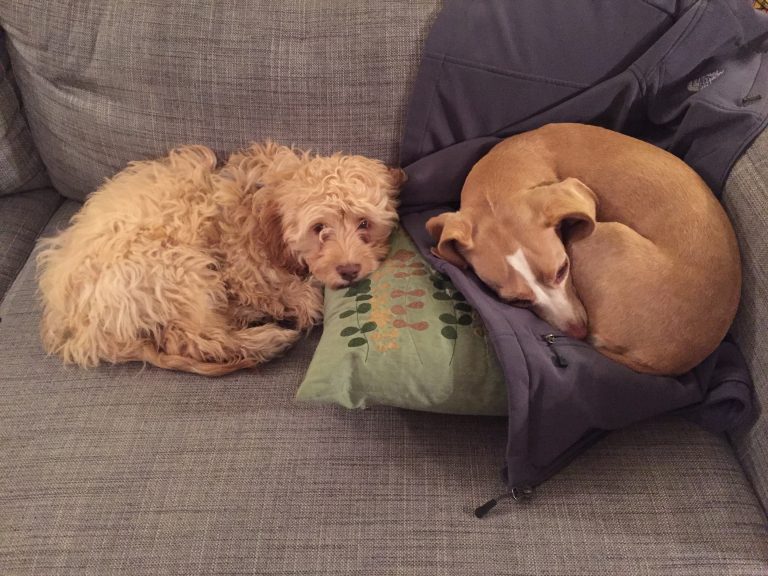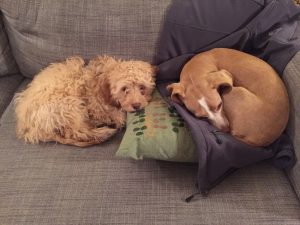 Making a couple bucks watching dogs isn't so bad.  I could definitely think of worse ways to earn some side money. If you're interested in becoming a host on Rover or DogVacay, consider signing up for Rover using my referral link here. You should also list yourself on DogVacay as well, in order to get your profile out there to as many people as possible.
If you're looking for more information about my dog sitting side hustle, you should check out my previous post where I go in-depth about how I make money dog sitting.
Postmates Income
The weather is still great this time of year, so I'm getting exercise and doing Postmates when I can.  This month, the income was less than normal, but it'll actually be higher once additional funds come in during November.  Postmates was also a bonding exercise this month.  Instead of date nights, Ms. FP and I had some nights where we went out and did some deliveries together. Okay, we're total weirdos, but it's not so bad to get out on a bike on a nice evening.
Remember, what makes bike messengering so great is that, with technology the way it is, you can literally do it anytime you want.  And since you're biking around town, you're getting exercise too.  There's really no other way in which you can exercise and get paid at the same time.  If you need motivation to get yourself moving, try Postmates or any other bike messenger service out there.  It's not a ton of money, but your body will thank you for the exercise.
If you want to learn more about how I use Postmates to make some extra money and stay healthy, then check out my post on my Postmates side hustle. 
Trash Income
Trash income was down this month, but not because of a lack of inventory.  We actually have a garage full of all our trash finds from August.  I've just been really lazy getting this stuff listed up for sale.  Procrastination is a deadly foe. My goal for next month is to just sit down and list this stuff up!
Still, I did manage to sell two trash finds this month.  Here's a nice shelf thing we found on the side of the road. Fetched a solid $15 for it.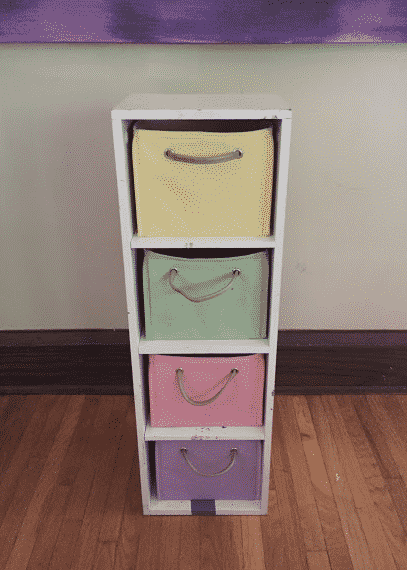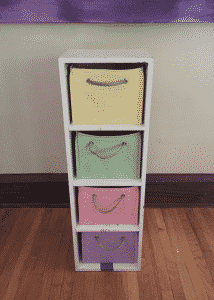 And here's some TV trays that I dug out of the dumpster.  A solid $10 for them.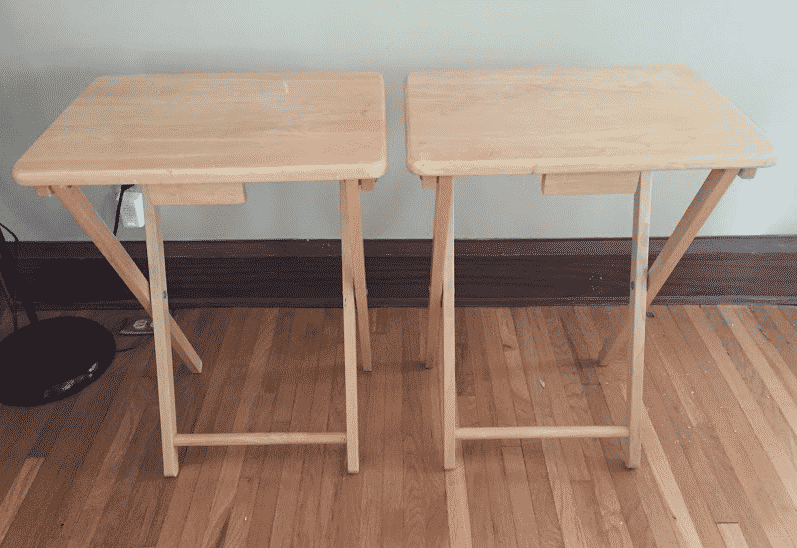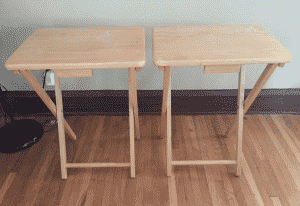 I also managed to flip a garage sale find on eBay this month.  Way back in August, Ms. FP and I were biking around and decided to rummage through some stuff at a garage sale.  I stumbled upon this: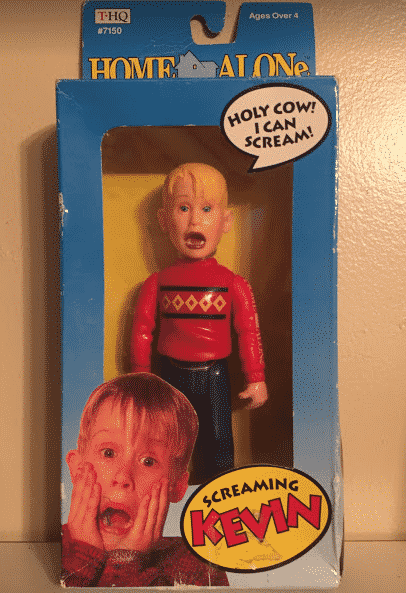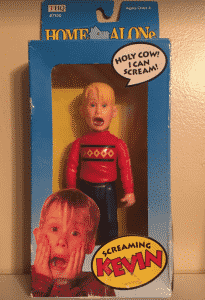 A "Screaming Kevin" doll from Home Alone!  This thing looked hilarious.  And I thought it might be a collectors item that someone might want.  I ended up buying this thing for a buck and as soon as I got home, I listed it up on eBay for $25.  And then it just sat for a couple months.
The key with eBay is patience.  Most stuff will eventually sell given enough time.  In October, some guy finally offered me $15 for it.  I figured why not.  I only paid a dollar for it.  And hopefully, this guy loves Home Alone as much as I do.
Want to know more about flipping trash finds?  See how I made over $1000 selling trash I found in one dumpster.
That concludes this month's side hustle report!  Remember, there are tons of ways to make money out there on your own time.  The key is to look at what you're already doing, and figure out a way to monetize it.  Save all of your side hustle money in some sort of tax advantaged account and watch that money grow!  Most importantly though, make sure you're having fun with your side hustles!
If you're interested in seeing what I earned in previous months, be sure to check out my side hustle report page, where you can find all of my monthly side hustle reports.