In the divide between whether or not to side hustle, I've always been firmly on the side of the side hustle. The way I see it, if you can figure out a way to earn extra money doing something you enjoy, then why shouldn't you do it?
That's not to say the arguments about why side hustles are bad are wrong. They have some valid points – side hustles often don't pay much and they can be a waste of time. You could also say side hustles personify the worst of hustle culture, glorifying people sacrificing their lives in pursuit of work and money. 
I've always had a bit of a mixed view when it comes to hustle culture and how I feel about it. On the one hand, I get it. Too many of us sacrifice our lives for work and money. We put work at the center of everything – even above our lives and our family and friends. 
I made a deliberate choice a few years ago to go my own way instead of continuing in the rat race. It led to me quitting my job, not because I was making so much money from creating online, but because I wanted to gain back more control of my life and my time. And while I can make a comfortable living doing what I'm doing now (blogging and doing gig work), I'm probably never going to make as much as I could have made if I kept grinding it out as a lawyer. 
That being said, I don't always see what the problem is with telling people to hustle. Working hard. Trying your best at whatever it is you do. These all seem like good characteristics to instill in yourself. 
Which I guess gets me to the ultimate point of this post about side hustles and what they're all about.
You don't have to side hustle to meet your financial goals. If it's not for you, it's not for you. By no means are side hustles a necessity. But they can change your life eventually. Here's what I mean.
The Arguments For Why You Shouldn't Waste Your Time Side Hustling 
Before we get into what I mean about side hustles and how they can make you rich, let's address some of the common criticisms I sometimes hear about why side hustles aren't worth doing. Here are a few arguments I often come across.
Argument 1: Side Hustles Don't Pay Much  
Side hustles don't pay very much. That's one big argument for why side hustling isn't worth doing. And I can't necessarily say I disagree with this. Most side hustles don't pay much. Almost anyone reading this can probably find a side hustle that earns $20 or $30 per hour. But that's probably not going to be enough to make major changes to your financial life – at least not immediately anyway. 
But here's the thing. Small amounts do matter, even if they don't seem like they do. $20 or $30 of extra money in a day isn't a lot of money. It's certainly not enough to live on. But given enough time and consistency, it can add up, especially if you give enough time for compounding to take effect. I'll go into some more detail on what I mean later in this post. 
Argument 2: Side Hustles Have A High Failure Rate 
If you're starting a side hustle that you're trying to scale into something, then you're going to have two problems – it's not going to pay much at the beginning and it has a high chance of failure. I started this blog over 5 years ago. It made almost nothing for the first three years. My hourly rate was pennies. And while I defied the odds and kept writing through all of that, most of the people who started around the same time as me quit long ago.
It's why I rarely talk about scalable side hustles in my monthly side hustle reports. Most people simply aren't going to make much money or get past that inflection point where their side hustle can sustain itself.
But that's not what side hustles have to be about either. Every side hustle you do doesn't have to become a full-time business in itself. That's why I've always promoted gig economy side hustles. Those are the ones that anyone can do  You almost can't fail with them. And if you understand how to make the gig economy side hustles work for you, they can make a lot of sense (basically, they're not meant to be full-time jobs, they're supposed to be ways to earn a bit of extra money). 
Argument 3: Side Hustles Take Too Much Time
If you're trying to create something out of nothing, then absolutely, any side hustle you pick up is going to take a lot of time. I spent hours per day working on this blog when I was working full-time. I needed to create content because that was the only way I was going to get this blog off the ground. It was essentially a second full-time job on top of my day job. 
But side hustles don't have to take up a lot of time either. Even when I was working a traditional full-time job, I still took an hour or so per day doing side hustles that I could fit into my day-to-day life. Gig economy apps like DoorDash and Uber Eats aren't time intensive. When I wanted to do them, I could turn them on. When I was done, I just stopped.
It's not an all-or-nothing approach with these side hustles. You can pick up whatever you want, do it a little bit at a time, and make a little bit of extra money. 
An Hour A Day Can Change Your Life 
I think it's true. An hour a day can really change your life. Even earning small amounts of extra money per day and investing it all can change your future. Consider what an extra $20 per day can mean if you can save that amount every day for 30 years.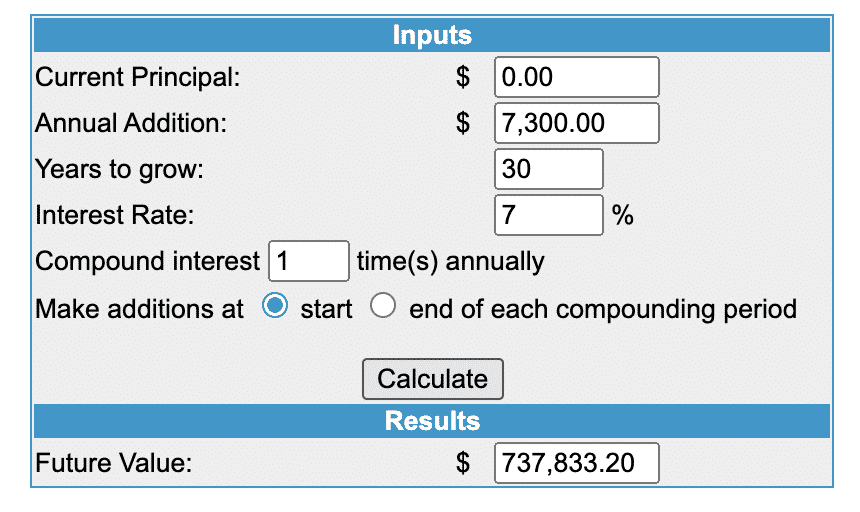 That's over $730,000 in the future, all from earning $20 extra per day doing anything. And if you can get that number to $30 per day, you'll literally be a millionaire (more than a millionaire actually).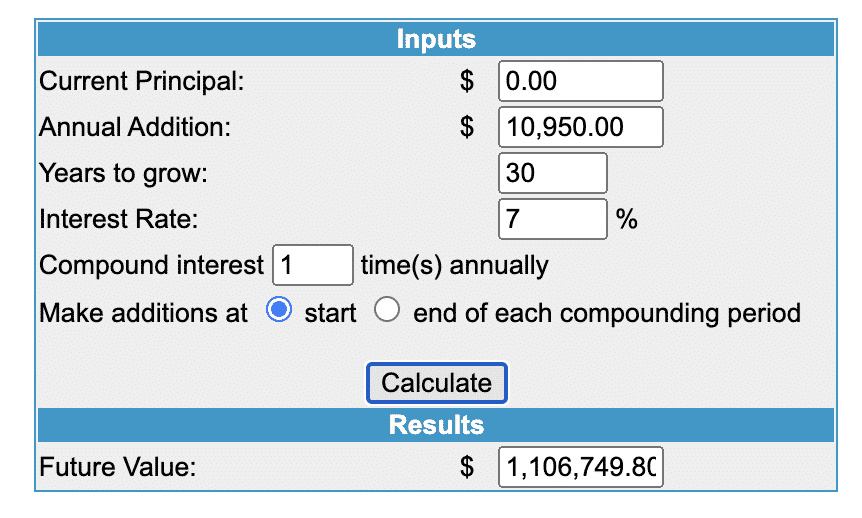 Most of us have an hour a day to earn some extra money. And I can almost guarantee that almost anyone can earn $20 or $30 in an hour, every day, without having to do much. Walking a dog for 30 minutes can bring in $15 to $20. Doing a few deliveries on a bike with Uber Eats or DoorDash should earn most people $20 or $30 within an hour. And there are countless other things you can do. I know it's something I have no trouble doing – and I'm not the exception either.
But most people won't do this because it's not easy and it's not fast. It takes time. It requires you to build a habit. And you won't see results early on. You might not even notice anything is happening until years have passed.
I started tracking my side hustle earnings 5 years ago. Today, I'm shocked to find that I've made over $130,000 from side hustles. It's crazy, these small things I've done every day for years have added up. 
It doesn't require much. That's not to say it's easy. But it's not out of reach either.
You Don't Need A Side Hustle – But They Can Help
This isn't an either-or-proposition. You don't need a side hustle to become rich. They aren't a necessity.
If you want to become rich or have money, the formula to do that has always been there. Earn a good income. Make more than you spend. Save the rest. If you do that for long enough, you're almost guaranteed to get to where you're trying to go. 
But while side hustles aren't a necessity, I think it's absolutely true that they can make a big difference for anyone. Small amounts, day by day, all add up. It's not fast. It's not glamorous. But it works. 
So take advantage of this fact. Find something you enjoy doing. Keep doing it. And keep doing it for a long time. Eventually, some amazing things can happen.