Uber Eats tip baiting is one of the more frustrating parts of delivering for Uber Eats, and if you deliver for Uber Eats regularly, it's something you will likely have to deal with at some point. Indeed, you'll find countless threads online of drivers complaining about tip baiting.
So what exactly is tip baiting? In short, it's when the customer changes their tip after the driver has delivered the order. The reason this can happen is that Uber Eats allows customers to change their tip up to one hour after their delivery is completed. 
In this post, we'll take a closer look at what Uber Eats tip baiting is and discuss why it might happen and what you can do to prevent it from happening to you.
What Is Uber Eats Tip Baiting? 
Tip baiting is when a customer leaves a tip with the intent of enticing a driver to accept their order, then removes the tip after the order is delivered. By doing this, the customer gets their order delivered to them quickly and saves money by not tipping. 
Uber Eats drivers are paid per delivery, so the decision to accept an order is based on the expected payout from Uber Eats. While Uber Eats drivers can't see exactly what a customer tipped when accepting an order, they can get a sense of what the customer tipped by the expected payout. A low expected payout likely means the customer left no tip, while a high expected payout means the customer likely left a good tip. As a result, drivers are more likely to quickly accept orders from customers that left good tips. 
The reason tip baiting works is that Uber Eats allows customers to remove their tip for up to one hour after the order is delivered. Customers do not have to give a reason for removing or lowering a tip. They can simply do so within the Uber Eats app and the driver won't know until an hour or so after the order is completed. As a drive, you'll only know the tip was changed or removed by looking at the earnings screen.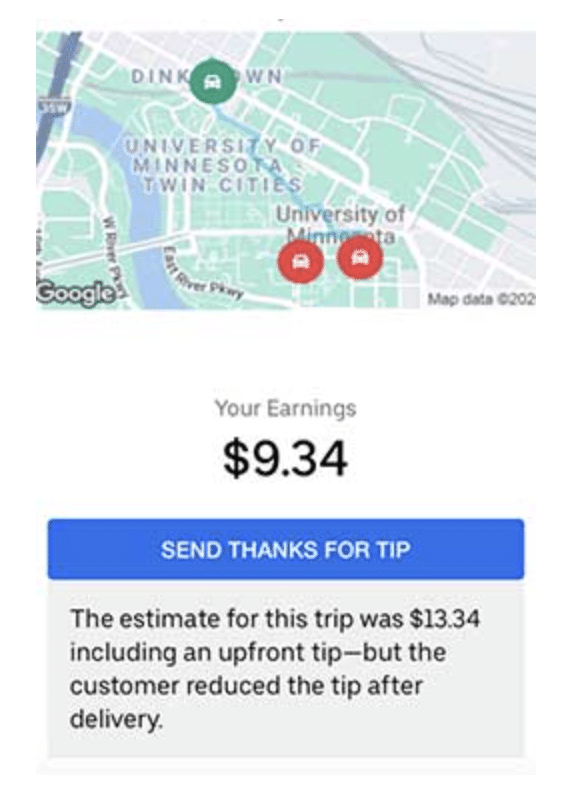 There are some circumstances when a customer might have a legitimate reason to change or remove the tip. If a driver is rude to a customer, for example, it can make sense for a customer to punish the driver by removing the tip. Or if a driver is obviously multi-apping and taking strange routes that lead to long delays, it can make sense to punish the driver and remove the tip.
But most of the time, a customer changing a tip after delivery is simply tip baiting. Either that or they are blaming the driver for things outside of their control, such as missing or incorrect orders, or long delays because the restaurant was slow or busy.
Tip Baiting Doesn't Exist With DoorDash Or Grubhub 
Unlike Uber Eats, DoorDash and Grubhub both do not allow customers to change their tips after the order is completed. As a result, the payout you see as a driver is the payout you will receive. 
This is in contrast to Uber Eats, which doesn't show drivers the actual payout, but rather the "anticipated" payout. 
There are other apps that can also suffer from this tip-baiting issue. Instacart, in particular, is another app that allows customers to change their tip after the delivery is completed. However, after some media coverage about this issue, Instacart did make it clear that they would deactivate customers that consistently tip-baited shoppers. Uber, on the other hand, has never addressed tip baiting.
What Can You Do About Tip Baiting? 
Unfortunately, there's not much you can do about tip-baiting as a driver. One thing I can say is that the vast majority of orders will pay exactly what is expected. I've only been tip-baited a handful of times in the 6+ years I've been delivering for Uber Eats. In my experience, probably 95% of orders will pay exactly as expected. 
If you see a particularly high-paying order, I would still accept it (assuming it makes sense for you – i.e. it's going in the right direction, the distance is correct, etc). While very high-paying orders could be potential tip-bait orders, it's not worth second-guessing yourself and rejecting those orders under the assumption that it could be a tip-bait.
The only other things you can do is provide good customer service, deliver orders on time, and do your best to make sure orders are accurate. Most of the time, if your tip is lowered, it'll be because something happened that the customer is blaming you for. Sometimes, they might be right to blame you. Other times, it might have been something out of your control.
One of the things I notice a lot of drivers forget is the drinks. It's easy to forget drinks because they're usually not put in the same bag as the rest of the order. Restaurants often forget about them too, so if all you do is take whatever is handed to you without looking at what the order is, you'll probably miss the drink. When I'm delivering for Uber Eats, I always double-check the order in my Uber Eats app to make sure I'm not missing a drink.
Final Thoughts 
Overall, tip-baiting is a problem, but one that I wouldn't worry about too often. Yes, it can happen. And yes, it sucks when it happens. But for the most part, when you see the expected payout for an Uber Eats order, you can usually work under the assumption that you will receive that payout. The vast majority of customers are not going to tip-bait drivers.
I hope this post was helpful. Please feel free to leave your thoughts about tip-baiting or share your experiences.