Today's post is from my friend Erik, who runs the blog The Mastermind Within, where he writes about personal finance, self-improvement, and entrepreneurship. Erik and I have been friends for a few years now, and we actually meet up pretty regularly to bounce ideas off each other and figure out our plans to grow our businesses and live life a little differently. What I really admire about Erik is how hardworking he is – the man knows how to hustle!
In this guest post, Erik goes over how he's made nearly $60,000 of extra income over the past few years and gives you ideas on how you can use your skills to do the same. There's some good information in this post, so it's worth reading. Take it away Erik! 
---
How would your life change if you could increase your income by $10,000 a year through side hustles?
Making an extra $10,000 a year through side hustling could make a significant impact on your finances. You could pay down debt, go on an extra vacation or two, or save more for retirement.
One way I've gotten to $10,000 in extra side income is by using my existing knowledge and skills to create value for other businesses and myself.
Hi, my name is Erik. Like the owner of this website and blog, I'm an avid side hustler and am always looking to make a little extra money on the side of my day job.
Something which differentiates me and Kevin is my focus on using my existing skills to make more money.
I'm always in awe of Kevin's side hustle reports, and Kevin does an amazing job with his side gigs, credit card hacking, and other side hustles.
However, if you aren't super excited about delivering food, or charging scooters for extra income, then hopefully this post will give you some ideas on how you can use your existing knowledge to create 5 figures of side income for yourself.
The rest of this post is a discussion on how you can leverage your existing skills to create side income, and some side hustle ideas for you to implement this year.
How to Create $10,000 of Side Income
Over the last 4 years, I've made nearly $60,000 on the side of my day job.
My main hustles are:
renting out rooms in my house

using my knowledge of statistics to secure hourly contracts

using my web design skills to help new businesses with their websites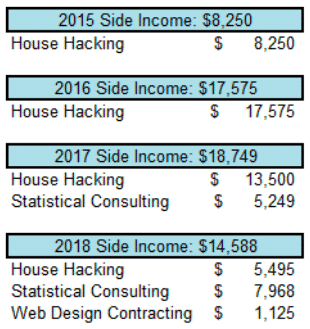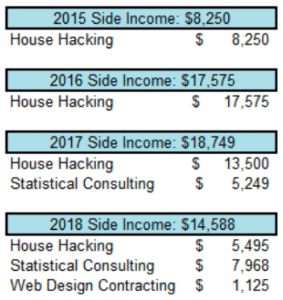 While this isn't a life-changing amount of money, it has certainly added up over time and allowed me to pay down debt and build savings.
Over time, I've added skills and knowledge, and now I've been able to monetize these skills.
This success didn't happen overnight, but over a few years, I've created multiple side hustle income streams.
Using Existing Skills to Make Money
For me and my side hustles, I've used existing skills to help others with their businesses or personal situations.
House hacking requires a little more investment up front with the purchase of a house. However, by being willing to manage tenants and make necessary repairs and fixes in my house, this has led to a successful result.
For my statistical consulting side hustle, I've been able to use my degree in Mathematics to help perform biostatistics for dog doctors. Since I was open to new opportunities, I wasn't afraid to jump into this lucrative side hustle when asked by an old co-worker.
Finally, over the last few years, I've been learning more and more about web design. Now, I've built up a portfolio and have helped about 10 people with their blogs and websites.
These hustles are the result of being resourceful and being open to helping others with their work.
Many people want to do amazing things with their money and time, but don't have the skills to do it.
If you can connect your skills to other people's outcomes, you'll be in a great spot to start making extra money.
Side Hustles You Could Start with Existing Skills
What are some of your skills? What do you enjoy doing with your time? Do you have any side hustle ideas to leverage your existing skills?
Maybe you don't have a college degree, or you don't have any serious certifications.
This is perfectly okay! You can still learn and grow over time to build your side income to 5 figures over time.
Maybe you do have a college degree and some serious certifications. With this prior knowledge, now it's time to think about how you can monetize your skills and life experience.
Coming Up With the Right Side Hustle for You
When thinking about the right side hustle for you, it's important to think about your goals and passions.
Life is short, and if you aren't doing what you want with your time, then what are you doing?
In my opinion, the best side hustle is providing value to another person or company and doing what you want with your free time outside of your day job.
There are a number of possibilities to choose the best side hustle. The best side hustle might be the one that makes a ton of money. Maybe it's one that brings new opportunities and helps you in your day job. Perhaps it's one that brings passive income and allows you to retire early!
Really though, the best side hustle comes back to doing what you enjoy – without necessarily caring about the profit potential of the endeavor.
What do you love doing?
Start by answering this question, and move on from there.
Connect Your Passion with Profits
After you understand where your passion lies, you can start to think about opportunities which can leverage your existing skills.
Back to what I shared above, I enjoy building and designing websites for myself and for others. An obvious connection between my passion for designing websites and making money is to design websites for others.
The next step would be to get out, network, and secure some projects.
When I started out with my web design freelancing work, I wasn't the most confident person, so I took on a job for free.
Starting off, it's probably okay to do work for free, but once you have a solid portfolio, you need to charge what you are worth.
Now that I have a growing portfolio of websites I've worked on, I've been able to raise my rates and also secure more jobs through word of mouth and displaying my previous work.
You are the prize and you are a premium product.
This example applies to me and my life, but my hope is this example gets the wheels turning in your brain for you and your life.
If you need some more side hustle ideas, the next section has a number of ideas for you to think about for your side hustles.
Existing Skills Side Hustle Ideas
There are thousands of ways to make money in this world.
Here, I'm going to list a number of skills and interests which can be monetized. Maybe one of these will fall in line with your skills and you can start to work to monetize your life.
Skill: Mathematics

With knowledge of math, you could tutor students or help companies with analysis.
Skill: Handiness

If you are handy, you could custom build things for others, or help friends with repair projects for pay.
Skill: Medicine

If you are a nurse or someone in the medical field, you could pick up hours at a short-staffed clinic.
Skill: Bookkeeping

Many small businesses are looking for bookkeeping help.
Skill: Merchanting

Do you have an eye for arbitrage? Going to thrift stores and flipping products could result in a lucrative side hustle.
Skill: Social Media

If you have a knack for growing social media accounts, you could help small businesses implement social media campaigns.
Skill: Strength

You could help people move their stuff when moving houses or apartments.
Skill: Graphic Design

If you are a graphic designer, so many businesses and side projects need logos and other graphics for branding and marketing campaigns.
Skill: Writing

Writers and editors are in demand as many businesses need content creation online.
Skill: Web Design

Having an online presence is so critical in the modern age, and having a nice looking website is so important for individuals and businesses.
Skill: Yard Work

Doing landscaping, mowing lawns, or shoveling could result in a few hundred extra dollars
Skill: Resume Help

You could help people who are clueless about how their resumes should be set up.
Skill: Video and Audio Production

Video and audio quality is so important for businesses looking to attract views and listens online.
These are a number of ideas which I just came up with while sitting here writing this post.
I'm sure that there are thousands of other ideas which you could do and achieve by brainstorming and thinking about how you can connect your passion to profits.
Make 5 Figures on the Side and Achieve Your Financial Goals
Achieving your financial goals is possible through two options: saving more money or making more money.
I prefer making more money by providing value to others, and that's why I hustle.
Maybe you don't have the skills you need to monetize your life and make an extra $10,000 on the side this year. But over time, you can work towards your goals and achieve whatever you want in life.
Humans overestimate what they can do in a day, but underestimate what they can do in a year.
How many hours do you think it will take to add the necessary skills to be able to monetize? 50? 100? 200? If you work 30 minutes a day for the next 100 days, you'll reach your goal and have your idea, product, or service ready to go. Working more time each day, you can get to your goal faster.
And if you do have the skills to monetize today, TAKE ACTION! No one ever got rich without taking action.
Hopefully, this post has inspired you to get out and start hustling and given you a number of ideas to improve your side hustle game.
Thank you for reading.
Erik runs the site, The Mastermind Within, where he talks about how you can increase your income, improve as an individual, and reach your goals and dreams. Self-improvement and personal finance are the main topics of his blog, but he also shares his side hustle tips to inspire Millennials and hustlers.