Can you see your DoorDash reviews? It's a good question to ask, especially since your ability to work as a Dasher is reliant on keeping a high customer rating. 
Fortunately, DoorDash does make it possible to see what your customer ratings are. While you can't see your ratings for a specific customer, you can see what your ratings are for your last 100 deliveries. This can help give you an idea of how you're doing as a Dasher.
In this post, we'll look at how you can see your DoorDash reviews and how to best use this information. 
Can You See Your DoorDash Reviews?
DoorDash lets you see your customer reviews in the Ratings section of the Dasher app. To view this information, go to your ratings in the Dasher app. You'll be able to see important information about your Dasher account here, including your customer rating, acceptance rate, completion rate, and on-time or early rate. 
To see your DoorDash reviews, click on customer rating. This will bring you to a more detailed page with various bits of information. Below is my customer rating screen.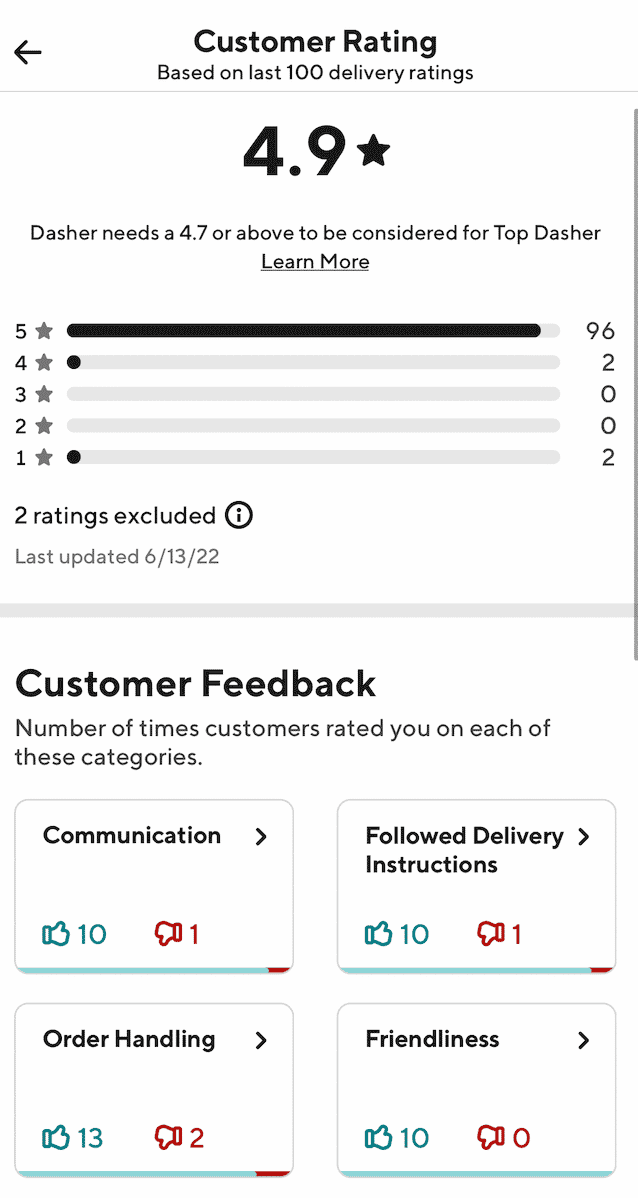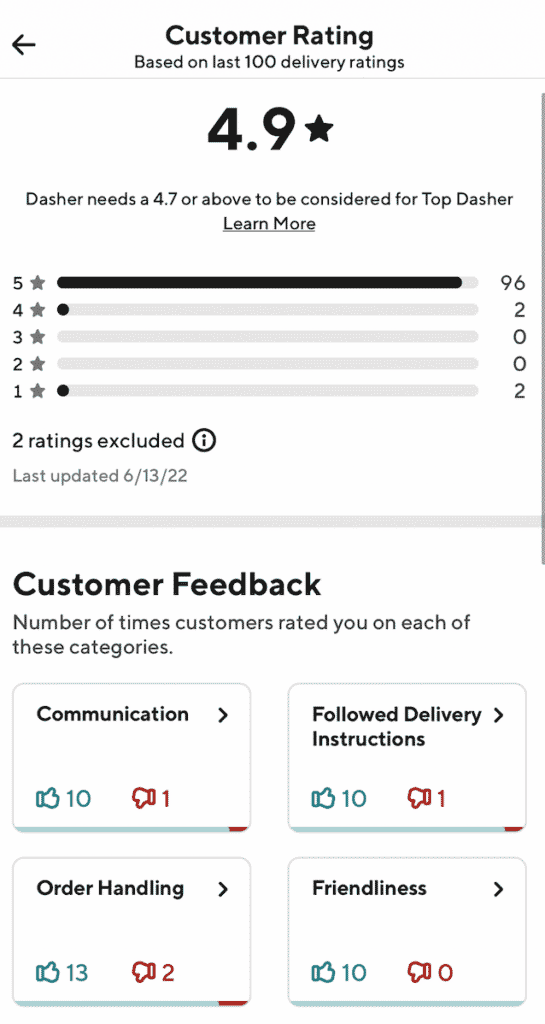 DoorDash will show you your last 100 delivery ratings. However, this won't necessarily include your last 100 deliveries because many customers will not rate you after you complete their delivery. In my experience, fewer than half of customers rate their Dasher. That means this screen will show you your last 100 delivery ratings where the customer actually left you a rating. 
The customer rating screen will show you a breakdown of your last 100 ratings, so you can see how many different star ratings you received. Some ratings will also be excluded because of factors outside of your control. For example, if you deliver an order late because the restaurant was slow, you may receive a bad rating from the customer, but DoorDash will exclude that rating since it wasn't your fault. 
DoorDash Customer Feedback
In addition to the stars you receive, you can also see the feedback that customers leave you. There are four categories that customers can rate you with either a thumbs-up or a thumbs-down. These include the following:
Communication
Followed Delivery Instructions
Order Handling
Friendliness
Each of these categories is fairly self-explanatory. To keep a high communication rating, be sure to text the customer with updates as needed. Some Dashers like to provide frequent updates, texting the customer at each step of the delivery process. I don't think this is necessary, but if it's something you want to do, it's not a bad thing. I think as long as you text the customer if there are any issues with the order (a long wait, missing items, etc), then you'll be fine.
For "followed delivery instructions," make sure to follow the instructions that the customer leaves for you. The customer might want you to leave the order at a specific location. Or they might want you to bring the order to their door if they live in an apartment, rather than leaving the order in the lobby. The only time I've ever had an issue with this is when I don't want to go into the building and would rather leave the order at the front door. 
Order handling refers to how intact the order is when it arrives at the customer. If you're doing DoorDash on a bike like how I do it, then this can matter more. Ideally, do your best to keep orders from spilling or getting messed up. 
Finally, friendliness is something you can easily control. Be professional. Put on a smile and treat customers with respect. Always treat people how you'd like to be treated.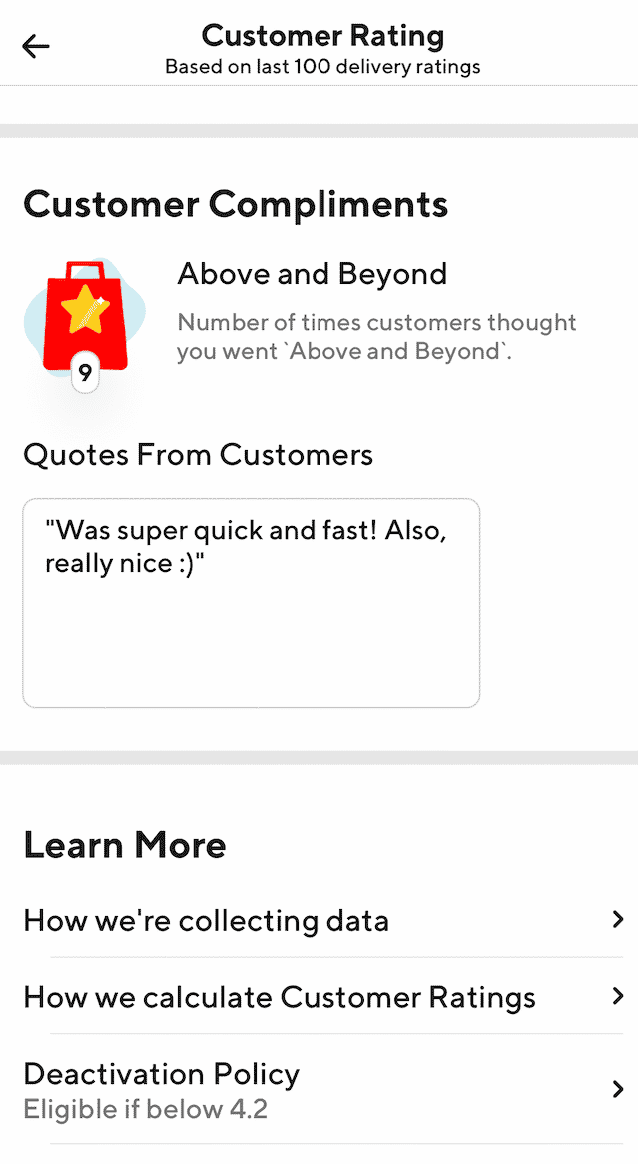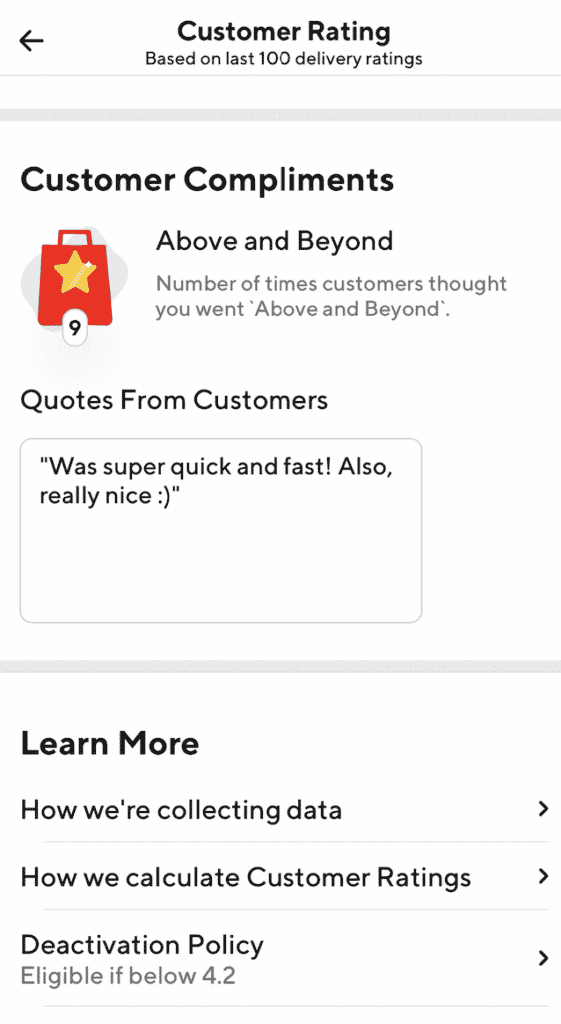 In addition to rating you on those four metrics, customers can also leave compliments for you. You won't be able to see which customer left you a compliment, but it can be nice to see what people have written about you.
DoorDash Customer Reviews And Why They Are Important 
You need to have positive DoorDash customer reviews for two reasons, The first and most important reason is that if your customer rating gets too low, you are subject to deactivation. Specifically, DoorDash states that if your customer rating falls below 4.2, you are eligible for deactivation. 
This doesn't mean you're automatically deactivated if you fall below 4.2. DoorDash uses vague language that you may be subject to deactivation if you fall below 4.2. Still, I recommend keeping your rating well above 4.2 so you never have to worry about deactivation based on a low customer rating.
The second reason your customer rating matters is if you want to get Top Dasher status. If you have Top Dasher status, you can dash anytime, even if the zone you want to dash in is full.  
In my opinion, Top Dasher status isn't worth it because you have to maintain a high acceptance rate to reach that level. Maintaining a high acceptance rate is difficult and means you have to accept low-paying or unprofitable orders. The benefits of Top Dasher status don't outweigh the costs to me.
That being said, the main reason to keep your customer rating high is to avoid potential deactivation and to give yourself a buffer if you do happen to get a few bad ratings. As you can see from my customer ratings, I've received two 1-star reviews. But since I have ninety-six 5-star reviews, it has little impact on my customer rating.
Final Thoughts
DoorDash makes it so you can see your customer reviews. You can use this information to see what you're doing well and what, if anything, you need to improve.
And the best thing you can do is to keep your rating fairly high so you can avoid any issues with a single bad review. 1-star reviews will happen. But if you have a lot of 5-star reviews, you'll be fine.