The first real job I ever had was as a lawyer at a big law firm. The job paid six-figures per year, so at 26-years-old, I was making an income that put me in the top 5% of earners in my age group. It was an unreal sum of money for me. Up until that point, the highest paying job I'd ever had paid $13 per hour.
The thing is, when you're in a job where everyone is making a lot of money, your perspective can get pretty warped. Everyone around me made six-figures per year, so even though I was making a lot of money, I often felt like I was nothing more than average. In retrospect, it's clear why this could have been the case. It's because of who I compared myself to – not the general population of people my age, but rather, the tiny, well above average slice of the world that surrounded me.
There was an article from MarketWatch that recently made the rounds that reminded me about this strange perspective I had as a 26-year-old. The article has an admittedly clickbaity title of how a $400,000 income is "barely scraping by" for some people in high-cost of living cities. It's a title obviously meant to generate a reaction but it brings up an interesting point about comparisons and anchoring points that I think is worth discussion.
There's this thing we as people naturally do when it comes to numbers. We anchor ourselves to specific numbers, often without much reason besides the fact that that was the first number that we saw. All of our comparisons are then made around that one point. And when it comes to comparisons, we often tend to compare ourselves upwards.
This impact of anchoring and comparison can have a big impact on how you think about your income. It's how someone making $400,000 per year can feel like they're just scraping by when by all measures, they're doing much better than that.
Barely Scraping By On A $400,000 Income
One thing to note. Whenever you read an article like this one from MarketWatch (i.e. one with a blatantly clickbaity headline), you've got to approach it understanding what it's trying to do. It's obviously trying to attract clicks. Maybe it's trying to garner some discussion. And possibly, it's trying to make you think beyond your usual world view. Getting enraged isn't going to help – go into an article like this with an open (but critical) mind, an understanding of what it's trying to do, and with the goal of seeing if it can give you some insight into how someone else very different from you thinks.
So how is it possible for someone making $400,000 per year to barely scrape by? The article samples a budget for a fictional couple with two kids living in the Bay Area. Here is that fictional budget: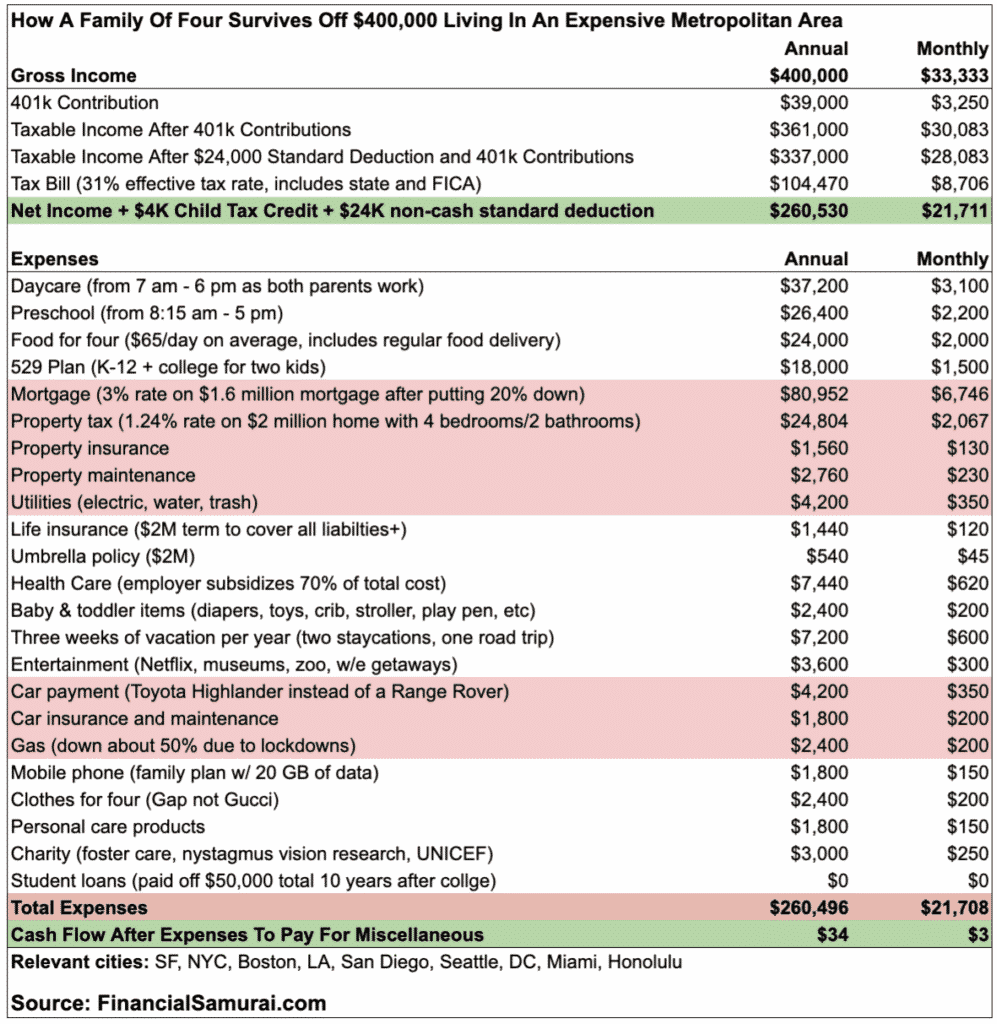 After paying taxes, saving money, and spending on essentials and optional items, they're left with just $34. Of course, that's $34 after doing the following: 
$39,000 per year in 401k contributions
$63,600 per year in childcare expenses
$18,000 per year in 529 contributions
$80,952 per year in mortgage payments ($1.6 million dollar mortgage after putting 20% down)
To get an idea of how decidedly not average these numbers are, consider this. Assuming a 7% rate of return, you're looking at a household that'll have over $1 million in their 401k plans in 15 years, $1.7 million in 20 years, $2.6 million in 25 years, and $3.9 million in 30 years. That'll also include a house worth $1.6 million or more by the time they're done paying off the mortgage. And they'll also have a little over $650,000 to spend on college for their two kids. If they retire at traditional retirement age, they'll have a net worth over $5 million.
By all objective measures, this household is doing very well – far better than the vast majority of Americans, including those living in high-cost of living cities. At the same time, you can see why this hypothetical couple could feel entirely average. They're going to be living in wealthy neighborhoods, surrounded by similar people doing just as well as they are.
When everyone around you is above average, it's easy to feel like above average is just average.
The Problem Of Upward Comparisons
The podcast Hidden Brain had an episode some time ago asking the question of why no one feels rich. It turns out that much of how rich you feel comes from relative comparisons. You could be making the same amount of money today as you did yesterday, but how you feel about that amount dramatically changes based on how you make your comparisons. 
A lot of this comparison problem comes with upward comparisons – that is, we tend to compare ourselves to those doing better than us. Of course, that isn't to say upward comparisons are a bad thing to do. Learning more and getting better is something everyone should strive to do. 
But there can be a dark side to these upward comparisons, namely, dissatisfaction. When someone has something that you don't have, it's easy to feel like you should have that thing too. A lot of the mental side of personal finance and financial independence has to do with being happy and appreciating the things you already have. That isn't easy to do though when you're looking at the things you don't have.
Anchoring And Defining What's Middle Class
Another thing to think about is anchoring and how we base our perspectives about what's normal based on often arbitrary points. Anchoring is basically the idea that we compare things based on the first number we see. For example, we see a car in a dealership with a price tag on the windshield. The price could be completely arbitrary, but once you see it, you base almost all of your decision-making around that price.
I think the idea of what makes someone middle class vs. rich (or at least well-off) is a lesson in anchoring. There's an interesting thing when you try to identify what is middle-class. The vast majority of people, when asked, will tell you they're middle-class. But we know this can't be possible because every single person can't be middle class.
In our hypothetical $400,000 household income, we're seeing a family that's able to max out all of their retirement accounts, save for college, pay for expensive childcare, live in a big house, take a few vacations per year, drive nice cars, and have some other luxuries in their life.
Is that middle class or is that rich? I think that depends on your anchoring point. If your view of middle class is being able to do all of those things, then absolutely. If rich means more expensive cars, bigger houses, fancier vacations, and being able to save large amounts of money too for the future, then this sample budget will feel very middle class. (What does that mean for a family making half this? Are they poor then? I'm not exactly sure.)
On the other hand, if your view of middle class doesn't include all of those things, you might see this household budget as the budget of a rich household. A middle class life might not mean the ability do all of these things. Maybe it means trade-offs between living in nicer neighborhoods or saving for the future.
Personally, middle class to me doesn't include all of those things. But my idea of what constitutes middle class is different from yours. It's up to you to find your anchor point. But the anchor point you pick is going to dramatically influence how you think about money.
One Way To Improve Your Finances – Keep Your Perspective
When I graduated from law school and started my first job, I came into it with the goal of living as normal as possible and spending as much of my money as I could on paying off my student loans. Even though I was making six-figures, I knew that most people my age weren't even close to that type of income. So, I went into my career with the idea that I'd live, not like a big shot lawyer, but more like a normal person. 
This wasn't a necessarily easy thing to do since I was surrounded by big-shot lawyers, all of whom were well above average compared to most people. One thing that helped is that most of my close friends weren't lawyers. They were young people like me starting off in what I'd call normal careers.
Making $50,000 per year was much more normal for my close friends, and so, that was my comparison point. If my friends were doing fine on their much smaller incomes, I'd act like I made that income and avoid the upward comparisons or higher anchor points that otherwise might have been in my mind. It made me much more satisfied with how I was living and spending my income.
No matter what you make, I think this is a really important thing you can do to help yourself. Perspective matters. Not everyone makes a lot of money, but I think a lot of people make more than they actually think. It just depends on who they're comparing themselves to.  
Addendum: The MarketWatch article was based on a post from Financial Samurai, Surviving Off A $400K Income. It's a post that admittedly is going to generate controversy, but give it a read if you're looking for a very different perspective about what this income gets you. My purpose with this post isn't so much to comment on this article as much as I'm thinking about how comparisons and anchoring points can impact how we think about our income.