Life has changed a lot for me and my family since we had a baby earlier this year. Besides the obvious day-to-day changes that have happened, adding a baby into our life has also meant a significant change to our overall future financial plans. Retirement and financial independence isn't the only thing we have to think about anymore.
Probably the biggest thing that we're going to have to budget into our overall savings strategy is the cost of college. It's hard to even think about something so far out into the future when you're so busy with simply figuring out how to live life with a baby, but make no mistake about it – college is something that has the potential to be so expensive that you have to start saving for it from the day your child is born.
That's because the numbers you have to save in order to fully fund your child's college education are astounding. Take a look at the following video from CNBC, which details exactly how much you'd have to save if you want to send your kid to an elite private university like Stanford 18 years from now.
The cost? In 2038, it's estimated that a year at Stanford will cost a little over $133,000. Over the course of four years, you're looking at paying over $550,000 in education costs. In order to reach that amount in 18 years, you'd need to save $1,765 per month or $21,183 per year!
Holy crap. Obviously, I don't know what the future will hold, but my wife and I both went to in-state flagship state schools and we have the idea in our minds that we'd be willing to pay for either our in-state school or possibly pay for a really elite school (think a Harvard or Stanford type school). It's very unlikely we'd be willing to pay for an out-of-state school or an expensive liberal arts type school. 
Still, no matter what we do, college is something that we have to plan for now, rather than later. Fortunately, this is a topic that I've thought about, so I have some ideas about how we can cover this massive cost in the future. In today's post, I want to go over some of the college savings strategies we plan to use.
College Savings Strategy #1: The 529 Plan
When it comes to college savings strategies, our first option is to take advantage of a 529 plan. As a quick primer, a 529 plan is a tax-advantaged account in which you invest post-tax money that can then be withdrawn tax-free so long as the contributions are used for qualified education expenses. It's easiest to think of a 529 plan as similar to a Roth IRA, but for educational purposes only.
Here's a diagram to help you visualize how a 529 plan works with respect to taxes: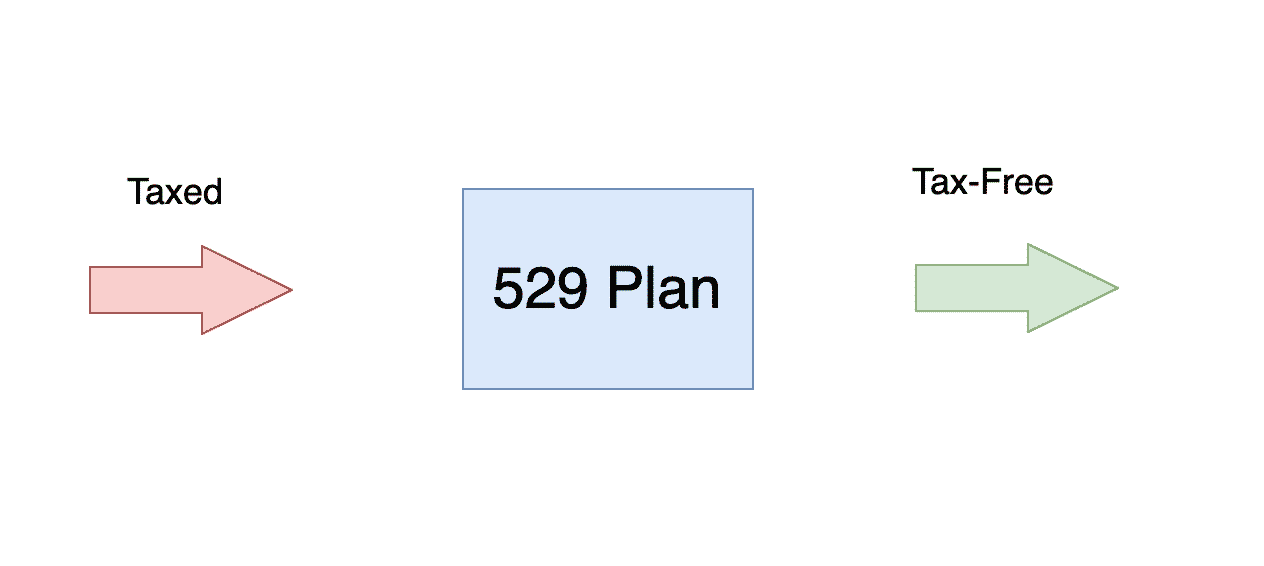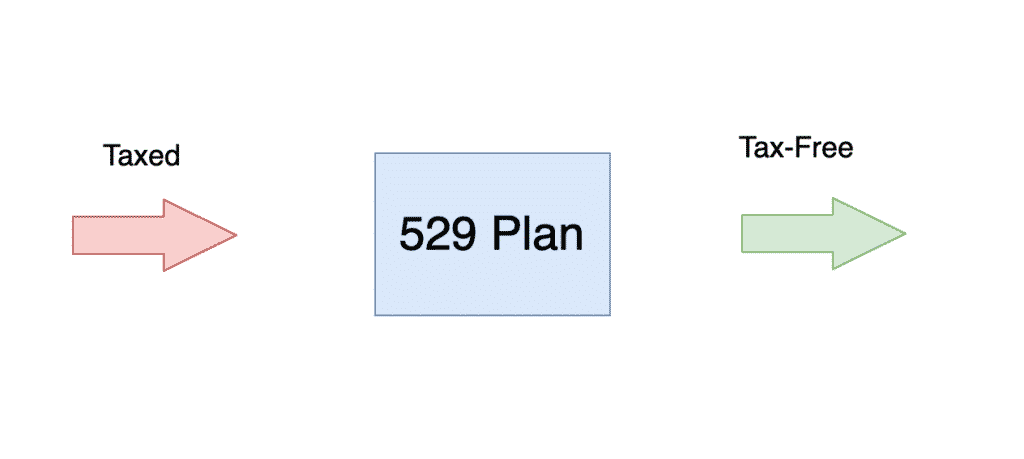 529 plans are administered by each individual state, but it's important to note that you're not limited to opening a 529 plan in the state that you live in. Rather, you can open a 529 plan in any state that you want and use those funds to go to any college that you want. Because almost every state has its own 529 plan, things can get a little bit confusing since you have a lot of different choices when it comes to which plan you choose. 
To keep things simple, you can use the following two-step process when deciding which 529 Plan you should use:
If your home state offers a tax deduction for 529 plan contributions, use your home state's 529 plan.
If your home state does not offer a tax deduction for 529 plan contributions, then go with the New York 529 plan.  
*Note that some states give you a tax deduction if you contribute to any state's 529 plan, so in that situation, you can choose to contribute to whichever 529 plan you'd like. 
The reason why I recommend using your home state's 529 plan if your state offers a tax deduction is that, obviously, you get a tax deduction for something that you're already going to be doing anyway (e.g. saving money for college). About half of the states offer some sort of tax deduction, so check your state to see if this is the case. 
In the absence of a tax deduction (or if you're in a state like my home state of Minnesota, which gives you a tax deduction if you contribute to any 529 plan), then I recommend the New York 529 plan. I think the New York 529 plan is the best one for two main reasons:
They use Vanguard funds, which I think are the best funds to invest in; and
They charge a 0.15% management fee, which is about as low as it gets in the world of 529 plans.  
I currently have my son's 529 plan fully invested in the New York 529 plan's Aggressive Growth Portfolio, which invests 70% into a Vanguard Total Stock Market Index Fund and 30% into a Vanguard Total International Index Fund. You really can't go wrong with this type of investment over a period of a decade or two.


In an ideal world, it'd make sense to front-load my son's 529 plan, since that would give it the benefit of more time to grow. Remember that saving for college has a shorter time horizon compared to investing for retirement – generally, 18-22 years when it comes to saving for college vs. a lifetime when saving for retirement, so it's important to get as much money as you can in there earlier, rather than later.
Unfortunately, my wife and I aren't in a position to heavily invest in my son's 529 right now given our many competing interests – saving for a house, paying for daycare, paying off student loans, etc. My guess is that most people with young children are in a similar position. It's sort of the bummer when it comes to saving for college – at the time we'd want to be super aggressive with our college savings, most of us simply don't have the income or resources to be that aggressive early on. 
Currently, we're contributing enough to max out our state's tax deduction for 529 plan contributions, which is $3,000 per year as of 2020. We're funding our son's 529 plan via the bank account bonuses that we've been earning this year, so it's one way that taking advantage of bank account bonuses can really help us right now.
For more information, check out this post I wrote a few years ago: What Is The Best 529 Plan – A Guide To Choosing Your College Savings Plan. I walk through my thought process in much more detail in that post.
College Savings Strategy #2: Selling A House 
A second potential college savings strategy works (or might work, anyway) because of our specific situation, but it's one that I think could work for a lot of young families as well. In my experience, most young families tend to buy their first house, then ultimately sell that house to upgrade to a bigger house or upgrade to a house in a better neighborhood. I've rarely seen a family buy their first house and then live there forever.  
That's our current situation. We live in a house that isn't going to be our forever home and at some point, we are going to move to a bigger house. The plan, however, is not to sell this house, but rather to keep it as a rental property. It's located in a neighborhood that makes it perfect to rent and it'll cash flow very well.
Recently, we took advantage of the huge drop in rates and refinanced our mortgage to a 15-year with a 2.75% interest rate. With a rate that low, I'm in no hurry to pay off this mortgage. 
What this 15-year mortgage does mean is that, by the time our son is ready to head off to college, we'd have a fully paid off property that, in theory, we could sell. This house probably wouldn't cover the cost of an elite private school, but it would definitely cover the cost of a state school.
Taxes are something we'd have to think about if we went this route, which is why the 529 plan makes more sense, but it's a potential option that comes about almost by accident. 
Final Thoughts 
There are other options we can use to save for college as well. Roth IRAs can be a vehicle to save for college, providing more flexibility compared to a 529 plan. We could also just use our regular savings and income, which is what most people likely do when paying for college.
The important thing to remember is that saving for college isn't the same as saving for retirement. Your time horizon to save for college is simply way shorter. So, if your plan is to pay for your kid's college, you really have no choice but to get started from the second your child is born. 
The goal is to eventually increase our contributions once we can get ourselves more settled financially. I don't think we're going to save over $1,700 per month like that video said we'd need to do, but we still have to save a significant amount if we want to fully cover what we expect the cost of a college education will be in 18 years. 
To new parents out there, what are you doing to save for college? Were you able to start saving right away or did it take some time?