Around the end of February, I started getting wind that mortgage interest rates were plummeting to record lows. This was about two weeks before the Covid-19 pandemic broke out here in the United States, but I guess the market was starting to notice that something was happening. At the time, I was pretty oblivious to what was going on around the world, and understandably so – my wife was nearly two weeks overdue with our first child and we were waiting for her to go into labor literally at any second.
Still, even with a lot going on in our lives, I felt like we had to take advantage of these low interest rates, especially since it had the potential to reduce the interest rate on our mortgage by 1 or 2 percent. So, on February 29th, I went ahead and applied for a mortgage refinance (just days before my son was born). It took about 2 months to get through the whole process and we had to deal with some hiccups and frustrating moments along the way. But, we got it done.
In today's post, I want to go over what my mortgage refinancing experience was like and provide some thoughts about why I went through all of this trouble. Long story short, it was a huge hassle (made worse by the pandemic) and came with some upfront costs. It should also save us thousands over the life of our mortgage.
Background On Our Mortgage Situation
As a bit of background, we live in a four-bedroom house that my wife bought in 2010, just a few months before she started dental school. In order to afford the mortgage payment, she house hacked by renting out three of the other rooms in the house to grad students. The income that she brought in from her roommates fully covered her mortgage, insurance, and taxes, allowing her to effectively live for free while she was in school.
At the start of this year, we were 10 years into a 30-year mortgage with a 4.8% interest rate. The plan for the past few years has been to refinance down to a lower rate, but a combination of factors has held us back. These included friction, procrastination, and a general lack of knowledge about how to refinance a mortgage. I think it was the friction, more than anything, that really held us back.
The recent rate drop, however, finally nudged me enough to make the move. When it comes to mortgage refinancing, there are a lot of companies to choose from. I decided to go with SoFi since it's a company that I've used for a lot of other financial products – student loans, bank accounts, and investing, just to name a few – and I've been happy with my experience with them before.
Because we only had 20 years left on the 30-year mortgage, my plan was to go for a 15-year mortgage. The nature of amortization schedules means you're paying primarily interest for the entire first half of the loan repayment period, so my rationale for a 15-year mortgage was to cut 5 years off the loan, and more importantly, avoid resetting the loan to a new 30-year loan.
SoFi preapproved me for a 15-year mortgage at 2.75% – or over 2% less than the interest rate we were currently paying. Interestingly enough, the huge interest rate drop meant that even though we were refinancing to a shorter term, our monthly mortgage payment would only increase by $32 (from $850 to $882). That's not significant enough to impact our monthly cash flow, yet it would save us 5 years of payments and thousands of dollars in interest.
If you're lowering your interest rate by 1%, it probably makes sense to refinance. Lowering my interest rate by over 2 percent and cutting the mortgage by 5 years with barely a change in my monthly payment? That was a no-brainer. I had to do it.
The Mortgage Refinancing Process
After submitting my application and receiving the preapproval, a loan officer called me and started talking about a bunch of stuff that I didn't really understand. This is one thing I hate about money or business people. They always use lingo that makes you feel stupid if you don't know what it means.
Here are the terms I learned that you might want to know (very dumbed down based on my lay understanding):
Closing Costs: This is the amount you have to pay in order to refinance your mortgage. Some of this money goes directly to the refinancing company as a fee (think administrative fees that they might charge). Some of it goes to third parties (appraisals, title work, etc – these all cost money and those people need to be paid). You also have to pay various state and/or county fees (recording fees, various taxes, etc). Finally, some of these costs go to your previous mortgage company (for example, you might have accrued interest that needs to be paid).
Points: This refers to the change in your interest rate if you want to lower the amount you pay in closing costs. You can pay a lower interest rate in exchange for paying more in closing costs. Or you can pay a higher interest rate and get a credit, which results in lower closing costs. The mortgage company will call these points – if you pay points, you'll pay a higher interest rate and pay less in closing costs or vice versa.
Rate Lock: When you're ready, you can have the mortgage company lock your rate, typically for 45 days, and extended as necessary. This means your interest rate won't change for the length of time it takes for you to get your mortgage closed and funded.
Verification of Employment (VOA): This is when the mortgage company calls your employer to make sure that you work there and that your income hasn't changed.
Anyway, I talked to the loan officer and after discussing the various interest rate options, I decided to lock the rate at 2.75%. I could have gone even lower due to interest rates dropping between when I talked to the loan officer and when I asked him to lock the rate, but I had planned for the 2.75% rate and decided to just take the approximately $500 credit for having it at 2.75%. Once the rate was locked and we had officially applied for our mortgage refinance, we went through the following steps:
House Appraisal: We had to pay $525 to do a house appraisal. We completed the appraisal on March 12th, about a day before we decided to lock down and implement social distancing measures. I'm not sure how we would have done this during the pandemic. I also probably could have shopped around for a cheaper appraisal, but at this point, I had my hands full with a week-old baby, so I didn't feel up to figuring out if I could do this cheaper.
Income Verification: Mortgage companies want a lot of documents to verify your income. This part is easier if you're a W-2 employee rather than self-employed, as underwriters find employees to be less risky than self-employed business owners. I find this a little silly when you think about it. It means the employees of a business can often have an easier time getting a loan than the owner that pays the employees. But, whatever, that's just how it works.
Signing Closing Papers: The part of the refinancing process that was a real pain was the actual closing. Mortgages are old school – you have to sign huge stacks of papers with a notary. In a normal world, this isn't that big a deal, but when you're signing papers in person during a pandemic, plus you have a newborn infant that you have to bring with you, things get much more complicated. We had initially scheduled our closing for April 20th but then didn't hear from the closing agent until late in the evening (no good for us since we had a sleeping baby and needed to sign the closing papers outdoors so that we could properly social distance). Two days later, we finally got the papers signed only to then be told that we needed to repeat the entire process because of some issues with our closing documents. We finally got the closing papers signed on April 29th after repeated rescheduling. Not fun at all – especially with a pandemic going on.
In total, it took a little over 2 months to go from application to funding. Overall, I'm happy that we got it done, but I wasn't particularly happy with the actual process. SoFi seemed pretty disorganized, in my opinion. The communication wasn't great and the closing process was atrocious. There's no reason it should have been so hard to get things scheduled and have the correct closing documents sent to the notary.
Mortgage Refinancing Savings And Benefits
While the mortgage refinancing process was not fun, I am happy with the savings we'll get from this refinance. Here are some of the things to think about:
1. Much Lower Interest Rate: The original mortgage had a 4.8% interest rate. The new mortgage has a 2.75% interest rate. Simple back of the napkin math says that we should save about $2,600 worth of interest in the first year, give or take.
To calculate whether it's worth it to refinance, you need to look at what your closing costs are versus the amount you'll save in interest.
Here's a look at our closing costs. We also received a lender credit of $503.10. So, we should be able to break even within 18-24 months. Our plan is to keep this house forever if we can and use it as a rental when we move. So, we should be able to recoup these upfront costs eventually.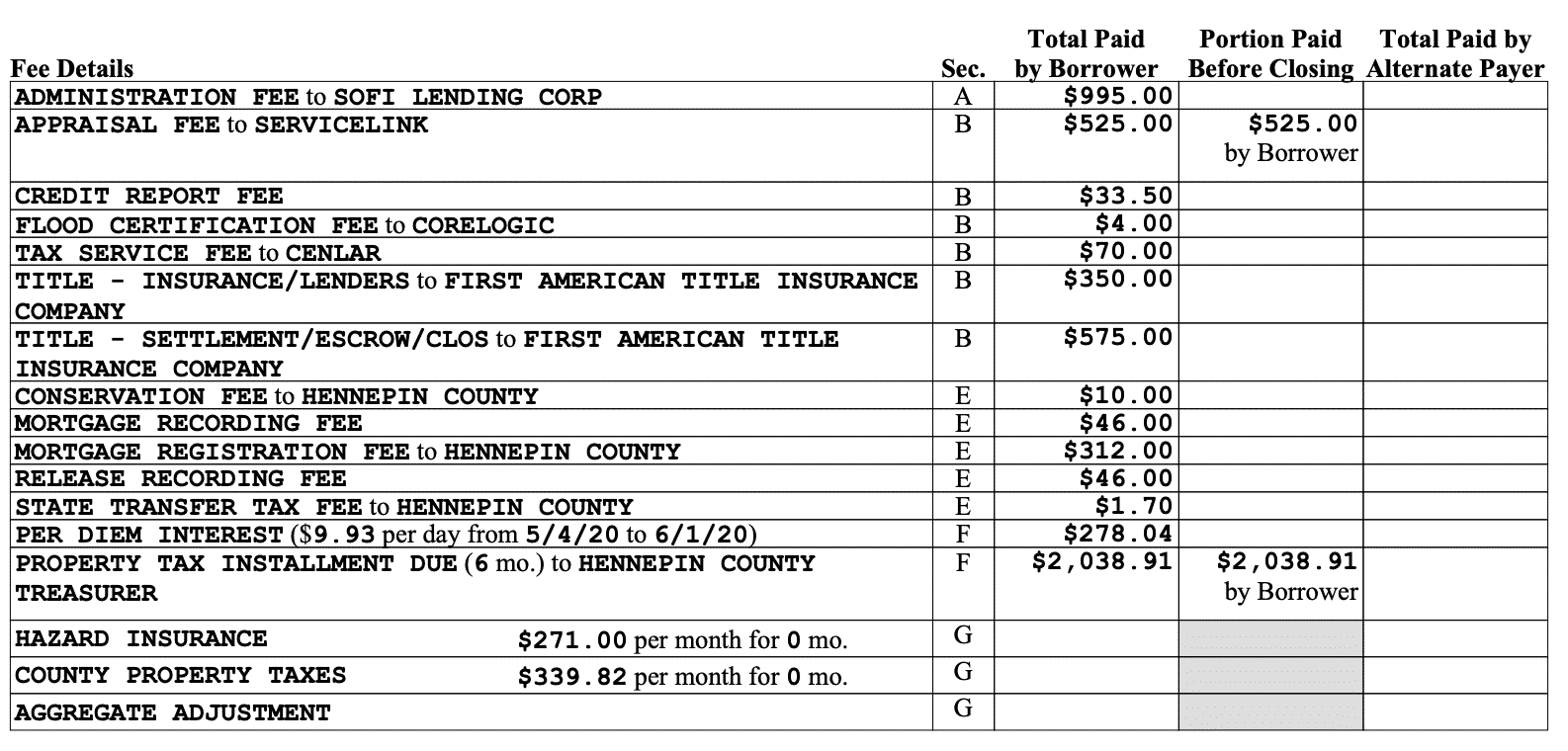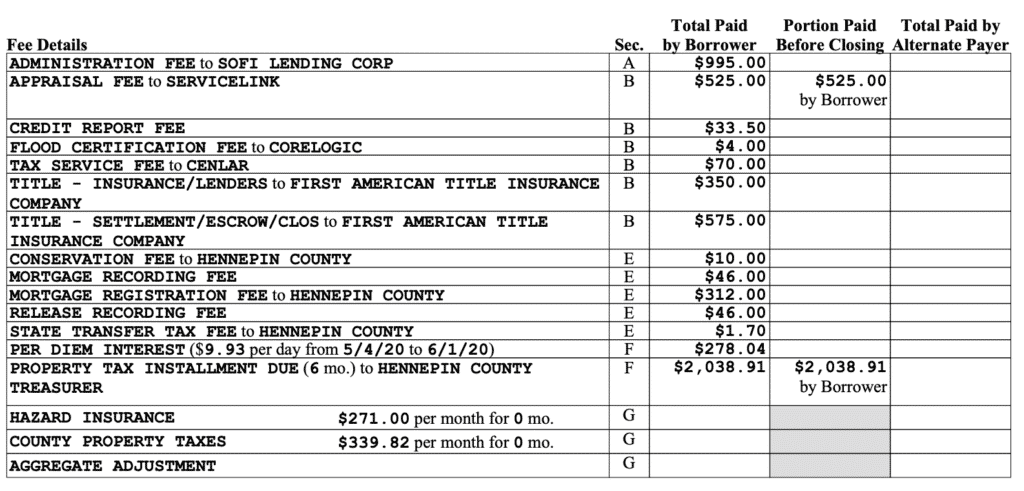 2. Refinancing Meant A Shorter Mortgage Term. One of the surprises for me is that refinancing our mortgage to a shorter term barely changed our monthly payment simply because of how much lower our interest rate is under the new terms. The principal and interest payment was $850 with our previous 30-year mortgage. It only went up by $32 with the new 15-year mortgage.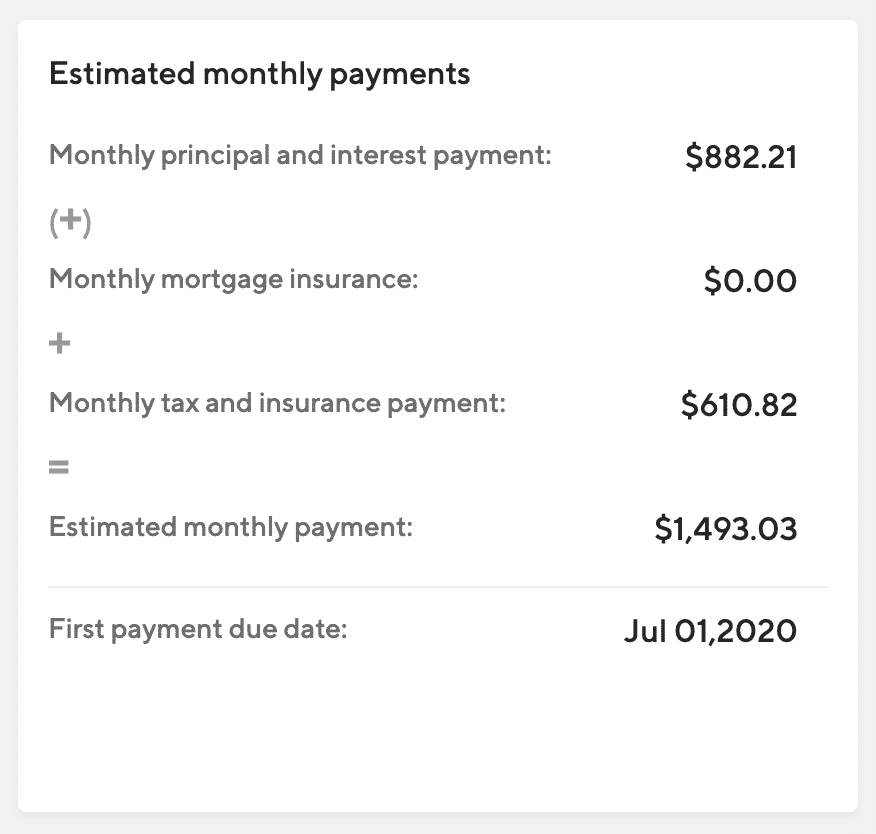 One thing I could have done is to stretch out the mortgage to another 30-year mortgage, which would have cut the monthly payment down into the $500 range. Mathematically, I can't deny that this might make more sense over the long-term. Over a 30-year period, we would likely make a little bit more by paying less towards the mortgage and investing the excess into something like a Total Stock Market Index Fund. I'm not convinced that the difference would be very significant though.
3. Lower Insurance Costs. Another surprising thing that happened is that refinancing dramatically reduced the yearly cost of our homeowner's insurance. During the refinancing, we had to call the insurance company in order to add my name to the homeowner's insurance policy. The insurance agent noticed that he could cut our yearly premium by a ton. We wouldn't have known this if we hadn't had to call the insurance company to get me added to the policy.
4. No Longer Paying Insurance And Taxes Through Escrow. This might be a strange thing to call a benefit, but it really is. For the past decade, the monthly mortgage payment has always included escrow payments for insurance and property taxes. It does simplify things, especially if you're the type that isn't disciplined enough to save money. The worst thing that can happen is to have your insurance premium or your property taxes due, then realize you have no money to pay these bills.
The problem with doing escrow through the mortgage company is that it means they're holding your money for up to a year without giving you anything. I'd rather set the money aside in a savings account and have it earn interest. Even better, paying insurance and taxes myself means that I can use a credit card and earn points and miles for my spend. I'm always going to have to pay taxes and insurance premiums. I might as well get something for it.
The current plan is for us to automatically set aside our yearly property taxes and insurance premiums in a separate savings account. Then, when the time comes, we'll pay for it using the funds that we've been setting aside in our own, "self-escrow" account.
Final Thoughts
I'm not a real estate expert by any means and I have no idea if this experience was typical or not. Obviously, refinancing a mortgage during a global pandemic is going to be different, with some logistical issues that you normally don't have to deal with (i.e. offices shut down, closing having to be done outside or someplace where social distancing was possible).
My situation was pretty straightforward. Refinancing was essentially a no-brainer because of how much lower my interest rate will be. My guess is that it'll be a long time before we see interest rates at this level, so I'm happy we were able to snag these rates while we could.
As I write this, interest rates remain at historical lows. If you're in the market to refinance your mortgage, now might be the time to do it.