Until a few years ago, I'd never heard of a 529 plan. A basic description is that a 529 plan is essentially a Roth IRA that can only be used for educational expenses. Money goes into the 529 plan post-tax, grows tax-free within the plan, and can then be withdrawn tax-free at any time so long as the funds are used for qualified educational expenses. If you put $1,000 into a 529 plan, and it grows to $2,000, you can take all of that money, pay qualified educational expenses with it, and you won't pay any taxes on the gains.
Similar to a Roth IRA, you set up a 529 plan yourself – it's not tied to your employer. Since each 529 plan is administered by each state and since you're not limited to opening up a 529 plan in your own state, you've got some choices when it comes to where to open up your plan. It can get confusing if you don't have a lot of background in this area.
I've been thinking a lot about 529 plans recently for a few reasons. First, my home state made some changes to how 529 contributions are treated for state income tax purposes, which means that I'm now eligible to deduct up to $3,000 for contributions made to any state's 529 plan. While not as valuable as an HSA contribution, that's still $3,000 of income that I'll potentially pay no state income taxes on, ever.
Second, my wife actually pays a fairly small amount of tuition as part of her residency program. This provides an opportunity for us to use a 529 plan to not only get some state tax deductions but also to meet some minimum spend requirements on a couple of credit cards. All we need to do is buy some Gift of College gift cards using our credit cards, fund her 529 plan with those gift cards, and then pay tuition from her 529 plan funds.
529 plans can be confusing. But it doesn't have to be. Today's post goes through what I think is the simplest process to use when deciding where to open up your 529 plan.
What is the Best 529 Plan?
Asking what is the best 529 plan is a bit of a loaded question. There isn't technically a single correct answer and I'm sure any answer will generate disagreement and debate. There are three things you should know about 529 plans.
First, the most important thing to remember is that while 529 plans are state-sponsored, you can actually open up a 529 plan in any state that you want. You're not limited to using your home state's plan.
Second, you can open up a 529 plan for anyone, including yourself. That means you can have a 529 plan ready to go even before you have kids – all you have to do is transfer the 529 plan to your kids once you have them.
Finally, remember that you can use your 529 plan funds to pay tuition at any college, not just ones located in the state that you open up your 529 plan. This is key because it means that we have our pick of 529 plans since we can use the funds anywhere.
Most people don't realize the above information and will instead just invest in their home state's 529 plan (assuming that they invest in a 529 plan at all). That's not necessarily the wrong move, but like anything, it pays to have some knowledge in this area.
So how should you choose which 529 plan to use? I pretty much recommend following these two steps:
If your home state offers a tax deduction for 529 plan contributions, use your home state's 529 plan.
If your home state does not offer a tax deduction for 529 plan contributions, then go with the New York 529 plan.
That's a pretty simple process for what seems like a pretty complicated area. After all, with all of the 529 plans out there, how can I distill this process down to just two steps?
I think the key with a lot of personal finance is to just make things simple. And with this process, it's pretty much as simple as it gets. For almost everyone, either investing in your home state's 529 plan or investing in the New York 529 plan will yield good results.
Invest In Your Home State's 529 Plan If Your State Offers a Tax Deduction
Each state treats 529 plan contributions in one of three ways:
A tax deduction for contributions you make to your home state's 529 plan;
A tax deduction for contributions you make to any state's 529 plan;
No tax deduction for contributions, either because the state doesn't have an income tax or because it simply doesn't offer a tax deduction
The chances that your state offers a tax deduction if you contribute to its 529 plan is about 50/50. So, if your state offers a tax deduction for the 529 contributions that you make into its plan, then you should probably take advantage of that benefit.
Of course, not all tax deductions are created equally, so you'll need to look at the value of your state's tax deduction to determine if it's worth it. For example, just doing some cursory research, I noticed that North Dakota's state income tax rate is between 1 and 2 percent, even for really high-income earners. The North Dakota 529 plan comes with a fairly high expense ratio of 0.5%. Depending on how much you earn and how much you contribute, it might make more sense to opt for a cheaper, out-of-state plan and forego the state tax deduction.
If you're in a state with a fairly expensive 529 plan, another strategy that makes sense would be to invest up to the deductible limit in your home state's 529 plan, then consider investing additional contributions in another state's 529 plan. You're not limited to investing in just one state's 529 plan, so if you want, you can open up a second 529 plan in another state and contribute to that one. It's a nice way to get the best of all worlds – your state tax deduction and the benefits of a cheaper 529 plan.
Invest In The New York 529 Plan If Your State Doesn't Offer A Tax Deduction
If you live in a state that has no tax deduction or offers you a tax deduction for contributions you make to any 529 plan, then I'd recommend going with the New York 529 Plan.
There are a few reasons why I think the New York 529 plan is the no-brainer choice for anyone who's not getting a tax break from their home state:
Low investment minimums: You only need $25 to open up the New York 529 plan.
Simple to use: Even for a novice, the New York 529 plan is very straightforward. There are only a few investment choices, and they're all good.
Low costs: There are no administrative fees and the expense ratios for every fund are only 0.15%, which is pretty much as low as it gets in the 529 plan world.
Vanguard funds: New York's 529 plan uses Vanguard funds, which is the company I always prefer to use for index fund investing because they rock.
The process of setting up the New York 529 plan is pretty simple. You just go to the New York 529 plan website, click open an account, and just fill out the information. It literally takes less than 10 minutes.
I actually opened up a New York 529 plan in my own name a few years ago because I wanted to get a better handle on how 529 plans work. For the past 3 years, I've been saving $25 a month into the plan. It's obviously not a ton of money, but it's been worth the minimal investment just to make sure I know what I'm doing when I actually have kids of my own.
Setting up your contributions is pretty easy. You really only have two things you can do. Set your future allocations or switch up your current allocations.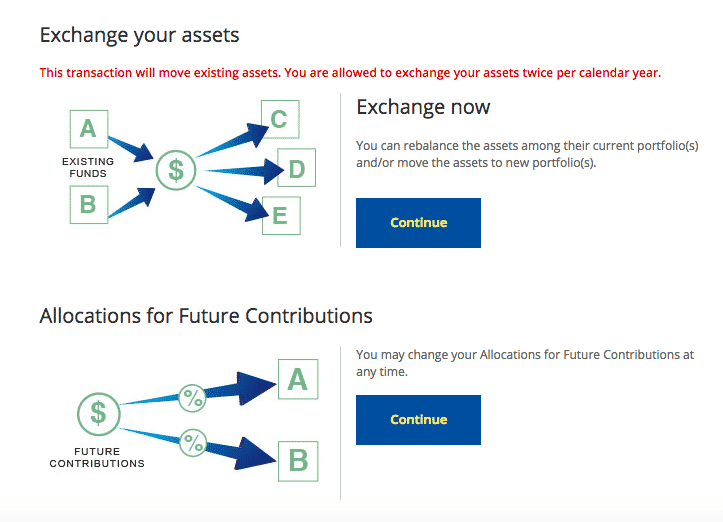 They have age-based investment options where the plan will re-adjust your asset allocation as your child ages. Think of a target retirement fund with an investing timeline of 18-22 years.
For myself, I preferred just picking my own portfolio, rather than picking the age-based portfolio (the age-based portfolio also didn't work for me because since I opened the 529 Plan in my own name, it thinks I need a really conservative portfolio given my age).
Here's an example of the "Aggressive Growth Portfolio" in the New York plan. It's pretty much perfect for anyone that's investing for the long-term. And as you can see, the Aggressive Growth Portfolio invests in Vanguard Total Stock Market funds.

If you're more conservative, you might go with something like the Growth Portfolio, which consists of Vanguard Total Stock and Bond Market Funds.

Someone with a little more knowledge could also make their own simple, three-fund portfolio just by combining the Aggressive Growth Portfolio and the Bond Market Index Portfolio.

The point is, the New York 529 plan pretty much has perfect investment options. While you're paying more than the Vanguard funds actually cost, at a flat expense ratio of 0.15%, you're still doing really well.
Keep Costs Low
The key to any 529 plan – as with investing in general – is to keep your costs low. Passive index investing like the type offered in the New York 529 Plan is exactly what you're looking for.
So, that's my simple two-step process for picking the best 529 plan. To recap, if you're getting a tax deduction from your state 529 plan, you'll want to take advantage of your home state's 529 plan. Other than the HSA, it's basically the only other way to get completely tax-free income.
If you're in one of the states (like I am) that either doesn't offer a tax deduction or gives you a tax deduction for contributions made to any 529 plan, then the New York 529 Plan is the best plan and the one you should aim to use.
That's it. Two steps and you're done with picking the best 529 plan.
Am I way off base here? Are there other 529 plans that you think are better than the New York one?