One way you can make extra money with DoorDash is by taking advantage of DoorDash challenges. These are bonuses that DoorDash occasionally offers to Dashers that can meet certain conditions. In general, DoorDash offers these challenges when it's looking to get more Dashers on the road. 
In this post, we'll look at how DoorDash challenges work, how you gain access to these challenges, and consider whether they are worth doing. 
DoorDash Challenges
DoorDash challenges are incentives that DoorDash offers to certain Dashers, providing bonus payments for completing a certain number of deliveries in a set amount of time. In essence, it's a bonus system to incentivize Dashers to complete more deliveries (you can read more about DoorDash challenges on the DoorDash website).
If you're targeted with a challenge, you'll see it in your Dasher app. The app will tell you how many deliveries you need to complete to earn the bonus, as well as the amount of time you have to complete the challenge. Most challenges last a few days, usually for a week or a weekend.
For example, a typical challenge might say you'll earn a $20 bonus if you complete 10 deliveries in a weekend. That means if you complete those deliveries in that time frame, you'll earn an additional $20 bonus on top of the earnings you make for your deliveries.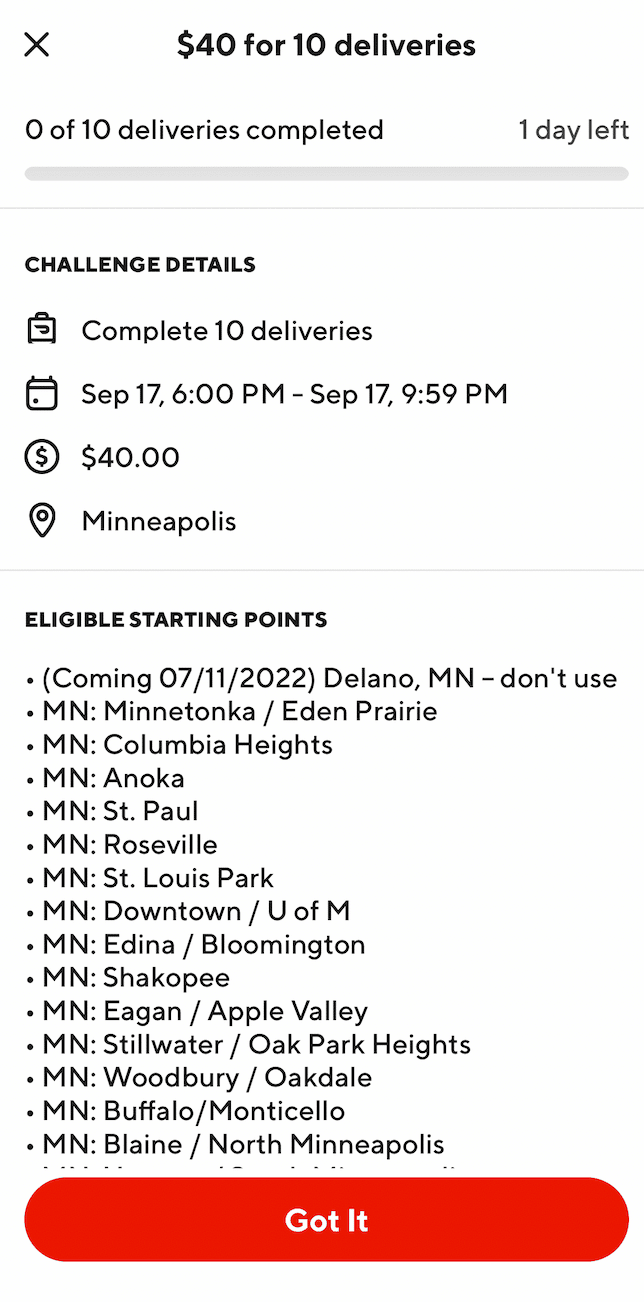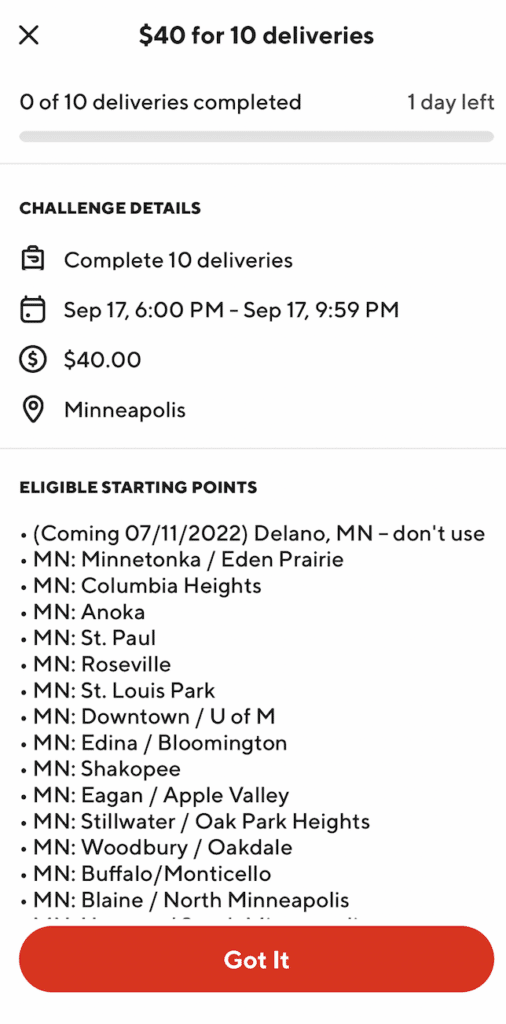 Challenges are automatically added to your account and you don't have to opt-in or activate the challenge to qualify for it. This makes things much easier since you don't have to do anything on your end. As you complete deliveries, DoorDash will show you how close you are to meeting the challenge requirements. If you complete the challenge, you'll see the bonus earnings in your next payout. 
One thing to note – DoorDash does not give any bonuses for completing a large number of lifetime deliveries. So don't worry about how many total deliveries you complete over time,
How Do You Receive DoorDash Challenges? 
DoorDash challenges are not sent out to every Dasher. Instead, DoorDash uses a variety of factors to target specific Dashers with challenges. DoorDash does not reveal the criteria or algorithm they use to determine how it targets challenges, but they do state on their website that they look at factors such as how long the Dasher has been working on DoorDash. 
Some people theorize that DoorDash targets new Dashers for challenges, mainly to keep new Dashers motivated to keep delivering. This could be true, but there's no hard evidence to support it. 
I received a lot of challenges during the pandemic when demand was very high. However, as demand for DoorDash has cooled off, I haven't received any challenges. Indeed, I can't remember the last time I was targeted with a challenge.
In practical terms, you don't need to worry too much about how to get targeted with challenges. If you get targeted, that's great. But most of the time, you'll be working without any challenges. Working during the right hours and utilizing the right strategies is what'll make you the most money.
Are DoorDash Challenges Worth Doing? 
Whether a challenge is worth doing really comes down to a math question. Look at how much the challenge pays and how many deliveries it takes to earn the challenge. 
So, if you have a challenge offering a $20 bonus for 10 deliveries, that means you're earning an extra $2 per delivery. You'll have to decide for yourself whether it's worth doing based on those numbers.
In general, I don't think about challenges too often and I wouldn't recommend going out of my way to complete a challenge unless you're very close to completing it. That's because it's still better to be strategic with the orders you accept. In addition, you still should multi-app using other delivery apps like Uber Eats or Grubhub, since that'll earn you more than chasing challenges. Whenever I complete a challenge, it's almost always natural – i.e. I don't go out of my way to accept unprofitable DoorDash orders simply to meet the challenge. 
The only time I would consider chasing a challenge is if you're only a few deliveries away from completing it. That's because when you think about it, the value of a challenge is $0 until you actually complete it. That means if you're only a few deliveries away from completing the challenge, it can be worth chasing orders (or at least prioritizing DoorDash orders) so that you can capture the actual value of the challenge. 
But again, I wouldn't go out of my way to chase orders at the beginning unless the challenge is particularly lucrative.
Final Thoughts
DoorDash challenges are a bit of a win-win for Dashers. If you are fortunate enough to get targeted with a challenge, you have the opportunity to earn more money just by doing the normal deliveries you're already doing. Since you don't have to do anything to activate a challenge, there's really nothing you have to do beyond what you're probably doing anyway.
So, in conclusion, DoorDash challenges are a nice bonus that you can take advantage of when they're available to you. However, you shouldn't rely on them. Instead, you want to focus on being strategic and efficient with your deliveries.