If you're ordering food with DoorDash, you'll, of course, need to pay for your order. Fortunately, there are a lot of DoorDash payment methods available to customers.
This post lists all of them, going over the pros and cons of each DoorDash payment method, as well as providing information on how to delete payment methods and whether you can use two (or more) payment methods on DoorDash. Let's take a closer look at all of your payment options.
List Of DoorDash Payment Methods 
DoorDash gives you several ways to pay for your order. Here are all the DoorDash payment methods you can use. 
1. Credit or Debit Card 
You can pay for your order using a credit or debit card. Simply add your card information to the DoorDash app. That'll include your card number, expiration date, and CVC. If you don't want to manually enter this information, you can also scan your card using the DoorDash app. I find this feature fairly unreliable, so I usually manually enter my card information.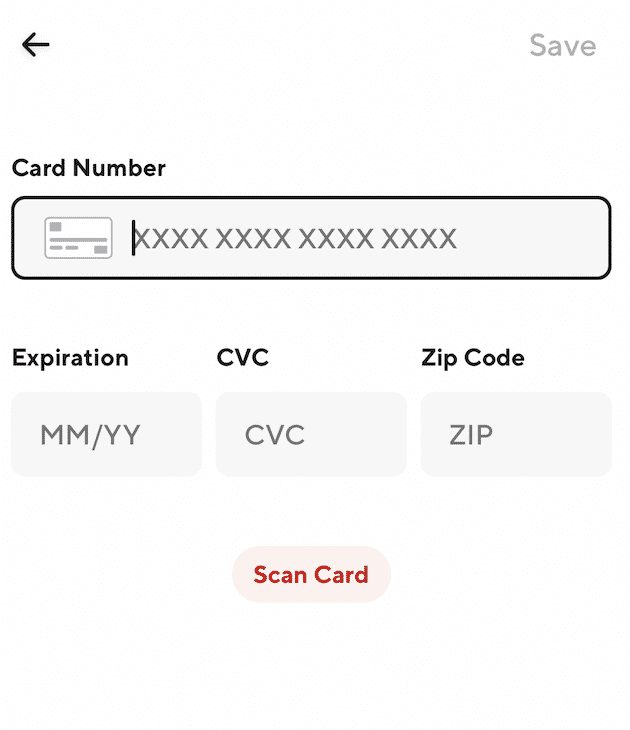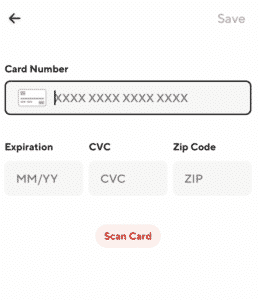 I generally recommend using a credit card when you're ordering because you can earn points and miles, which you can use for free trips. In addition, credit cards have better consumer protections compared to debit cards. This is important because if you have an issue with your order and can't get DoorDash to fix the issue, you can consider filing a dispute with your credit card company and have them remedy the issue for you.
You can add as many credit or debit cards as you want into the DoorDash app, which can be helpful if you have different cards you'd like to use. Once you add a card, it's also easy to remove the card from your account, if needed.
2. Apple Pay 
Another way you can pay for your order is using Apple Pay. To use Apply Pay, you'll need to have Apple Pay set up on your phone. Once you've done that, you can go to the payment methods section of the DoorDash app and add Apple Pay. 
The benefit of using Apple Pay is that you can set up your cards in Apple Pay, then use it to pay for your meals without having to reenter your card information again in the DoorDash app.
3. PayPal 
Paypal is another payment method you can use for your DoorDash order. If you keep money in your PayPal account or have cards linked to PayPal, it can make sense to pay for your order with this method. Occasionally, DoorDash has promotions where you can get a discount if you use PayPal, so that's the main reason I sometimes use PayPal when I'm ordering.
4. Venmo 
A lot of people use Venmo to exchange money with friends and family, but you can also use it to pay for goods and services too. You can link your Venmo account easily in the DoorDash app. Simply go to the payment section and click Venmo. You'll then get a notification in the Venmo app asking you if you want to link your Venmo account to DoorDash.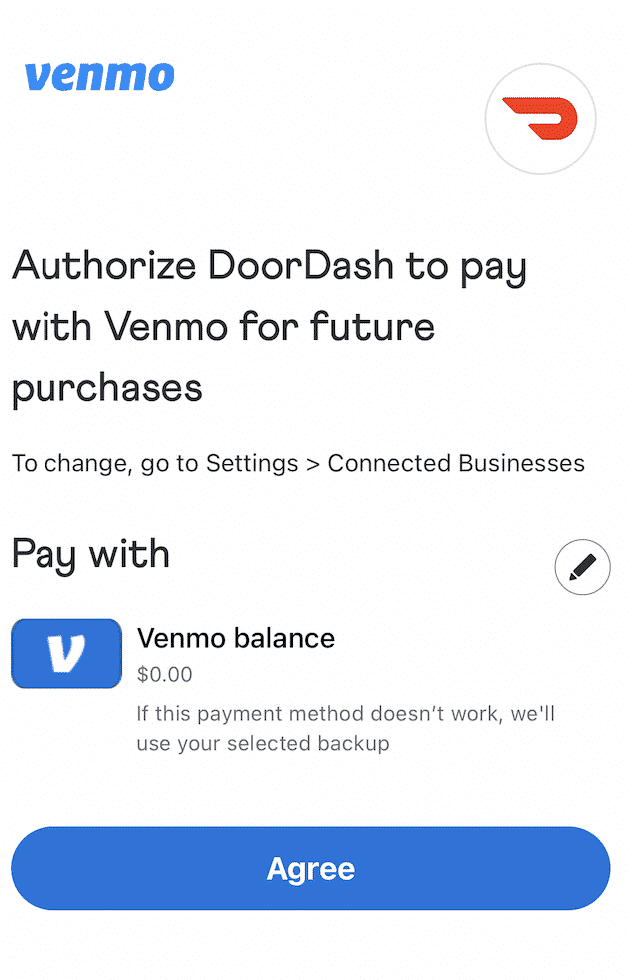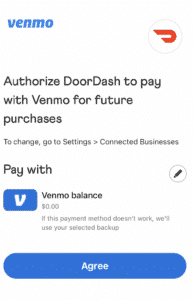 If you have a Venmo balance and want to use it to buy things, Venmo is an option you can use. 
5. DoorDash Credits
The final DoorDash payment method you can use is DoorDash credits. You can get credits in two ways. The first is by buying DoorDash gift cards. You can then add the gift card to your DoorDash account.
The second way to get DoorDash credits is directly from DoorDash. If you have a problem with your delivery, for example, DoorDash may issue you a credit to make up for it. 
DoorDash credits don't expire, so you can think of them as cash in your account that you can only use for DoorDash orders. Generally, if you have credits, you should use them so you don't forget about them.
Payment Methods That Are Not Accepted
There are two payments that people ask about that are not accepted. First, you cannot pay for your DoorDash order with cash. A few years ago, DoorDash was piloting an option where you could pay for your order with cash, but they've since paused that option. So, if you're trying to pay for your order with cash, you are out of luck.
The second payment method that is not directly accepted is Cash App. While DoorDash does link with Apple Pay, Venmo, and PayPal, they don't directly link with Cash App. However, you can link your Cash Card to DoorDash and then pay using that. So while you can't directly link your Cash App account with DoorDash, you can still pay using the Cash Card.
How To Delete Payment Methods On DoorDash 
One of the more confusing things in the DoorDash app is how to delete payment methods. It's not very intuitive, which is why people ask this question. Fortunately, once you see how you do it, it's very easy. 
To delete a payment method, go to your saved payment methods, then swipe to the left on the payment method you want to delete. You'll then see a red delete button, which will let you delete the payment method. 
Note that you have to keep one default payment option on your account. The default payment method is shown with a checkmark, so if you have a checkmark on that payment method, you won't be able to delete it. To get around this, switch the default payment method to another card, then you can swipe left and delete the card.
Can You Use Two Payment Methods On DoorDash? 
DoorDash does not let you use two payment methods to pay for your order. The exception is you can combine DoorDash credits with another payment method. So, if you don't have enough credits to cover your entire order, you can pay for the rest of it using any of the DoorDash payment methods available.   
Final Thoughts 
DoorDash gives customers multiple ways to pay for their orders. This makes DoorDash even more convenient since there's likely a payment option that suits you. 
The only real limitation is that you can't pay for your DoorDash order with cash (at least not at the moment). Personally, I think it's best to pay for your order with a credit card, but the option you use is up to you.