A frustrating experience you might encounter is when you order Grubhub and find yourself with the wrong Grubhub order. Fortunately, it's easy to address wrong orders in the Grubhub app. Most of the time, you can handle the issue yourself without even having to speak with 
In this post, we'll look at how to handle a wrong Grubhub order, what you should and shouldn't do if it happens to you, and some tips and tricks you can use to minimize the chances you end up with a wrong order in the first place. 
Reporting Wrong Grubhub Orders 
If you receive a wrong Grubhub order, your first step is to report the issue to Grubhub immediately. To do this, log into your Grubhub app, then find your order and click the "Help" button in the top right corner. From there, you'll be given a variety of options to choose from.
If your order never arrived, you'll need to select the option "your order never arrived." If you're missing items, then you'll select the option "There's a problem with my food."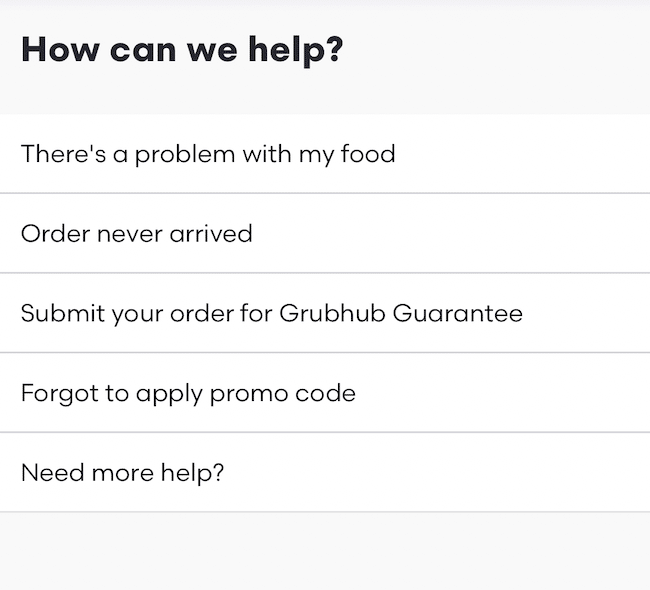 Once you report your issue to Grubhub, you should get a refund for the missing items (or the entire order if your order never arrived).
If your issue still doesn't get addressed, then you'll need to contact Grubhub support and try to speak to someone. You can contact Grubhub in the app to get assistance.
What You Shouldn't Do About Wrong Grubhub Orders 
When you're missing items in your Grubhub order, it can be tempting to be upset at your Grubhub driver for delivering the wrong order to you. While it sometimes can be the driver's fault that your order is wrong, most of the time, the issue is with the restaurant, rather than the driver.
Knowing this, you shouldn't take your frustrations out on your Grubhub driver. Most restaurants seal items in the bag before handing the order to the driver, so even if your order is wrong, your driver might have had no way to confirm the order was correct other than by taking the restaurant's word on it.
Your order could also be wrong due to an honest mistake. Grubhub drivers often deliver multiple orders at the same time. With so much going on, drivers can sometimes mix up orders between different customers. If you receive the wrong order, it's likely just an honest mistake.
The second thing you shouldn't do is contact your Grubhub driver after the order is delivered to complain that your order is wrong or is missing items. The fact is, once your order is delivered, your driver can't do much about it. Instead, follow the instructions in the previous section to get a refund for your missing items. The exception is if you immediately notice that you received someone else's order. If the Grubhub driver accidentally gave you someone else's order, they might be able to come back to you and give you the correct order. But even then, they might not be able to do it.
Finally, don't contact the restaurant about your wrong Grubhub order either. Again, your issue shouldn't be with the restaurant or with your Grubhub driver. You placed your order with Grubhub, so Grubhub is the one that will handle any issues you're having.
How To Avoid Wrong Grubhub Orders
There are a few things you can do to minimize getting wrong orders from Grubhub. The first thing you can do is to avoid asking for extra items in your delivery. Some customers make the mistake of asking for extra stuff in the delivery notes when they place their order. However, Grubhub drivers don't see the delivery notes until after they've picked up the order. If you ask for extra food or special instructions with your food, your driver likely isn't going to see them until they've already left the restaurant.
The second thing I recommend to minimize wrong Grubhub orders is to avoid ordering drinks. In my experience, drinks are the most commonly missed item by restaurants and Grubhub drivers. This is because drinks are usually added to orders by the restaurant at the very end. This makes it easy for the restaurant to forget to hand the drink to the delivery driver. Also, many delivery drivers don't review what items are in the order, so if the restaurant doesn't hand them the drink, they'll likely forget about it. 
Finally, whenever you place a Grubhub order, you should always use a credit card, if possible. This is because credit cards come with more consumer protections. So, if you end up having an issue with your order and Grubhub doesn't address it to your satisfaction, you can at least file a claim with your credit card company and likely get the order refunded by the bank.
Final Thoughts 
It can be frustrating when you place a Grubhub order and find that it's wrong. Fortunately, it's easy to get a refund for any wrong or missing items. So, no need to stress about it.