I was recently sent the iHood Heated Vest to try out. It's been a game-changer for my outdoor activities – it looks good, has some nice technology to it, and, most importantly, keeps me warm.
The iHood Heated Vest comes equipped with innovative heating technology that utilizes carbon fiber elements to distribute warmth across the core areas of the body effectively. There are three adjustable heat settings, which allow you to find the perfect temperature for the vest.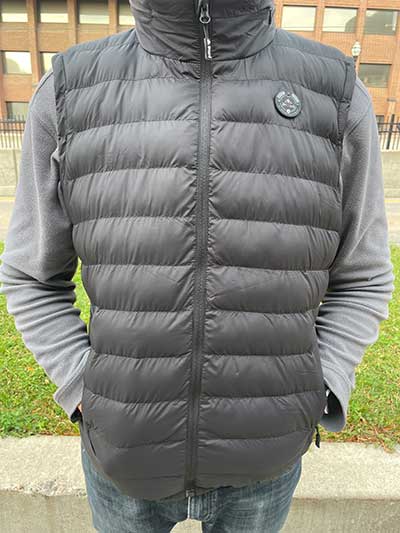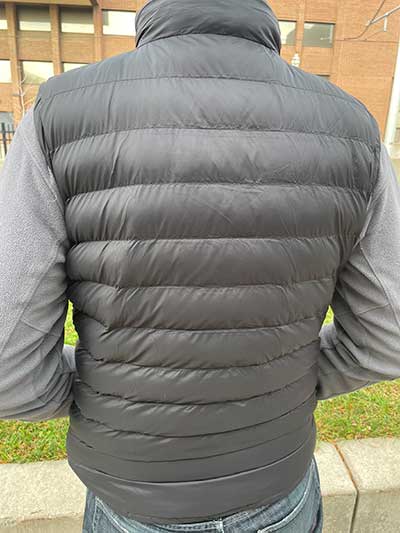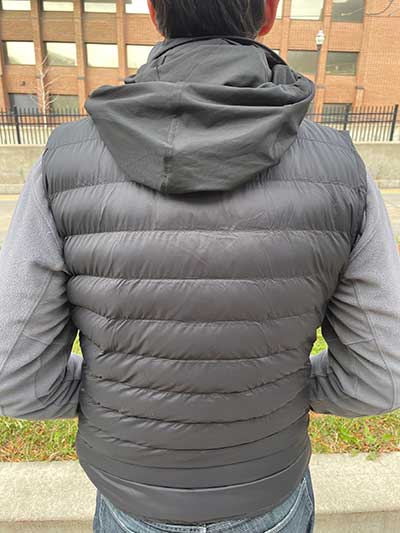 The iHood Heated Vest's design is sleek and non-bulky, which means it can easily be worn under other layers without restricting your movement. The outer material is also wind-resistant and water-resistant, making it a good vest for all sorts of weather conditions. The vest is also machine washable, which makes it easy to clean.
In this iHood Heated Vest review, I'll go over the specs of the vest, how I'm using it, and what my thoughts are on it after using it for a while.
iHood Heated Vest Specs
Here are some of the specs of the iHood Heated Vest:
52Wh QC3.0 battery
Max temperature of 158°F
3 Heating Areas Total 8 Heating Panels
Waterproof and Wind-resistant
Light-off Function
100% Machine Washable
100% Nylon Shell
Temperatures

High: 149-158°F/65-70°C
Medium: 131-149°F/55-65℃
Low: 122-131°F/50-55℃
Let's take a look at some of these specs in more detail below.
iHood Heated Vest Battery Life
One of the standout features of the iHood Heated Vest is its long-lasting battery life – the iHood Heated Vest has excellent battery life. On the highest heat setting, iHood claims a battery life of approximately 4.5 hours. The medium setting gives a battery life of about 6 hours. And the low setting will give you about 8.5 hours of battery life.
The battery itself is small and fits easily into the inner pocket of the vest. You do notice it a bit because it adds some weight to the pockets, but it's not annoying and doesn't get in the way.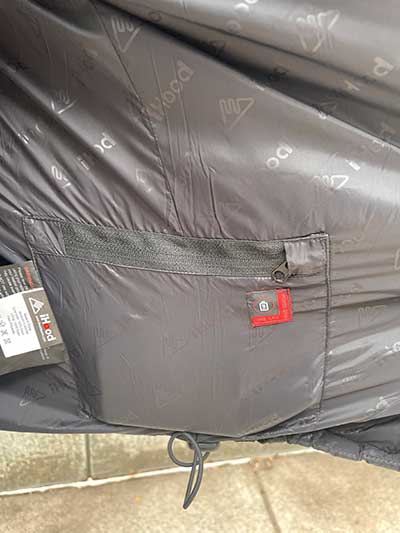 So far, I've found the battery life to match what iHood lists on their website. I'm usually in the middle or low setting right now, mainly because I've been testing this vest out in the fall. I'm in Minneapolis, so in the winter, I'll be sticking to the high-temperature setting.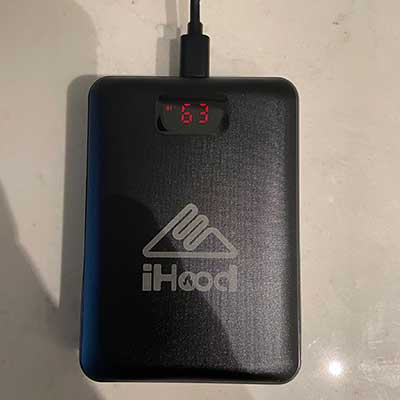 The vest itself keeps me warm around my core, but I particularly like how warm it keeps my neck. There's a lot of insulation around the neck and hood. During winter, layering the vest under a coat is a great way to keep my core warm.
Heating Controls For The iHood Heated Vest
The iHood Heated Vest's heating control system is amazing and gives you a lot of ways to customize the heating to what you like. The heating is controlled by a one-touch LED controller. I found it intuitive and easy to use. The controller lets me quickly switch between the three heat settings—low, medium, and high—so I can adjust it to whatever I need at the moment.
Another nice bonus is that the LED indicators are bright, which gives me a bit of extra visibility when I'm walking or riding my bike at night.
A great feature of the iHood Heated Vest is its smart regulation technology. It keeps the heat evenly distributed through the vest, which helps avoid overheating and helps save battery life
As for how fast it heats up, I found it heats up really fast. The heating elements in the vest heat up almost instantly from my experience. And if I start to get too hot, I can easily dial the temperature down.
Using The iHood Heated Vest While Biking And Scooting
Regular readers of this blog know that I'm a year-round biker. Since I'm in Minneapolis, having the right gear is important to make it possible to ride throughout the winter. The iHood Heated Vest has worked out as a great option.
Since the vest is slim, I can fit it under a larger coat, effectively turning my regular coat into a heated one. It's also slim enough that it doesn't impact my movement.
The battery life is also strong enough that I can ride for a long time without worrying about the battery on the vest running out. Even on the highest setting, I can get over 4 hours of battery life, which is plenty, especially in the winter.
Another nice thing about the vest is that the battery can also be used as a portable phone charger. If I forget my battery pack for my phone, I at least have the vest's battery pack to get my phone some extra juice.
Overall, I really enjoy the iHood Heated Vest – it's become a regular part of my fall and winter riding gear, keeping me warm while I'm riding, either as my outer layer on warmer days or as an inner layer for my winter coat during colder days. The vest also looks great.
The iHood Heated Vest currently sells for around $140, which seems like a normal price for a high-quality vest. If you order from this link and use the promo code IH20 during checkout, you can get an additional 20% off the vest.  If you're in the market for a good heated vest, the iHood Heated Vest is one you may want to consider looking at.