Unfortunately, Job Spotter shut down in early 2020. If this app ever returns, I'll update this post.
In one of my Side Hustle Reports, I wrote about how I made a little over $25 taking pictures of hiring signs using an app called Job Spotter.  Since that didn't seem like all that much money, I didn't expect a lot of people to care too much about the app.  I was pleasantly surprised though at how many people asked for more info about the Job Spotter app.  Goes to show that the hustle doesn't stop around here, no matter how small it might seem.
Those of you who follow Financial Panther know that I'm all about trying to monetize the things I'm already doing.  It's why I do bike deliveries when I'm trying to get some exercise, walk dogs during my lunch hour, and charge up Bird and Lime scooters on my way to and from work. All of these activities mean that I'm out and about a lot. And while I'm out in the city, I pass by countless stores and restaurants that are looking to hire people.  When I found out there was an app that could help me make some money while I'm already walking around town (or biking, or scootering), I thought it made sense to give it a try.
After over a year of using the app, Job Spotter is, without a doubt, the no-brainer side hustle app I think everyone should have on their phone. Even if you hate side hustling, this is an app that you'll agree is worth using. It takes a few seconds to download and all you have to do is take pictures of hiring signs that you already see anyway.
What Is The Job Spotter App?
Job Spotter is a product of Indeed. Anyone who's ever looked for a job before probably knows what Indeed is – it's one of the largest job search engines in the world.
The idea behind Job Spotter is fairly simple.  There are thousands of businesses out there looking to hire people, but the vast majority of them do not post their job openings online. Instead, they might just stick a "Help Wanted" sign on their window. The problem with this method of hiring is that not all that many people may see the hiring sign, since only people that happen to be walking by will know about the job opening.
That's where the Job Spotter app comes into play. The creators of Job Spotter figured that since so many people are walking around, it could essentially crowd-source hiring information and put it up on its site. Now, instead of just a small handful of people seeing the hiring sign, anyone searching on Indeed can find it.
How The Job Spotter App Works
The app itself is super simple to use. The first thing you need to do is download the app on your iOS or Android device. Once you've got yourself signed up, all you need to do is find a hiring sign while you're walking around town.
When you see a hiring sign, you need to take two pictures using the app. First, you take a picture of the hiring sign. Then, you take a picture of the storefront or store sign. Altogether, it shouldn't take you more than 10 or 20 seconds to take the two pictures. It's important to remember that you need to do all of this inside the Job Spotter app (in other words, don't take pictures with your camera app, and then think you can upload it later – you have to take the pictures in the Job Spotter app). Also, when you take your pictures, make sure that there isn't anyone in the frame – otherwise, your photo will get rejected.
Job Spotter pays different amounts based on how valuable it deems the sign to be. You're paid via a point system in which each point equals one cent. I typically make between 5 cents and one dollar for each picture, with an average of probably around 50 cents per picture.
The value of a sign is pretty much based on how big the business is and how permanent the hiring sign seems to be. Large businesses (places like Starbucks, Target, etc) always have hiring signs on their windows. These are considered low-value signs that don't pay you a ton – most likely somewhere between 5 and 30 cents.  I still think it's worth taking pictures of them if you happen to see them since the payments add up and it only takes a few seconds to do it.
The big money signs are ones for small businesses that appear to be legitimately hiring. Signs that are handwritten or that are printed out on computer paper are particularly awesome. The more "mom and pop" a business seems to be, the higher value the sign tends to be. 
Below is a screenshot of my own Job Spotter app, showing how much I've been paid for some of my recent finds. As you can see, the hiring signs for chain restaurants pay much less than the hiring signs for the independent businesses.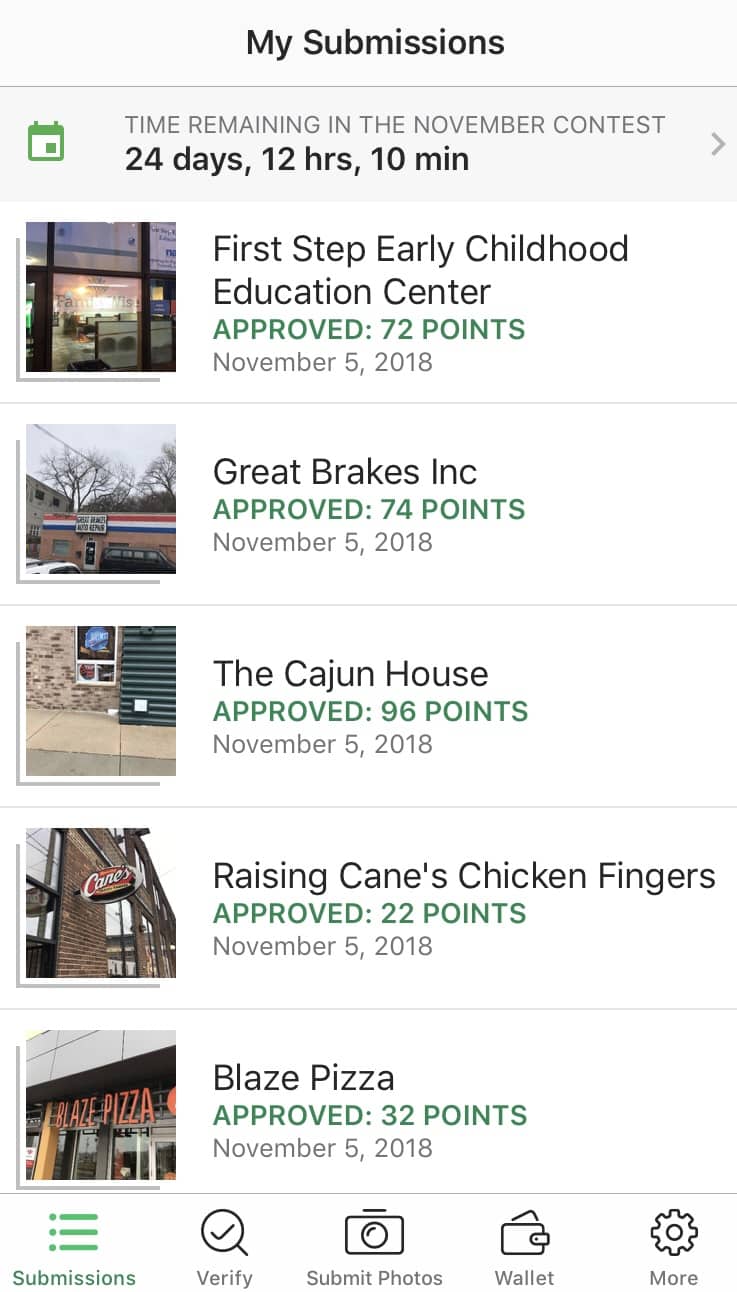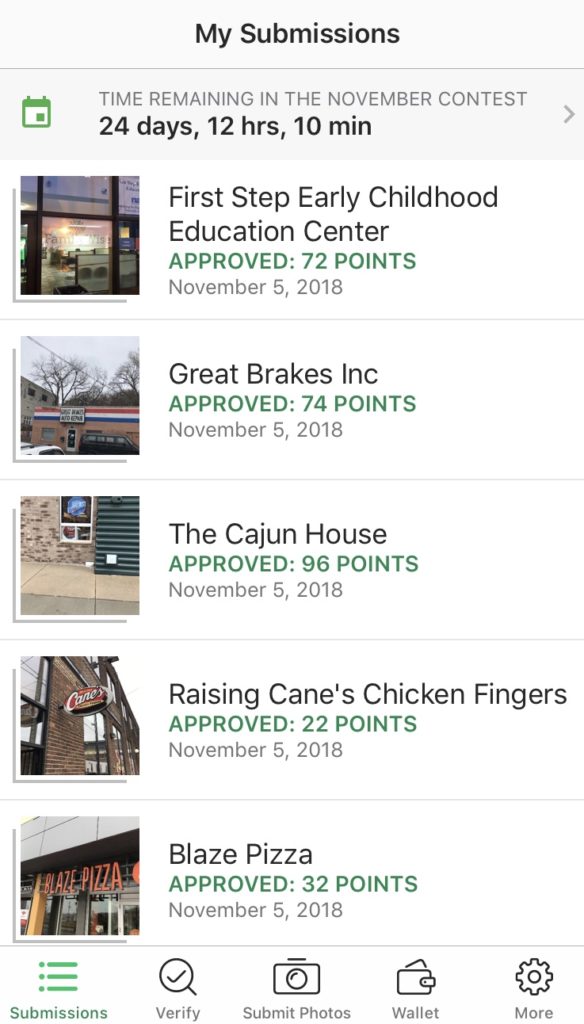 How Much Can You Make With The Job Spotter App?
You're not going to be replacing your day job income with Job Spotter, but it's still a nice way to earn a little bit of extra money without using up a lot of your time. I've been using the app for over a year and tend to average between $10 and $25 of extra income each month. That might not seem like that much, but over the course of a year, that adds up to an extra $120 to $300 of income. On an hourly basis, the return is actually very good. If you're already out and about, you're basically making 50 cents to a dollar for 20 seconds of work.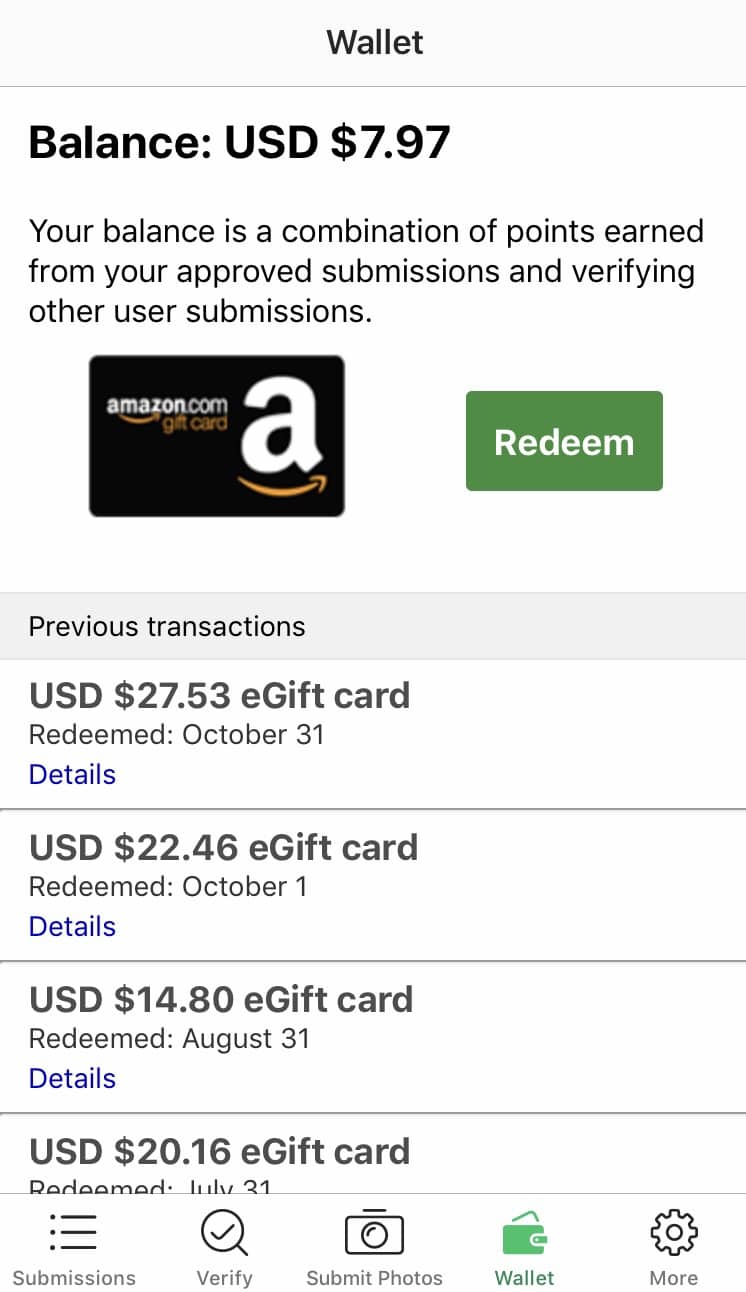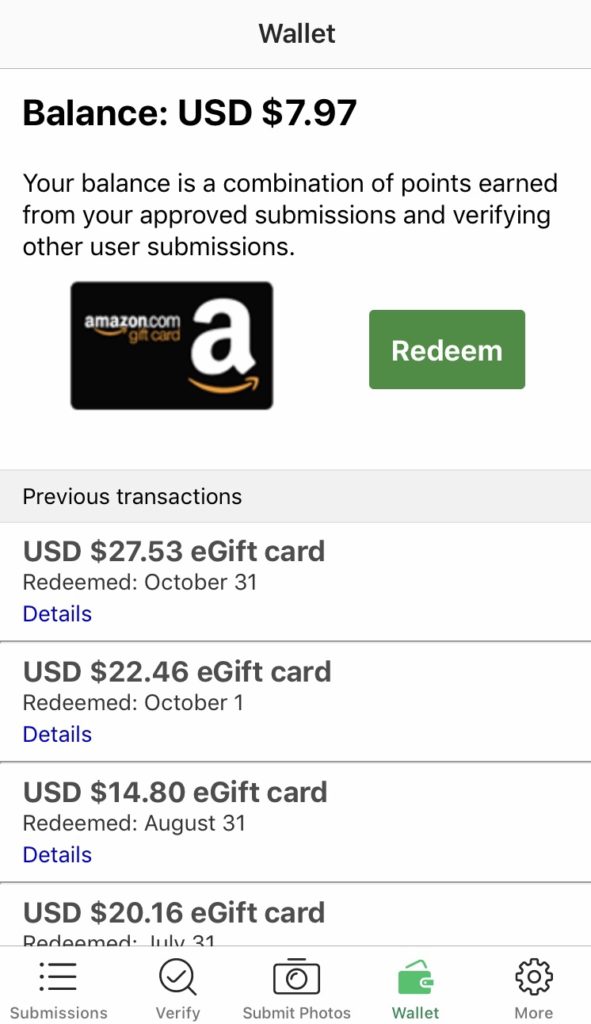 Payments from Job Spotter are made via Amazon gift cards.  Since almost everyone uses Amazon, I consider it basically as good as cash. 
The thing to remember is that, just like with saving, these small amounts might not seem like a lot, but they do add up over time. I think everyone should be able to earn $10 to $20 per month taking pictures of hiring signs.  In one month, I made $18 just walking around when I was at the mall. When I was in Chicago for one trip, I made over $10 just walking around Chinatown.
An extra $10 or $20 per month isn't going to make you rich.  But it is enough to cover some of your smaller expenses. Job Spotter earnings are especially useful to use for Christmas gifts. Just save up all of your Job Spotter earnings over the course of the year and you'll be in a good position when Christmas rolls around.
The Main Reason I Like The Job Spotter App: It's Fun!
It's nice to get paid, but really, what makes Job Spotter great is that it's fun. Whenever I use it, I sort of feel like I'm playing a real-life version of Pokemon Go. I find that I pay attention a little bit more to my surroundings now since I'm hunting for those hiring signs.
Another cool thing is that your pictures end up on Indeed's website. I took the below pictures in the Job Spotter app while I was walking around campus a little while ago and found them on Indeed a few days later.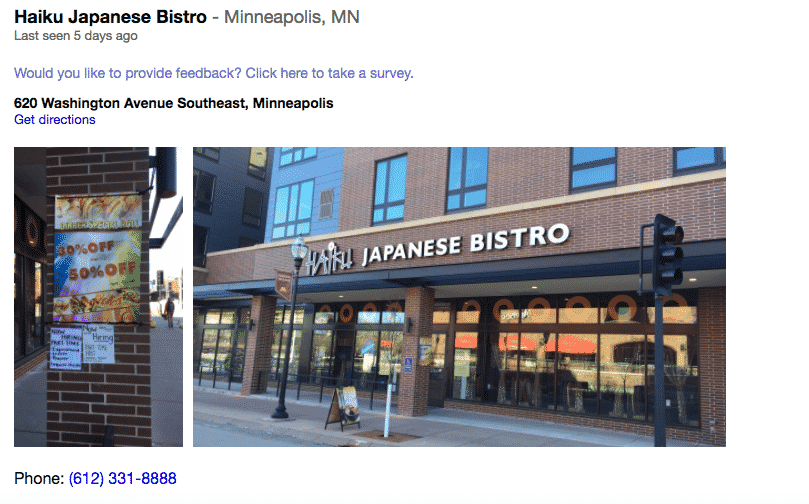 There's a bit of satisfaction in taking these pictures since hopefully, I can help this business find a new hire. And it didn't take me very much effort.
I've been making a consistent $10 to $25 every month just by using this app while I go about my daily business. It's something that everyone can do too. 
Job Spotter Tips and Tricks
I feel comfortable saying that I'm an expert with this app, so I have a few tips and tricks for you to consider. 
You Can Take Pictures of the Same Hiring Sign, Over and Over. You can take pictures of the same hiring sign after a few weeks pass. I don't know exactly how long, but I think it's about every 2 or 3 weeks. So, if you pass by certain hiring signs that are always out, you can take pictures of them again after some time passes. One new thing that a reader pointed out to me is that you can actually take pictures of the same hiring sign at least once per month, regardless of how much time has passed. So, if you see a hiring sign at the end of the month, you can take a picture of that same sign again at the very beginning of the next month.
The Best Hiring Signs Are For Small Mom and Pop Stores. You'll figure this out as you use this app, but the best hiring signs are those that come from small businesses. Independent restaurants or other small stores should get you close to $1 every single time. Make sure to get these type of signs when you see them. 
Don't Worry About Submission Errors. One issue that Job Spotter sometimes has is with submission errors. You'll upload something, then get an error saying that the app was unable to submit your pictures. In that situation, just let it sit there. The app will upload your pictures once you get to a zone with better connection. 
You Can Make Some Money Reviewing Other People's Hiring Signs (But It's Not Really Worth It). Job Spotter has a feature where you can get paid to review other people's hiring signs. You basically just look at pictures from other users and confirm that they are pictures of what they say they are. I personally do not find this fun and do not think it's worth the time. 
The Best Way To Use Job Spotter Is When You're Already Out and About. Job Spotter is a great app for anyone who's already out and about. Once you start paying attention, you'll notice that there are hiring signs EVERYWHERE. The app works really well for travelers too. If you're already walking around and sightseeing, it's perfect to use to just snap some pictures of hiring signs while you're out exploring. I've taken pictures all over the United States, including Puerto Rico. So, if you're traveling, make sure to download this app.
If you're interested in trying out Job Spotter, be sure to download the app here.
Have you tried out Job Spotter?  How has it worked out for you?