In last month's side hustle report, I wrote about how I made a little over $25 taking pictures of hiring signs using an app called Job Spotter.  Since I didn't make a ton of money from it, I didn't expect a lot of people to care too much about the app.  But, I was pleasantly surprised at how many people asked for more info about the Job Spotter app.  Goes to show that the hustle doesn't stop around here, no matter how small it might seem.
Those of you who follow Financial Panther know that I'm all about trying to monetize things I'm already doing.  It's why I do bike deliveries when I'm trying to get some exercise, or why I do some dog sitting in my spare time.  I walk my dog pretty regularly and I bike around town a lot.  While I'm doing this, I probably pass by countless stores and restaurants that are looking to hire people.  When I found out there was an app that could help me make some money while I'm already walking around town, I thought it made sense to give it a try.
So far, the Job Spotter app seems to be very worthwhile.  Not everyone thinks the stuff I do is worth their time, but for whatever reason, everyone seems to think that the Job Spotter app is a winner.  And why wouldn't you?  It takes a few seconds to download and all you have to do is take pictures of hiring signs that you already see anyway.
What Is The Job Spotter App?
The Job Spotter app is a product of Indeed.  Anyone who's ever looked for a job before probably knows what Indeed is.  It's basically one of the largest job search engines in the world.
The idea behind Job Spotter is fairly simple.  There are thousands of stores out there looking to hire people.  But not all of them post their openings online.  Instead, they might just stick a Help Wanted sign on their window.  I know a lot of small businesses and restaurants go with this method of hiring.  The problem with this is that not all that many people may see the hiring sign since only people that happen to be walking by will know about the job opening.
That's where the Job Spotter app comes into play.  Indeed figured that since so many people are walking around, it could crowdsource hiring information and put it up on its site.  Now, instead of just a small handful of people seeing the hiring sign, anyone searching on Indeed can find it.
How The Job Spotter App Works
The app itself is super simple to use.  The first thing you need to do is download the app on the Google Play Store or Apple App Store.  Once you've got yourself signed up, all you need to do is find a hiring sign while you're walking around town.
When you see a hiring sign, you need to take two pictures using the app.  First, you take a picture of the hiring sign.  Then, you take a picture of the storefront.  Altogether, it shouldn't take you more than 10 or 20 seconds to take the two pictures.
Job Spotter pays different amounts based on how valuable the sign is.  Each sign earns you a certain number of points. One point is equal to one penny.  I've been paid as little as five cents for a picture, and as much as 96 cents for a picture.  It really depends on the value of the sign.
Below is a screenshot of my own Job Spotter app, showing how much I've been paid for some of my recent finds.
A lot of large businesses always have hiring signs in their windows.  These are considered low-value signs that don't pay you a ton.  I still think it's worth taking pictures of them if you happen to see them since the payments add up and it only takes a few seconds to do it.
The big money signs are ones for small businesses that appear to be legitimately hiring.  Signs that are handwritten or are printed out on computer paper are particularly awesome!  As you can see from my app, I made some big money when I saw this Chinese restaurant with a hiring sign on its door.
How Much Can You Make With The Job Spotter App?
You're not going to be replacing your day job income with Job Spotter, but it's still a nice way to earn a little bit of extra money without wasting a ton of your time. Here's a look what I've pulled in since I downloaded the app a month ago.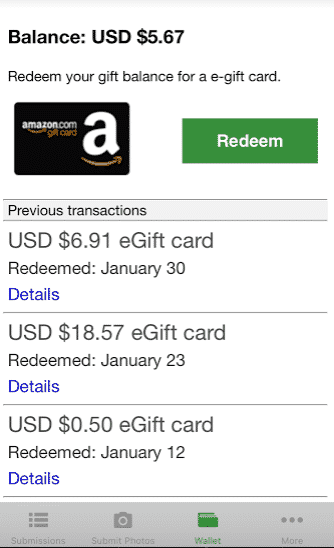 Job Spotter pays via Amazon gift card.  Since almost everyone uses Amazon, I consider it basically as good as cash.
The thing to remember is that, just like with saving, these small amounts might not seem like a lot, but they do add up over time.  I don't think it would be very hard to earn $10 or $20 per month taking pictures of hiring signs that you happen to see around town.  From what I've noticed, it seems that if one place is hiring, every other place in the area is hiring too.  Last month, I made $18 just walking around in the mall.
An extra $10 or $20 per month isn't going to make you rich.  But it is enough to cover your Netflix or HBO Go subscription.  You can basically cover your Game of Thrones addiction for free!
The Main Reason I Like The Job Spotter App: It's Fun!
It's nice to get paid, but really, what makes Job Spotter great is that it's fun.  Whenever I use it, I sort of feel like I'm playing a real-life version of Pokemon Go.  I find that I pay attention a little bit more to my surroundings now since I'm hunting for those hiring signs.
Another cool thing is that your pictures end up on Indeed.  I took the below pictures in the Job Spotter app while I was walking around campus a little while ago and found them on Indeed a few days later.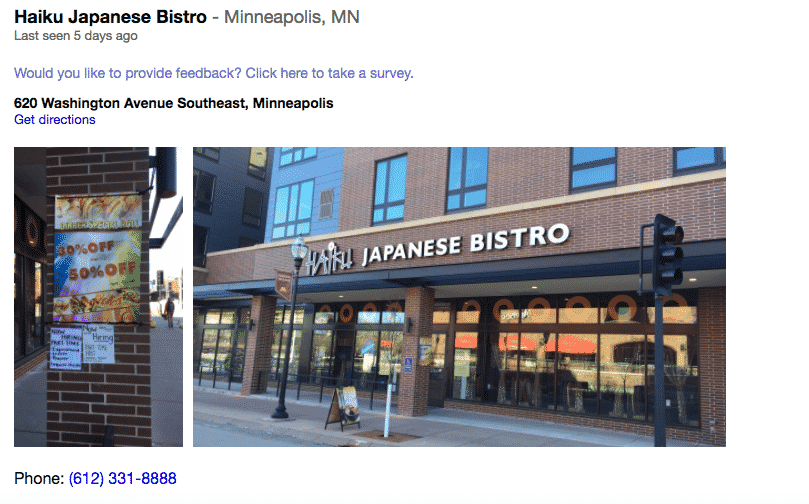 There's a bit of satisfaction in taking these pictures since hopefully, I can help this business find a new hire.  And it didn't take me very much effort.
My goal this year is to make $10 or so per month using this app.  I think that would be totally reasonable and it would basically cover my HBO subscription.  You could do the same thing.  Or maybe just save all of your earnings and use it to buy your Christmas presents at the end of the year.
If you're interested in trying out the Job Spotter app, be sure to download the app here.
Have you tried out the Job Spotter app?  How has it worked out for you?
If you're interested in other app reviews, be sure to check out some of my other fintech reviews below:
Qapital App Review: A Free App That Saves Your Spare Change