One of the things that surprised me when I began my student loan payback journey was how much interest I had to pay when I started making my payments. What was even more surprising to me was how much interest my loans had accrued while I was in school (and making no money). In fact, when I graduated and made my first student loan payment, it didn't even reduce my student loan balance at all. All of it went directly towards the interest! 
Interest is one of those things that we all sort of understand in theory. Most of us basically know that when we borrow money, we agree to pay it back at some point, with a little extra on top. But I don't think we're very good at really understanding what interest looks like on a daily basis. Maybe that's why we sometimes let debt linger in our lives.
I'm sure most personal finance nerds have heard about the Latte Factor. That's the idea that spending small amounts per day on seemingly insignificant expenses adds up over time. $5 spent at the coffee shop each day adds up to hundreds of thousands of dollars if invested properly, over time. That's why buying coffee is supposedly the ultimate sin any personal finance nerd can commit.
Well, forget about the latte factor! If you really want a kick in the pants, try calculating how much your debt costs you per day. You might be surprised at how many lattes you'd be able to buy with that money. At a minimum, calculating the daily cost of your debt will motivate you to pay off your debt faster.
How Does Interest Work?
Let's get to the basics. For almost all debt you take on, interest starts accruing from the moment you sign your name on the dotted line. Generally, each time you make a payment on your debt, you first pay off all of the interest that has accrued on your debt since your last payment. Once that's been paid off, your payment then gets applied to the principle. As more of your payment hits your principle, your loan balance goes down until it eventually reaches zero.
Now, banks are nice folks (*rolls eyes*). So, in order to make it easier for you, they set up a repayment period where you pay an equal amount each month over a long period of time. Take your standard 10-year repayment plan for student loans as an example. Some guy who's good at math calculates the amount you need to pay each month so that you'll pay the entire thing off by the end of the repayment period.
Here's an example from my own student loan transaction history: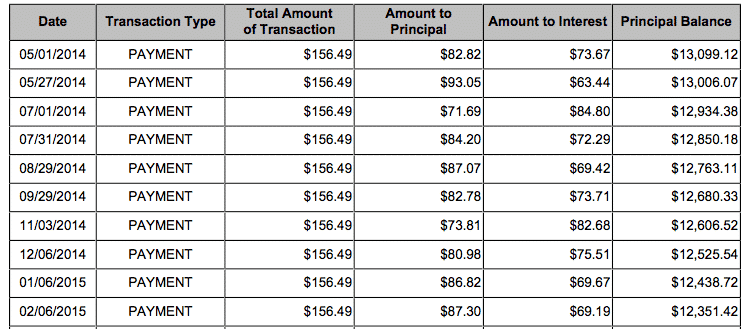 Notice how the minimum amount I paid each month stayed the same. Early on, almost half (sometimes more than half) of my payment went straight to interest. This is how banks are able to make money off your loan. You pay a ton of interest early on because your principal loan balance is higher, and thus, more interest is accruing each month. The bank wants you to take as long as possible to pay off your loan because the longer you pay to it, the more they can make.
Calculate How Much Your Debt Costs You Per Day
To motivate yourself to pay off your debt fast, I recommend calculating how much your debt costs you per day. The formula to calculate this is pretty simple:
Loan Balance x Interest Rate = Cost Of Your Debt Per Year
The amount you calculated is how much interest your debt accrues each year. One problem is that the number you see might be a number that's too big to really comprehend. So, let's make one more calculation so that we can really see how much your debt costs:
Cost of Debt Per Year ÷ 365 Days = Cost of Your Debt Per Day
With that simple calculation, you now know how much your debt costs you each day you have it. Are you happy with the number you arrived at? Is that how much you want to spend per day on your debt?
How Much Did My Debt Cost Me Per Day?
Let's use my own student loan debt as an example to help clarify things. Below is a screenshot of my student loan balance when I graduated from law school.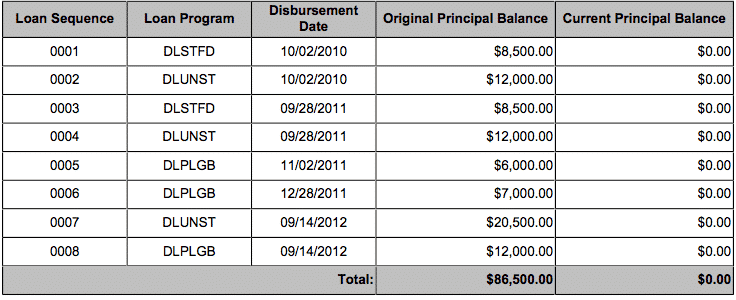 $25,000 of that student loan debt was at a 7.9% interest rate.  The other $61,500 was at 6.8%.  If we do some simple math:
$25,000 x 0.079 = $1,975
$61,500 x 0.068 = $4,182
Altogether, my total law school debt cost me $6,157 per year. Divide that number by 365 days and you can see that my student loan debt cost me $16.86 per day!
Just let that number sink in for a bit. Every single day I kept this debt, I was paying $16.86! I think that's like a decent dinner every single day!
If you're wondering what your Latte Factor is, I'll tell you what it is. It's your debt! It's way worse than buying a latte. Those of you coming out with six figures or more of student loans are probably paying closer to $20 per day for your debt! You could buy four fancy lattes per day at that price.
Don't Forget That Your Debt Costs You Money From Day One
There's one thing a lot of people forget when it comes to debt – they generally start accruing interest from the day you sign on the dotted line. This has the most impact on those of you paying off student loans. Unless you have a subsidized loan, your student loan debt is costing you money, every single day, throughout the time you're in school. You don't notice it because your loans are in deferment during this time.
In my first year of law school, I borrowed $20,500. Fortunately, $8,500 of that loan was subsidized, so it didn't accrue interest while I was in school. But the remaining $12,000 I borrowed in that first year was accruing interest from the day it was disbursed in 2010 until the day I started repaying my loans back in 2013.
If we do some math, that $12,000 loan cost me $2.23 every single day for the three years I was in law school. That's a decent cup of coffee, every day, for 3 years. By the time I graduated and started paying back my loans, I had $2,448 of interest sitting around, just waiting to be paid off. I couldn't even pay off any of the money I had actually borrowed until I paid off all the interest that had accrued on that loan.
And that was just for the first year of my law school loans. I still had two more years where I took out more money!
Make It Your Mission To Reduce The Daily Cost Of Your Debt
I hope that seeing what your loans cost you per day helps motivate you to pay off your debt faster! I know it helped me when I saw this number.
Fortunately, there is a way to reduce the daily cost of your debt. All you have to do is pay it off as fast as you can! Each time you pay down the debt, the daily cost of your loan goes down. Less principle for the bank to work with means less interest can accrue.
Indeed, by paying off $5,000 of my loans that were at a 7.9% interest rate, I cut my daily student loan interest down by more than $1 per day. Not too shabby. Enough money saved for me to go hit up that McDonald's dollar menu!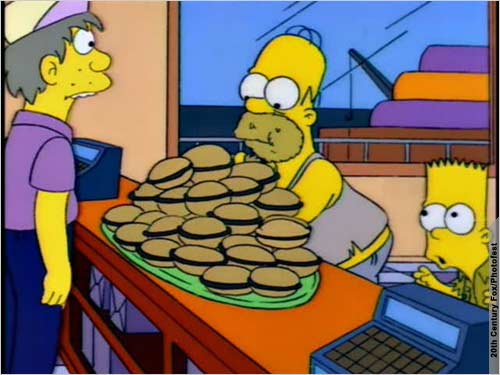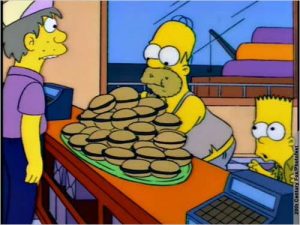 Another way to reduce the daily cost of your debt is to lower your interest rate. I waited an entire year before I refinanced my student loans down to a 4.3% interest rate with SoFi. If I had refinanced my loans right away, the daily cost of my student loans would have dropped from $16.86 all the way down to $10.19. Saving more than 6 dollars per day is huge! That's almost enough to buy a cheap lunch, every single day!
So if you've got debt, take a look at how much it costs you per day to keep that debt around. Seeing that number was shocking to me. I knew I didn't want to pay that much money, every single day, just for the pleasure of having my debt hang around.
I'm going to bet that when you see your number, you won't be so happy with it either. So let that number motivate you. Make it your mission to reduce the cost of your debt by paying it off fast! 
For more information on how to pay off your student loans, check out my Student Loan Refinancing Strategy Guide.