Sometime not too long ago, my sister-in-law was over at my house and noticed a huge stack of credit and debit cards on my dining room table – probably 75 of them at least. It's an admittedly laughable amount of cards for anyone to have.
"You have a problem," she opined. 
That's a fair assessment – I definitely do have a problem. But in my defense, not all of those cards were active. Most of them were debit cards that I acquired over the years from opening different bank accounts.
That's because, over the past 4 years or so, I've been regularly opening (and closing) different bank accounts to earn lucrative sign-up bonuses – typically between $100 to $500 per bank account. It's a world that a lot of people don't know about, but just like with credit card signup bonuses, many bank accounts do the same thing, offering signup bonuses if you open new accounts and meet certain requirements.
And opening up all of these bank accounts has been lucrative. In 2019, I made over $4,000 from bank account bonuses. My wife earned almost as much as I did, bringing in over $3,000 from bank account bonuses on her end. I did the math and since I started taking advantage of bank account bonuses back in 2016, my wife and I have made over $14,000 – all just from strategically opening up new bank accounts!
That's pretty astounding. When you think about it, doing this has turned into a fairly lucrative side hustle of sorts for me. And it's something that a lot of people could do too.
In today's post, I want to go over my past year of bank account bonuses, provide some detail about the strategies I used to do this, and explain how you can incorporate bank account bonuses into your own life. You can then use this extra income to pay off debt, invest with, or use it for other purposes. 
Note that bank account bonuses are a big topic – far too long for me to fully explain in this single, relatively short post. I wrote a massive, in-depth guide to bank account bonuses that you should read if this is something you are interested in doing and that you don't know much about.
My Bank Account Bonuses For 2019 
I hit the bank account bonus game hard last year. In 2019, I opened a total of 24 bank accounts for myself. My wife opened 19 bank accounts for herself. Altogether, we made $7,577 in bank account bonuses – enough to fund a really fancy trip if we wanted to use it that way. 
I keep track of all of my bank account bonuses in a spreadsheet, a copy of which you can download here. It's a simple spreadsheet that lists the name of the bank, when I opened the account, when I closed it, how much I made from each account, and when I earned the bonus. I also color-code the spreadsheet so I can easily remember things (yellow means I haven't received the bonus, green is to remind me when to close accounts). Feel free to take this spreadsheet and modify it for your own purposes.
For those that do not feel like downloading the spreadsheet, below is a table I've created that lists all of the bank account bonuses I earned in 2019. Note that there are several bank accounts that I opened in the last few months of the year where the bonus will post in 2020. I've left those off this table since I count the bonuses in the year that I earn them.
| Bank | Bonus Amount |
| --- | --- |
| Wells Fargo | $200 |
| TIAA | $150 |
| BMO Harris | $200 |
| Bank of America | $100 |
| Varo | $100 |
| PNC | $300 |
| Ally | $123 |
| Swell Investing | $50 |
| Royal Credit Union | $200 |
| Marcus by Goldman Sachs | $100 |
| HSBC Checking | $200 |
| Chime | $300 |
| HSBC Savings | $125 |
| Aspiration | $100 |
| Ellevest | $100 |
| Coin | $50 |
| Matador | $40 |
| SoFi Money | $75 |
| Lili | $15 |
| Citi Bank | $500 |
| Minnesota Bank and Trust | $350 |
| Bell Bank | $205 |
| Simple | $250 |
| Flagship Bank | $100 |
| Lana | $25 |
| Associated Bank | $175 |
| US Bank | $300 |
How Was I Able To Earn So Many Bank Account Bonuses?
At the outset, if you're going to get into the bank account bonus game, you absolutely need to be organized. This is not something you can just muck your way through – if you do that, I guarantee you're going to mess up along the way. Using a spreadsheet like the one I created is a good way to stay organized. I also recommend creating checklists in an app like Evernote or Taskade so you can mark when you've met each requirement (I use Taskade to keep track of my bank account bonus tasks).
Beyond being organized, there are also a few things I have going for me that make it easier for me to earn bank account bonuses. These include the following: 
1. I Can Easily Meet Direct Deposit Requirements
Most bank account bonuses will require you to meet some sort of direct deposit requirement. Generally, to meet this requirement, you have to have a certain amount of money come to your account from an outside source, usually through an employer direct deposit to your account. 
For the past year, I've had it really easy because my wife uses a payroll system for her business called Gusto. This payroll system allows us to change her direct deposit anytime we want. We can also divide up her paycheck into different bank accounts, which makes it easy for us to meet the requirements for multiple bank account bonuses at the same time. If you have a payroll system that lets you easily change your direct deposit, then you should absolutely take advantage of bank account bonuses.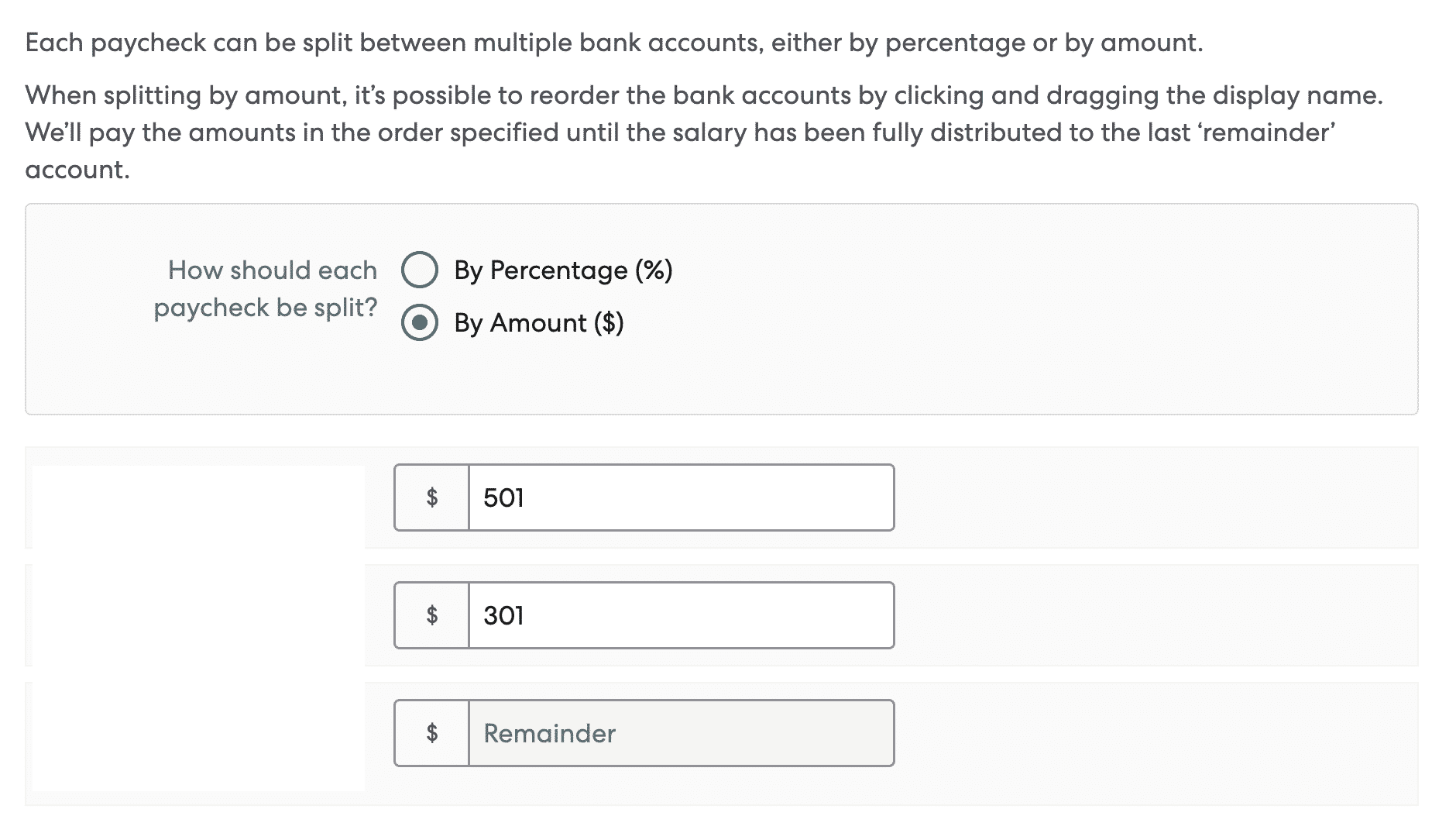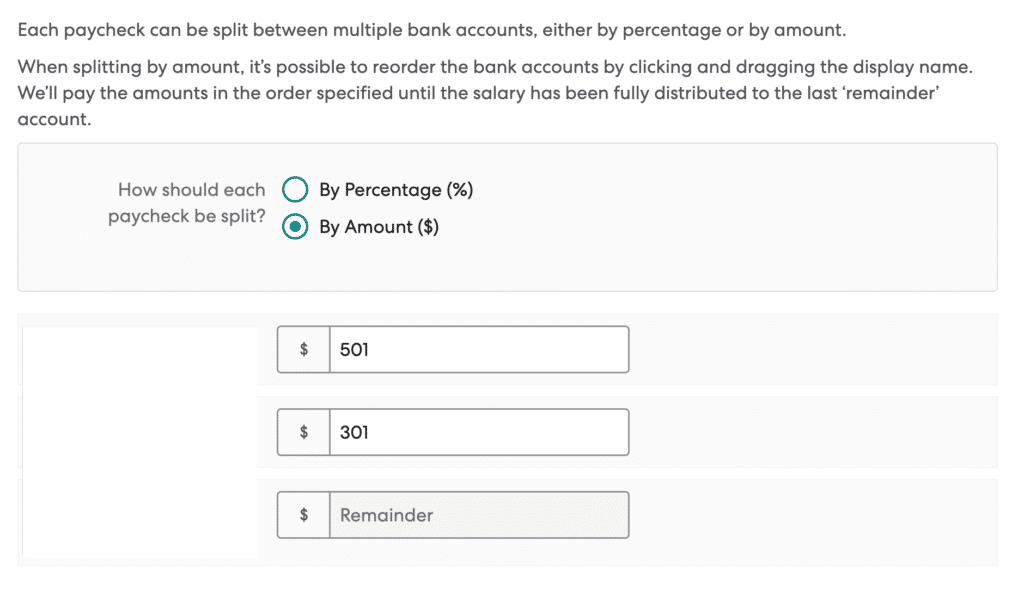 If you don't have a payroll system that allows you to easily switch your direct deposit, you're not out of luck. Banks have automatic systems that code transfers into bank accounts as direct deposits, which means it's possible to "fake" a direct deposit by transferring money from one account to another. This is what I did for years before my wife got set up with Gusto and back then, I was still able to make thousands opening up bank accounts. I have suggestions on how you can fake direct deposits in my Ultimate Guide to Bank Account Bonuses. 
2. I Have A Good Amount Of Cash Set Aside For Bank Account Bonuses 
The second thing that I do to make it easier for me to earn bank account bonuses is that I have a decent chunk of spare cash that I can dedicate towards getting bank account bonuses. 
A good strategy is to utilize some of your emergency funds for bank account bonuses. By doing this, you can get a higher rate of return on your emergency fund without any risk of loss. (Related: A Better Emergency Fund Strategy)
It's possible to play the bank account bonus game without a lot of extra cash, but you'll find you have more options if you have extra cash that you can use. I usually recommend having at least $5,000 that you can utilize towards bank account bonuses.
You Can Take it Slow
One thing to remember is that you don't have to be as extreme as I am when it comes to this stuff. Obviously, opening up 20+ accounts in a year can be intimidating, especially if you've never done the bank account bonus strategy before.
When I first started, I only opened a few bank accounts per year, carefully making sure that I could meet any requirements. As I got more comfortable, I ramped it up to the amount you see now. If I find myself getting busier in the future, I'll likely scale back my bank account bonus churning.
The key is to go at a pace that you are comfortable with and only jump in as much as you can handle. I've admittedly always been one to get pretty deep into these optimization strategies and money hacks, but that's not what you have to do. 
For most people just starting, I think doing a handful of bank account bonuses in a year is simple without getting too stressed out. Assuming you go for bank account bonuses that pay in the $200 to $300 range, you should be able to make $500 to $1,000 in a year without getting too overwhelmed.
Is It Worth It? 
The short answer is, yes, I think almost anyone can earn $1,000 or so worth of bank account bonuses each year with very little trouble. Even if you think it's not worth the hassle, the truth is, most bank account bonuses pay enough that the hourly rate you're making is going to be $100 or more per hour.
As an example, imagine you find a bank account that is offering a $200 bonus. Even if you took two hours to do everything (which would be an unrealistically high amount of time, in my opinion), you'd still average $100 per hour. For most people, the hourly rate you'll make is going to be much higher than that.
Indeed, bank account bonuses have gotten so good that I've even opened up bank accounts in other cities. Towards the end of last year, I opened up three bank accounts in-branch in cities that I was visiting but don't live in. These bank accounts took me about 20 minutes to open and when you consider that all of them pay $200 or more, I'm looking at an absurdly high hourly rate just by stopping in and opening up some bank accounts in cities that I happened to be in.
For those of you who are searching for bank account bonuses, the absolute best resource for finding bank account bonuses is Doctor of Credit, who keeps a list of the best bank account bonuses that he updates each month. Doctor of Credit also maintains a list of methods that satisfy direct deposit requirements for various banks. This list isn't always accurate or up-to-date, however, so you'll want to review the comments and do your own research.
If you're looking for a few easy bank bonuses that you can start with to get a taste of how this works, try the ones I list below. They have easy requirements and the accounts have no fees to worry about, so they're good beginner accounts you can use to see if the bank account bonus game makes sense for you.