Taking advantage of points and miles has been one of the big game changers in my life. Indeed, I haven't had to pay for a flight or hotel in over six years thanks to all of the points and miles I've been able to accumulate. At this rate, I don't think I'll ever have to pay for a flight or hotel for the rest of my life. 
Unfortunately, last month I had one of the biggest fiascos I've ever had with booking award flights. It's a story that's worth sharing. And while things ended up working out, it was a nightmare dealing with everything, requiring me to spend countless hours on the phone with different airlines and staying up the entire night literally the night before I was scheduled to leave on this international trip.
In this post, I want to go over this award travel fiasco, discuss what happened, and look at what I ended up doing to make sure my vacation wasn't ruined. 
The Beginning – Booking My First International Business Class Trip 
To begin, let's look at my initial travel plans. Last year, I got word that my cousin was getting married in France, which meant I needed to book tickets for my family's first international trip in over two years (and my son's first overseas trip ever). The plan was to fly to Paris in business class for three people (me, my wife, and my 2-year-old son).
You can't be too picky when you're trying to book award seats in business class for that many people, so for me, the name of the game was finding anything that was decently priced. Fortunately, I've accumulated a lot of points, so spending them – even on less than optimal award bookings – wasn't a big deal to me. After all, points have no value unless you spend them. 
After spending some time searching for flights, I settled on three business class seats I found on the Virgin Atlantic website for 87,500 Virgin Atlantic miles each (or 262,500 miles total). The seats were on KLM business class, flying from Minneapolis to Paris with a layover in Amsterdam. I already had 100,000 Virgin Atlantic miles in my account from a trip that was canceled in 2020, so to get the remaining points, I transferred 163,000 American Express Membership points to Virgin Atlantic. 
I booked these flights in January for flights scheduled to leave in July (so about 6 months in advance). Altogether, I spent 262,500 miles and about $69 in taxes and fees for three tickets in business class to Paris.
The Fiasco 
Two days before my flight, I got an email from KLM letting me know that the second leg of my itinerary (the connecting flight from Amsterdam to Paris) had been canceled.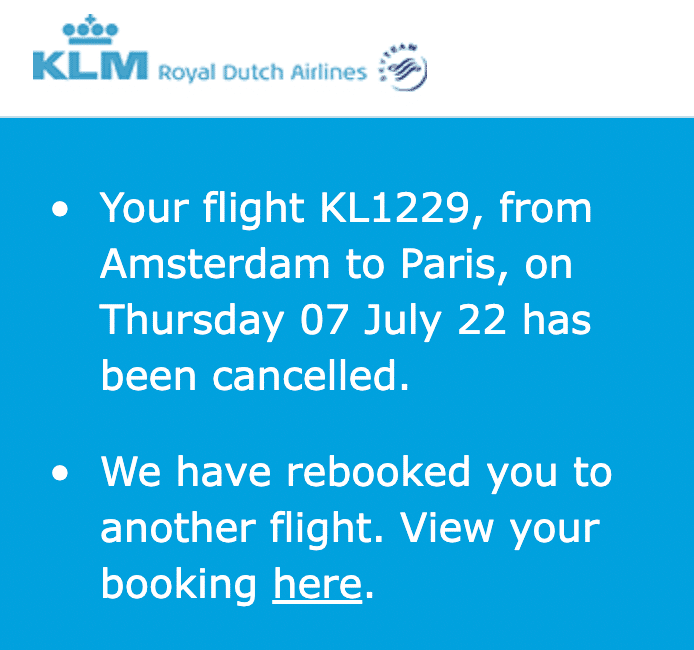 Rather than reassign the second leg of the trip, KLM instead rebooked our entire itinerary, putting the three of us on a Delta flight flying direct from Minneapolis to Paris. The rebooking was actually better for us. The flight was still in business class and was now a direct flight. I uploaded all the travel documents using the Delta website (vaccination records, passports, etc) and got my seat assignment and confirmation emails. Nothing seemed amiss.
But then, the fiasco began. The evening before my flight (i.e. less than 24 hours before my flight), I opened my Delta app and noticed something odd. The flight that I was scheduled to fly on the next day no longer showed up in my Delta app. When I searched for my flight using the confirmation code, nothing came up either. The flight seemed to be gone. 
I immediately called Delta and after waiting on hold for some time, I was finally able to talk to a customer service representative who told me that my family had been unticketed from our flight. When I protested that I had been rebooked onto this flight and had an email with my confirmation number and seat assignments, the rep essentially told me tough luck and that I needed to talk to Virgin Atlantic about it since I had booked my flight using their miles and they were the carrier that I bought the tickets from.
What made things really maddening is that the flight wasn't overbooked. I could still see the three business class seats and if I wanted to, I could have purchased them with cash (for about $7,000 each). Whatever had happened, it looks like Delta had simply removed my family from the flight and refused to put us back into the seats that we had been assigned. And since I didn't use Delta miles to book my seats, they weren't willing to do anything about it. 
Virgin Atlantic's Solution – Offer Me A Refund!?
After a frustrating call with Delta that didn't solve anything, I then gave a call to Virgin Atlantic. Again, after being on hold for a while, I got through to a representative who, after reviewing the situation, said all she could do was refund me my points and taxes. 
This was, of course, not a solution. I had planned this trip for months and had hotels, train tickets, and return flights booked, so simply refunding me didn't solve my problems. What I needed was for them to either get me back on the Delta flight that I had been unticketed from or put me back on my original KLM flight from Minneapolis to Amsterdam and I'd figure out another way to get to Paris from there. 
Unfortunately, the Virgin Atlantic rep could only put me on flights that had award availability, and even though the seats I wanted were available for cash, they weren't available for award bookings anymore. I continued to get the same spiel – that they could either give me a refund or try to put me on a different flight that did have award availability.
I was livid. At this point, it was around 10 pm and I still hadn't packed for my trip that was supposed to leave the next day. After arguing with the Virgin Atlantic people for a bit, I told them I'd call them back after I spoke to KLM.
KLM was the worst of the three airlines. The first number I called said their offices were closed. My wife ended up finding a European number for KLM, which left me on hold for over 2 hours. When I finally did connect to someone, they told me to take it up with Delta or Virgin Atlantic (even though it was KLM that had canceled my itinerary and rebooked me to the Delta flight). Then, the representative outright hung up on me. 
It was now the middle of the night and I was running out of options if I was going to get on a flight for the next day. Out of desperation, I drove to the airport to see if I could get help from a Delta agent in person, but since it was the middle of the night, the Delta counters were closed. 
I gave one last call to Virgin Atlantic, who again gave me the option of refunding my points or trying to rebook me on another flight with award availability. 
Booking New Flights For Us 
Since I wasn't getting useful help from any of the three airlines that were involved in this fiasco, I decided to take matters into my own hands. It was now about 4 am and I still had no flight to Paris for the next day. My goal was still to fly in business class, but finding three seats for a flight leaving hours from now wasn't going to be easy. Searching for award availability from Minneapolis wasn't going to work – there was nothing available.
I ended up looking at Aeroplan and was able to find two United Polaris business class seats leaving in the afternoon from Chicago to Paris, with a 4-hour layover in Zurich, for 76,000 Aeroplan miles each. This was actually pretty solid pricing. The only issue is that I needed three seats and Aeroplan only showed two available seats on their website.
Luckily, the United website showed there were 5 available Polaris business class seats, although the pricing on United was terrible at 158,000 United miles each. I needed all of us on the same flight though, so I booked the 2 seats using Aeroplan, then snagged the third seat using my United miles.
Finally, I needed to get a positioning flight from Minneapolis to Chicago. The cheapest option would have been to fly on Southwest to Chicago, then take the train from Midway to O'Hare, but that would have cut it close. I instead opted to take a Delta flight landing at O'Hare. I could then catch my flight with plenty of time to spare. It wasn't cheap though – 40,000 Delta miles each (or 120,000 Delta miles total). 
To recap. My initial flight was 262,500 Virgin Atlantic miles for the three of us. After getting screwed by them, I had to book a new itinerary, spending 152,000 Aeroplan miles, 158,000 United miles, and 120,000 Delta miles. It wasn't the optimal use of my points, but I'm happy with it considering I booked these flights hours before they were scheduled to depart.
What My Flights Were Like 
So let's look at some of the positive aspects of this fiasco. First, I'm happy that I was able to book new flights and get to Paris on time. In fact, I'm surprised I was able to figure this out myself because I was sure that I was screwed.
The flights themselves were great. United Polaris business class was just what I expected. At O'Hare, I was able to spend some time in the Polaris lounge, which is a lounge exclusive to travelers flying on United international business class flights. I was surprised at how busy it was when I got there though – I guess a lot more people than I realize fly business class.  
In Polaris business class, you get what amounts to a pod for yourself. The seats are arranged in a 1-1-1 configuration, which means you don't have anyone next to you and every seat has direct aisle access.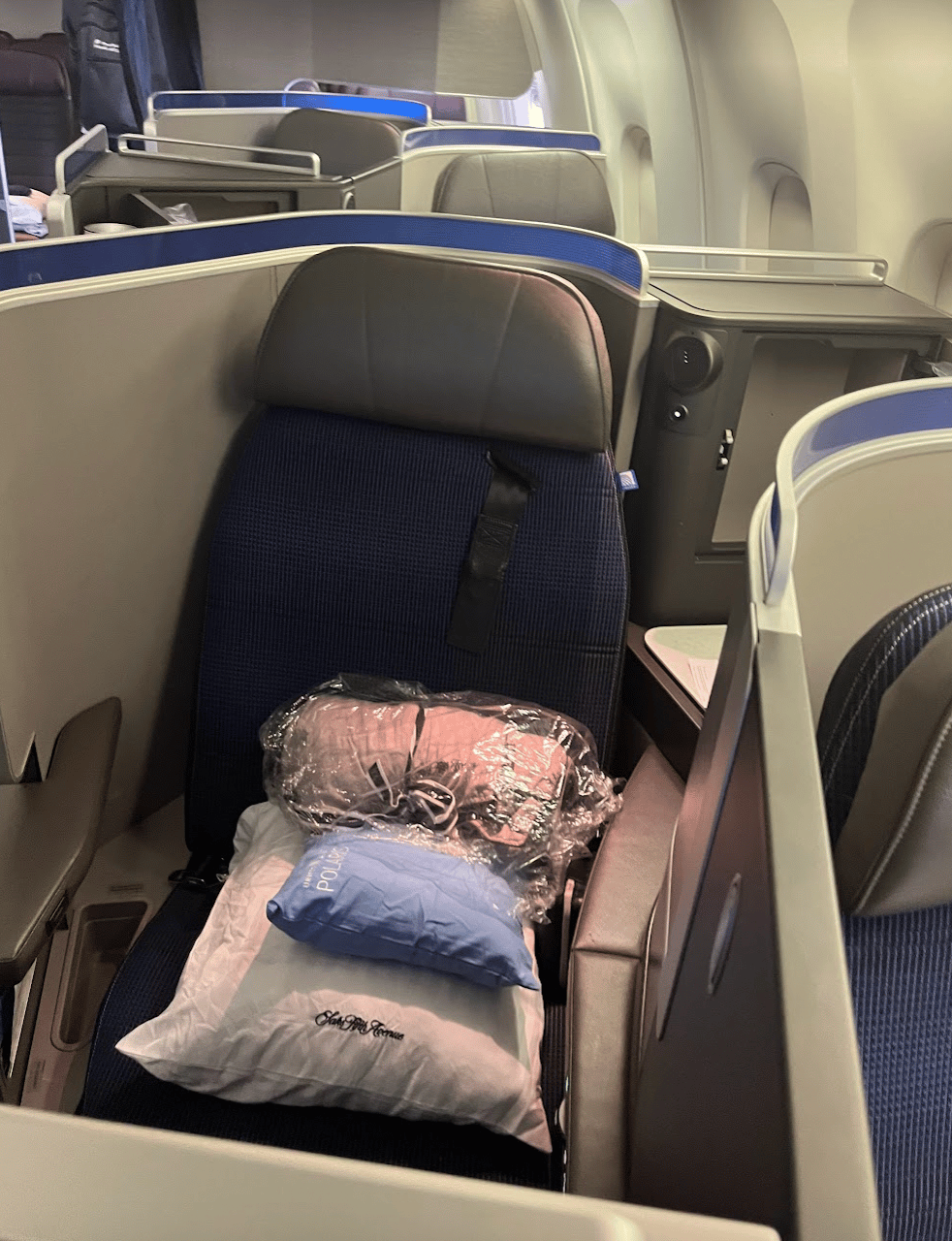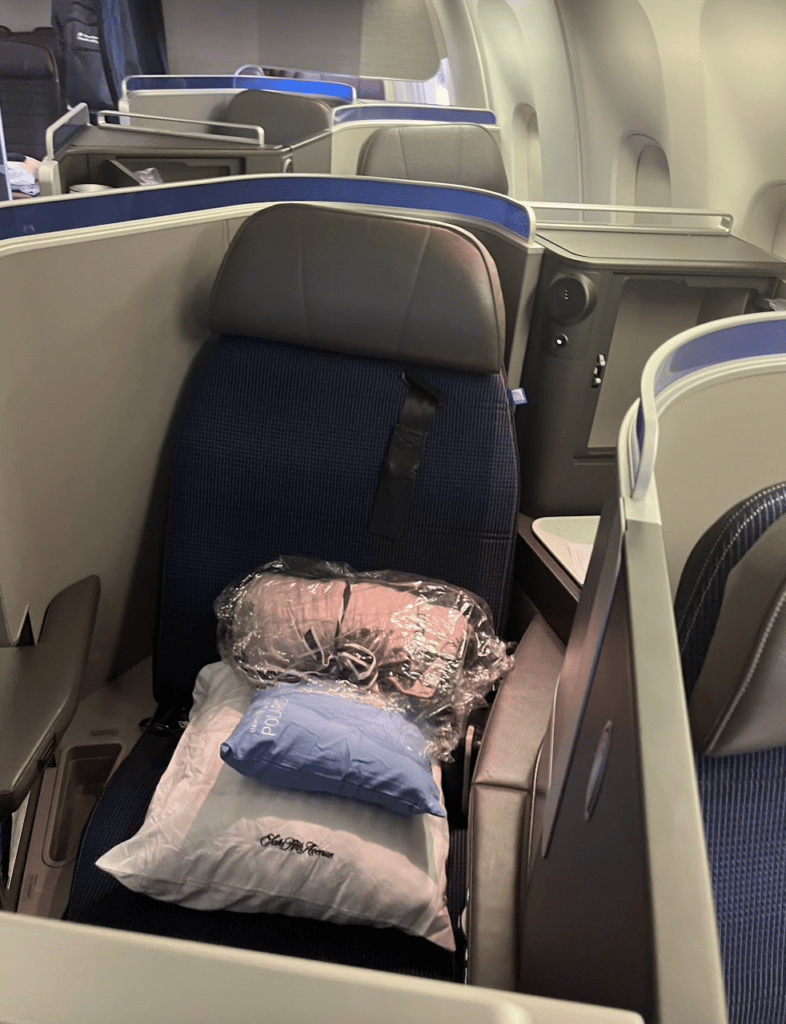 It's definitely very comfortable, although not as good when you're flying as a family, especially with young children. My son refused to sit in his own seat and spent most of the flight in my wife's seat. I managed to get a solid few hours of sleep though, which I was grateful for considering how exhausted I was from the previous night.
Takeaways From This Award Travel Fiasco 
Here are a few takeaways from this fiasco:
1. You Can Get Massively Screwed With Certain Types Of Award Bookings.
Perhaps the biggest takeaway I learned from this is that when you book partner award flights, you can get massively screwed. A lot of partner flights get better award pricing, which is why people book flights this way, but when something like this happens, you're not going to get much help from anyone. 
As best as I can tell, when I got reticketed to Delta, either Delta didn't get paid by KLM or Virgin Atlantic, so they unticketed me or Delta just didn't want to accept the award booking. Then, because KLM had removed me from my initial flight, I now didn't have a flight at all. Virgin Atlantic can only see the award bookings that are available to them, so they couldn't put me back on those flights. I suspect if they could call each other, they could probably figure it out, but the customer service reps either don't know or don't want to do it because it takes too much time. 
What surprised me is that this situation isn't that uncommon. When I was in the midst of this, I posted what was happening to me on Reddit and got a lot of people talking about how the same thing had happened to them and they were left scrambling to find new flights.  
In short, there's some risk that this type of thing can happen when you're booking partner award flights. It's maddening and seems like BS that they can do this because we're still paying customers (just paying with points instead of cash). I have no clue how they can get away with this.
2. Having A Lot Of Miles On Hand Is Like Having An Emergency Fund. 
The big thing that saved me with this trip is that I had so many points and miles to use that I was able to rebook myself on new flights. I don't think hoarding your points is a good thing – as I've said before, points and miles have no value until they're used. But, having this big stash of points is what made it possible for me to rebook myself on new flights, even at sub-optimal prices. 
I've had this same situation happen in the past when I was on vacation and had my return flight canceled. The only way I was able to get home on time was because I had a lot of points and was able to find a new flight on a different airline. 
It's always good to have other sources of cash when you need it – and points can act as a quasi-emergency fund in some circumstances.
3. Checking Your Award Bookings Regularly Is Important. 
I got lucky that I noticed this the night before because Delta never let me know that I had been unticketed from the flight. If I hadn't checked my Delta app, I would have shown up at the airport the next day with no ticket and been in a worse situation.
Could someone have helped me in person? Maybe. But who knows? That's why it's lucky I was constantly checking my flight to make sure everything still looked right.
Anyway, that's what happened with this award travel booking. I'm still debating whether I want to send formal complaints to these airlines, as I was very disappointed with how this situation was handled. I still don't really understand what happened or why they could just kick me off my flights, especially since I never did anything (i.e. I never changed my itinerary or messed with my booking since I booked it 6 months ago).
Fortunately, it all worked out and I had a great trip. We got a great hotel in Paris, had a nice high-speed train ride to Amsterdam, and got upgraded to a penthouse suite in our hotel in Amsterdam. And our return flight (on KLM business class) went smoothly. If I can, I'll probably always fly business class for international trips from now on.