About a year ago, I booked a two-week trip to Greece for a friend's wedding. This trip was going to be a big one, with my wife, myself, and our future baby all headed overseas to celebrate with our friends (our son would be 5 months old by the time we started our trip – old enough to have some personality; young enough that he wouldn't be able to move and would be very portable).
Making this trip even more exciting was the fact that we'd be flying business class there and back – my first time ever flying business class. And since I booked these flights with points and miles, we only had to pay a few hundred bucks in taxes and fees. I'm pretty good at accumulating points and miles, but admittedly not so good at using them, so I was pretty proud of myself for figuring out this business class itinerary.
Then, Covid hit and totally canceled this trip. Still, my wife and I had already blocked off this week, so we decided to try to do something with it. 
The thing we ended up doing was making a 1,100-mile road trip across half the country to visit my parents in Washington DC. Our son was born at the beginning of March, just a few days before the pandemic broke out, and travel restrictions made it so that my parents couldn't make the trip out to see us, which meant they've only been able to see their grandson via video chat. We're not yet comfortable with flying right now, but driving was something we could try doing. And my parents have been desperate to meet their only grandchild.
It's about 17 hours to make the drive from Minneapolis to Washington DC, and without a baby, we'd probably do this trip over two days. But with a young child in tow, we decided to split this up over 3 days, driving about 6 hours per day. On the return trip, we did the same thing.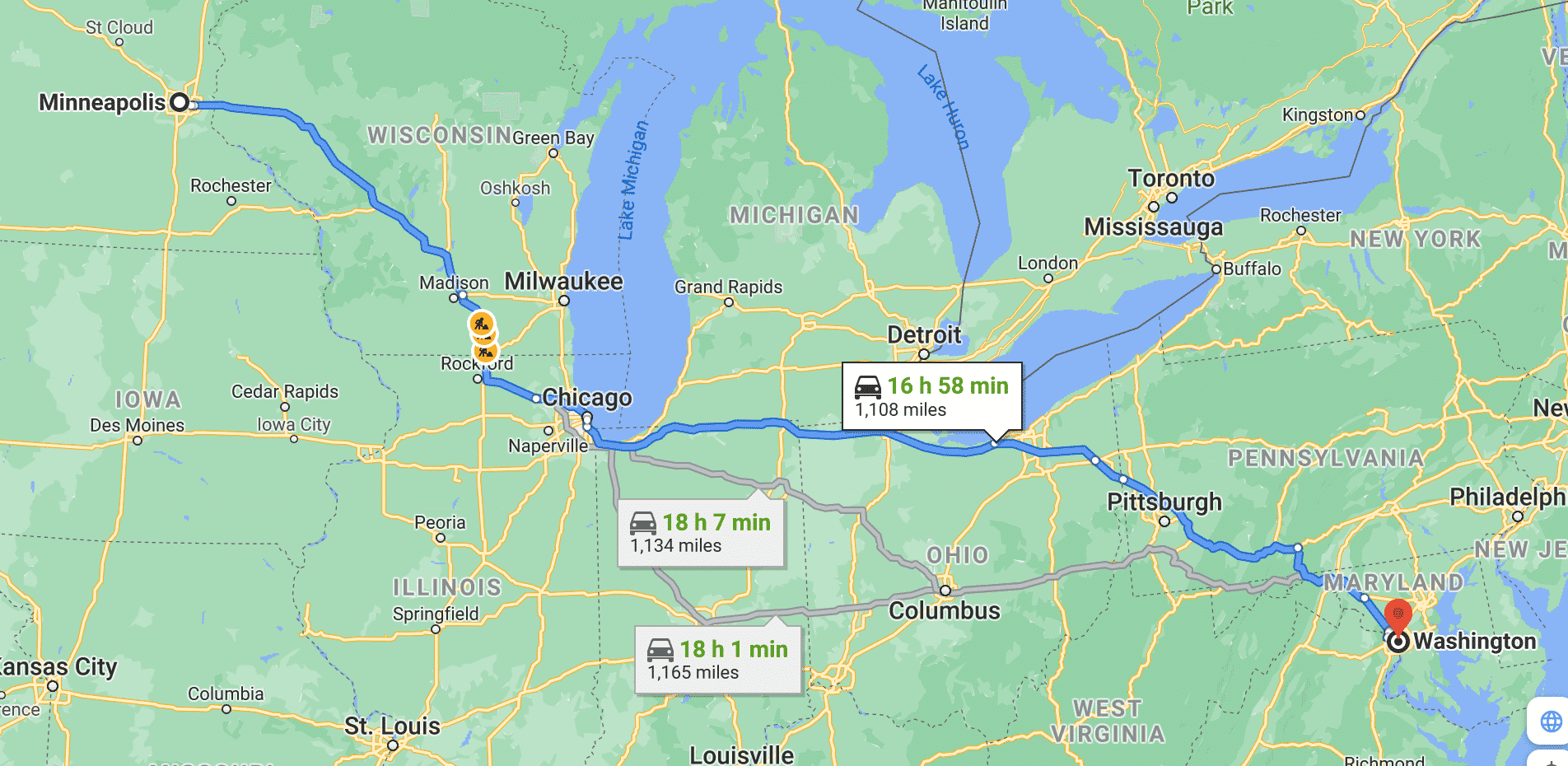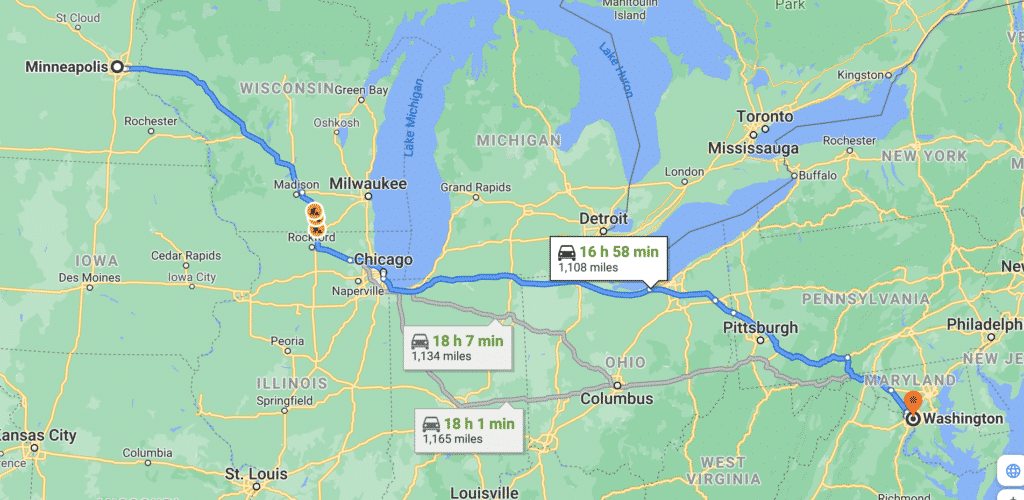 All that said, I thought I'd recap a little bit about what this trip was like and talk about some of the ways I used my points and status to get us slightly better accommodations along the way.
Booking Suites With Points 
In the past, hotel rooms weren't really that big of a deal to me because they were generally just a place for me to sleep. When you're traveling with children though, having a suite with a separate bedroom makes a big difference. By having that separate room, we could put our son to sleep at a regular hour, then have time for ourselves to eat dinner, watch TV, and relax.
We ended up staying in four different hotels during our cross-country road trip. Heading out to DC, our itinerary looked like this: 
On the first night of our trip, we stayed at the Hyatt Regency Schaumburg. This is a Category 1 hotel just off the highway, so it was a logical stopping point for us on our first night. A regular room here costs just 5,000 Hyatt points. A premium suite costs 10,000 Hyatt points.
On the second night of our trip, we stayed at an Embassy Suites outside of Cleveland. This cost 26,000 Hilton points.
Since we can't travel right now, my wife and I are accumulating more points than we can possibly spend. It's often tempting to get into a hoarder mentality when it comes to points and miles, but it's important to remember that when you're holding fake currency like this, the value of it can only go down over time. The way I see it, if you've got points to use right now, use them while you can, however you can. 
For our first travel day, we ended up booking the premium suite at the Hyatt Regency Schaumburg. Recently, Hyatt made it so that you can book suites using Hyatt points, so I've been taking advantage of this new perk. Premium suites cost double the standard room rate, and since the Hyatt Regency Schaumburg is a Category 1 hotel, that means a premium suite there only costs 10,000 Hyatt points. I've currently got hundreds of thousands of Chase points which can all be converted into Hyatt points, so dropping 10,000 Hyatt points is basically nothing for me.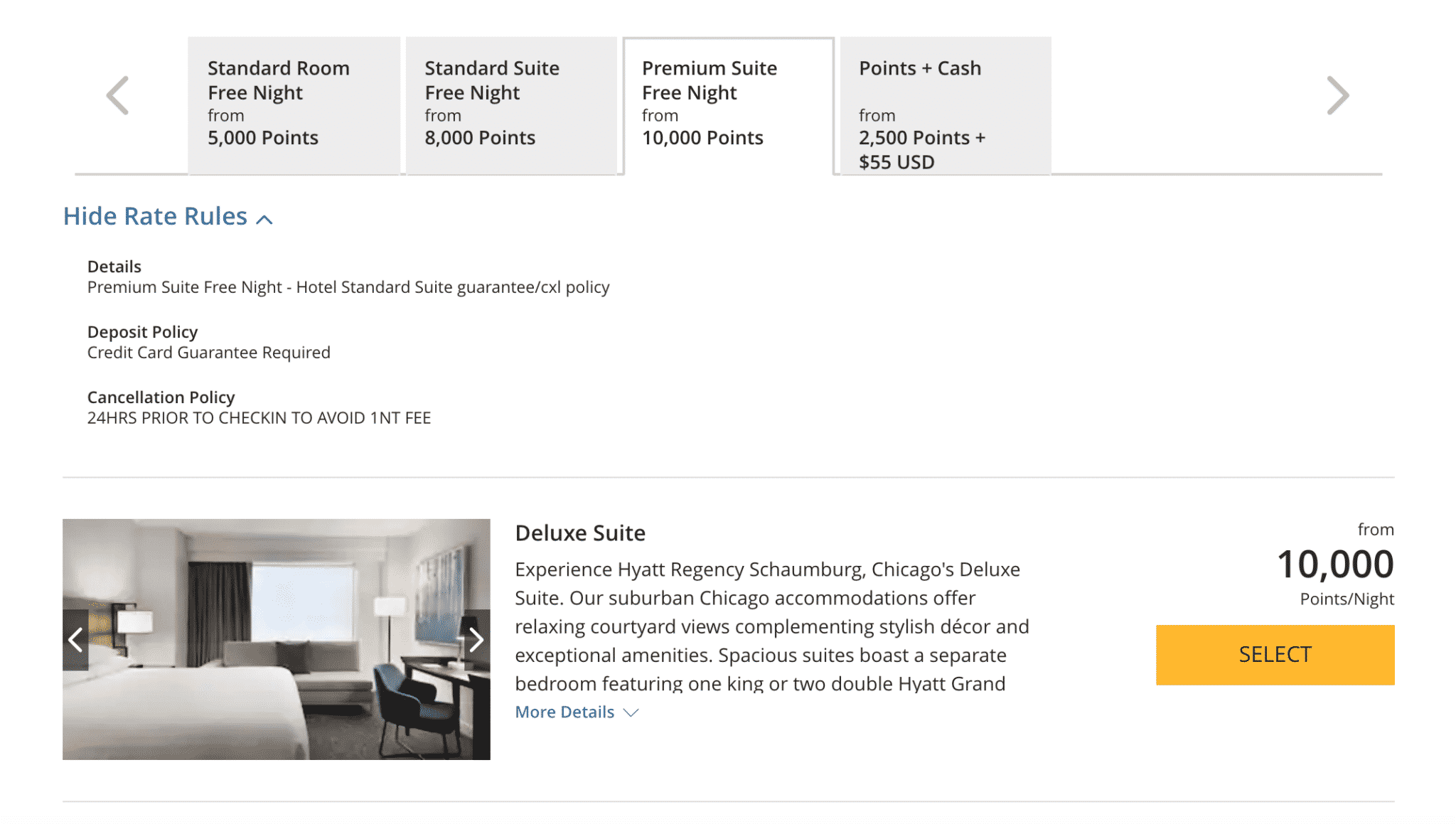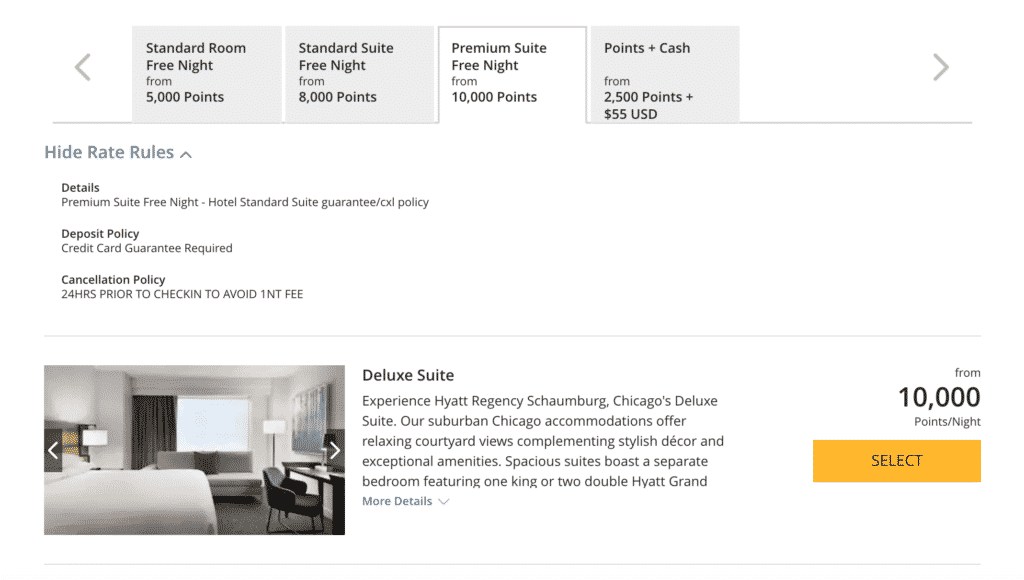 The room, unfortunately, was a disappointment. I've stayed in some nice suites in the past, so I was expecting at least a hotel room that looks more like an apartment. The Hyatt Regency Schaumburg premium suite, on the other hand, was a weird one where they basically took four hotel rooms that were all next to each other, then tore down the wall in the middle two rooms to make one big room, where then they stuck a big table and a bunch of random couches and chairs. The "bedrooms" of this suite were just two normal hotel rooms connected by the interior doors. It wasn't a huge deal since we were just passing through anyway, but the pictures on the hotel website made it look a lot nicer. 
Our stay in Cleveland was a bit of the same – fine, but sort of disappointing. We opted for an Embassy Suites (which is a Hilton brand) because there weren't any conveniently placed Hyatt hotels on that stretch of our trip. Embassy Suites is an all-suite hotel, so whichever room you get will have a separate bedroom. The room itself was fine. Unfortunately, there weren't any amenities because of Covid and our Hilton Diamond status (which we get from the American Express Hilton Aspire) got us nothing, not even the three snacks we were supposed to get (the front desk person was not friendly at all and when I asked about this benefit, she said this location didn't offer it). Still, the separate bedroom made it worthwhile to stop here on our trip home.
Our return trip back to Minnesota looked like this: 
On our first night, we stayed at the Hyatt Regency Columbus in downtown Columbus, Ohio (about a 6.5 hour drive from Washington DC). On our way, we stopped at a Winery about an hour outside of Pittsburgh and enjoyed a nice lunch outside.
On our second night, we stayed at the Hilton Chicago/Oak Brook Hills Resort & Conference Center. This is technically a resort hotel, so I could have used my Hilton resort credits here if I wanted to.
The Hyatt Regency Columbus is a Category 2 hotel, so the suite cost 16,000 Hyatt points (standard room would cost 8,000 Hyatt points). I was definitely happy with this suite and at over 1,300 square feet, it was bigger than a lot of apartments.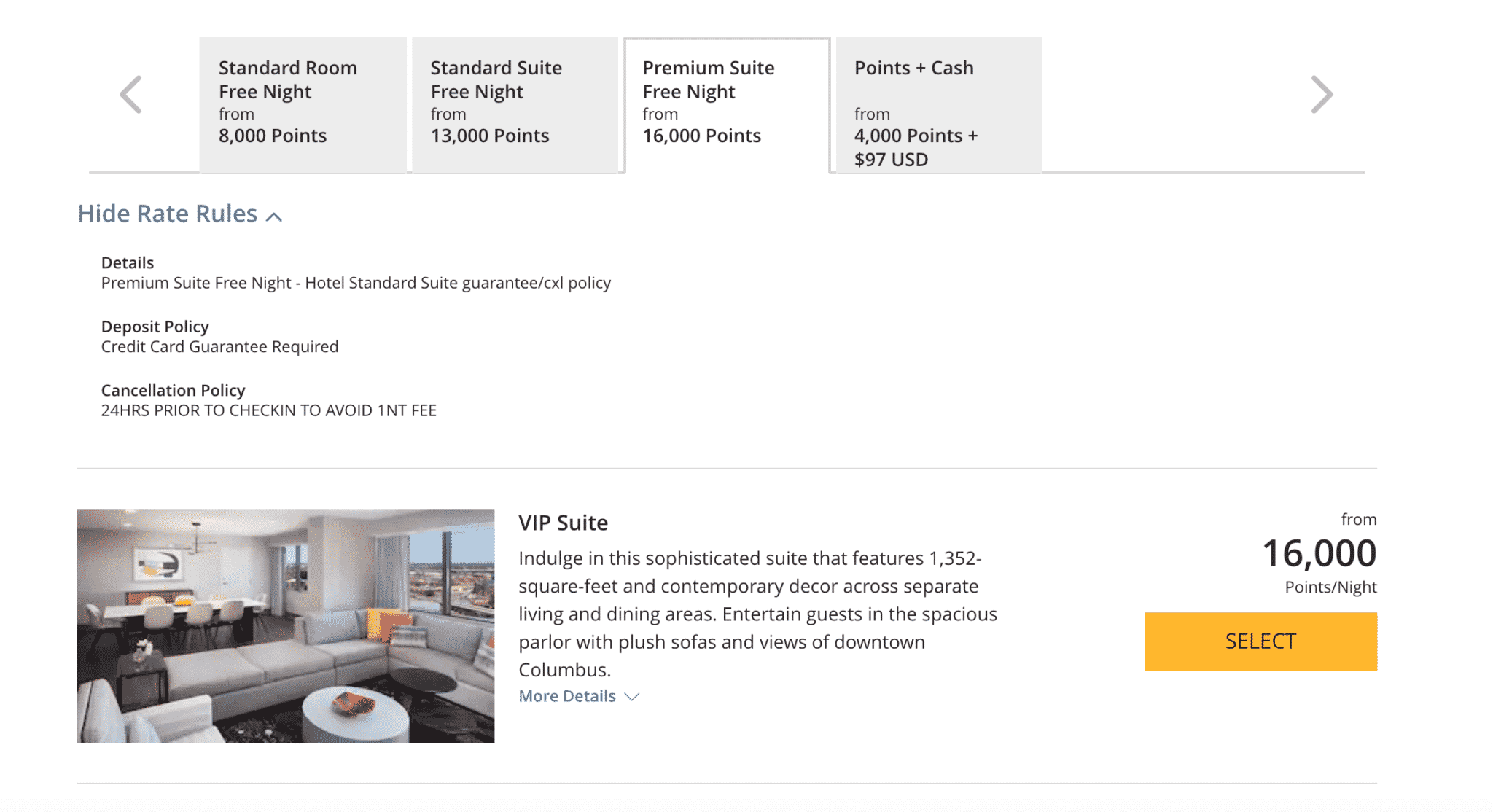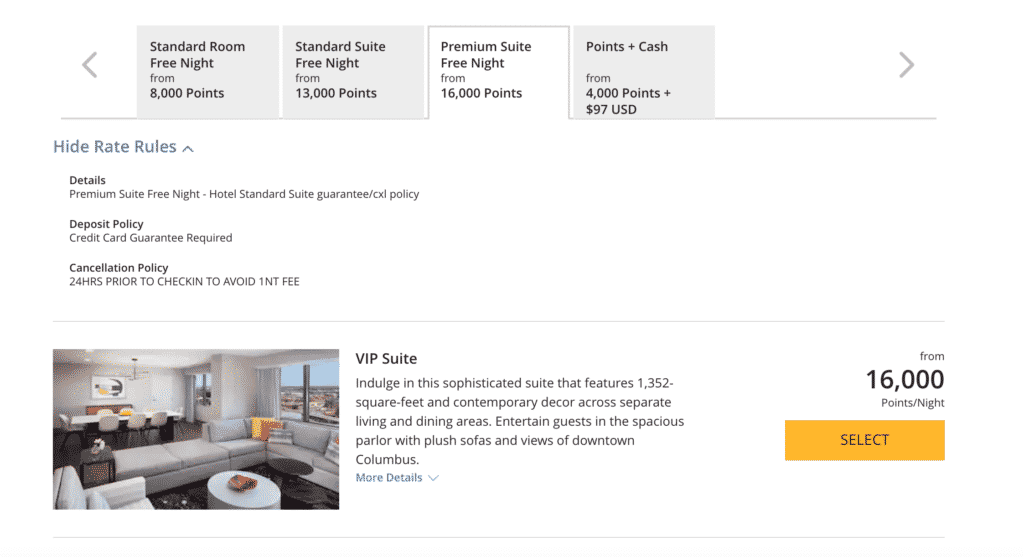 This suite was nicely furnished and comfortable. It was also on the top floor and we literally didn't see another person on that floor during our entire stay. Parking was $20 in the ramp across the street, but we ended up parking in the street and paid about $5 to feed the meters.
Since the hotel was downtown, I was also able to get a little biking in when I went to pick up some food that evening, using the bikeshare system in Columbus. Lyft owns many of the bikeshare systems now in the US, so it's really convenient to be able to open your Lyft app and snag a bike when you need it. It cost $2 for a 30-minute ride, which was well worth it since it allowed me to see some of the downtown and surrounding areas.
For our last hotel stay of the trip, we ended up once again staying outside of Chicago, this time at the Hilton Chicago/Oak Brook Hills Resort & Conference Center. Booking a suite with points was way too many points, so we decided to book a regular room for 29,000 Hilton points, then hope for an upgrade with our Diamond status.
The thing to remember with room upgrades is that it ultimately comes down to luck – you have to be lucky that a room upgrade is available and you have to be lucky in that the front desk person has to actually be willing to upgrade you (when you read the terms, the upgrade is essentially at their discretion). We managed to get an upgrade to a 1-bedroom junior suite through a little sweet-talking. I think it also helped that we had a baby with us. Our Diamond status got us free breakfast in the morning, which we ate outside while enjoying the weather.
Other Random Things We Did
I'm actually surprised at how smooth this trip home went, especially when adding in the unpredictability of traveling with a 5-month old. It's been a while since I've done a long road trip, so this was actually a fun way to see parts of the US that I hadn't seen.
This road trip home also gave us an opportunity to check a few state high points off our list. I've got a quasi-long-term goal of visiting every state high point in the United States (or as many I can reasonably do without needing special skills or risking death).
So, on our trip out to DC, we stopped at Mount Davis, the highest point in Pennsylvania. It's located in the southwest corner of the state, pretty deep in the Appalachian mountains. You can drive right up to the high point, so no hiking is required.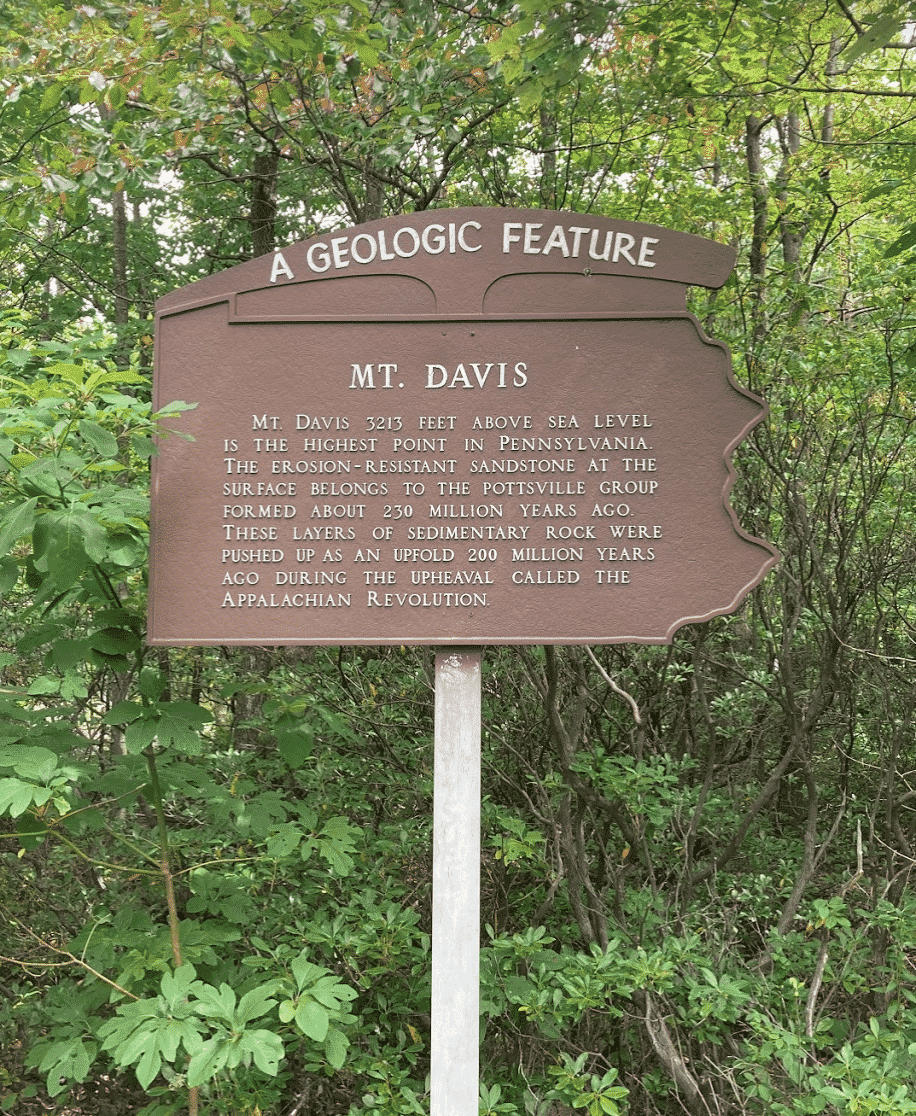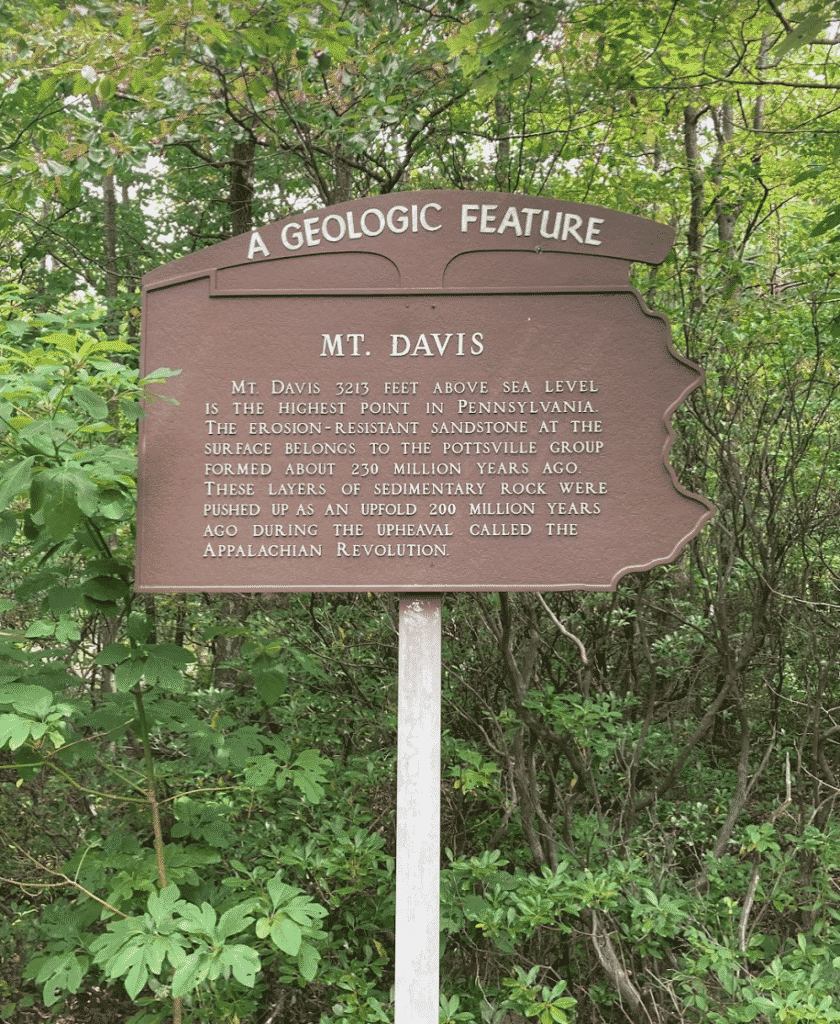 At the highpoint, there's a big tower. The high point itself is just behind the tower, on top of a few boulders.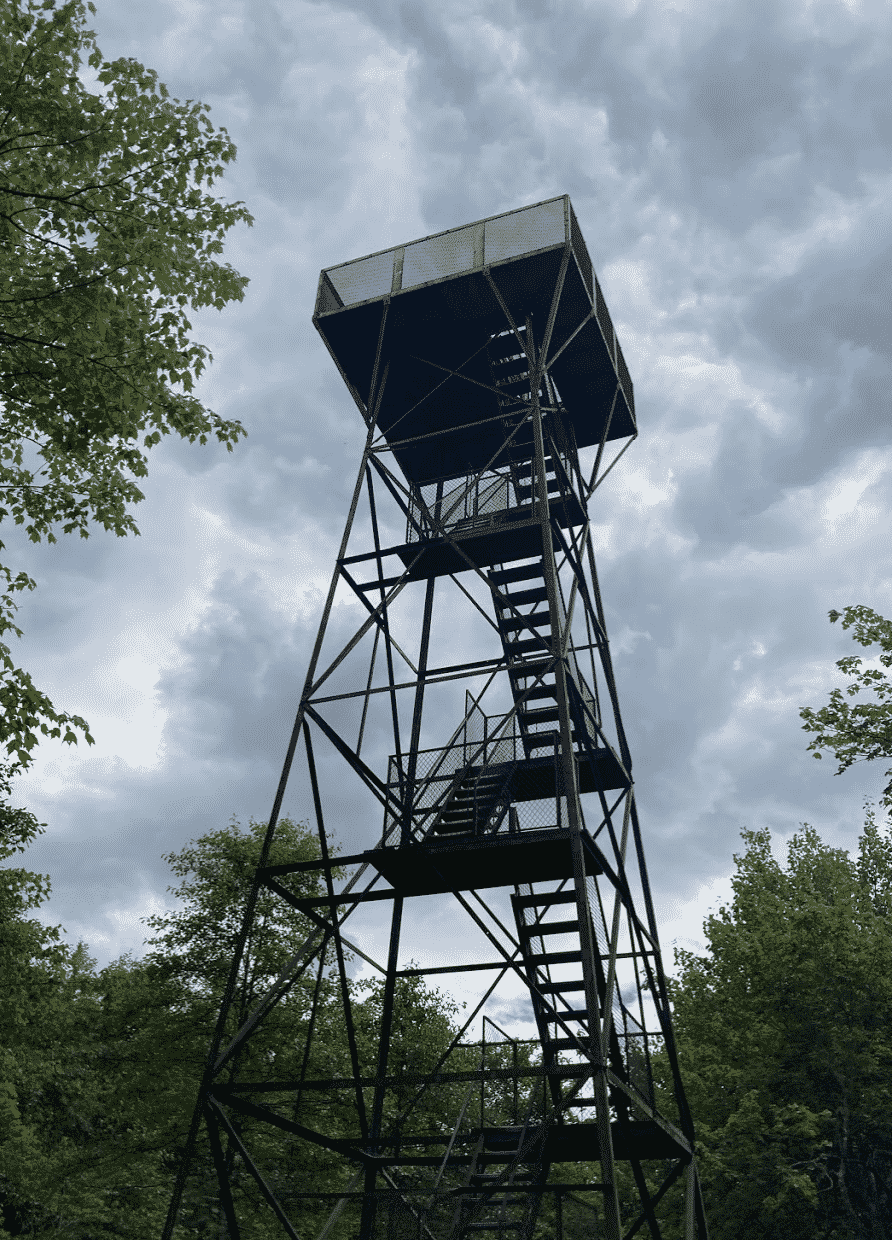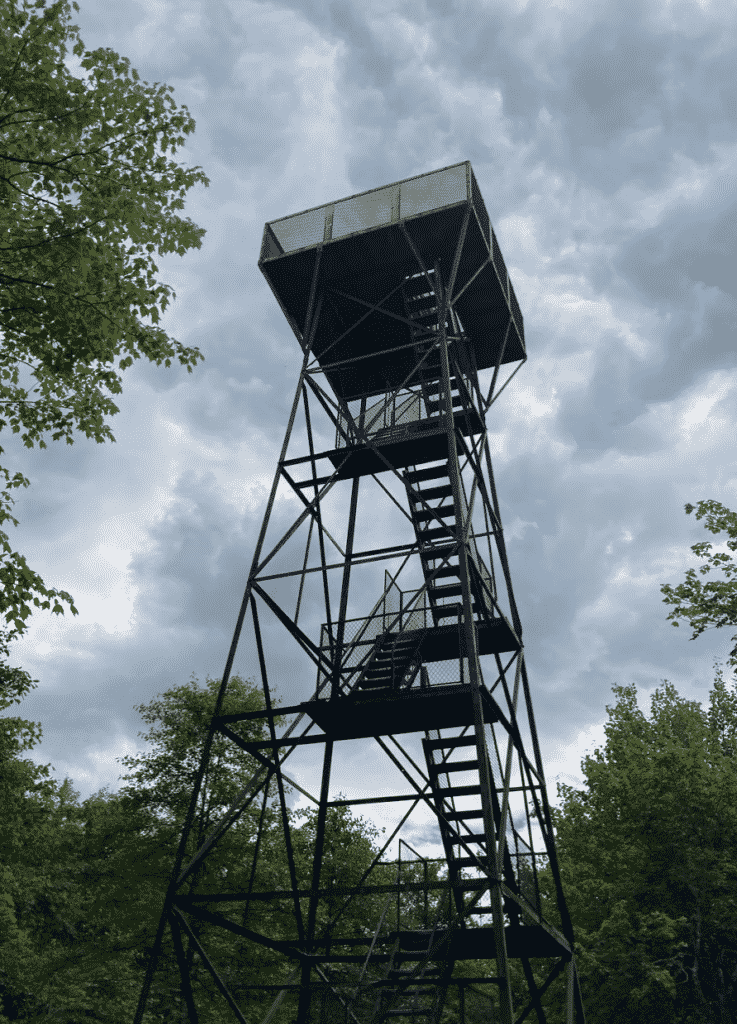 There are some pretty good views from the top of the tower as well. The only real downside was that it was pretty buggy and there were a lot of people there – much more than I thought there would be at this random high point in the middle of nowhere.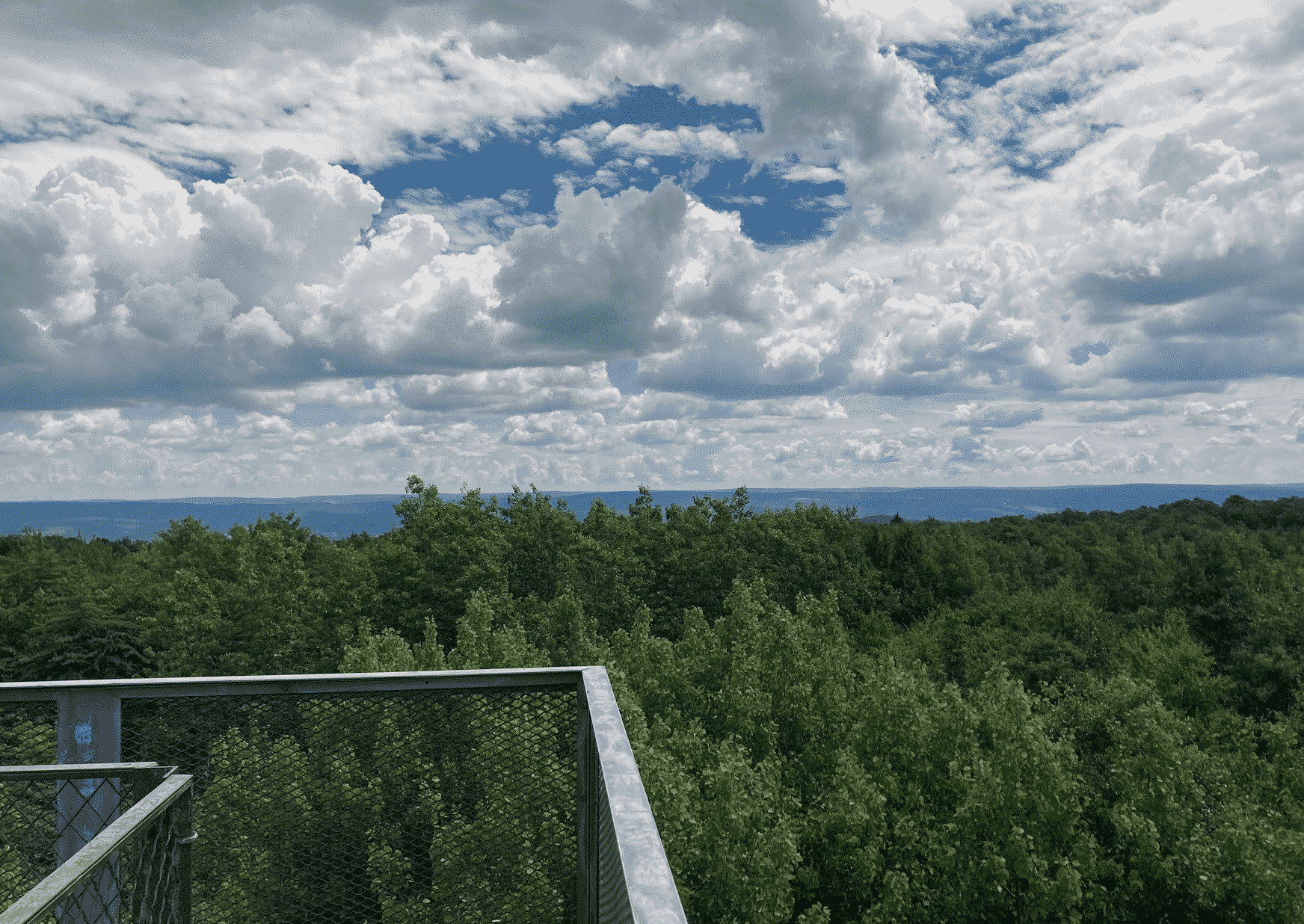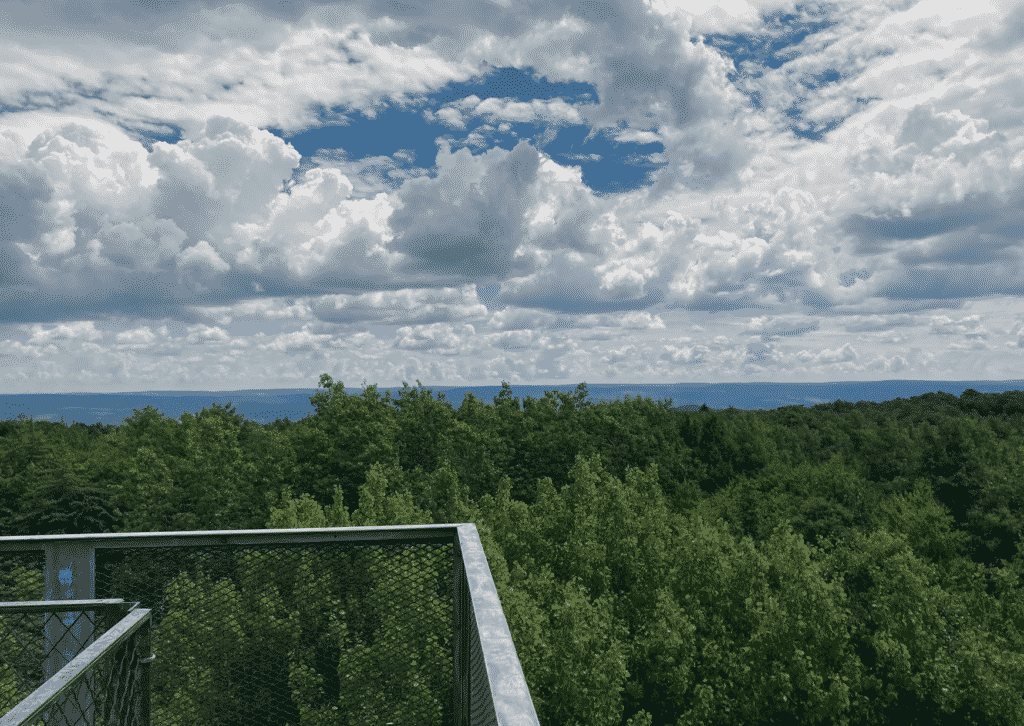 On our return trip back to Minnesota, we swung by Campbell Hill, which marks the highest point in the state of Ohio. Obviously, Ohio is a flat state, so this high point is really, more than anything, just funny. It's located in a parking lot that has a career center and what looks like some sort of radar facility or something.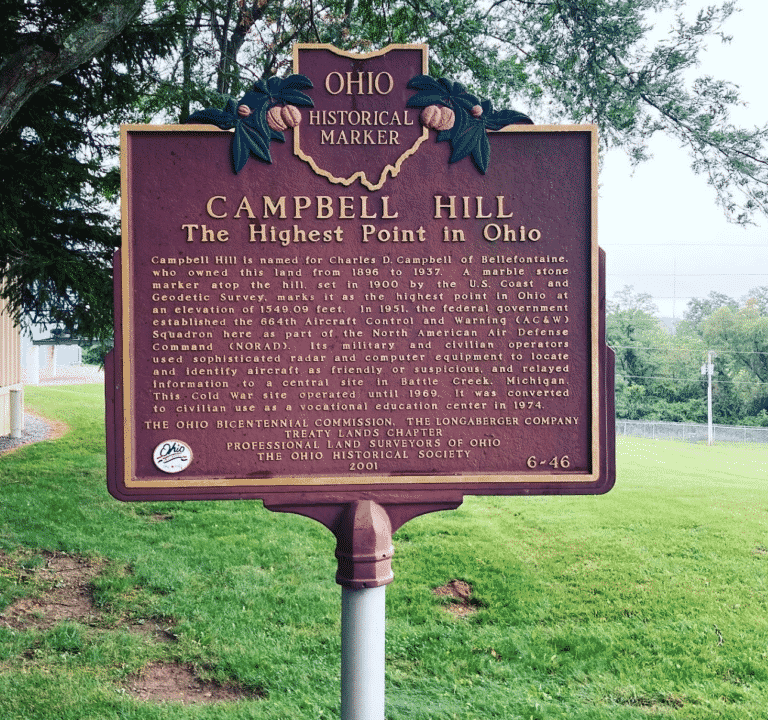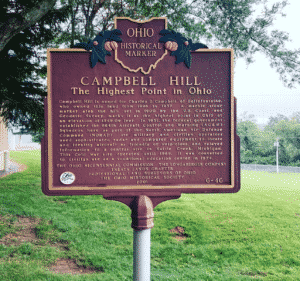 The views from the summit are far-reaching, with glorious views of a well-manicured field and parking lots.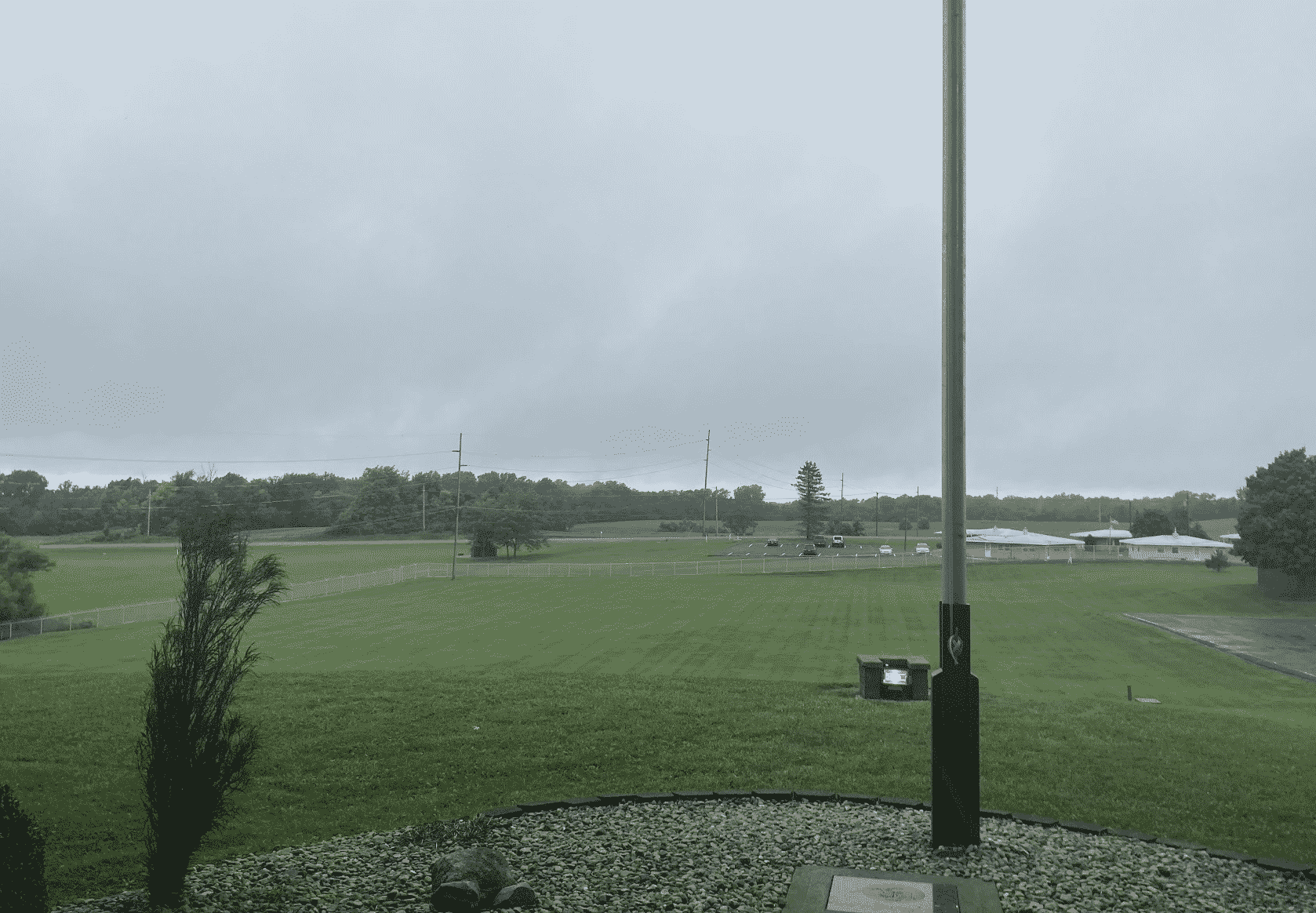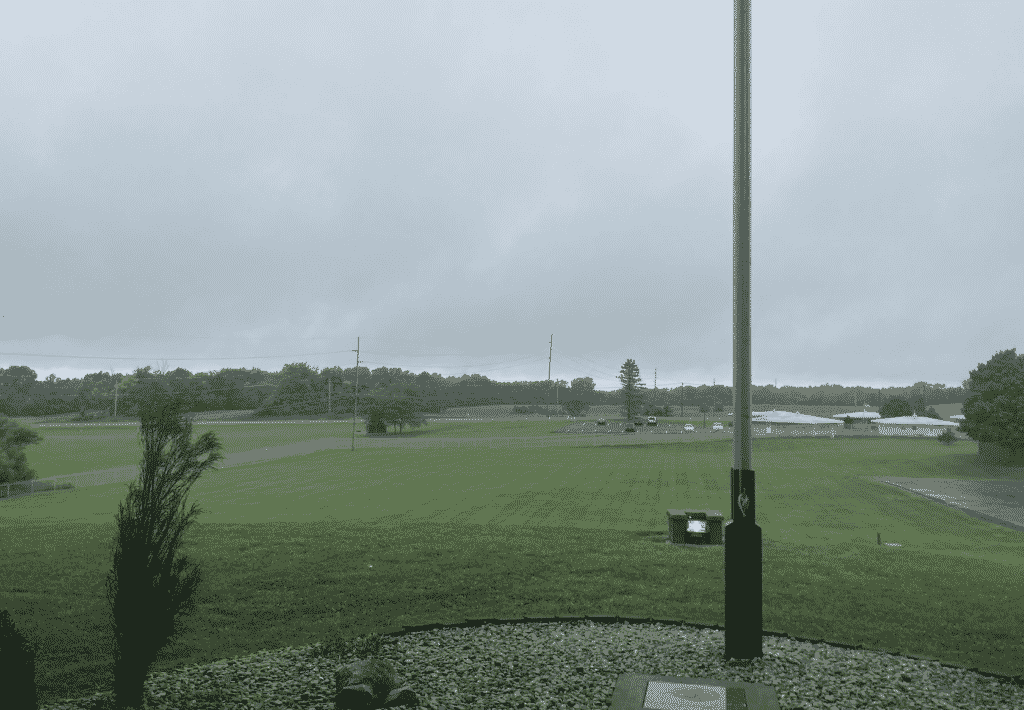 During the trip, I also did a little secret shopping, which got me some free meals along the way. There were all at the same fast-casual burger chain which you can find in basically every city in the US. I ate for free once in Madison, then again in South Bend, then on the return trip, had myself a free meal at the Wisconsin Dells. I wrote a long post about how I eat for free with secret shopping, so check that post out for more info. 
In terms of the pandemic, I felt fairly comfortable at most of the hotels we stayed at. People wore their masks indoors and seemed generally respectful of other people's space. The Hilton resort hotel was probably the only hotel where I felt a little bit uncomfortable, as I saw a lot of people walking around the hallways with no mask on their way to the pool. I just did my best to avoid walking near anyone.
Anyway, that's just a quick recap about what we did during our road trip out to DC and back. It was a long trip, but well worth it for my parents to get to see and hold our son. Using points along the way was a bonus, allowing us to stay in relatively more comfort compared to how we'd usually travel.