Thanksgiving is now behind us and with its passing comes the official start of the holiday season. I've always thought it helpful around this time of the year to remember how fortunate most of us are. If you're reading this, chances are that you live in a developed country. You probably also make a decent income and have some education under your belt. If you're smart, you might even be able to save up enough money one day so that you never have to work again. Most people in the world aren't lucky enough to have the luxury of thinking about financial independence, let alone actually achieving it.
This is why it has always struck me as a bit ridiculous when I see people with good jobs complaining that they don't make enough to get ahead. Sure, making more money is probably better than making less money. And some cities are definitely more expensive to live in than others.
But I have a problem when people who make well above a median income tell me that they're barely getting by. The vast majority of people in the US don't make the huge sums of money we seem to think are necessary in order to live. If someone making above a median income says they can barely get by, then what's happening to the other 50% or more of the population? Are they all living a destitute life because they don't have the huge house, fancy car, and private school education that some people say they simply must have?
In many ways, spending is sort of a bit like water. It basically just fills up whatever vessel you have. As your income grows, it's easier to fill up that income with increased spending. It's why a doctor or lawyer can make an amazing income, yet somehow feel like they're just skating by.
So this post is a reminder to everyone out there as we go through the holiday season. Count your blessings. You probably make more than you think. You just need to keep some perspective when it comes to your income.
Household Income Distribution In The US
CNN Money has a great calculator that tells you where your income ranks in the United States. You slide the income bar to the left or right, and it tells you where that annual household income ranks in the United States based on percentile.
For example, an annual household income of around $55,000 per year puts you squarely in the middle of the pack when it comes to income. Fifty percent of American households make more. Fifty percent make less.  


To some people, a $55,000 per year income would be amazing (I know when I graduated from college back in 2009, anyone who found a job paying that much was really lucky). To others, a $55,000 household income doesn't even seem livable. There are people out there making twice as much that swear that it isn't possible to live on less.
The important thing in my opinion is to maintain some perspective. Just look at how well you're doing if you're making what some people would consider pretty pedestrian incomes. $55,000 puts you in the middle of the pack. But an income of $75,000 puts you right up there near the top third of incomes. This household is doing pretty darn well when you compare them to the general population.


A household making $100,000 per year is doing even better. They'd be firmly in the top quarter of the US population when it comes to income. Pick 100 random people in the US, and they'll be making more than 75 of them.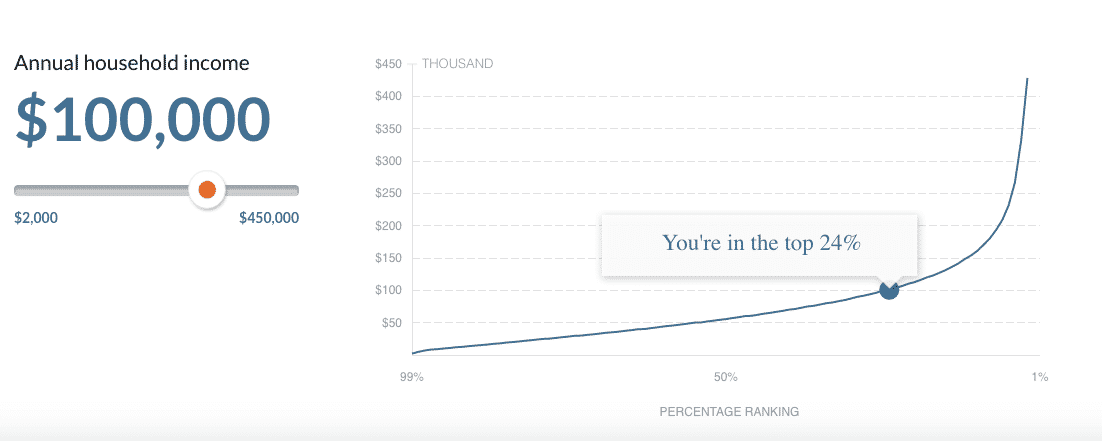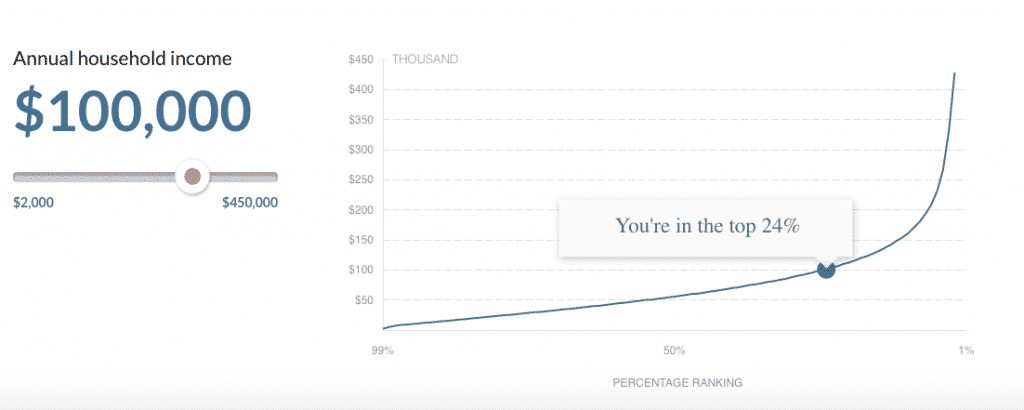 It's important to keep some perspective when it comes to your income. A pretty normal salary means you're doing better than most of the population. And if you're doing that well, what's stopping you from getting ahead?
You Can Probably Live On Less Because Others Are Living On Less Too
Lawyers, doctors, and other high-income professions have a pretty bad habit of comparing themselves to one another. With all that money being thrown around, they end up losing perspective. Rather than realizing how lucky they are to have the things they have, they get into an inevitable comparison game with other people in their profession. Some colleague has a huge house and a fancy car, so that means I need that stuff too. That's how you can end up making an amazing salary, yet feel like you have no money.
So just take a step back. Really look at what you make and how you're living. Most people don't live in a huge house or a luxury apartment. Most don't have a fancy car. But even without this stuff, most regular people are probably doing okay.
I don't make the biggest income in the world anymore. But I'm fortunate enough to make a good salary that puts me well above the median income. It'll only get higher once my wife finishes her residency and starts earning some income.
But I still remember to keep my perspective when it comes to income. If the median household is making $55,000 per year, surely I should be able to live off that amount. At a minimum, I probably don't need to live off more. If I do spend more, it's because I want to, not because I need to.
Perspective is part of the reason I was able to pay off my student loans quickly. When I was making six figures, I didn't live as if I made six figures because I knew that most people didn't make that kind of money. If I just lived like a normal person, I could use all of that extra money to pay off my loans.
So, if you ever have trouble wondering how you can live on less, just remember one thing. There are probably a lot of people out there that make a lot less money than you do. If they can live on less money, you can probably live on less money too.
Keep your income in perspective. Compare yourself to the right people. Be content with what you have. Then you'll probably realize you make a lot more than you think.