Spiral is a fintech bank that's currently offering new customers a $50 signup bonus after opening a free checking account with them. To earn your Spiral referral bonus, you have to do the following: 
Open a Spiral checking account using a referral link (here's my Spiral referral link). 
Deposit at least $200 into your Spiral checking account within the first 30 days.
Keep the account open for at least 90 days. 
The Spiral referral bonus is especially good because it's a free checking account and doesn't require a direct deposit to earn the bonus. And while you do have to keep the account open for 90 days, the terms do not seem to require you to keep the initial $200 deposit in the account. 
The Spiral app is currently only available on iOS, but you can still log into your account via your computer, so you don't have to have iOS to open your account (you just won't be able to use the app on Android).
With that being said, in this post, we'll look at what Spiral is, go through how to earn your referral bonus, and discuss additional ways to earn more from your Spiral referral bonus.
What Is Spiral? 
Spiral is a fintech banking app similar to other fintechs like Chime, Varo, etc. It offers a checking account with no fees or minimum balance requirements, making this a bank you could consider using (my rule with any bank is that I'll only use it if it has no fees or minimum balance requirements).
Spiral is different from other banks in that it approaches banking from a giving perspective. Whenever you deposit money into your checking account, Spiral will set aside a percentage of your deposits into a separate "Giving" account that you can donate to non-profits or charitable organizations of your choosing. You can adjust your giving percentage to whatever you want, but the lowest you can set it to is 0.25%. That means for every $100 you deposit into your Spiral account, Spiral would set aside 25 cents into your Giving Account. 
Donating to a charity is easy with the Spiral app. There are over 1 million charities in the app that you can donate to. As a plus, Spiral will also match up to $150 of donations per year. 
So, for a bank account, Spiral isn't bad. The app looks good and is easy to use. The checking account doesn't have fees or minimum balance requirements to worry about. And the donating aspect is interesting and makes it easy to donate to charity.
Spiral $50 Referral Bonus Step By Step Guide 
Now that you understand what Spiral is and how it works, let's get into how to earn your bonus. Here are the steps to earn your $50 Spiral referral bonus. 
1. Open A Spiral Account Using A Referral Link. The first step is to open a Spiral checking account using a referral link. Here is my Spiral referral link if you would like to earn your bonus and support this site. Opening an account is straightforward and should only take you a few minutes.  
If you used my referral link, it should automatically populate the referral code section when you begin the account opening process. If not, however, make sure my referral code is in the referral code section (KEVH02).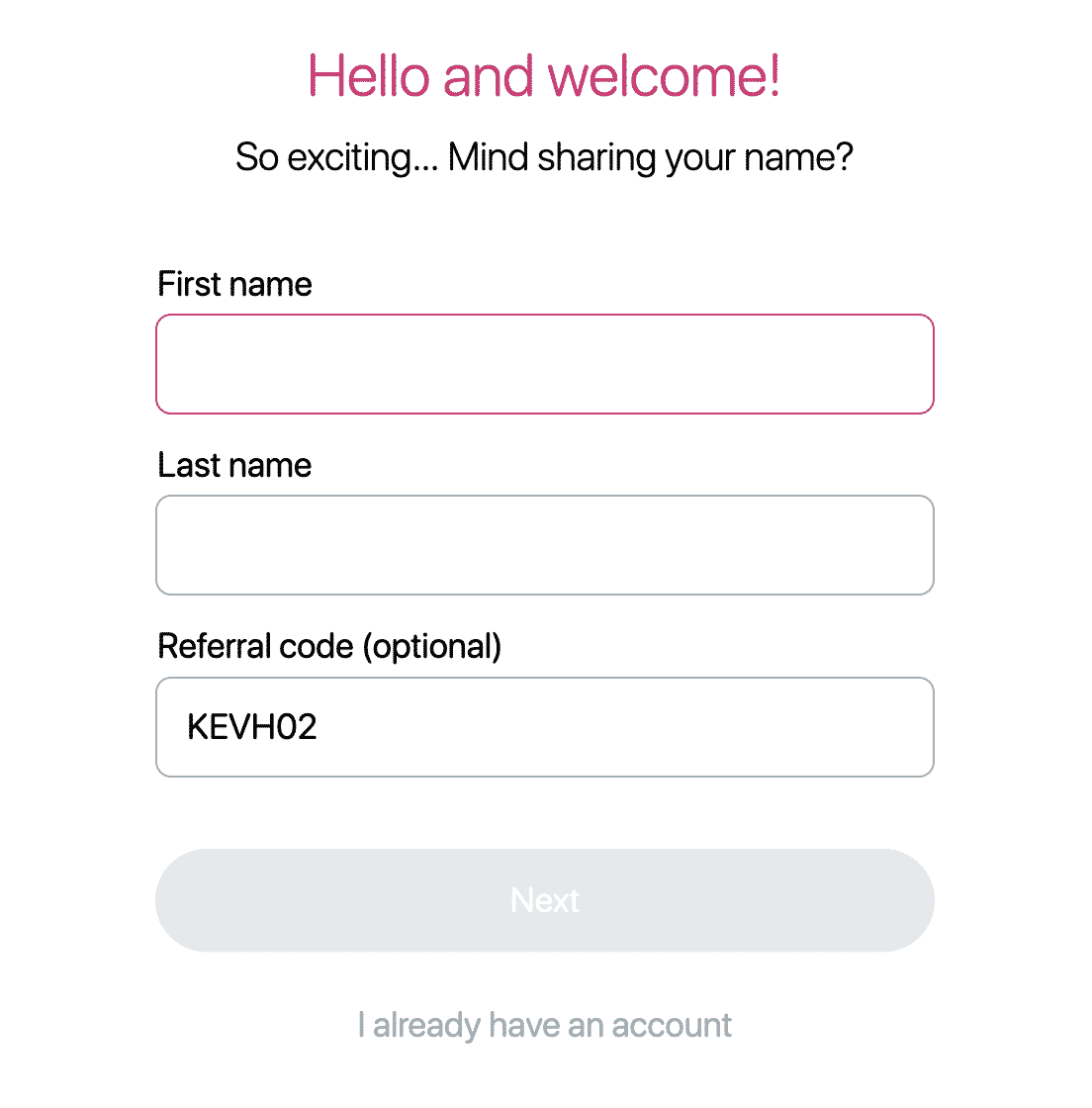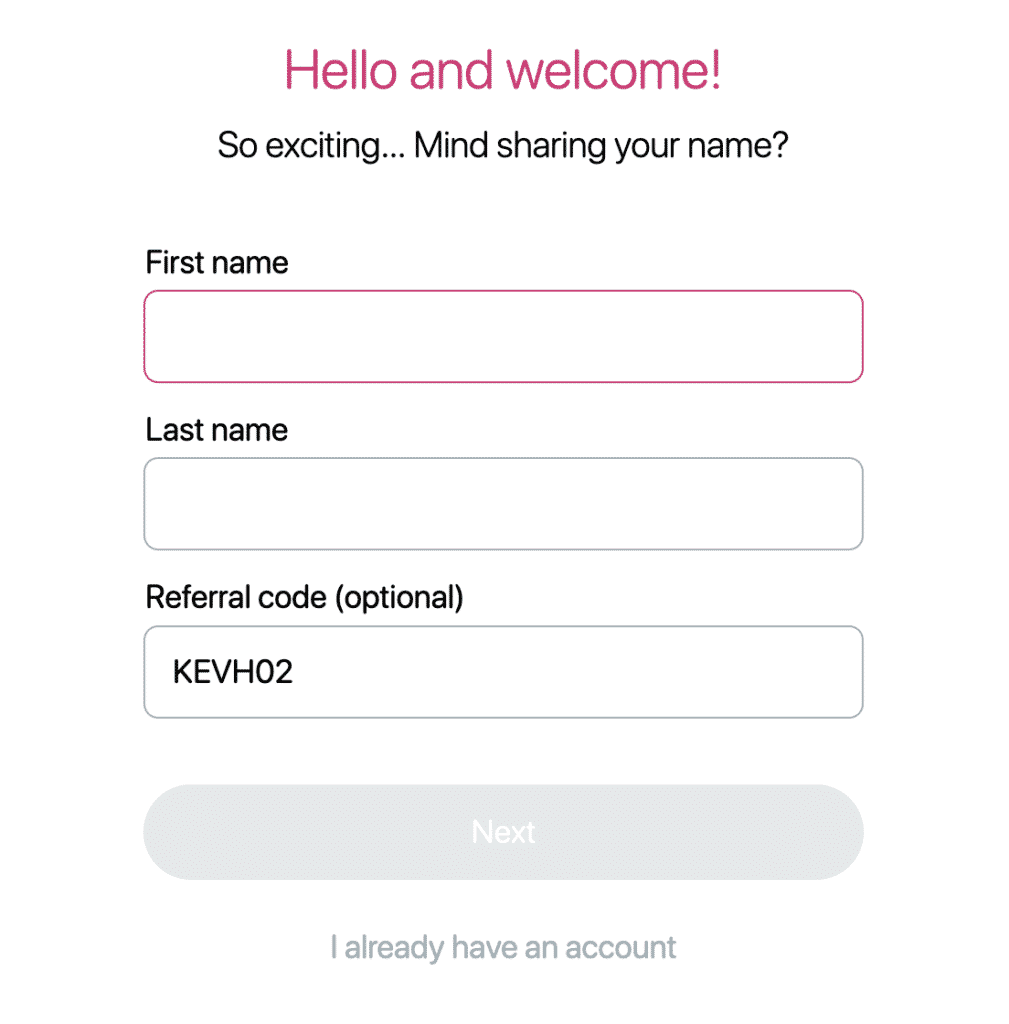 2. Deposit At Least $200 Into Your Spiral Checking Account Within 30 Days. Once you've opened your Spiral account, the next thing you'll need to do is deposit at least $200 into your Spiral checking account. I recommend depositing $201, just in case (always better to give yourself a cushion when you can). 
You can deposit the $200 when you open your account or you can link your bank account later in the app and then initiate a transfer. You'll need to do this within 30 days, so don't wait!
3. Maintain Your Spiral checking Account In Good Standing For 90 Days. You'll need to keep your Spiral checking account open for 90 days to qualify for the bonus. Fortunately, Spiral doesn't charge monthly fees or have a minimum balance requirement, so it's easy to keep your Spiral account open. 
There are two things to note here:
First, the bonus terms do not say you have to keep the $200 deposit in the account. That means you should be able to withdraw your $200 deposit. To be safe, it's best to leave the account with some money so it doesn't get closed. I recommend leaving $1 in the account. If you want to be extra safe, you can also leave the $200 deposit in your account until your bonus posts, but I don't think that is necessary since the terms do not say anything about maintaining a minimum balance. 
Second, while Spiral does not charge monthly fees or require a minimum balance, it does charge a $7 inactivity fee if you have no activity in your account for 90 days. To avoid this fee, you just need to schedule a small transfer into or out of the account every 90 days.
The easiest way to do that is to automate a transfer into the account. You can do this in the Spiral app. I'm always extra careful, so I've scheduled a $1 monthly transfer into my Spiral account to avoid any inactivity fees. 
4. Your Bonus Will Post Within 30 Days After Your Account Has Been Open For 90 Days. The terms state that Spiral will credit your account for $50 within 30 days following the month in which the customer maintained the account for 90 days. The language is a bit confusing, but I read it as saying your bonus will post within 30 days after you meet the 90-day requirement. 
A Note On Some Conflicting Terms. 
Spiral recently launched their referral program, so it seems like they haven't updated their terms throughout the site. Previously, the terms required you to deposit $200 and then spend $100 per month for 2 months, while completing 5 debit card transactions each month. When you click on the Spiral referral link, you'll still see those terms in the fine print.
However, in the app and elsewhere on their website, the terms state what I've written in this post (i.e. use the referral link, fund your account with $200, then leave it open for 90 days). 
I've included a screenshot of the referral program terms directly from the Spiral website, in case you find yourself with any issues. Feel free to use this screenshot if you need it.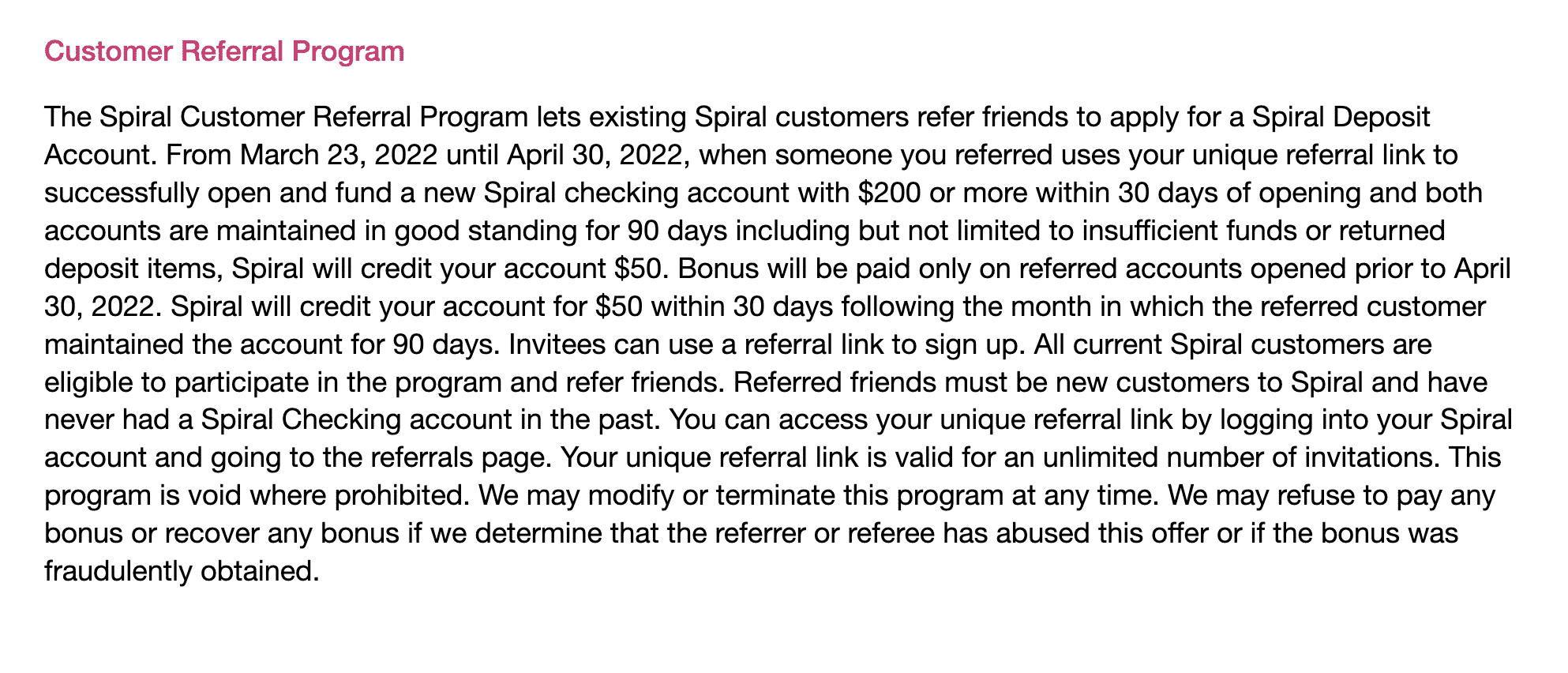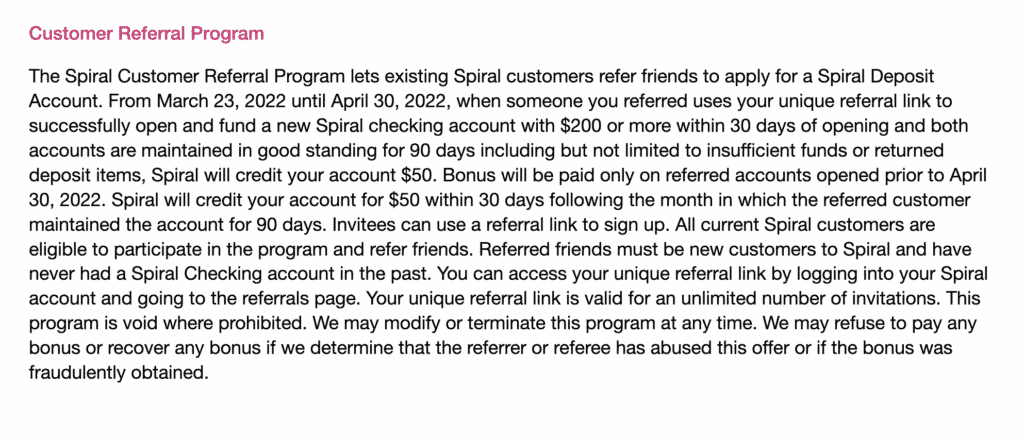 I've also included screenshots of the referral information from the Spiral app. It says the same thing as the above terms. Again, feel free to use these screenshots if you need them.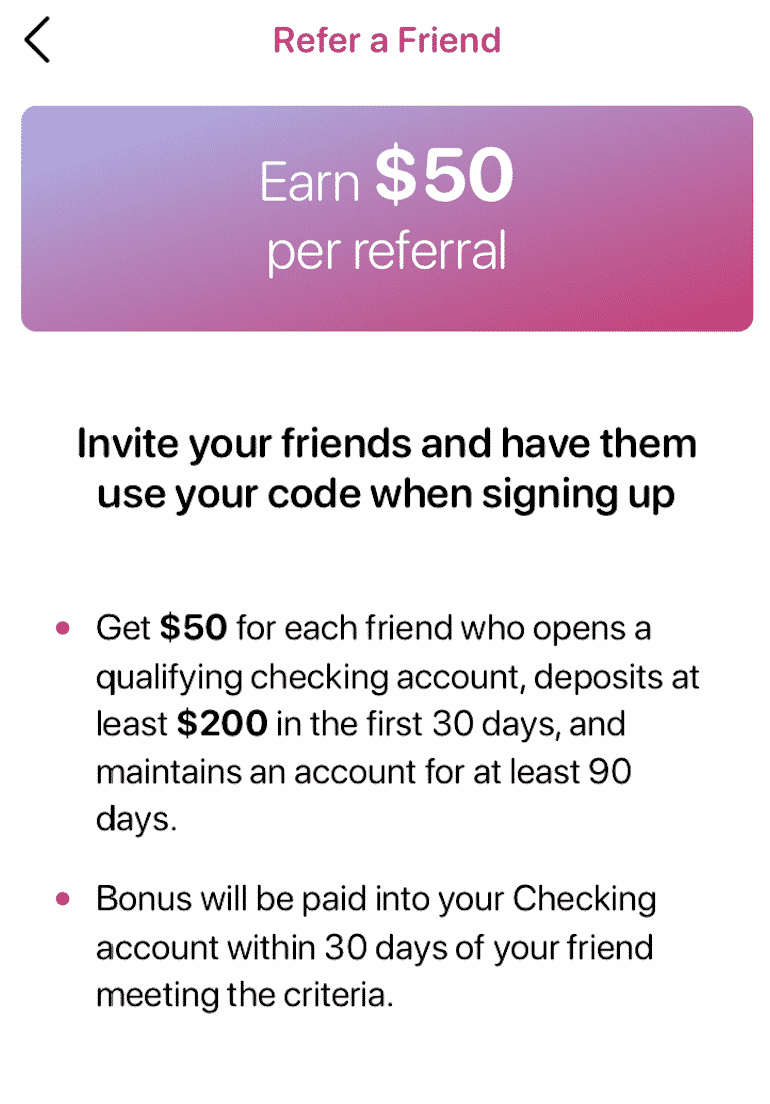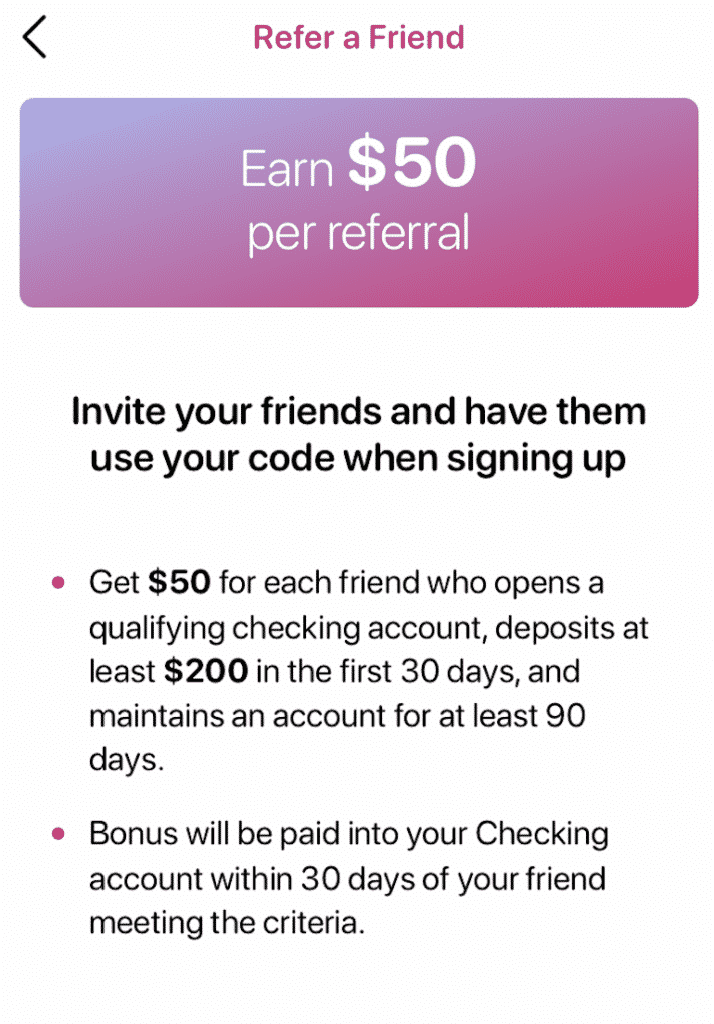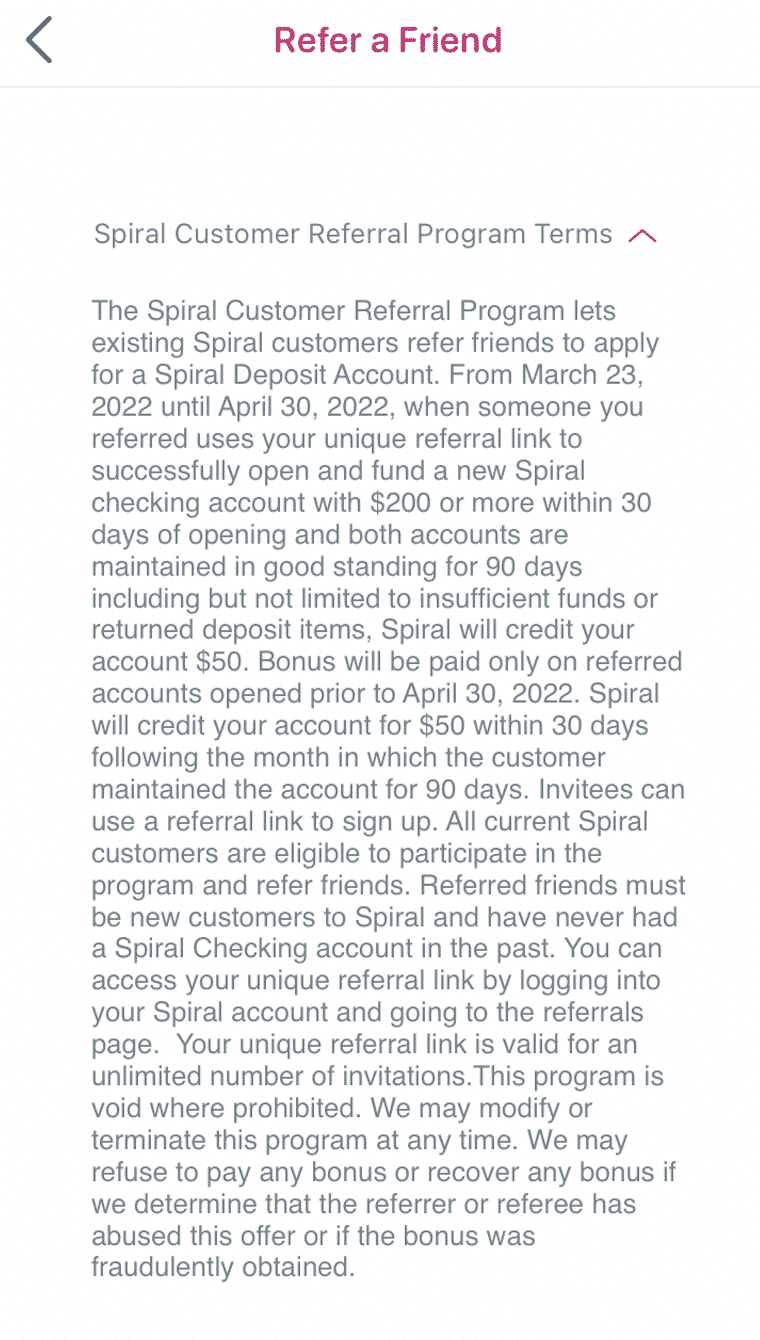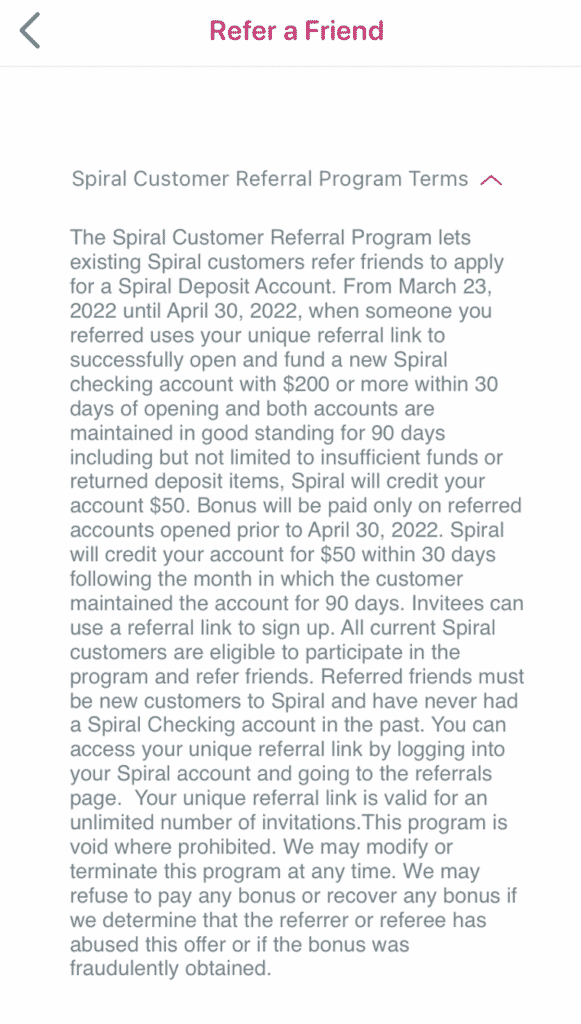 If you want to be extra cautious, you could meet the previous bonus conditions as well. To do that, you'd need to deposit $200 or more into your Spiral account and complete 5 debit card purchases totaling $100 or more each month for two consecutive months within 90 days of opening your account. 
I personally think that if you save these screenshots, you shouldn't have a problem getting the bonus.
Refer Friends And Family For Additional Spiral Referral Bonuses
Spiral allows users to refer as many people as they want using their own referral link. That means if you have friends or family members that are willing to open a Spiral account, you can earn some decent money. 
You can find your referral link in the Spiral app. Click on the top right corner to open the Profile and Settings page, then click the Refer a friend button located near the top of the screen. From there, you'll get to a screen that gives you your promo code and a link that you can send to your friends and family.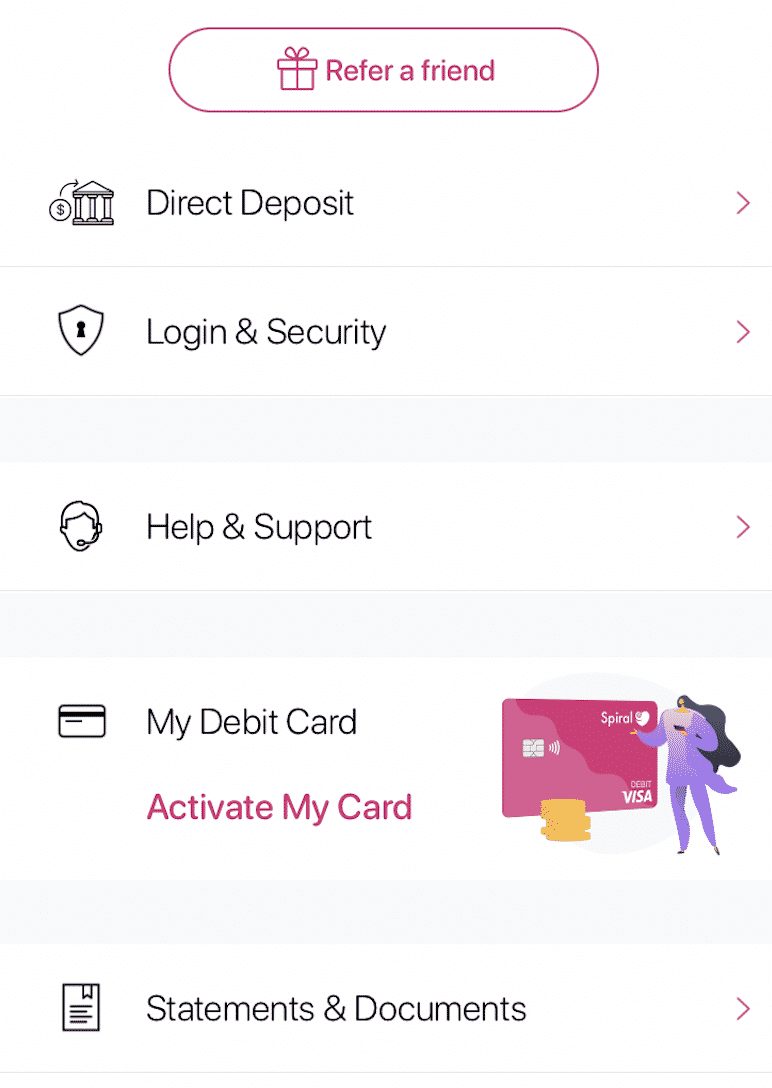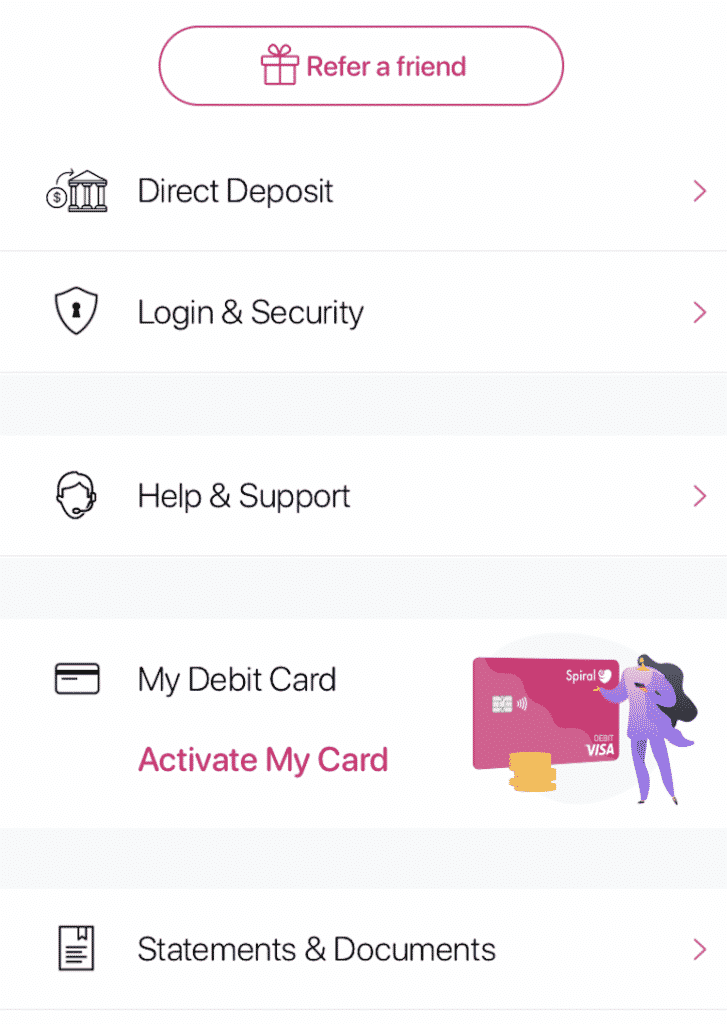 This works out particularly well if you're a two-person household. You can open your Spiral account and earn $50, then refer your spouse or partner with your referral link. You'll earn $50 for referring them and they'll earn $50 when they meet the terms. That's good for $150 worth of referral bonuses for a few minutes of work. 
Conclusion 
Spiral offers a free checking account that comes with no fees or minimum balance requirements, making it a solid bank account to use. The bonus is particularly easy to earn since it doesn't require a direct deposit but only requires you to fund the account to qualify for the bonus. 
If you're a two-person household, you should be able to make $150 with just a few minutes of work. That's really solid, so I recommend snagging this bonus while you can. Currently, the terms state that this promotion is active until June 30, 2022, so make sure to sign up for it before then to get the bonus. I have a feeling that this will probably get extended (possibly indefinitely), but you never know. 
There is a lot that goes into bank account bonuses, and if you're interested in earning extra money from bank account bonuses, make sure to check out my post, The Ultimate Guide To Bank Account Bonuses. This is required reading if you want to get into the more advanced bonuses out there. 
If you have any questions or comments, please feel free to leave them below.