By now, you're all probably aware that Donald Trump is officially going to be the next president of the United States.  This isn't a politics blog, so I'm not sharing my thoughts on the matter (plus, I'm no politics expert).  Nor is this a blog about the economy, so I'm not going to talk about that either.  Heck, I have no idea where the economy will go.  Things go up, things go down. Jobs are created, jobs are lost.  I don't really know why it happens.
What I do know is that the doomsday prophecies are out there.  Trump is going to cause a recession!  Stocks will crash!  The rich won't pay any more taxes! I have no idea if these are true or not.  All I can do is stay calm and stick to my game plan.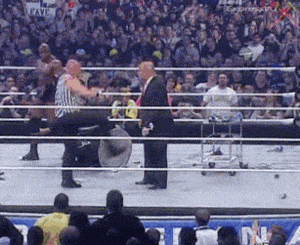 Remember, the Donald says you need strength and stamina to be president, which we all know he has in spades!  (sarcasm alert!).  But forget about the Donald's strength and stamina.  If the worst happens, you'll need to rely on your own strength and stamina in order to make it out unscathed.
I'll admit, I have no empirical evidence to suggest that I won't freak out if the worst really does happen.  When the 2008 recession hit, I was a college student, sitting on the sidelines.  I felt the direct effects of the recession for sure – I couldn't get a real job when I graduated.  But I didn't have any money invested in the market because I didn't know how to invest.  I like to think that I wouldn't have freaked out back then, but really, I don't know.  Hindsight is 20/20, after all.
What I do know now is that freaking out isn't the right move.  We know that individual investors tend to under perform the market.  We know that over the long term, the market will continue to go up.  So the best thing to do is not freak out.  Stay the course.  Do nothing.  You've got the strength and stamina to survive anything!
Here's how I'm going to survive the Trump Presidency, or really, anyone's presidency.
Stick To The Game Plan
I don't believe that anyone can accurately time the market on a consistent basis.  Maybe once in a while you can get lucky, but over the long term, it just isn't possible. There's tons of research to support this claim.  And even if it were possible to outperform the market over the long term, the gain that you can get vs. the risk that you screw it all up doesn't seem worth it, in my book.
Remember, if you're trying to time the market, it means you need to time it right twice!  You've got to both know when to buy and when to sell.  And then you have to do that forever.
So stick to your game plan.  If you're investing regularly, just keep investing.  If you're young, you likely have plenty of time before you even need any money you've invested.  And if you're nearing retirement, hopefully you've already set aside some cash to handle any downturns and have the appropriate asset allocation for your needs.
It's not a question of if the markets go down.  We know that will happen, no matter what.  The difference between those that survive downturns and recessions, and those that don't are the actions you take when it's happening.  The best thing you can do when things get tough is to stick to your game plan.  Believe in your own strength and stamina!
Make Sure You've Planned For the Worst
One reason I live on less than I earn isn't just so that I can save money.  It also makes it much easier to survive when the going gets tough.  So make sure you're staying lean and mean when it comes to your finances.  This means you should avoid having too many fixed costs.  Set aside money for emergencies.  You never know when a job loss might strike or a recession might hit.  If you're living on less than you earn and you have some money set aside, you'll probably be okay. Disaster happens when you're living on more than you earn and have no money.
Picking up a side hustle can also serve as a sort of emergency fund, as well as a way to diversify your income sources.  For myself, I rent out a room on Airbnb, flip trash finds, dog sit in my spare time, and make bike deliveries.  These are all things that can give me a cushion in the event of a worst case scenario.
Doing these things on their own won't make me rich.  (or maybe it can?)  But I do know that, if the worst happens, I can probably make do on my side hustle money until I can get back on my feet.
Have Faith That People Will Keep Creating and Innovating
If you're investing in diversified index funds, then believe in what you've invested in.  A total US stock market index fund or an S&P 500 fund is invested in a huge swath of the US economy.  This country has gone through wars, terrorism, oil crises, recessions, and scandals, but has always come out unscathed.  Just look at the S&P 500 chart. It's definitely not a smooth ride, but it's an upward ride nonetheless.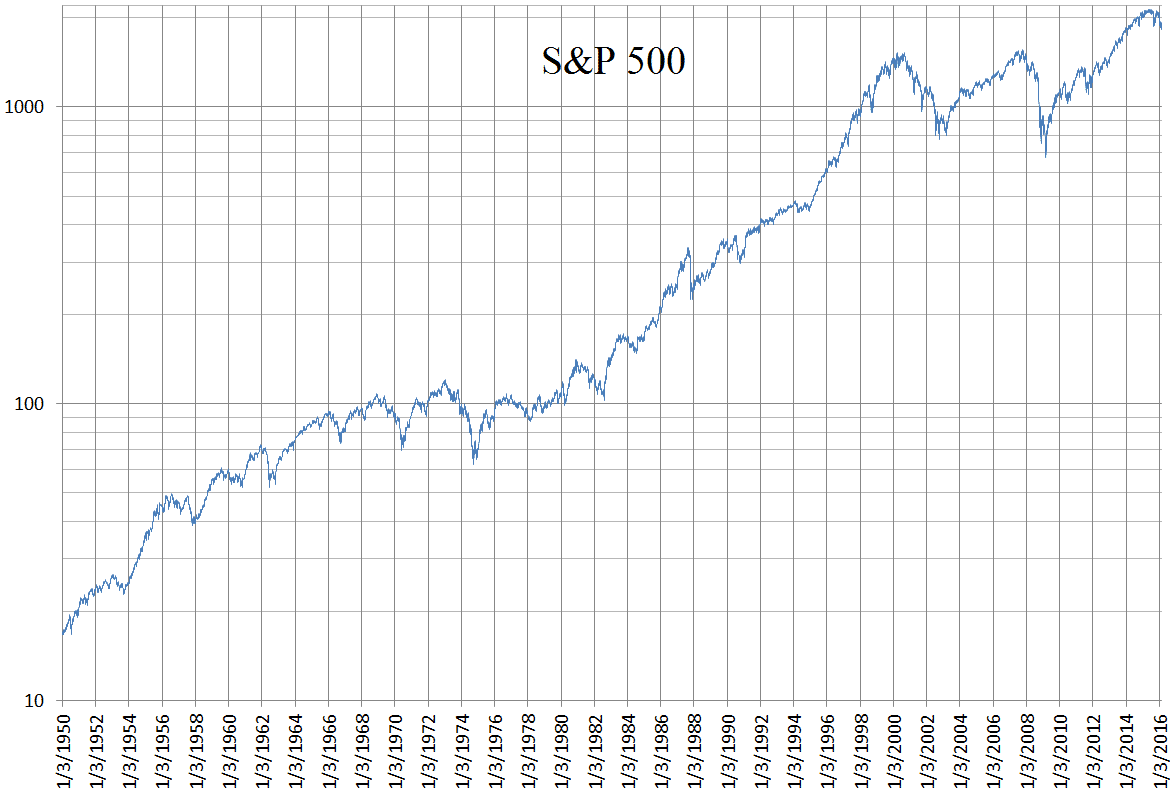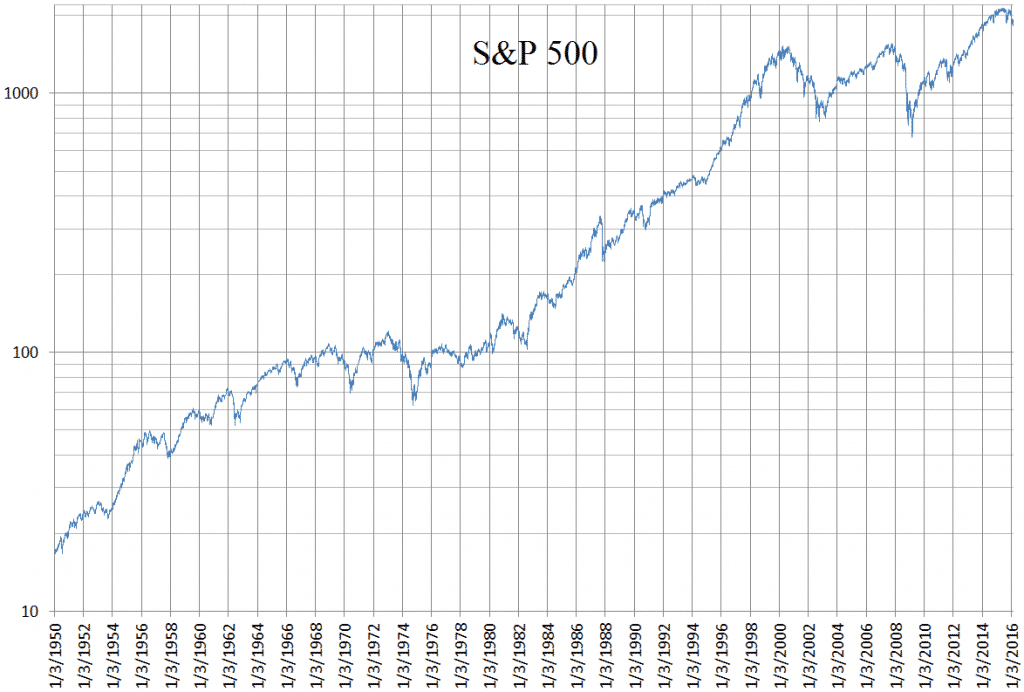 If you believe that people will continue to innovate, that productivity will increase, and that new companies will flourish, then you have to believe that the market will always go up over time.  Think about what the world looked like just a decade ago.  It's hardly recognizable to someone today.  We didn't have iPhones or other smart phones.  YouTube was a new thing.  Smart technology didn't really exist.  Amazon and Google were not the behemoths that they are now.  When I was in college, I didn't even use my laptop to take notes because my laptop was way too big and heavy to carry.  Now, people carry around tiny computers in their hands.
What do you think the world will look like in another 10 years?  I'm willing to wager that it'll look nothing like the world we know today.  Imagine what type of gains the market can see during that time.
So if you're investing in diversified index funds, remember that your investment will never go to zero!  Sure, it can take time for it to come back.  But it will come back one day.  And if you keep investing and sticking to your game plan, it means that money you've invested while the market was down will be worth even more when the market does come back one day.  Stick to your game plan.
You've got the strength and stamina to survive a Trump presidency or any other presidency!  And when 2018 and 2020 comes around, get out there and vote again.