When you bike year-round like I do, you need a jacket that can stand up to the elements. I try out a lot of different jackets, both from name-brand companies and from unknown ones. Recently I was able to test out the Venustas Heated Canvas Jacket from Venustas. It's a winter jacket with heated coils powered by a small, rechargeable battery. In this Venustas Heated Jacket review, we'll look at how this jacket works and whether it's the right winter jacket for you. 
Venustas Heated Jacket Review
Let's get into what Venustas and their jackets are all about. Venustas is a jacket company that sells a variety of different heated jackets, ranging from lightweight fall jackets to heavy-duty winter coats. Each of their jackets is battery-powered, allowing the user to get additional heat from the jacket via heated coils lining the interior of the jacket.
I was sent the Venustas Heated Canvas Jacket to try out. It's a fairly heavy-duty winter jacket, although I'd probably limit this jacket to earlier in the winter season or in places with milder winter temperatures (in colder climates, you'd probably want to opt for the down jacket from Venustas).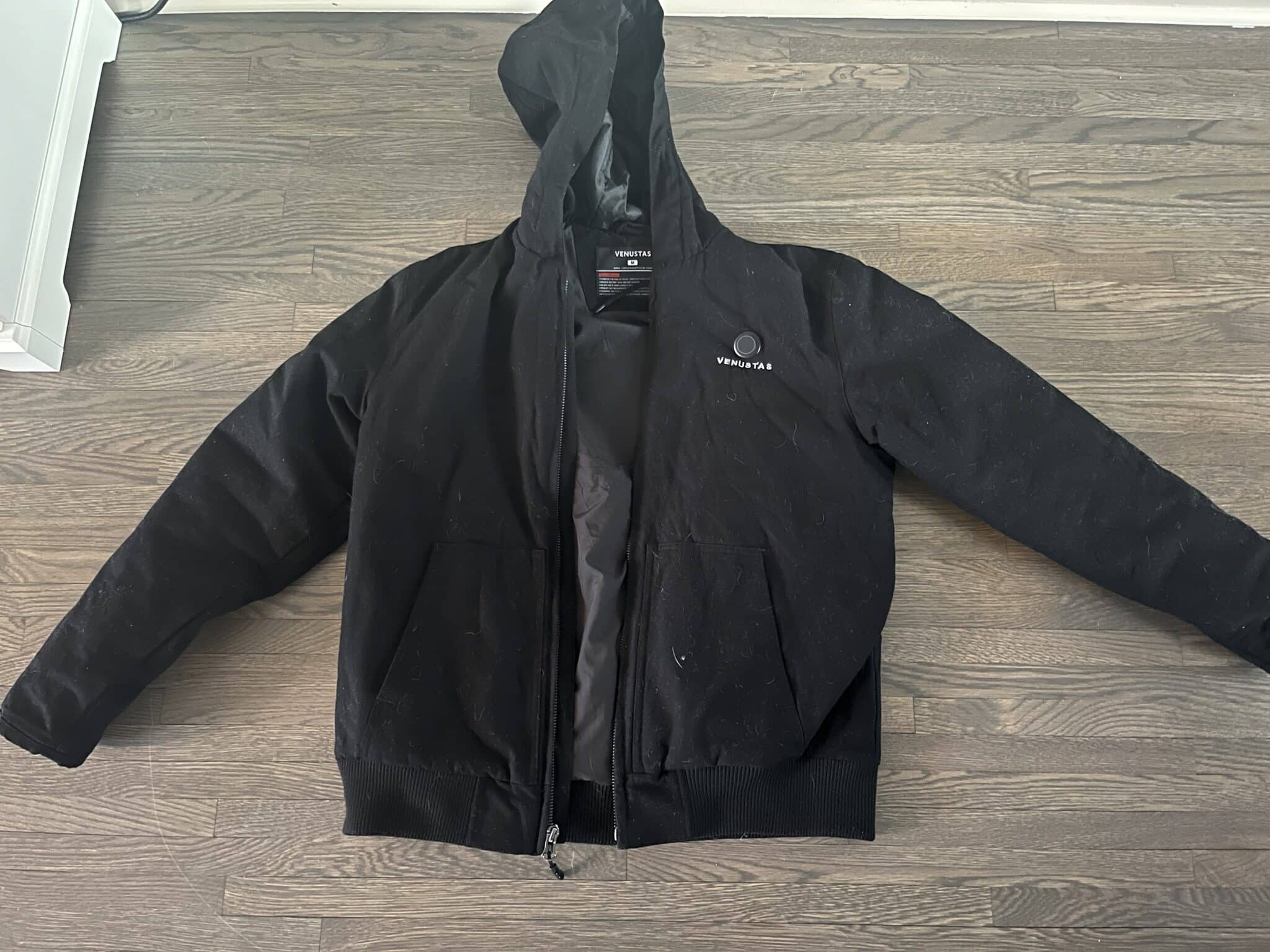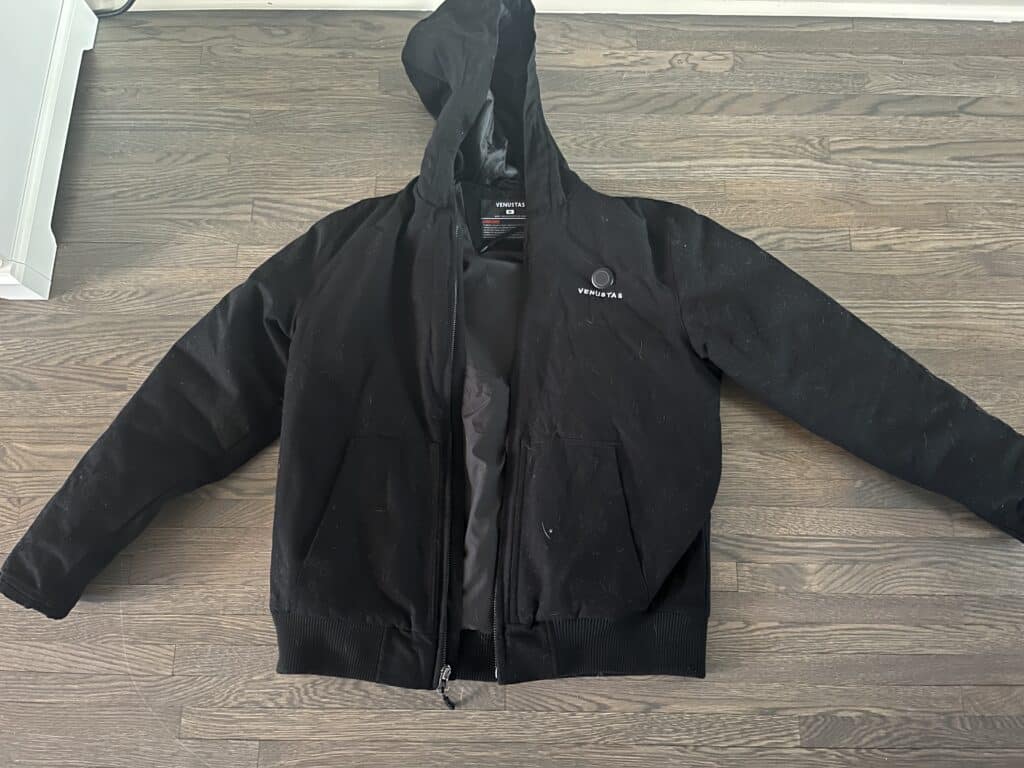 The jacket itself seems to be good quality. It's a canvas material and does a good job of keeping you warm and protected from the elements. The fit of this jacket is bigger than I expected, so I'd highly recommend sizing down if you can (I received a size medium, but in retrospect, I should have opted for a size small – I should probably reach out to the company to see if I can exchange it for a smaller one).
The key differentiator of the Venustas Heated Canvas Jacket are the heating coils, which are powered by a small, rechargeable battery. The jacket itself has five heating panels – four located in the front of the coat and one located on the back. When you buy the jacket, you'll see that it comes with a battery pack and charging cable. It's packaged well and looks very nice. In addition to the battery pack, you'll also receive an instruction booklet that tells you how to use the jacket.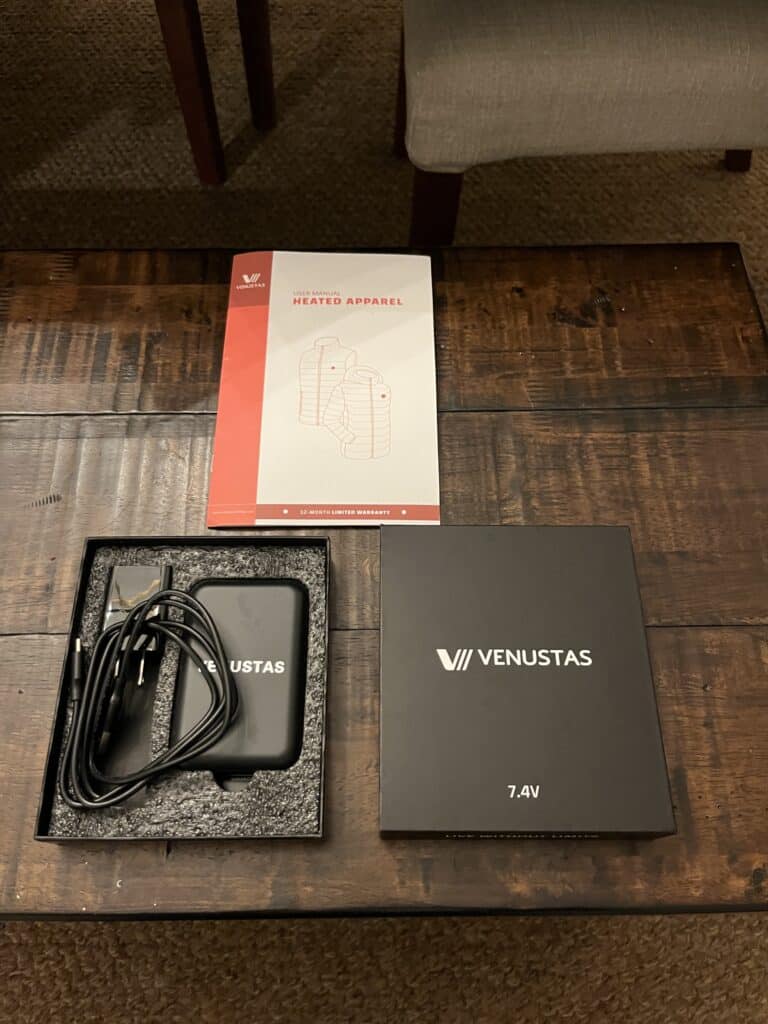 The battery goes into a pocket located in the interior of the coat. You then plug it into the jacket via a cord that's inside the pocket. To turn on the heating coils, you simply press a button located at the left breast of the jacket. It's also where the jacket logo is located, so it's conveniently located and shows off the brand to others too. Venustas states the heating coils should last 3.5 hours on high power, 6 hours on medium power, and 8-10 hours on low power. In my experience with this jacket, that sounds about right.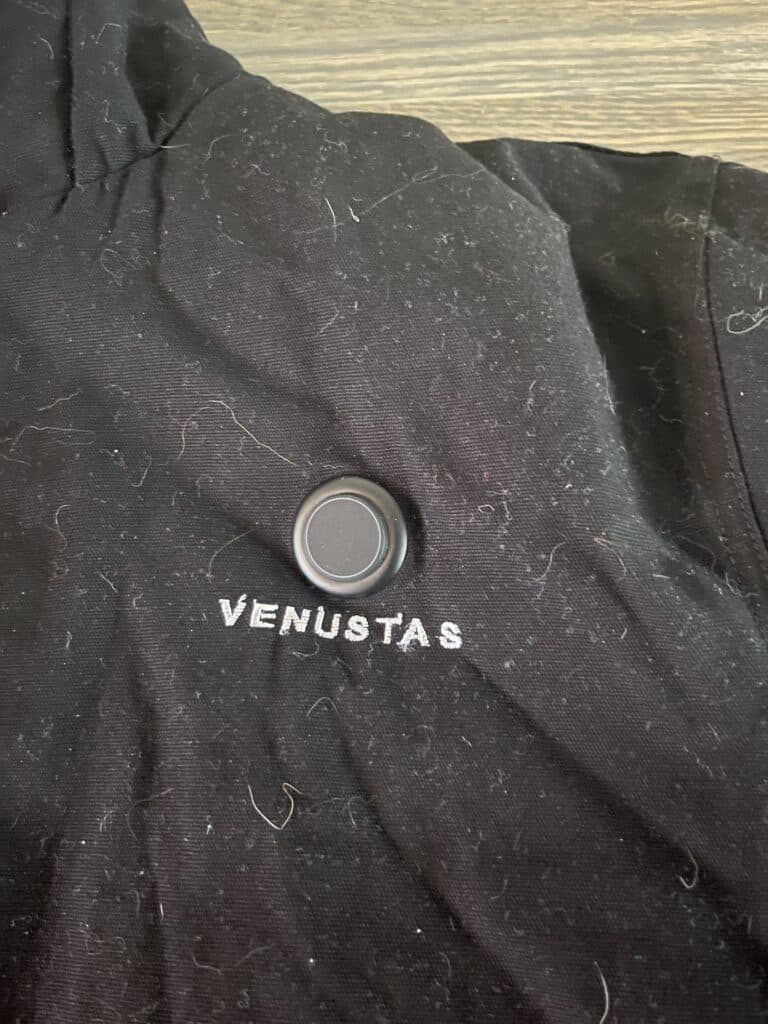 In terms of performance, I'd say it does a good job of keeping you warm. The heating coils warm up quickly and since its close to your body, you'll feel the warmth coming from it, especially if you set it to the warmest setting.
However, since this is a canvas jacket, I will say that it's warm, but not the warmest winter coat you can get. If you're looking for a heavy-duty coat to handle the harshest winters, you'll probably want to get the down jacket, which is better suited for more frigid conditions. 
In terms of looks, the Venustas Canvas Jacket is definitely what I'd call a utilitarian jacket. This isn't a high-fashion piece of clothing by any means. It seems mainly geared toward regular people that want a good, working man's jacket. 
In sum, the Venustas Heated Canvas Jacket does a good job of keeping you warm. The extra heat from the battery power provides a nice additional layer of heat to handle cold conditions.
Should You Get The Venustas Heated Jacket? 
So should you get this jacket (or a similar one from Venustas)? Here's my take. The nice thing about the Venustas Heated Jacket is that it's a solid-quality jacket that costs about as much as similar name-brand jackets. And this is without the heating and battery power that comes with the Venustas jackets. 
That's not to say that Venustas jackets are necessarily better than a name-brand jacket from a company like North Face or Patagonia, but you do seem to get your money's worth for the price. The canvas jacket that I tested out, for example, costs about $200. That's about the same price as my Patagonia Nano Puff jacket, which is only thick enough to be used in the spring or fall and doesn't have any additional heating features.
The heating coils in the Venustas jacket also help the jacket get more use cases compared to a jacket without the heating coils. With the heating coils, you can wear this jacket in conditions that are colder than what you might otherwise be able to handle. 
The main downside to this particular jacket is the fit. It's much larger than I expected it to be, so be sure to size down if you do get this jacket. I'm not sure if their other jackets are the same way, but I'd still probably size down on all of their jackets.
The other downside is simply with adding another device to your life that you have to charge. We already have a lot of things to charge (our phones, computers, etc), so adding another device to the mix could be annoying. 
Still, overall, the Venustas Heated Jacket is at a good price point and comes with some nice features that you won't see in jackets from larger brands. So, for many people, this could be a great jacket to pick up.
Final Thoughts 
Overall, the Venustas Heated Canvas Jacket is nice. It's comfortable and keeps you warm. And the price is not bad at all for what you get. If you're in the market for a new winter jacket, check out the options at Venustas. It might work out well for you.