When my brother first started making a decent amount of money, I told him that the smartest thing he could do was to save as much of his income as he could, live modestly, and invest his money in low-cost, passively managed index funds. I assured him that if he did all of this, I could pretty much guarantee that he'd be in better shape than the vast majority of the population.
Naturally, being my younger brother, he ignored everything I said and instead did things his own way. He ended up finding a financial advisor from a big-name company that many of us have probably heard of (and most likely, many of you have a low view of this company). This financial advisor then went ahead and invested all of my brother's hard-earned money for him.
For years, I've been telling my brother that he needs to drop that financial advisor and move his money over to a good company like Vanguard, or even a robo-advisor like M1 Finance, Betterment, or Wealthfront. Even though I knew nothing about who his financial advisor was, I knew enough about the company that he worked for that I could pretty much guess that he was being scammed.
And sure enough, the other day, I actually took a look at my brother's investments and was disgusted at what I saw. While his tax-advantaged accounts were decently invested (although invested in a much more complicated manner than needed), the rest of his portfolio was a disaster. I saw actively managed funds with 1% or more expense ratios and a 5.75% front-end load fee. He had a huge percentage of his investments in individual stocks that charged a 2% commission per transaction. And he had money invested in dozens of ETFs that seemed to make things much more complicated than they needed to be.
To get an idea of what was going on with my brother's investments, take a look at this ridiculous commission he paid to buy $14,000 of some individual stock. And that was just for one stock. Over the course of the last several years, he's paid thousands of dollars in commissions to his financial advisor (or his financial advisor's company). And this same fee applies to buying and selling his ETFs as well.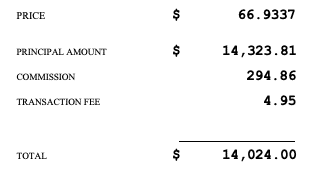 This post isn't meant to rag on people like my brother. Really, I think it's just an interesting, real-life case study in how someone like my brother, a smart guy who isn't all that stupid with his money, can end up giving away a lot of their money in unnecessary fees and expenses. This happens because a lot of people don't really know how money and investing actually work.
Your Financial Advisor Isn't Free 
One of the things my brother was convinced of was that his financial advisor didn't charge him anything. Even when I explained to him that his financial advisor obviously doesn't work for free, he remained convinced that his advisor wasn't getting paid by him. 
I can see though why my brother thought his financial advisor was free. The problem with a lot of things in the financial industry is that fees are pretty mysterious. In other industries, you get a bill, so you know what you paid. But in the financial advisory world, you've already given your money to them. It's easy enough for them to just take little bits of it off the top without you even noticing. 
And this stuff can be complicated. Even now, I have no idea if his financial advisor charges him an asset under management (AUM) fee. I assume he must pay something, but I honestly can't figure it out. My brother's investing account doesn't seem to show AUM fees being charged, so maybe he's not paying anything. It doesn't help though that the fee structure document I found was literally over 50 pages long. Maybe he's not paying anything for his financial advisor to manage his account – but if that's the case, then why have this huge fees document? 
My digging did reveal the massive commissions he was paying to invest his own money. A 5.75% front-end load fee is ridiculous in today's world when you can literally buy pretty much any good fund for free. I honestly can't understand what benefit paying a 5.75% frontload provides other than that you could probably get away with it easier before we had the internet.
A 1% expense ratio is also nuts when you have funds charging 0.05% or less. To justify that expense, these funds would have to outperform by over 1% every year for decades. Thinking logically, we know that's unlikely. 
And perhaps what amazed me the most was the 2% commissions my brother was paying to buy and sell his individual stocks and ETFs. I initially thought that this 2% commission applied to his individual stocks only, but it turns out he was paying 2% commissions to sell ETFs as well. And of course, when I looked at his account, what had just happened? His financial advisor had just sold all of his ETFs so that he could cash out on his "profit." And now he was putting his money back to work, reinvesting it in other stocks and ETFs – and generating more commissions in the process.
Admittedly, I have a pretty low view of the whole financial advisory industry. And maybe it's not warranted. But when I look at the stuff my brother is invested in, I can't really understand how this is anything but a scam. Indeed, when my brother asked about the 5.75% front-end load fees that he'd been paying, he received this strange non-sequitur response from his advisor.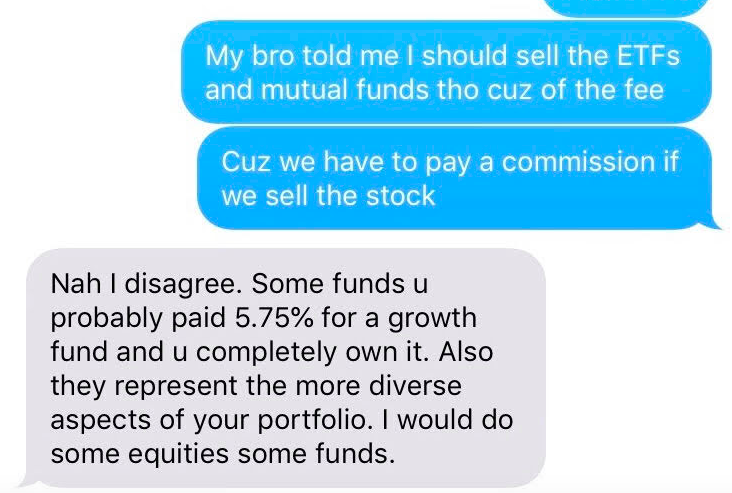 I don't even know what that means. All I do know is that it's pretty clear his financial advisor isn't free. He's paying him something – likely thousands of dollars each year in unnecessary fees. Over a lifetime, it could be hundreds of thousands or even millions of dollars in lost gains.
Your Financial Advisor Probably Isn't Warren Buffett
Another rationale my brother has been using to stick with his financial advisor over my objections is that his guy knows what stocks to invest in. As my brother explains, his financial advisor told him to invest in Facebook, and look how much money he made on it! 
The interesting thing is that my brother's belief that his financial advisor knows how to pick stocks assumes one of two things. He either thinks his financial advisor is an elite stock picker on the level of Warren Buffet. Or he must assume that his guy is doing insider trading.
The latter is obviously illegal. The former…well, that begs the question. If someone were so good at picking stocks, why are they spending their days picking stocks for other people and not just picking stocks for themselves? 
The truth is, your financial advisor most likely isn't Warren Buffet. If they were, they wouldn't be out there picking stocks for you. Logically, they'd be out there picking stocks for themselves. The internet has pretty much leveled out the field of information for everyone. Most likely, any financial advisor who's picking stocks is just guessing or working off the same information that everyone else has.
You Don't Need To Hit Home Runs
There's this strange thing with money (or really with almost anything in life). Most of us think that success comes from hitting home runs – that if you want to succeed, you have to do it on one thing. 
But that's not how it works. Like the story of the tortoise and the hare, you win when you do constant small actions, taken over a long period of time. You only have to do a few things decently right. And if you do just that, even without any home runs, you'll get to where you need to be. 
I'm not saying a financial advisor doesn't make sense ever. I personally don't see a lot of reason I'd ever use one, but I'm unique in the fact that I literally write about money and find this stuff fun to learn. For someone like my brother who doesn't have a lot of interest in learning how to do all of this money stuff, maybe a financial advisor does make sense. But when I see things like huge frontloads on expensive, actively managed funds, commissions to buy and sell, and unclear fee structures, my spidey sense immediately starts tingling. 
We'll see what my brother does. I think he's starting to understand that his financial advisor isn't free since I literally showed him what he paid him. He still doesn't quite understand that stock picking is pretty much guesswork and that logically, his financial advisor probably isn't any better than anyone else at picking stocks. We'll see what happens – because right now, this seems like an expensive mess to me.