As we start a new year, I thought I'd issue probably the easiest call to action out there – the 52 Week Money Challenge. This is by no means an advanced money concept. Still, I think it's a good thing for anyone to do, no matter where you are in your financial journey. We all should have some money set aside for emergencies. And the 52 Week Money Challenge is an easy way to keep that emergency fund topped off each year.
I first learned about this challenge a few years ago when I started getting interested in personal finance. You have to start somewhere and I was looking for ways to push myself just a little bit more. When you've got money coming in, it's pretty easy to get lazy with your paycheck. Even if you think you're saving money, a lot of it can slip through your fingers if you don't put it to use somewhere else.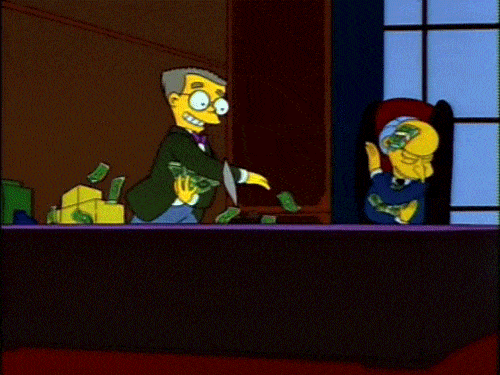 The 52 Week Money Challenge itself is pretty straightforward. Save a little bit of money each week and gradually increase the amount saved by one dollar every week. The idea is that by the end of the year, you'll have a decent stash of money saved away without even trying.
The great thing is that the 52 Week Money Challenge is totally automated. All you need to do is take a few minutes to set it up once at the beginning of the year, and then you don't have to think about it for the rest of the year. The computers take care of it all for you! I love seeing my emergency fund slowly grow each year without me even realizing it.
So with the new year, my challenge for you is to take the 52 Week Money Challenge.
The Normal 52 Week Money Challenge
The normal way to do the 52 Week Money Challenge is through what you could call a gradual build-up. In week 1, you save $1. In week 2, you save $2. Week 3, you save $3. And so on and so on. By the time you get to week 52, you'll be putting away $52 for the week. When you add it all up, that's a cool $1,378 over the course of a year.
Take a look at the below spreadsheet to see the 52 Week Money Challenge in action.

If you want to do it the normal way, that's totally fine. I'm personally not a big fan of doing it this way though. It seems to take way too long and doesn't seem all that efficient. Why save only $10 in the first month when you can definitely save much more?
Plus, doing it this way puts unnecessary strain on yourself as the year progresses. I prefer balancing things out over the year. I feel like I notice the money disappearing even less if it's the same amount being deducted, every week, without fail.
The Way I Recommend Doing The 52 Week Money Challenge
Instead of doing the 52 Week Money Challenge in the normal way, I instead divide $1,378 by 26. The number 26 represents the number of paychecks I receive in a year. Most of you probably get paid in the same bi-weekly manner.
$1,378 divided by 26 means you need to save $53 every two weeks in order to complete the challenge. That's only $3.78 per day! I think every person reading this has the ability to save $53 every two weeks without even thinking about it. Would you even notice if your paycheck was $53 less each time?
Setting up the 52 Week Money Challenge is a simple thing to do. Take whatever savings account you use and automate it to deduct $53 every two weeks from your checking account.
I use Ally Bank and have it set up so that every 2 weeks, Ally withdraws $53 from my checking account and sends it to a savings account. The 2-week periods line up with my paychecks. Each time my paycheck hits my checking account, I've already got $53 getting deducted from it. I don't even notice the money leaving my account since it's coming out at the same time that I'm getting paid.
Set It Up Once And Do It Forever
Obviously, the 52 Week Money Challenge isn't going to make you rich. But what it does do is set a floor for what you'll save each year. We all need that emergency fund. If you're still building it up, then putting away $1,378 automatically is a good way to get started.
Even if you have a full emergency fund, saving an extra $1,378 isn't a bad idea. We all have emergencies and my guess is that, over the years, you'll start dipping into that emergency fund. Isn't it much easier to keep that emergency fund slowly growing, with minimal work, instead of having to scramble to refill it if something happens?
I've been doing this challenge for half-a-decade now and I plan to keep doing it for the rest of my life. It's a low-impact way for me to save some extra money each year, without even noticing it.
If you really don't want to store that extra money away in an emergency fund, that's fine too. Just find something else to put that money into. The point is to keep it doing this challenge forever, automatically.
And of course, if you're saving more money, keep doing that too! The point is that the 52 Week Money Challenge sets a floor. No matter what happens, you'll automatically save $1,378 by the end of the year.
It's been years since I first started the 52 Week Money Challenge. And I don't even notice I'm doing it anymore. 
If you're looking for ways to save more money, check out some additional apps I use that help me squeeze a little bit more into my savings every month: 
Dobot is a free app I use that monitors my checking account and automatically saves small amounts for me each week that it thinks I can afford to spare. It's a great way to save more money without thinking about it. You can read my full review of Dobot here: Dobot App Review: A Legit Free Alternative To Digit.
Peak is another free app I use that monitors my daily transactions and rounds my transactions to the nearest dollar. It then saves the spare change for me in a separate savings account. You can read my full review of Peak here: Peak Money App Review: A Free Goal-Based Savings App.
Have you done the 52 Week Money Challenge?  Do you put your own spin on it?