Update: Unfortunately, Fifth Third Bank – the bank that bought Dobot –  announced on May 5, 2021, that they will be shutting down the app. This is a real bummer, as Dobot was a great app. If you're looking for a free alternative to Dobot, I highly recommend checking out Albert. You can read my full, in-depth review of Albert here.
Not too long ago, I was an avid user of an app called Digit. That app was pretty sweet. The way Digit worked was that it analyzed the cash flow and spending on my bank account using a proprietary algorithm, then every few days, it would save away small amounts of money for me that it didn't think I needed. During the two or so years that I used Digit, I was able to save more than $8,000, all without even noticing that I was saving extra money.
For a while, I had a pretty good microsaving system set up. I had an app called Qapital that rounded up all of my purchases to the nearest dollar and saved the spare change for me. And then I had Digit sweeping out excess money from my checking account and saving it away for me. By combining these two types of apps, I was able to save a decent chunk of change pretty effortlessly.
Unfortunately, Digit eventually decided it needed to make some more money and ended up changing its business model so that you had to pay a monthly fee to use its services. Paying to save my own money is a no-go for me, so I went on a hunt to look for Digit alternatives. That's when I stumbled on Dobot. And let me tell you, this app is legit. It's the perfect alternative for folks looking for a free savings app with all of the same functionality as Digit.
For a little while, Dobot fell by the wayside when they also started charging fees, but it was revived in 2019 when Fifth Third Bank bought the app and made it free again. Now I'm back to using Dobot again and I figured I'd share my experience with the new Dobot app and explain why I think Dobot is the perfect alternative to Digit and an app that should be part of your money system. It'll help you save just a little bit more money each month.
Plus, if you use my Dobot referral link, Dobot will give you $5 in your Dobot account once you open your account and make your first transfer.
So, let's take a look at the new, fully revived Dobot app, explain how it works, and discuss why I think you should use it.
How Does The Dobot App Work?
Just like with Digit, Dobot is an app that monitors your bank account and intermittently saves away small amounts of money for you based on your cash flow.  As explained by Dobot:
Dobot helps you save by visualizing your goals, and then makes saving easy by automating it. After you connect your checking account, Dobot's algorithm goes to work analyzing your spending patterns to calculate "safe savings amounts" that ensure you have enough to meet your spending needs while still saving. Every few days, Dobot will move small amounts of money into your Dobot savings. And if you want to add more money, you can transfer funds directly into your Dobot savings whenever you want. It's that easy.
So, let Dobot do its magic and over time you'll have a bunch of money saved away without even realizing it.
Here's a video from dobot explaining how the app works if you're still curious:
When you're ready to start saving, all you have to do is link your primary bank account to Dobot and then activate your automated savings in the savings preferences screen. The ability to toggle automated savings on and off is nice. Digit only allowed you to pause your savings temporarily, which was sometimes problematic if you needed to stop using the app for a while. With Dobot, you can pause your savings indefinitely if you need to.
So, how is Dobot working out for me?  I've had the app running in the background for a while now and it's been saving a solid chunk of money for me without me even noticing it, typically around $20 every few days. You'll also notice I made a few bucks from referrals – I did this by referring some friends, which is something I recommend you do as well.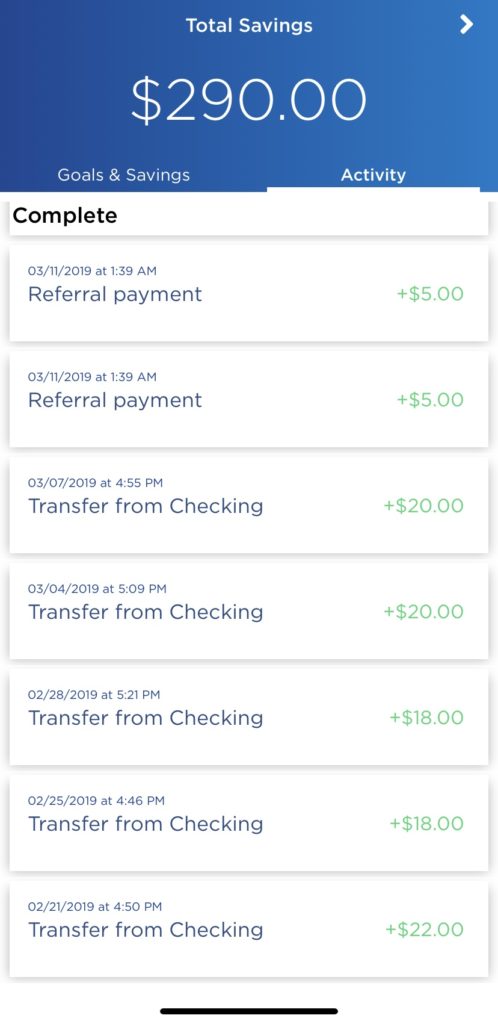 An Emphasis On Goal Based Saving
One of Dobot's best features is the ability to assign your Dobot savings to different goals. This can be really helpful to help you differentiate the different purposes your funds have. You can also add photos to your different goals, which really helps you to visualize what you are saving for – I find that when you're saving for something, you tend to do a better job of not spending it on other things when you can tangibly see what you're saving for.
Below is what the main screen in Dobot looks like. It's way easier to figure out what you're using your money for when you can assign it to different goals. As you can see from the below screenshot, I've created one savings goal that I've labeled "travel."  I used a random picture I found online to represent my travel goal, which helps me to visualize what I'm saving for better.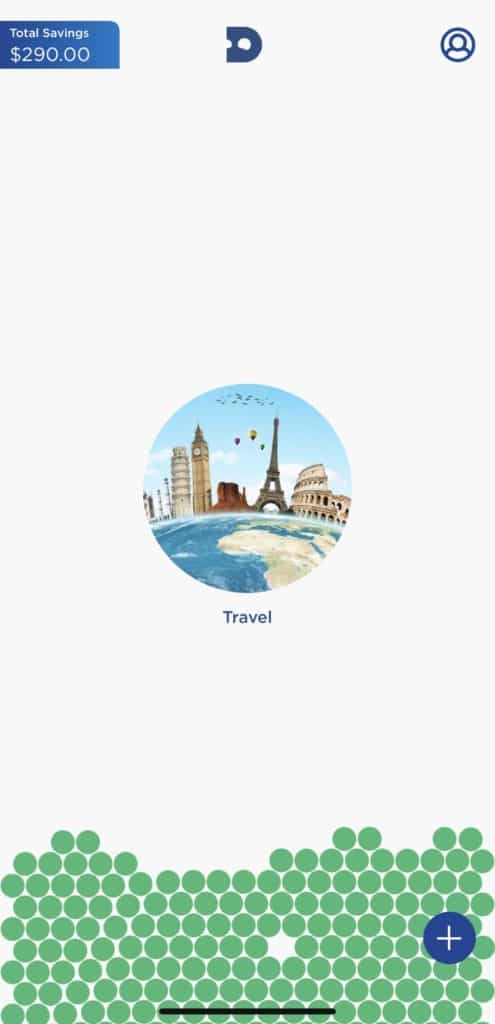 Funds that you deposit into your Dobot account get assigned to your general, unassigned bucket.  See those green balls? Those balls represent my unassigned Dobot funds. I can just leave them unassigned if I want. And when I move my phone around, those green balls move around – it's like actual spare change on my phone!
I can also look at my Dobot funds in a more traditional way if I like, as shown in the below screenshot: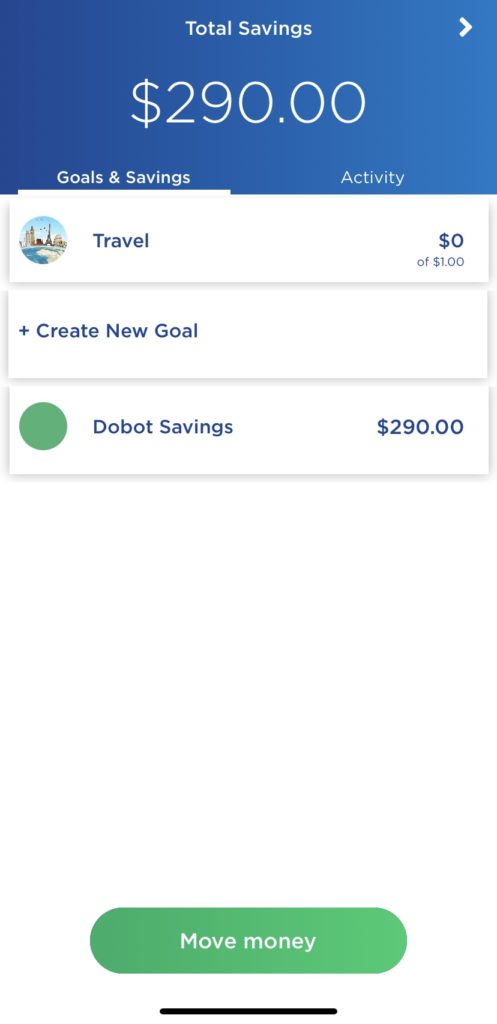 When I'm ready, I can then assign my unassigned Dobot funds to any of my goals.  All I need to do is create a goal and move some of those funds to that goal.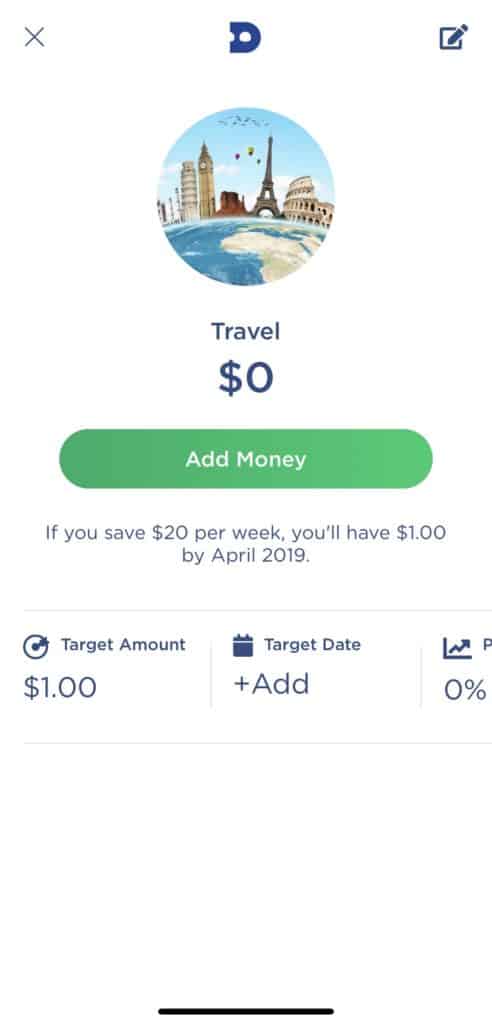 In this case, I'm still funding my travel goal and thinking about some other goals to add. For now, my Dobot funds will remain unassigned while I figure out what goals I want to save for.
Is The Dobot App Safe?
Probably the number one question anyone has when checking out a new fintech app is security.  Like pretty much every other app, Dobot has bank-level security, which basically means that any information you transmit through Dobot is encrypted.
With respect to your Dobot funds, the key thing you need to know is that any money in your Dobot account is FDIC insured, which means that you don't need to worry about losing it. Since Fifth Third Bank bought Dobot, all of your Dobot funds are held with Fifth Third Bank in an FDIC insured bank account, just like at any other bank.
The only remaining concern is the potential for overdraft fees. Since Dobot is randomly saving money from your checking account, there's always the possibility that the app saves too much money and causes you to overdraft your checking account. On their FAQ page, Dobot says that they guarantee that their algorithm won't overdraft your bank account. They also note that if they do cause an overdraft, they'll cover any fees you might incur.
Here's what it says on their website:
Our algorithm is designed to not overdraft your account. We only move small amounts – we call these "safe savings" amounts. On a rare occasion, our algorithm fails to predict the movement in your checking account and can cause an overdraft fee. In this case, it's our fault and we will cover the overdraft fee for the auto-savings transfer. Just use the contact us feature within the app to let us know.
How I Use The Dobot App
So how should you use the Dobot app? I find microsaving apps like Dobot especially good for people like me who aren't the best at budgeting and are looking for ways to automate extra savings each month and push themselves just a little bit more.
To do this, I typically utilize two types of microsavings apps in my money system:
A "round-up" app that rounds up my daily transactions to the nearest dollar and saves the spare change for me in a separate savings account; and
A "sweep" app that analyzes my monthly spending and cash flow and saves excess cash for me in small amounts.
Currently, Dobot serves as the sweep app in my microsaving system, saving away small amounts for me every few days. Over time, this money adds up. I then put that money towards my emergency fund, invest it, or use it for short-term savings goals, such as travel. 
Related: For my round-up app, I use an app called Peak Money, which I think is the best free round-up app. Check out my Peak Money App Review for a more detailed look into how Peak works. In short, a great microsaving system is to have both Dobot and Peak running at the same time. Dobot will monitor your checking account and sweep excess funds out of it and save it away for you. Peak will round up your transactions and save that spare change in a separate savings account. Combined, you'll save more money without even noticing it.
Downsides To The Dobot App
There aren't really a ton of downsides to Dobot if you're using it as part of the microsaving strategy I've outlined above.
If you have to nitpick, one downside is that the money in your Dobot account doesn't earn any interest. This isn't actually much of a problem though. For most people, the interest you'd earn on these small amounts won't make much of a difference, only a few bucks a year at most. If you are concerned that your Dobot funds aren't earning interest, then an easy thing to do is to create a sub-savings account with a bank like Ally, Discover, Marcus by Goldman Sachs, or Capital One 360, then just move your Dobot funds over to that account at the end of each month.
Constantly moving money out of Dobot is a bit of a hassle for me, so my recommendation is to use Dobot for short-term goals. Using your Dobot savings to pay for annual expenses like travel or gifts is a great idea. Another good way to use Dobot is to invest those funds in a Roth IRA at the end of the year.
The main thing is that you shouldn't be keeping huge amounts of cash in your Dobot account for more than a year at a time.  If you do see your Dobot account getting a bit too large, I recommend moving some of your Dobot funds into high-yield savings accounts such as with Ally or Netspend.
Related: Netspend: A Step-By-Step Guide to 5% Interest.
The Dobot App – A Legit Alternative To Digit
Based on my experience, Dobot works exactly the same as Digit with the key exception that it's 100% free and owned by a legit, reputable bank. I think it's the perfect app for anyone looking for a good, legit Digit alternative.
If you sign up for Dobot and use my link, you'll get $5 to start off your account.
Dobot is an app that I highly recommend you use in your money system simply to push yourself to save a little bit more each month. It's what I currently use and it's working great for me. I think it'll work great for you as well.
| | |
| --- | --- |
| App Type | Microsavings |
| Cost | FREE |
| Available On | iOS (iPhone, iPad), Android |
| Promotions | $5 Signup Bonus |