Hey everyone! April is in the books, which means it's time to look back at what I was able to make from my gig economy and sharing economy apps.
If you're a new reader, each month I document exactly what I made from side hustling using various sharing economy and gig economy apps. I've been tracking this income since 2016 and during that time, I've learned a lot about what's possible when it comes to the gig economy. Indeed, over the past 5 years, I've made over $120,000 from the gig economy. That's pretty crazy to think about.
April ended up being another solid month, although I made less than I had expected. For whatever reason, I felt like I had earned more than I did. Still, making nearly $2,000 in a month from a bunch of apps that I find fun is not a bad deal at all. 
Here's a breakdown of my side hustle income for April 2021.
Side Hustle Income for April 2021
Total Side Hustle Income for April 2021 = $1,853.15 
April was a slightly lower earning month on the side hustle front, although still a very solid month for me. I ended up making around $1,850 from 9 different side hustle sources. As you can probably tell, most of my income this month came from my food delivery apps, with another decent chunk of income coming from Rover. The remaining income was made up of minor apps that I'll discuss in more detail in the rest of this post. 
One question some people have is what my schedule looks like in order for me to keep this level of consistency. These days, I basically approach it like this. On Mondays and Thursdays, I'll spend an hour doing deliveries in the evening during the dinner rush. On Tuesday, Wednesday, and Friday, I do deliveries for an hour during the lunch rush. My remaining time is spent writing and working on this blog. 
It's pretty incredible. I'm not rolling in cash or anything, but I'm making slightly more than I made at my last job through a combination of my writing income and my gig economy income. I'll gladly take that over sitting in an office and being miserable.
A few things to note this month. I didn't make any money from Shipt or Instacart. I tend not to use these apps too much anyway since I really don't enjoy shopping for people's groceries that much. With Shipt, the gigs I do like doing are the prescription delivery gigs since those only require me to pick up the prescription and deliver it.
I also didn't make any money from flipping or selling trash finds in April. I think this actually is the first month that I haven't flipped something or sold something. I'm not really sure why things didn't sell – I have stuff listed on eBay, but I'm just not finding buyers for them.
Anyway, with all that said, here's a more detailed look at my earnings for the month. 
Rover Income: $363.80 
April was a good month for me on Rover. I ended up watching 2 dogs and 1 cat during the month. Both dogs were excellent and fit in very well with our lifestyle. One dog was a small Toy Poodle and the other dog was a French Bulldog. My son loved both of these pups and it's been a treat to see him growing up around all of these different animals.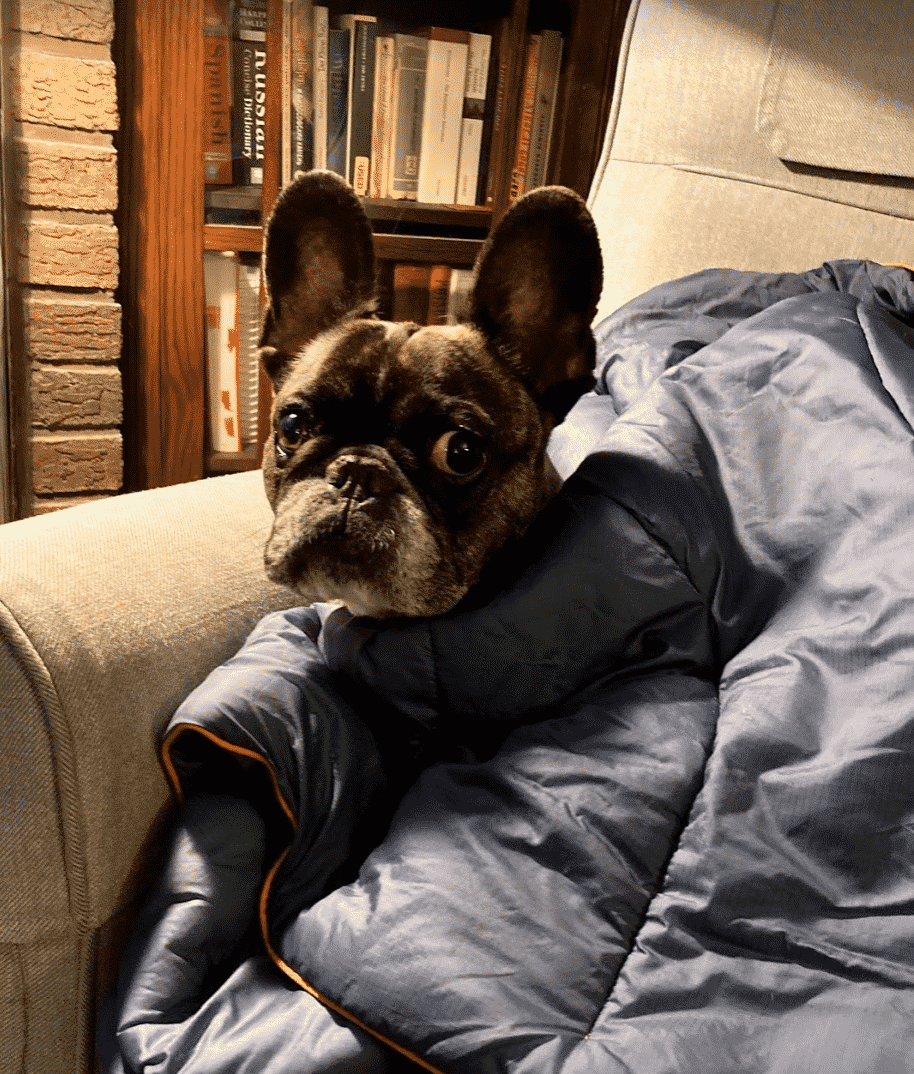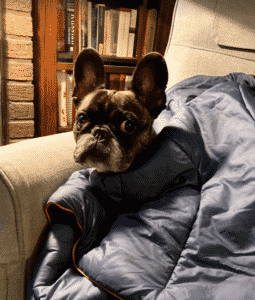 The other animal we watched last month was a cat who needed a sitter because the owners were selling their house. I don't watch cats very often, but I will watch them when asked because they're usually really easy to watch.
Watching this cat was an interesting experience. The cat was really scared when he arrived, which is pretty normal. As soon as he arrived, he ran into a closet and wouldn't come out. We left him alone for two days with food, water, and his litter box nearby. The issue we had was that he hissed at us anytime we got near the closet. This became enough of a problem that we ended up texting the owner to let her know that she needed to find a different sitter for her cat since we weren't comfortable with an animal in our house that was seemingly aggressive towards us.
Maybe an hour after we sent this text, we went to check on the cat and he was out of the closet and rubbing against our leg. I have no clue why this cat went from vicious to friendly out of nowhere, but in any event, we let the owner know about this behavior change and didn't have any other problems for the rest of the stay. I guess the takeaway from this is that cats are weird. 
May is starting off slow, but my summer is definitely picking up as more people are starting to travel again. Of all of my side hustles, Rover is the one I can probably do forever. If you're interested in Rover, you can sign up to be a Rover sitter with this link.  
Postmates/DoorDash/Uber Eats/Grubhub Income: $1,264.92 
Delivery earnings remained steady this past month. I made a little less than I made last month, which I was actually surprised about because it seemed like I had earned more.
Here's the breakdown of my food delivery earnings in April:
There isn't too much to report here. DoorDash is still my largest delivery app, with Uber Eats and Grubhub pretty even as my 2nd and 3rd busiest apps. Postmates is the worst one and it's going to be phased out soon since it was bought by Uber Eats last year. I received a message in my Postmates app which said that they were going to move everyone over to Uber Eats in May, so I assume by the end of the month, Postmates will be gone and we'll be down to the three main delivery apps. I actually think this is better since it simplifies things for me. 
One thing that is annoying is that my ebike has been out of commission for a few weeks. I should have things fixed up soon, but as a result, I've had to do my deliveries using a regular bike. This probably isn't a bad thing since I need the exercise, but I do like using my ebike.
If you want to deliver for any of these apps, feel free to sign up using the links below.
ProductTube Income: $70 
ProductTube was good for me in April. I had a few very easy gigs that paid extremely well. I've said this a lot, but I think ProductTube, is one of the most underrated gig economy apps out there. You can't make a significant income from it, but it pays enough that it's one of my highest paying apps for the time I spend with it. And it can fit in very well with other gig apps you might be using.
My one criticism is that ProductTube made some recent updates to their app and I'm not a big fan of the new app. It seems buggier than it used to be.
Gigwalk/EasyShift/Field Agent/Merchandiser/Observa/IVueIt/Pickl Income: $30
The picture-taking apps worked out decently for me this month. I ended up earning money from three of these apps – Field Agent, IVueIt, and Pickl. 
I made $5 on Field Agent by taking photos of the bakery section in a grocery store. This gig literally took 1 minute, so it was well worth my time. There were a few busts though as well. I had one gig at a Sam's Club which I had to abort because it was asking for way too much work for the time it would require. I didn't waste my time because I was already shopping at Sam's Club, but it was annoying to start this gig and then realize it was not worth doing.
IVueIt worked out very well also. I earned $10 from IVueIt by taking photos of a church near my house. IVueIt does exterior audits for businesses and every few months, I'll see a bunch of Vues for churches near me. If you're interested in learning more about IVueIt, you can check out my in-depth IVueIt review. 
Finally, I made $15 from Pickl. This is a new app I discovered earlier this year that sometimes has some decent gigs near me. Each gig pays $5 and takes a few minutes to complete, so from a time perspective, it's worth it if you're near the store or already going there. 
You won't get rich from any of these picture-taking apps, but they're easy enough to keep on your phone and use when they make sense. For me, I typically use these apps when I'm already going to be in the area or when I'm out doing deliveries or using my other gig economy apps.
Google Opinion Rewards/Surveys On The Go/1Q Income: $9.25
My short survey apps made a little bit of money for me this month. I'm not a fan of doing surveys for money, but these short survey apps are good because they only take a few seconds to complete. Here's the breakdown:
1Q was surprisingly busy this month. I actually didn't even realize I had made that much from it. Surveys On The Go was fine, but you need $10 to cash out and I only hit $9. I should be able to cash out this month, so those earnings will be reflected on next month's side hustle report. 
Secret Shopping Income: $41.50 (plus free food) 
Secret shopping is an underrated strategy you can use to reduce your food expenses and cover other expenses that you might already have. I've been regularly getting my car washed, for example, by taking advantage of a car wash secret shop that I keep finding on Marketforce. And whenever I need to get an oil change, I'm able to subsidize most of the cost by doing an oil change secret shop using the website, A Closer Look.
My free food this month was mainly quick-service restaurants through Marketforce. However, I did have one fancy dinner that reimbursed me $100 for my meal via Bestmark.
There's a lot that goes into secret shopping – more than I can discuss in this post. You can read more about my secret shopping strategies in this post: Restaurant Secret Shopper Jobs – A Strategy To Eat For Free And Hack Your Food Expenses. 
ProductLab Income: $12 
ProductLab is a really easy way to make a few extra dollars each month if you do DoorDash or Lyft. All you do is upload a screenshot of your earnings for each week into the app. I get paid $3 each week, so by the end of each month, I make $12 to $15. I'll keep doing this for as long as this app exists. 
ReceiptPal/Receipt Hog/Fetch/Coinout/Amazon Shopper Panel/NCP ReCap Income: $10.96 
Receipt apps are apps that pay you to take pictures of your receipts. For the most part, they can be receipts from anywhere, although grocery store receipts are usually the highest paying ones. I don't make a ton of money from these apps, but it doesn't require me to do any extra work other than snap a quick photo before tossing the receipt. 
In April, I made $10 from Amazon Shopper Panel and 96 cents from Coinout. Amazon Shopper Panel is a must download if you can get it. I believe they have a waiting list, so not everyone can sign up for it. But if you can, it's well worth it. At the moment, they pay you $10 each month when you upload 10 receipts from anywhere. I can't imagine this can keep up, so you need to take advantage of it now while you can.
Coinout is another receipt app that you'll probably start to see in more of my side hustle reports. They let you cash out each month, so I'll probably cash out 50 cents or $1 each month with this app. 
Medium Income: $50.72 
I've been recycling some old blog posts for Medium since the beginning of the year. As I write this, I've now posted over 40 posts to Medium, and as a result, I'm able to make around $1 to $2 each day from my posts. My strategy is to use old posts I've written here that don't get much traffic and repost them over to Medium. My thinking is that I'm proud of some of this work, but it's not easy for people to find since I wrote many of these posts long ago and they have no organic search potential. With Medium, I can give this work a second life – and make some money too. 
My short-term goal with Medium is to get myself to $100 per month of revenue. My understanding is getting to $100 per month is a point that most writers on Medium don't hit, so that's where I'd like to get to. I think I can do it if I keep getting more content on there. The big fear is that I don't want Medium to interfere with the SEO for this blog, but it seems like it hasn't been impacting it so far (one thing Medium makes easy to do is to insert canonical links, which should help avoid any SEO conflicts).
And that concludes the April 2021 Side Hustle Report.  
April was another solid side hustle month. This is about where I want to be on the side hustle front – around $2,000 per month or so. It's definitely achievable with the lifestyle I currently have. When you combine this side hustle income with my blog income, I'm now at a point where I'm making more than I was at my last job. That's pretty cool to me.
To check out what I've done in previous months, check out my past side hustle reports. I also have a massive post titled The Ultimate List of Gig Economy Apps that has almost every gig economy app I've ever used or heard about. I'm thinking of turning that post into a free ebook at some point because I think that post is really helpful and it's a bit long for a blog post. 
Well, that's all I've got for this month's side hustle report. If you have any questions or comments, please feel free to leave them below.