Hello and welcome to another edition of the Financial Panther Side Hustle Report. Each month, I document exactly what I made from side hustling using sharing economy and gig economy apps.
In today's report, I'll be recapping what I made from the gig economy in August 2020. Here's the breakdown of my side hustle earnings for each last month:
Side Hustle Income for August 2020
Total Side Hustle Income for August 2020 = $2,447.68
August was a bit of a down month for my gig economy/side hustle income, primarily because I took two weeks off at the end of the month to visit my parents. My wife and I were originally scheduled to fly to Greece for a friend's wedding during that stretch, but that trip was obviously canceled due to the pandemic.
Still, since we had two weeks already blocked off, we decided to take that opportunity to drive home to visit my parents. Our son was born a week before the pandemic broke out, so, unfortunately, my parents have only been able to see their only grandchild via Facetime. We're not flying anywhere with a baby during a pandemic, but driving is something we were comfortable with doing. So, that's what we ended up doing.
I typically do a little bit of side hustling even when traveling and some of that income does appear in this report. For the most part, though, we spent our time at home relaxing with family. Even with those two weeks off, I still think I made some decent income for the month. 
Let's take a more in-depth look at my earnings for the month.
Rover Income: $0 
I didn't earn anything on Rover last month, although that's not the whole story. In fact, what ended up happening was a nightmare scenario that I had hoped would never happen to me. Long story short, the dog I was watching for the weekend escaped from my house (spoiler alert, the dog was found a few hours later unharmed).
Here's what happened. At the beginning of the month, I got a request to watch a new dog, a small Chihuahua mix that was a bit skittish but got along fine with my dog. The owner dropped her off at my house and my wife and I went about our day with no issues. A few hours into the stay, my wife was walking out the front door and this dog bolted from our living room and squeezed through the front door. We immediately followed her, but she got away and disappeared around the corner before we could get her.
I've never had an escape like this happen before, but my instinct was to be transparent and get as much help as I could get so that we could find this dog fast. The first thing I did was call the Rover emergency support line to see what help they could provide. They didn't do a ton for me because when you're working on Rover, you're working as an independent contractor and Rover is acting solely as the platform. What they did do was put together a lost dog flyer for me and offer to give a $100 reward for anyone that found the dog. 
The next thing I did was call the owner to let them know what happened. The owner took the news surprisingly well and let me know that she would call some friends of hers that lived in the neighborhood. She also gave me some tips about how to potentially lure her dog out of wherever she might be hiding (based on her behavior, it was likely she was hiding in some bushes or under some stairs, rather than just running around the neighborhood). After speaking to the owner, I then posted the lost dog flyer on all of the local social media websites, offering a $100 reward for anyone that found her. 
With those steps taken care of, I then spent the next four hours biking around my neighborhood and asking anyone walking by if they'd seen a small dog running around. Unfortunately, no one had seen her, but they said they'd keep their eyes out. Unfortunately, by 9 pm, I still hadn't found the dog and the sun was starting to set, making it difficult to continue my search. I headed home, resigned to the fact that I might have just lost someone's dog and with no idea what I would do next.
Just as I reached my front door, I received a call from the dog's owner, who gave all of us some great news – the dog had walked into her friend's yard just a few moments ago and they'd snatched her up. Somehow, this dog knew where the friend lived and had made her way over there during the time we were looking for her.
I, of course, refunded the owner for the stay and apologized for what had happened. She surprisingly didn't blame me for what happened and even thanked me for everything I had done to find her dog.
In the aftermath of this incident, Rover asked me to provide a statement about what had happened during this stay. I wrote a long statement explaining what had happened and after a short review process, Rover found no wrongdoing on my part and my Rover account remains active. 
If you're dog sitting, losing a dog is definitely a possibility that you have to think about. I think I did a few things right here that made it so that I wasn't kicked off the Rover platform. These are lessons that might help you if a situation like this happens to you.
First, I didn't try to hide what happened. There's probably a natural tendency to try to fix the problem without letting anyone know, but when I lost this dog, I immediately called both Rover and the owner to let them know what had happened. I think doing this was a big move because the owner was able to recruit her friends to help find the dog. If I hadn't let them know what happened, her friends wouldn't have been looking for the dog.
Second, it probably helped that the owner was ultimately appreciative of what I had done. She sent me texts letting me know that she didn't blame me for the incident. I'm sure this helped me during the review process. And this was all likely a product of me being transparent and not trying to hide what happened.
Finally, it also probably helps that I've been dog sitting for over 5 years and have only five-star reviews. My guess is that if I was a newer sitter, maybe I would have been deactivated. 
Everything ultimately worked out in the end and I still have future bookings in the pipeline with my regular clients. I have no clue if the Rover search algorithm will punish me, but the good thing is that I have so many repeat clients that I'm able to stay solidly busy.  
If I haven't scared you off with that story, you can sign up to be a Rover sitter or dogwalker using this link.
Postmates/DoorDash/Uber Eats/Grubhub Income: $2,148.67
Things have been slowing down a bit on the food delivery front, but there's still definitely money to be made out there, especially if you understand the best ways to work all of the different delivery apps together. Below is a breakdown of my delivery earnings on each platform for August:
I didn't do any deliveries while I was on vacation, so I'm actually pretty pleased with what I was able to bring in for the month. I ended up averaging close to $40 per hour again, with most of my earnings coming from DoorDash and Uber Eats. To track my earnings, I use Gridwise, which is a great free app that can track your mileage and your earnings on each app (note, Gridwise only works in select cities, so if you aren't in a major city, the app won't work for you).
For the most part, my delivery strategy remains the same. I run all four apps at once, then stitch together different orders so that they're all going in the same general direction. By doing this, I'm typically able to complete 5 to 6 deliveries per hour. If you do the math, if I average $6-7 per delivery, I end up making between $30 and $42 per hour. It's not something I can do consistently over a whole day, but since I do these as a side hustle, I'm able to work only during peak hours.
For transportation, I use my RadCity ebike the vast majority of the time to do my deliveries. If you've never used an ebike before, you seriously need to try one out because they are life-changing – and that's not an exaggeration either. I've had a good experience with my RadPower bike, but I've also seen other bikes such as Blix or Juiced, which all seem like solid ebikes as well.
Occasionally, I'll bust out an electric scooter to do deliveries. I don't own an electric scooter, so I've instead figured out ways to ride shared scooters for free. My Chase Sapphire Reserve gives me three free, 30-minute Lyft scooter rides per month, and since my wife also has the Chase Sapphire Reserve, that means I have 3 hours of free Lyft scooter rides each month. Since I've been averaging close to $40 per hour doing deliveries, getting three hours of free Lyft scooter rides essentially means I can make about $120 while riding scooters for free. 
Outside of those Lyft scooters, I'm also able to ride Lime scooters for free since I'm a Lime scooter charger. I've been trying to limit how often I do this just because I don't want to get deactivated by Lime, but basically, when you're a Lime scooter charger, you can scan dead scooters, charge them up at home, then ride them around for free. You're not supposed to do this, but I've been doing this for several years now and haven't had any issues yet. That said, do this at your own risk.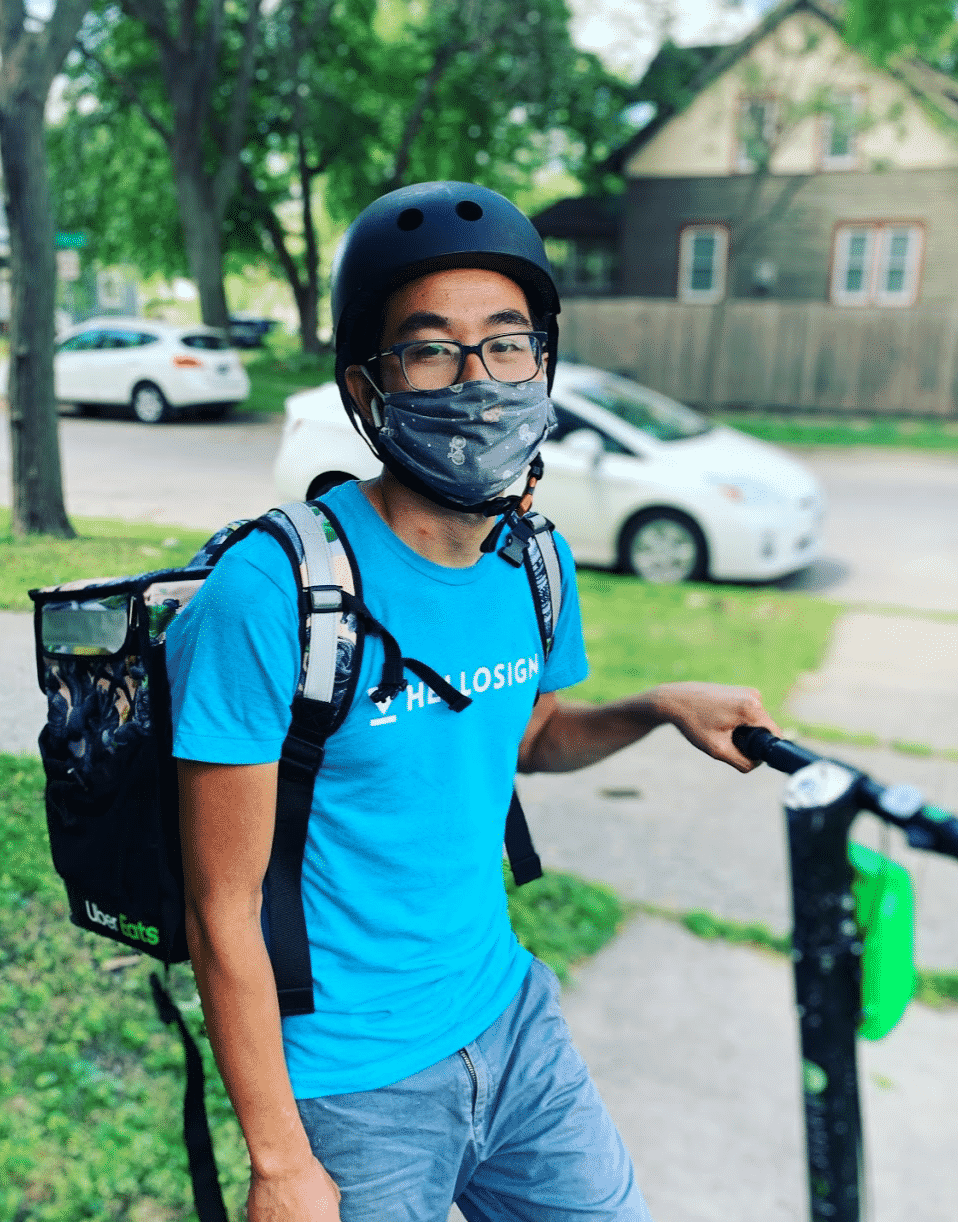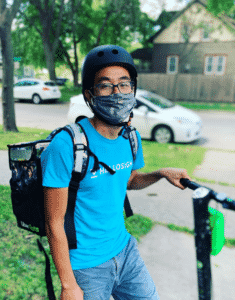 Food deliveries are something that I think you should try doing, especially if you live in a dense area and you enjoy biking or getting around cities using bikes or scooters. Feel free to use my referral links below if you'd like to support this blog.
Wag Income: $0
Nothing to report on the Wag income front. I actually did do one Wag walk during my visit home to see my parents, but I didn't receive that payment until September, so you'll see that income reflected in next month's side hustle report. 
Shipt/Instacart Income: $0
I didn't do any grocery delivery gigs in August, so nothing to report here either. I know some people are able to make a lot from grocery delivery, but I haven't really figured out how to make this a more lucrative side hustle compared to doing food deliveries.
If you're someone who uses a car, grocery deliveries probably make more sense since you'll put less wear and tear on your car. It probably also makes more sense for someone who lives in the suburbs. In the winter, I tend to drift towards grocery delivery since it puts me outside in the cold for shorter stretches of time,
All things being equal, if I have a choice between delivering groceries or delivering food, I'll always pick food deliveries since I can make much more from food delivery vs. grocery delivery. 
Lime/Bird Income: $0
I'm not making any money on Lime or Bird this year. Lime didn't make it back to Minneapolis 2020 and is now only in St. Paul. I still grab scooters every once in a while just to rid them for free, but the drop off spots are all too far away for me to do any drop-offs.
Meanwhile, Bird stopped using independent contractors here in Minneapolis, so even though I'm still technically signed up as a Bird scooter charger, I'm not able to charge any scooters. 
Trash/Flipping Income: $95.98 
I cleared out a bunch of clothes and furniture from my childhood bedroom during my week back home. Since I was only home for a short time, I couldn't get everything cleared out, but I did manage to get a few bigger items sold, which I was happy about. I also sold a bunch of old clothes on eBay. 
Here's how it breaks down: 
Facebook Marketplace: $35
eBay: $60.98
That's almost $100 just from selling old junk in my bedroom at my parent's house, so it goes to show you that you probably have some money lying around your house if you're willing to put in a little bit of work. My parents were very surprised to see that people were willing to buy this kind of stuff. 
WeGoLook Income: $47 
I brought in a solid amount in August from a couple of easy WeGoLook gigs. My strategy with WeGoLook is to take the easy gigs that aren't far from my house or that are in places I'm already going to.
One of the particularly easy gigs that I've been doing on WeGoLook is the residential exterior gigs. These gigs pay $12 and take a few seconds to complete, so they work out really well if they're nearby. The nice thing is that I can often work these in while I'm doing food deliveries, so when it works out, it's an easy way to increase my earnings during my delivery runs. 
Note that WeGoLook isn't consistent enough to act as a significant source of income, but it's a nice app that I fit in when it makes sense.
ProductTube Income: $35 
ProductTube is another app that doesn't have enough volume to act as a significant source of income, but that is very lucrative for the time it takes to complete each gig. I ended up doing a couple of easy ProductTube gigs this past month, making $35 for what amounted to 15-30 minutes of work. If you've never used ProductTube before, my recommendation is to download this app and try it out. It's a really easy and extremely underrated app.
Gigwalk/EasyShift/Field Agent/Merchandiser Income: $19
I did two Field Agent gigs in August – one got me a free breakfast sandwich and paid me $5, the other got me a free case of beer and paid me $14. I did both of these gigs because they were at nearby stores and they were easy gigs to complete (I did one of my Field Agent gigs while I was on my road trip home since the store was next to the hotel). 
When it comes to this category of apps, Field Agent tends to be the best because of how easy the gigs are to complete. Gigwalk also tends to have easy gigs, although there aren't very many of them. Easy Shift and Merchandiser, in my experience, are the two worst ones and you have to do them a few times to learn which type of gigs on those two apps are worth doing. One rule is that I never go out of my way to do these gigs – they always have to be either right next to me or on my way somewhere.
Google Opinion Rewards/Surveys On The Go/1Q/Facebook Viewpoints Income: $27.03
August was another good month for the short survey apps that I keep on my phone. Here's the breakdown of my August short survey earnings: 
Google Opinion Rewards and 1Q are always worth doing and don't require much strategy. Just answer the questions honestly and you'll make a couple of bucks each month for a few seconds of work.
With Surveys On The Go, the general strategy is to earn money on the $1 or $2 surveys that don't take much time to complete, then purposefully answer the questions in a way so that you won't qualify for the surveys that take a long time to complete.
The thing about Surveys On The Go is that you automatically get 10 cents even if you don't qualify for a survey. I know that certain surveys aren't worth doing, so for those surveys, I'll always purposefully answer the questions in a way that will disqualify me as fast as possible. This essentially makes it so that I get 10 cents for a survey that takes me a second or two to complete – which makes it worth it for the time 
I can't exactly explain how to do this, but with enough practice, you will eventually start to understand which surveys are worth doing and which are worth purposefully disqualifying yourself.
Secret Shopping Income: $75
Before the pandemic, I was getting hundreds of dollars worth of free food each month via restaurant secret shopping. I wrote about how I use this strategy to eat for free in a post I wrote last year, titled Restaurant Secret Shopper Jobs – A Strategy To Eat For Free And Hack Your Food Expenses. I highly recommend reading that post if you want to learn more about secret shopping and how you can use it to your advantage. 
In July, Marketforce once again started offering secret shops at a national fast-casual chain. I ended up getting 13 free meals in July. I received my reimbursements for these meals in August.
Marketforce also gives you small payments for completing the shops, so they can actually help you make some extra money as well. I ended up getting $75 worth of payments, all while eating for free.
Below is a screenshot of my secret shop earnings for the past month.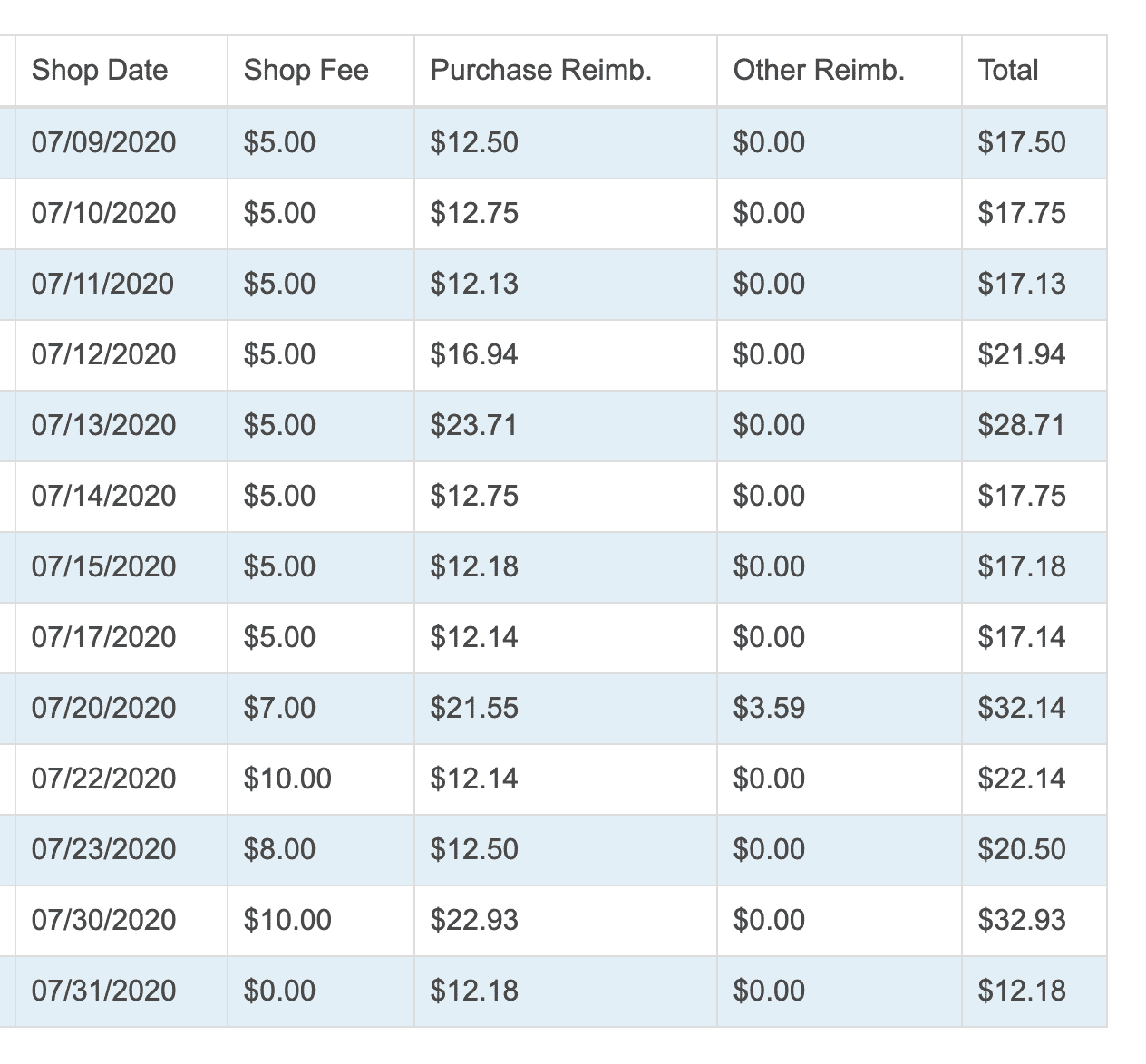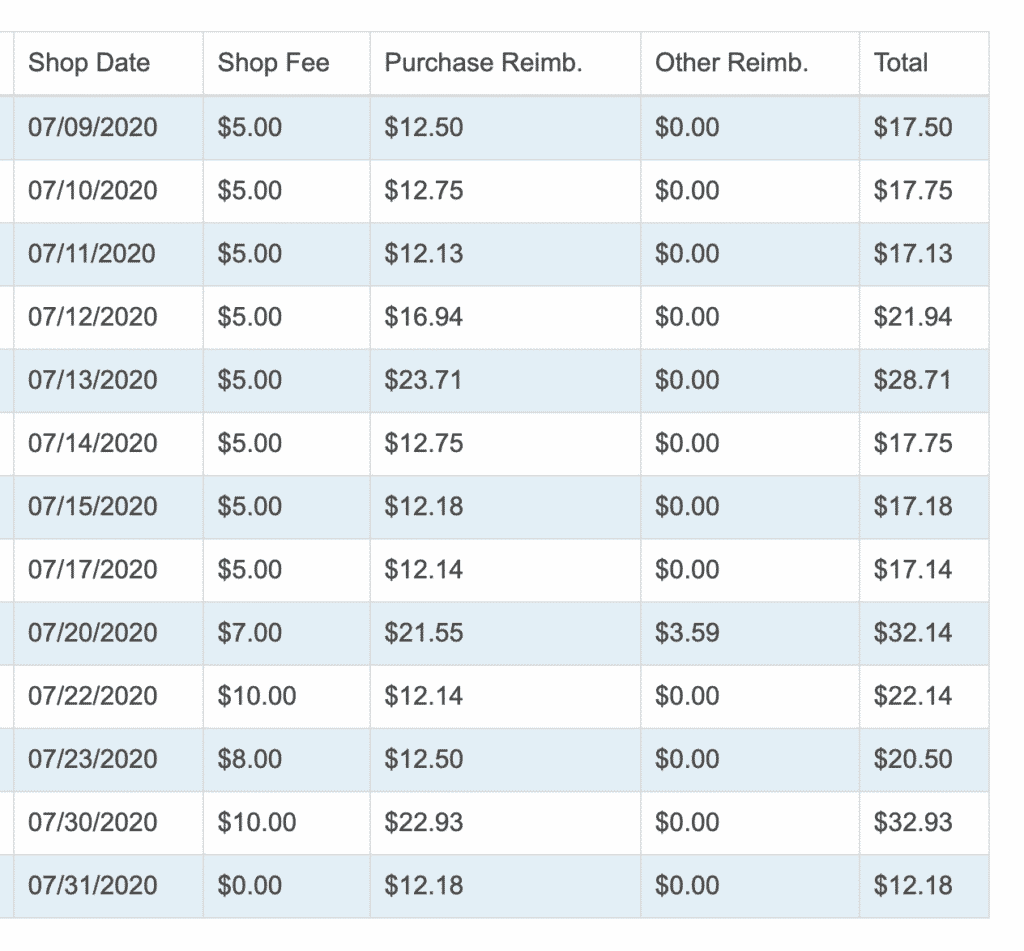 I've continued to do these secret shops as they appear and so long as they're out there, I'll keep snagging them. I recommend you do the same if you can. 
And that concludes the August 2020 Side Hustle Report!
Even though I took two weeks off in August, I still managed to bring in over $2,000 in side hustle income. That's not bad at all, and when combined with my earnings on this blog, it's enough for me to make a solid, (albeit modest), full-time income.
I quit my job last year to try my hand at blogging and side hustling full time, and even with the instability, I'm still able to make the same amount of money as I made when I was working my regular, full-time job. At, the same time, I have so much more freedom to make my schedule, which has really come in handy now that I have a baby.
We're entering the home stretch for 2020, so we're probably going to see my side hustle income take a dip as the weather cools off.
Hope all of this info helps. Feel free to reach out to me if you have any questions about how I make all of this work.