Can you pick up your own DoorDash order? You might be asking yourself this question if you're thinking of ordering food through DoorDash.
Here's the answer. DoorDash has two types of ordering systems. The first is delivery, where you can place an order in the app and get it delivered to you by a DoorDash Dasher. This is the most common way to use DoorDash – you place an order and a driver delivers it to you. 
The second way to get your food is by placing an order for pick up via the DoorDash app. When you do this, the restaurant gets your order, then you go and pick it up yourself when the order is ready.
In this post, we'll take a quick look at how you can pick up your own DoorDash order and why you might want to do that rather than have it delivered to you. 
Can You Pick Up Your Own DoorDash Order? 
Yes, you can pick up your own DoorDash order. To do so, you'll log into the DoorDash app, then instead of selecting delivery, you'll select the pickup option at the bottom of the app.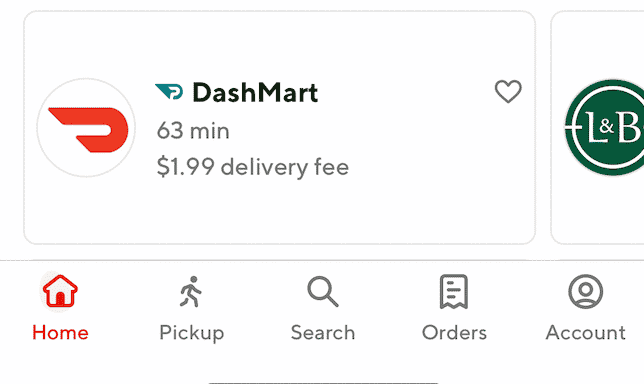 When you click pickup, you'll see a map of your area, along with all of the restaurants that offer pickup. Unlike delivery, pickup orders are not limited by your location, so you can place a pickup order at a restaurant far away from you. 
To make sure you don't accidentally place a pickup order when you meant to place a delivery order, DoorDash will ask you to confirm you are going to pick up the order before you're able to place it. This is a good thing to do. You don't want someone accidentally placing an order for pickup when they meant to place it for delivery.
After placing your order, you'll get a message that tells you when your order will be ready. You can then go to the restaurant and pick up your order. You'll just need to give the restaurant your name when you arrive, no different than if you had placed your order over the phone.
The nice thing about placing pickup orders is that you can avoid delivery fees. In fact, there are no fees if you place an order for pickup. However, it is important to note that many restaurants charge a higher price for DoorDash orders compared to if you ordered from the restaurant directly. As a result, you might not save money if you place a pickup order via DoorDash. 
Another thing to note is that when you place a delivery order, you should leave a tip if you want a Dasher to deliver your order. With DoorDash pickup orders, however, tipping isn't necessary since the restaurant will make your order regardless of whether you tip or not. That being said, you may still want to consider tipping when you place a pickup order, but that's up to you and it is an expense you can avoid if you place your order for pickup.
Can You Pick Up Your Own DoorDash Order As A Dasher?
Another question people often have is whether you can pick up your own order if you're a Dasher.
A common situation is when you place an order for pickup via the DoorDash app and are also logged into your Dasher app. The hope is that you can get assigned your own order, allowing you to pick up your own food and earn a bit of money for it too. 
In theory, yes, you can get assigned your own DoorDash order. However, in practice, it's unpredictable whether you'll get assigned your own order. I haven't had much luck getting my own order assigned to me the last several times I've tried it. The DoorDash algorithm and how it assigns orders is fairly random. Even when I'm in front of the restaurant, DoorDash will often assign the order to someone far away. Why they do this, I do not know.
If you want to get your own order assigned to you, your best bet is to be near the restaurant and not leave a tip. If you don't leave a tip, the payout will be low, and hopefully, that will deter other Dashers from accepting the order, giving you a better chance to get assigned your own order.
It's no guarantee, but it's the best strategy you can use.
Final Thoughts 
When it comes to whether you can pick up your own DoorDash order, the answer is yes you can, both as a customer and potentially as a Dasher.
For customers, picking up your own order comes with some advantages – mainly you can get your food faster and avoid paying delivery fees.
For Dashers, whether or not you can pick up your own order is going to be random. It's all up to whether the DoorDash algorithm assigns you your own order. To give yourself the best chance of getting your own order, try to make your order as unattractive as possible – i.e. don't leave a tip and consider ordering from a restaurant that's far away from you so that Dashers would have to travel a long distance.