Do DoorDash drivers see the tip? That's a question you might be wondering when you're placing your order on DoorDash or if you are a Dasher looking to make money with DoorDash.
This is an important question for two reasons. If you're a customer, you probably want to get your order delivered quickly and you probably want to treat your delivery drivers well. The simple fact is if you leave your DoorDash driver a good tip, you're more likely to get your order delivered to you sooner. That's because for most Dashers (this is what DoorDash calls its delivery drivers), the tip makes up most of the money they earn for each delivery.
If you're a Dasher, you want to know whether you can see the tip because it'll help you decide whether you want to do the order.
When it comes to whether DoorDash drivers see the tip, the short of it is, they don't technically see the tip until after they complete the order. That being said, Dashers can still tell if the customer tipped them based on the payout that DoorDash is offering for the delivery.
Let's get into more detail about whether DoorDash drivers see tips.
How DoorDash Pays Drivers 
DoorDash uses independent contractors to deliver orders. The payout for every order consists of two parts:
The base pay that DoorDash is paying the delivery person 
The tip the customer leaves the delivery person. 
For example, if DoorDash offers a Dasher $6 for a delivery and the customer tipped $4, that means DoorDash paid $2 to the Dasher and the customer paid $4 to the Dasher.
In general, DoorDash pays a fairly low base pay of $2 to $4. The remaining payout to the Dasher comes from the tip left by the customer.  
Now that you understand how DoorDash pays Dashers, you'll have a better understanding of whether or not DoorDash drivers can see tips.
Do DoorDash Drivers See Tip? 
Technically, DoorDash drivers cannot see tips before they deliver the order. However, it's easy for most Dashers to figure out if a customer tipped or not. 
Here's why. Because DoorDash typically offers a very low base pay, the vast majority of the delivery payout usually comes from tips. If I receive an order and the payout is $2 or $3, I know that the customer didn't tip or left a very small tip.
Once a Dasher completes the order, they get a detailed breakdown of the payout for the order. This breakdown shows what DoorDash paid to the Dasher and the tip left by the customer. Here's an example of the screen that Dashers see after completing an order: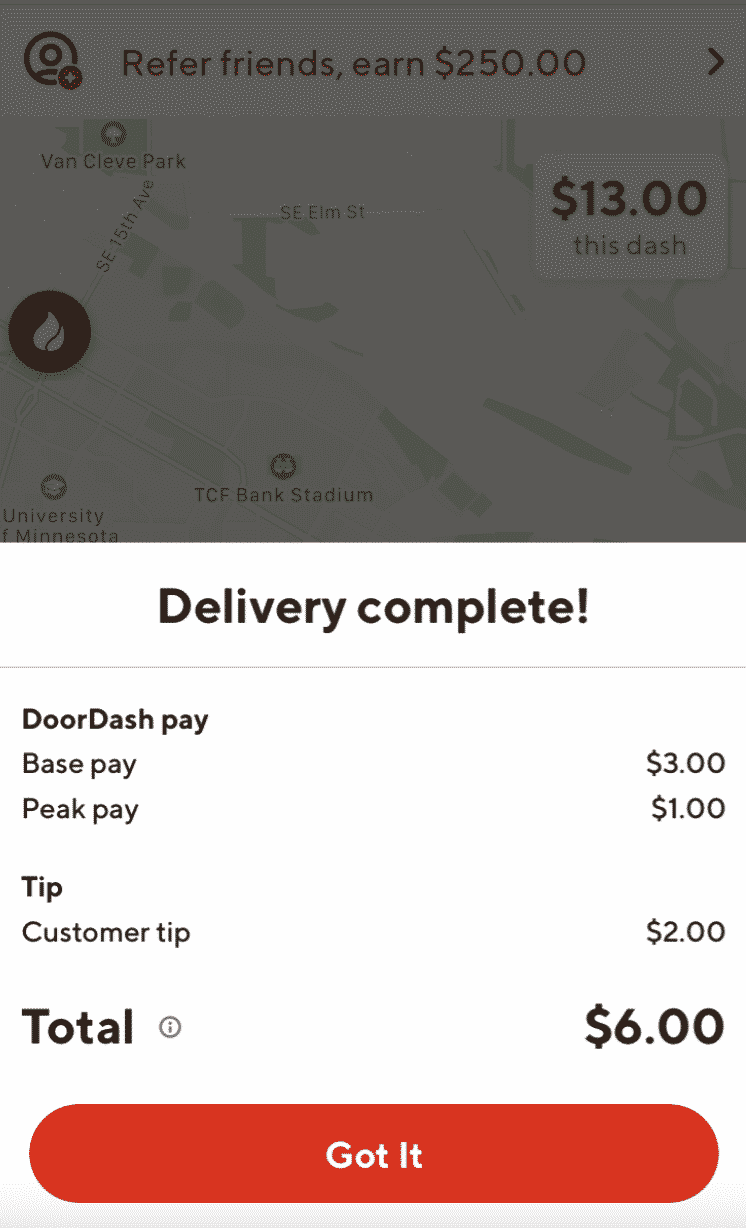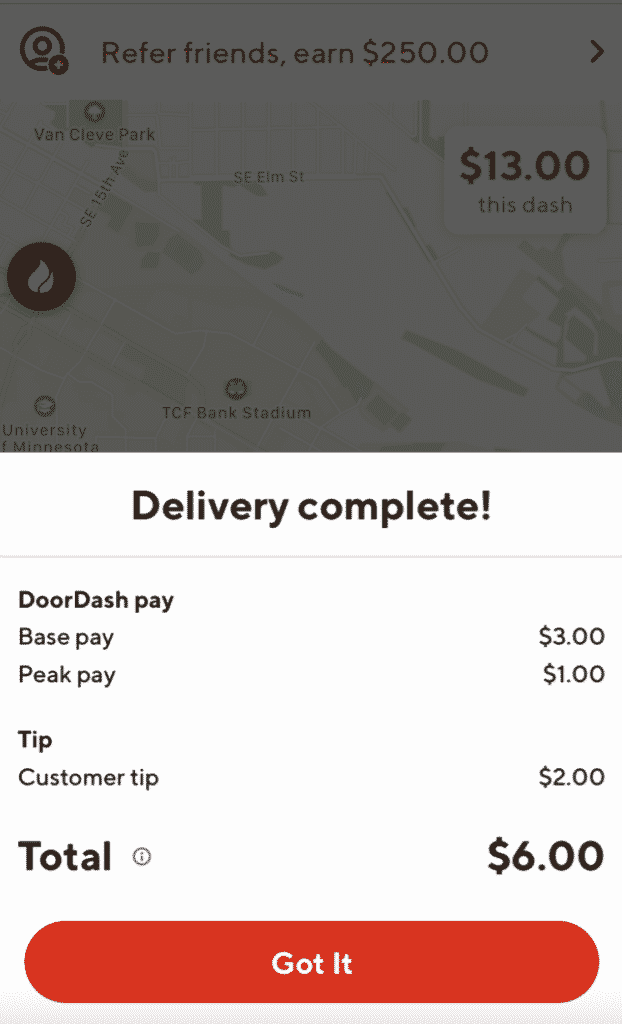 In this example, I saw that the delivery request would pay me $6 for the order. Since it was close by and I knew I could complete the delivery quickly, I accepted it. After completing the order, I was able to see that DoorDash gave me a base pay of $3 and a peak pay bonus of $1. I could also see that the customer left me a $2 tip. 
There's one thing to note. If a customer leaves a really large tip, DoorDash will often hide that amount. I really don't understand why they do this, but I think their rationale is that they think they can convince some Dashers to take a chance on low-paying orders in the hopes that the payout will actually be higher than what DoorDash offered.
For example, here's an order I accepted that came with a really large tip. When I accepted the order, DoorDash told me I would earn $12.50. That's a good amount, so I accepted it. After completing the order, I discovered that the customer had tipped much more and my total payout for the order ended up being over $32. That made me very happy that I accepted this order.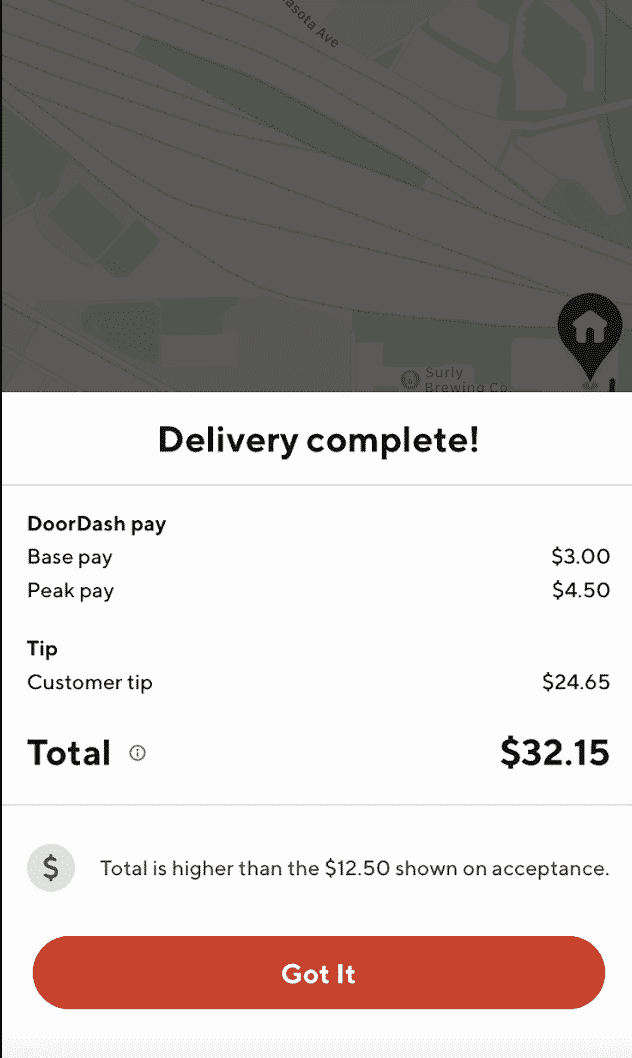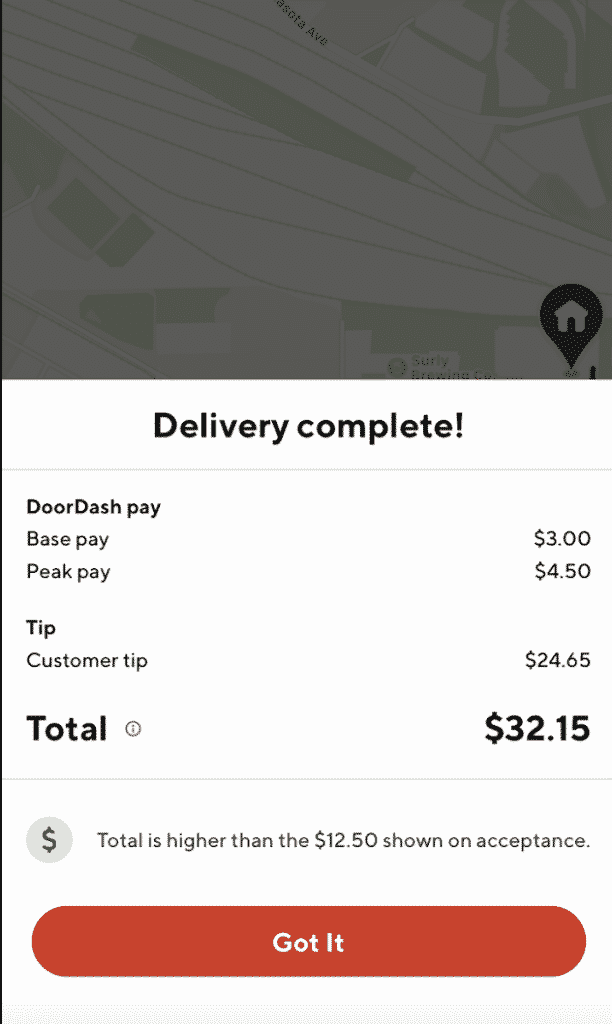 So what's the takeaway here? If you're a customer, be aware that if you leave a really big tip, your delivery driver might not realize how big your tip is before they deliver your order.
If you're a Dasher, my advice is don't bank on any order paying more than what DoorDash initially offered. It's a trick they do to try to get Dashers to accept low-paying orders, so don't fall for it.
Why You Should Tip Your DoorDash Driver 
If you're a customer reading this, you should be aware that while Dashers can't technically see your tip before they deliver your order, in practice, every Dasher can tell if the customer tipped.
Tips make up the bulk of the earnings for many Dashers. If you don't tip, the payout on your order is going to be lower, which means there's a higher chance that no one will accept your order. So if you find yourself waiting a long time for your order to be delivered, it's very likely it's because you didn't tip. 
The takeaway – tip accordingly if you want your order delivered quickly.
Final Thoughts
DoorDash drivers can't technically see the tip before they deliver the order, but in practice, they can tell if the order comes with a tip based on the payout they're getting for the order.
If you are a DoorDash driver reading this, be strategic about how you approach your delivery requests (you can read this post if you want some DoorDash strategies: How To Make $500 A Week With DoorDash). Only accept orders that are paying you enough to make it worth your time. 
And don't accept an order hoping that the order will come with a bigger tip. For the most part, orders will pay exactly what DoorDash said they'll pay.