How much should you tip DoorDash drivers? This post will answer that question. 
To get straight to the point, in general, you should aim to tip your DoorDash driver 15-20% of the total order price. That's the tip most Dashers would expect to get from a delivery request and it's what most people would likely tip in a restaurant. That being said, there are certain circumstances where it can make sense to tip more or less, primarily based on how difficult the order is to complete.
In this post, we'll take a closer look at how much you should tip DoorDash drivers, as well as explain why tipping DoorDash drivers is so important.
How Much Should You Tip DoorDash Drivers? 
As previously stated, in general, you should aim to tip DoorDash drivers 15-20% of the order total.
When you place your order, you are given the option to give a tip with your delivery. This tip cannot be changed, so unfortunately, if you are someone that tips based on performance, you won't be able to base your tip on performance. This is in contrast to an app like Uber Eats, which does let customers change their tip after receiving their order (which can lead to unfortunate issues like tip-baiting). 
While 15-20% is the standard tip I'd recommend, there are times when it can make sense to tip more or less. Most of this will depend on how easy or difficult it is to complete the order.
If your order is particularly easy – such as if the order is a very short distance – then a smaller tip can be okay. For the most part, I would still tip 15-20%, but I can see why someone might tip less for really short orders that won't take much time. 
On the other hand, tipping more is recommended if you have an order that will take a long time. In particular, orders that require the driver to travel a long distance should expect a higher tip, as it'll take your Dasher more time and energy to deliver your order. Orders in which the Dasher needs to shop for your order also warrant a larger tip, as it takes more time for the Dasher to select your items and shop for them.
Ultimately, how much you tip is up to you, but you should understand that Dashers rely on tips (more than 50% of the income I earn from Dashing comes from tips). Dashers cannot see exactly what a customer tipped before the order is completed, but they can get a sense of how much a customer tipped by the payout offered to the Dasher. If the payout is particularly low, Dashers can figure out that the customer likely didn't tip and will ignore those orders, which means you'll be waiting longer for your order.
Why It's Important To Tip DoorDash Drivers 
There are a few reasons why it's important to tip DoorDash drivers. There are two main reasons why tipping is so important:
1. Tips Are A Large Part of A Dasher's Earnings.
First, Dashers work as independent contractors, which means they are paid on a per delivery basis and do not earn an hourly wage or salary. That means Dashers rely on tips for their livelihood.
A Dasher's pay for an order is made up of three things: (1) the DoorDash base pay; (2) any Peak Pay bonus being offered, and (3) customer tips. In my years of delivering for DoorDash, I've found that tips make up over 50% of my earnings. That means if I'm not receiving tips, I'm not making much.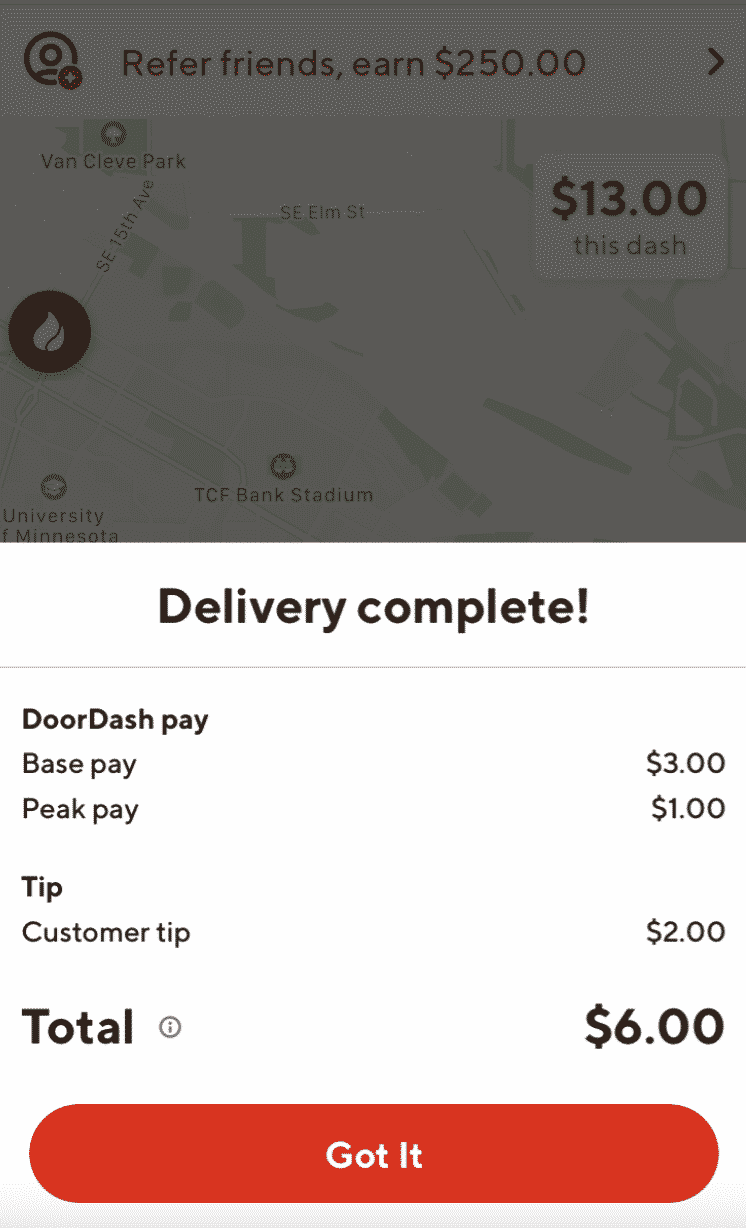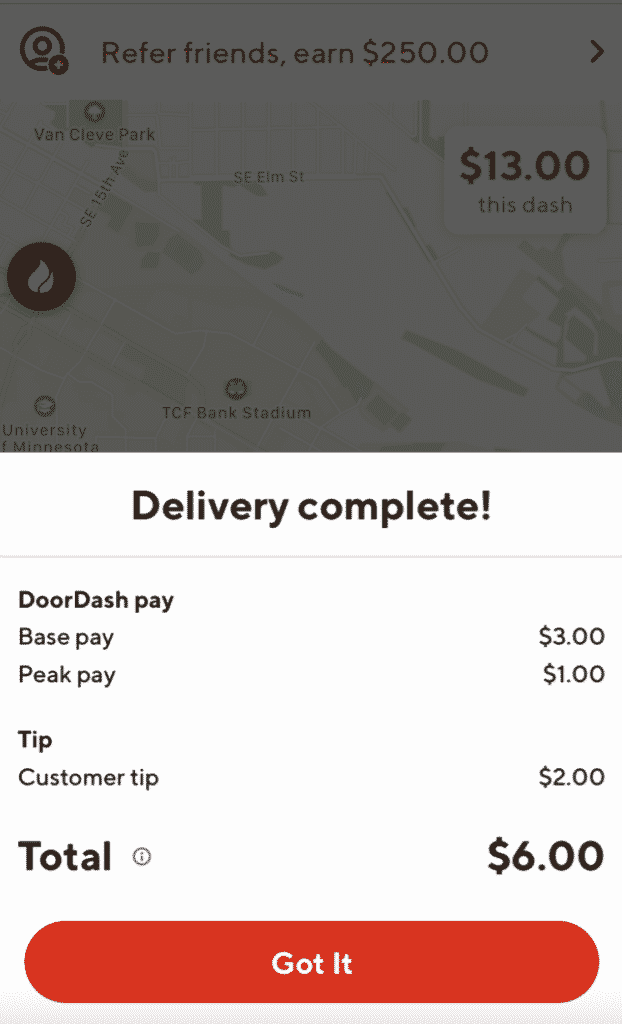 It's also important to remember that since Dashers are independent contractors, they're responsible for their own expenses, including maintenance, fuel, and taxes.
In short, if customers aren't tipping, Dashers aren't earning much.
2. Dashers Can Accept Or Reject Any Orders They Receive.
Because Dashers are independent contractors, they have the right to accept or reject any orders they receive. While DoorDash does use tricks to try to get Dashers to accept as many orders as possible, for the most part, smart Dashers are only going to accept profitable orders. This is in contrast to say, a delivery driver for Domino's or Pizza Hut, who is paid by the hour and must deliver any orders assigned to them. 
What all this means is that if a customer doesn't tip, they'll likely find themselves waiting longer for their order, as many Dashers won't accept the order if it's paying too low. In some instances, DoorDash might not even be able to find a Dasher to deliver the order.
In short, if you're a customer and want your order delivered quickly and efficiently, providing an appropriate tip is necessary. Otherwise, you may find yourself waiting longer for your food to arrive.
Final Thoughts 
Tipping is important if you're ordering from DoorDash. Dashers rely on tips, as DoorDash by itself doesn't pay much to Dashers. In addition, Dashers are independent contractors, so they can accept or reject orders at will. If you're a customer, it makes sense to tip appropriately so that you can get your order in a fast, timely manner. 
My advice is to tip 15-20% on most orders. In some circumstances where your order will take longer than normal to complete (such as if it requires the Dasher to travel a long distance or if the Dasher would have to shop for your order), I'd recommend tipping more than normal.
I hope that post gives you some good information on what you should tip and why it's so important.