One of the more confusing questions some Dashers have about DoorDash is whether the DoorDash acceptance rate matters. 
DoorDash keeps track of several metrics for each Dasher. These include your customer ratings, your acceptance rate, your completion rate, and your on-time and early delivery rate. Customer ratings undoubtedly matter (DoorDash specifically states that if your customer rating gets too low, you risk deactivation). Completion rate also matters. DoorDash also says you can be deactivated if your completion rate gets too low. 
Acceptance rate is another matter, however. The fact is, your acceptance rate DOES NOT matter. Your acceptance rate can be as low as you want and you do not risk deactivation. The only thing it would matter is if you want Top Dasher status (which I don't think is worth going for). 
In this post, we'll go over what the DoorDash acceptance rate is and why it does not matter. 
What Is The DoorDash Acceptance Rate? 
DoorDash tracks several metrics in the Dasher app, one of which is your acceptance rate. The acceptance rate is the number of orders you accepted out of your last 100 delivery requests. So, if you have a 50% acceptance rate, that would mean you accepted 50 out of your last 100 delivery requests.
Note that your acceptance rate is different from your completion rate. The completion rate refers to the number of delivery requests you accepted that you complete. That means you received a delivery request, you accepted, then ultimately you did not complete the order because you canceled it or something else stopped you from completing it. 
It's important to keep the distinction between these two metrics in mind. That's because your completion rate DOES matter. But your DoorDash acceptance rate DOES NOT matter.
Your DoorDash Acceptance Rate Does Not Matter 
I hope I've made it clear. Your DoorDash acceptance rate does not matter. DoorDash also makes this very clear in its Dasher policies. 
Indeed, on their website, they have this chart that tells you the minimum requirements for each metric.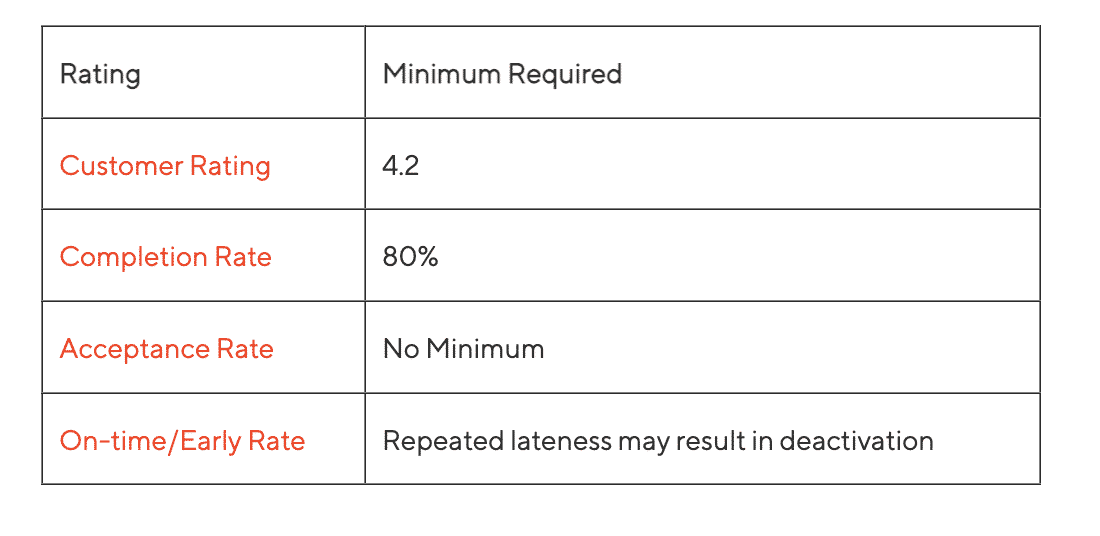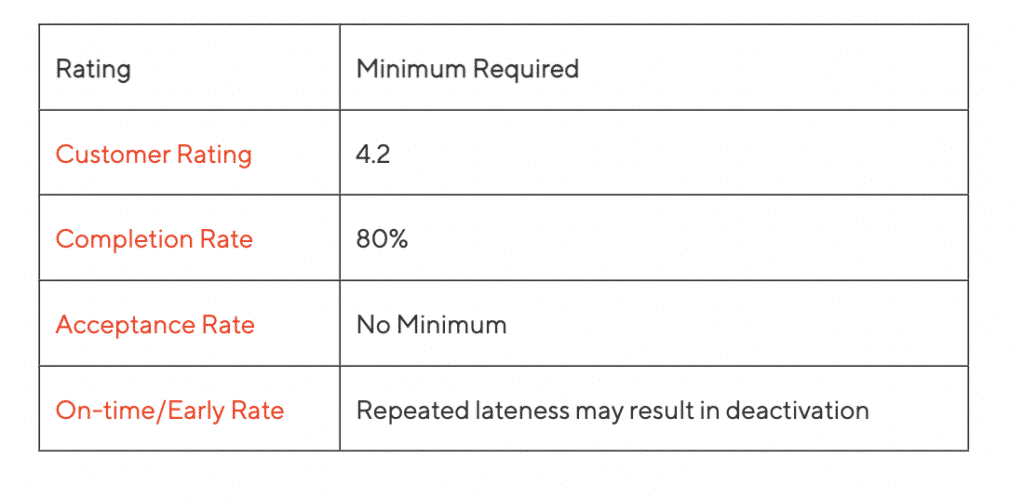 As you can see, DoorDash explicitly states that there is no minimum acceptance rate required. This makes logical sense too. Dashers are independent contractors, which means they have the right to accept or reject any delivery requests sent their way. DoorDash has to do this because if they didn't, they risk having too much control over Dashers and having Dashers classified as employees. They do not want to do this, so that's why there's no minimum acceptance rate required and why Dashers are free to accept or reject any delivery requests sent to them. 
In contrast, DoorDash can make your completion rate matter because once you've accepted an order, you have essentially agreed to complete the order. If you don't complete it, it's similar to a breach of contract, since you accepted the order, then decided not to do it.
The only time acceptance rate does matter is if you are trying to get Top Dasher status. To qualify for Top Dasher status, you need to maintain high customer ratings (4.7 or higher) and a high completion rate (95% or higher). You also have to maintain an acceptance rate of 70% or higher. 
The reason why I don't think Top Dasher status is worth getting is because of this acceptance rate requirement. If you're accepting 70% of orders, you're likely accepting orders that are not worth doing or are not profitable for you. When you're a Dasher, you're basically a small business. You need to act like one and only accept orders that make sense for you. 
That being said, there could be times when Top Dasher status is necessary. If you're in a market where the benefits of Top Dasher status make sense (specifically if you're in a market where you can't dash unless you schedule yourself in advance), then maybe you need to maintain a high acceptance rate. 
But for the vast majority of people, Top Dasher status won't be worth it, which means the DoorDash acceptance rate does not matter. 
DoorDash Priority Orders
There is one wrinkle that was recently introduced with DoorDash, although it's unclear how it impacts your orders and ability to earn money with DoorDash. 
DoorDash recently introduced a program that gives eligible Dashers priority access to higher-paying orders. DoorDash says that these orders all pay $2 or more per mile. To get priority access to these orders, you need to have a customer rating of at least 4.5 and an acceptance rate of 50% or higher. 
DoorDash specifically says that "[i]f there are multiple Dashers nearby who can take on one of these offers, we will break the tie in favor of prioritized Dashers like you." 
I rarely have an acceptance rate above 50%, so I don't usually qualify for priority orders.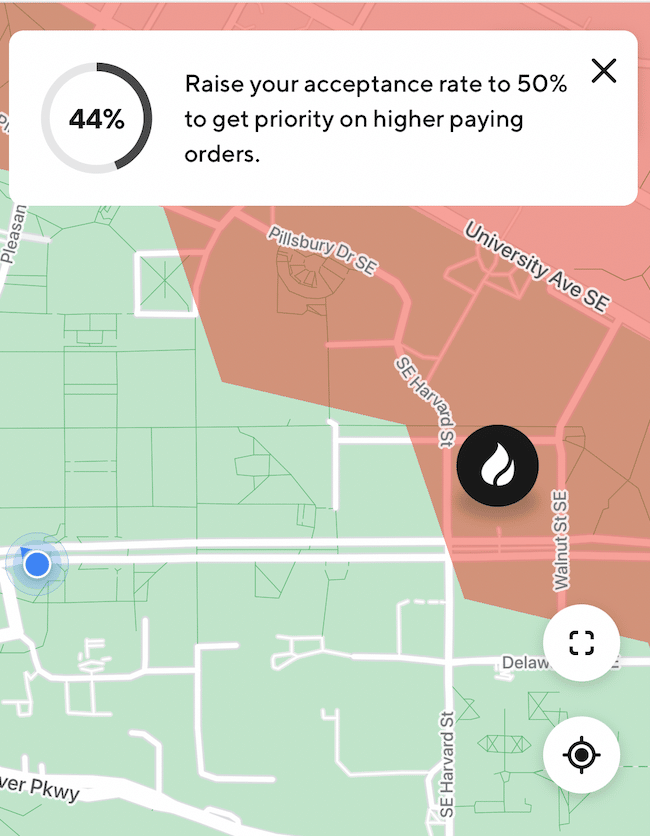 Whether this matters or not is unclear. Personally, I don't look at orders based on how much they pay per mile, but rather look at how fast I can complete them. Even low-paying orders can be worthwhile if I can complete them fast enough. Since I do DoorDash on a bike, I think this likely won't impact me too much and I still won't be aiming to improve my acceptance rate. It can be annoying though that DoorDash keeps pushing the acceptance rate and using tactics like showing you how far your acceptance rate will decline if you reject an order.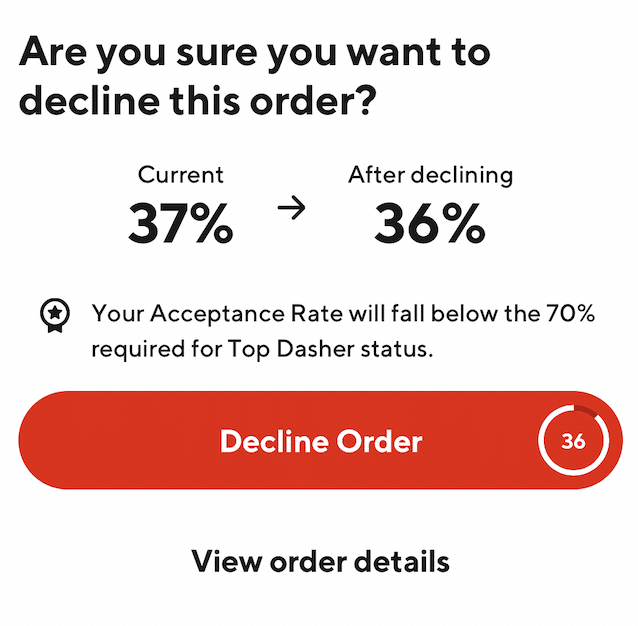 If you want more info about the priority status program, DoorDash has more info about the program here.
Final Thoughts 
My DoorDash acceptance rate typically hovers around 20-30%. At times, I've had my acceptance rate fall into the single digits and have never had any issues with my Dasher account.
I do this because I'm picky with my orders. I only want to accept orders that are profitable and make sense to me. As a result, if I see an order that I don't think is worth doing, I'll reject it and wait for another one.
I recommend you do the same too and don't worry about your DoorDash acceptance rate.