If you're working as a Dasher for DoorDash, you might be wondering – how does DoorDash assign orders? 
It's an important question to ask because getting more orders is how you can make more money with DoorDash. Unfortunately, whatever algorithm DoorDash uses to assign orders isn't public. We can only guess how DoorDash assigns orders based on experience and common sense. 
That being said, experience has taught us that DoorDash uses several factors to assign orders. In this post, we'll look at those factors to figure out how DoorDash assigns orders, look at the factors that DoorDash likely doesn't consider, and discuss a few tips and strategies to make sure you get the most orders possible.
How Does DoorDash Assign Orders? 
There are a few guesses about how DoorDash assigns orders. Some of them are likely important factors that DoorDash uses to assign orders. Others are based on anecdotal evidence. And still, other factors are ones that some Dashers swear are important factors, but are probably not used by DoorDash in their algorithm.
Let's take a look at the factors DoorDash uses, starting with the most important to the least important.
1. Your Location
Without a doubt, the most important factor (and possibly the only factor) DoorDash uses to assign orders is your location. Dashers that are closer to busy restaurants are more likely to get orders sent their way. 
This makes logical sense. DoorDash has an interest in making sure orders are picked up and delivered quickly, so it should naturally assign orders to Dashers that are closest to the restaurant. 
While location does seem to be the most important factor, simply being nearest to the restaurant doesn't always mean you'll get the order assigned to you. I know because I've had times when I've tried to pick up my own family's order and even though I was in front of the restaurant, someone else was assigned the order. 
DoorDash does try to time orders so that the food will be ready by the time the Dasher arrives. This could explain why the nearest Dasher might not always receive the order. It's possible that DoorDash could go for someone a little farther away so that the order will be ready by the time the Dasher arrives at the restaurant.
Still, the closer you are to busy restaurants, the more likely you are to get DoorDash orders assigned to you. In short, your location will matter the most when it comes to how DoorDash assigns orders.
2. Your Vehicle Type 
The second factor DoorDash uses to assign orders is your vehicle type. If you're on a bike, DoorDash will try to limit your orders to shorter distances that are more easily covered on a bike. By contrast, longer orders are more likely to go to people using cars.  
Depending on your market, the vehicle you are using could make a difference.  If you're in an area that has a lot of short-distance orders (such as a dense, downtown area), then being in a car won't give you an advantage over other Dashers. If you're working in a suburb or a more spread-out area, however, DoorDash will likely prioritize cars that are more easily able to cover longer distances. 
I live and work in a dense, urban area and do my deliveries using an ebike or scooter, so I've never had any trouble getting DoorDash orders assigned to me. Most orders I receive are only going a few miles – and I always reject longer orders that are traveling long distances. 
3. Whether The Order Will Take You Out Of Your Delivery Zone 
DoorDash divides cities into zones, all of which have different hotspots. Instead of having the entire city available for Dashers, DoorDash instead puts dashers into different parts of the city. For example, here's how my home city of Minneapolis is divided in the DoorDash app.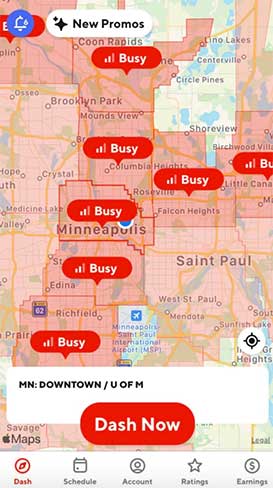 As you can see, the zones for each city are fairly small. DoorDash, in turn, tries to limit deliveries to stay within those zones. That means if you're doing deliveries in one zone, DoorDash will try to keep your deliveries within that zone. 
That's not to say deliveries can't take you outside of the zone you're in. But it seems like DoorDash prioritizes deliveries to people already logged into those zones first before taking people out of the zone.
Factors DoorDash Likely Does Not Consider When Assigning Orders
1. Top Dasher Status 
Some people seem to think that having Top Dasher status leads to DoorDash assigning you more orders. In the past, DoorDash did indeed give priority to Dashers that had reached Top Dasher status.
However, in the official DoorDash FAQ on how Top Dasher status works, DoorDash explicitly does not list getting priority for orders as a benefit of meeting the Top Dasher requirements. 
While it is possible that DoorDash is still secretly prioritizing Dashers that have met the Top Dasher requirements, I take DoorDash at its word and believe that they do not give priority to Dashers that have met the Top Dasher requirements.
2. Scheduled Vs. Non-Scheduled Dashes 
Some drivers believe that Dashers that have scheduled their dash in advance receive priority when DoorDash assigns orders. There is no evidence to suggest this and I've never noticed any issues getting deliveries without scheduling myself in advance. At this point, whether or not this factor makes a difference is pure conjecture and I would lean toward the belief that it doesn't make a difference.
The main reason to schedule yourself in advance would be to avoid situations where you aren't able to log in because there are too many Dashers working. I personally don't bother scheduling myself in advance and have never had any issues staying busy.
3. Your Acceptance Rate
Your DoorDash acceptance rate is based on the number of orders you've accepted in your last 100 delivery requests. Some people seem to think that this matters – i.e. a higher acceptance rate means you'll get more orders sent your way. 
As with the other factors in this section, there's no evidence to support that your acceptance rate matters, and indeed, DoorDash makes it clear in their terms that your acceptance rate does not impact your ability to Dash. My acceptance rate typically ranges between 10-30% and I've never seen anything to suggest I'm getting fewer orders. If anything, I'm getting tons of orders and have to reject a lot of them because they're not worth completing. 
Your DoorDash acceptance rate doesn't matter, so don't worry about it.
4. Your Customer Rating
Some people also seem to think your customer rating could impact how DoorDash assigns orders. That is, a higher customer rating means you'll get more orders. 
Again, there's nothing to suggest that a higher customer rating leads to more orders being sent your way. That's not to say you shouldn't care about your customer rating. You need to maintain a high customer rating to avoid being deactivated. But when it comes to whether or not it impacts how DoorDash assigns orders, it's likely it doesn't impact anything.
Strategies To Get More Orders 
If you want to get more orders on DoorDash, the most important thing you can do is to stay in busy areas and work during prime hours (i.e. during the lunch and dinner rushes). You can also follow the hotspots that are on the Dasher app – or better yet, rely on your own experience. I've been dashing for so long in my city that I know where the best places are to work and the best times to work. 
Beyond that, the other thing you must do is multi-app. When it comes to gig economy work, you never want to rely on a single app. If you're doing DoorDash, for example, you also need to be signed up for Uber Eats and Grubhub. If you have all three apps turned on at once, you'll likely always stay busy (I know I do). 
Relying on other gig economy apps in different fields can also help. If food delivery is slow, for instance, you can switch over to grocery delivery with apps like Instacart or Shipt. There are hundreds of different apps you can try out too. I've written a great post that you should check out if you're looking for ideas for other gig economy apps: The Ultimate List Of Gig Economy Apps.
Final Thoughts
In the end, whatever algorithm DoorDash uses to assign orders is proprietary and anyone trying to figure it out is ultimately guessing at how DoorDash assigns orders.
That being said, experience has taught me and other experienced drivers that location matters the most. If you're near the restaurants that people are ordering from, you're more likely to get orders assigned to you. 
Other factors such as the vehicle you're using could matter. But ultimately, pay attention to your location. Stay in busy areas or near current hotspots. Try to work primarily during prime hours as well. And be sure to multi-app so that you're able to get deliveries and gigs from as many sources as possible.