When I quit my job back in 2019 to blog and do gig work full-time, I found myself needing a place to work. I'm one of those people that doesn't work well from home – I get distracted way too easily – so I always have to get out of the house to do work.
Fortunately, back in 2019, the American Express Business Platinum card had what I think is one of the best deals it has ever had. If you got the card, not only did you get the signup bonus and all the other benefits that came with the card, you also got a free 1-year membership to WeWork. At the time, the card had a $595 annual fee, which easily made it worthwhile for me. Even if I didn't get the signup bonus or any other benefits from the card, I still would've gotten it because it gave me a WeWork membership for effectively $50 per month.  
I loved my WeWork membership. It gave me a great space to work. Free coffee. The occasional snacks. And I felt like a professional since I was in an office working with other young people. The amazing thing was that my WeWork membership let me work from other WeWork offices too, so I could have a nice place to work, even when I was traveling. I worked from WeWork offices in Washington DC, Chicago, New York, and Austin during that year and loved that feeling of being a digital nomad.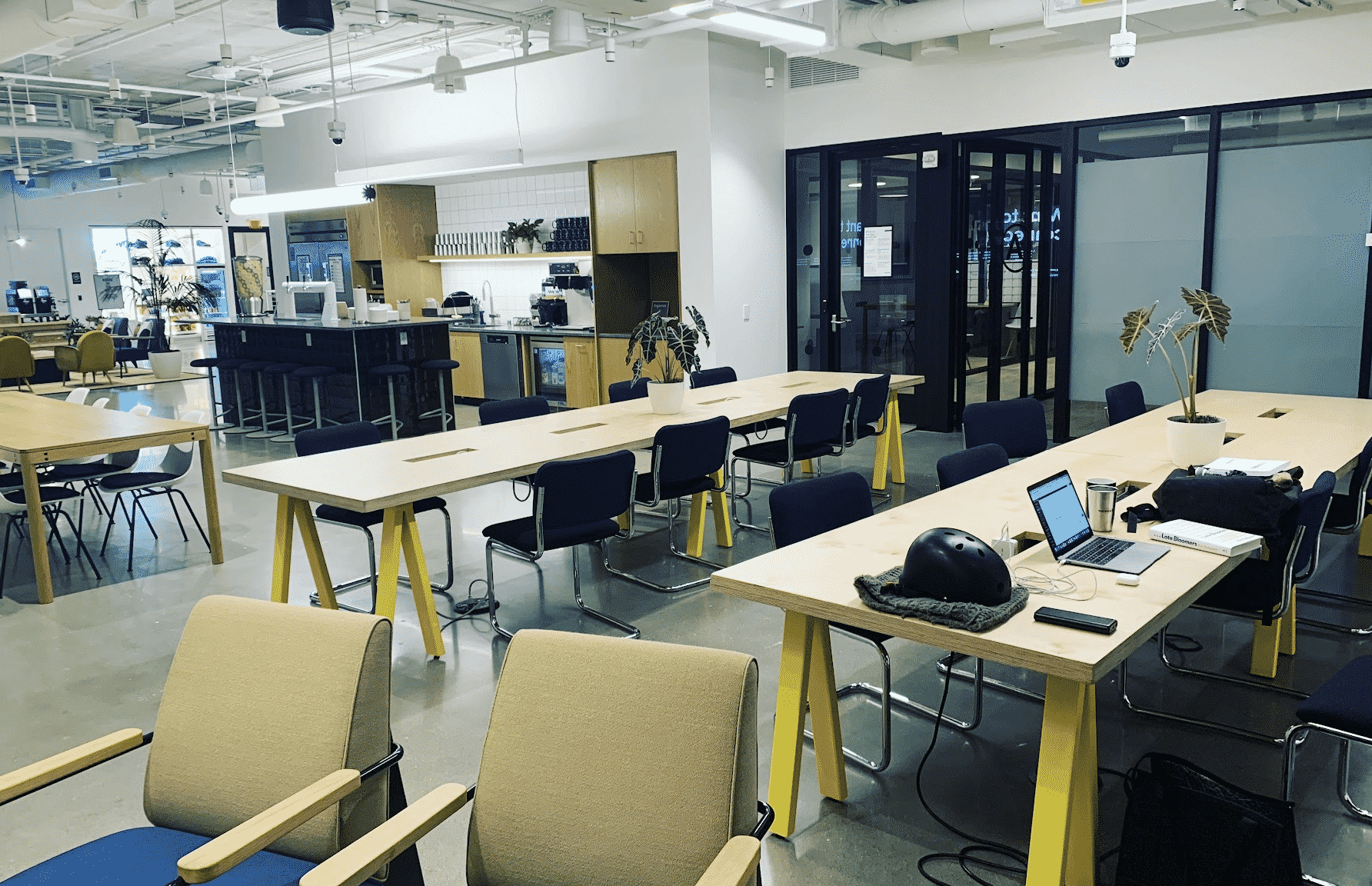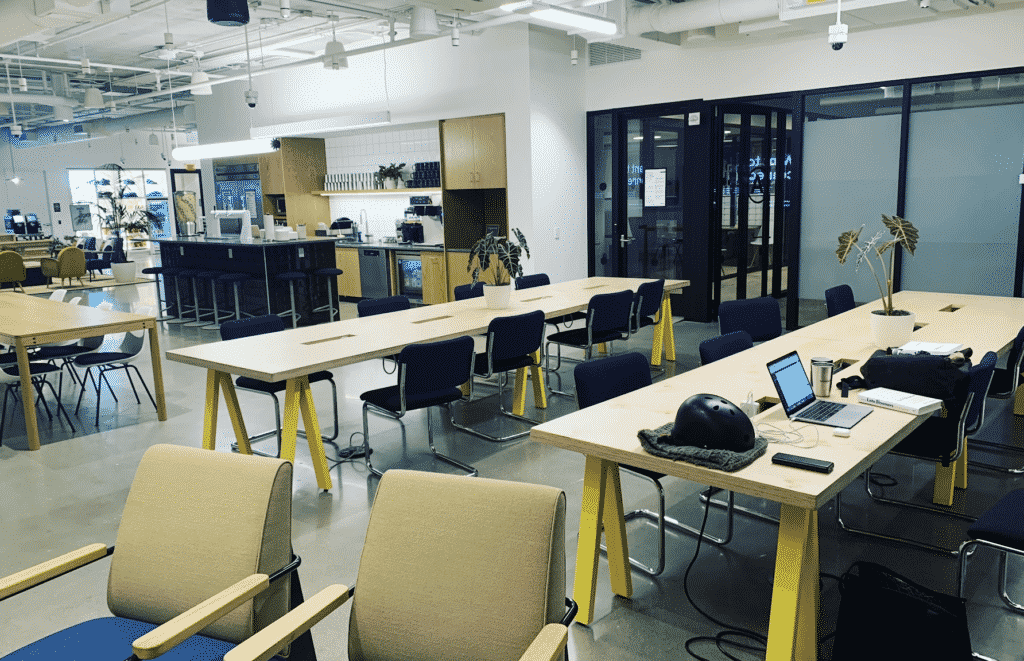 At the beginning of 2020, American Express extended the WeWork benefit for another year, so I renewed my Business Platinum card since the WeWork membership made the annual fee worth it.
You can probably guess what happened next. The pandemic suddenly hit in March and I stopped going to the WeWork. I switched to working from home and I let my membership lapse at the end of the year. 
Once I was fully vaccinated, I wanted to get back out there. But without my American Express WeWork benefit, I would have needed to pay for a coworking space. The spaces I did find all cost about $200 per month – a bit much for me (especially since my coworking membership had been basically free for two years).
I tried a bunch of different places as a coworking space alternative. I started out in coffee shops. Did the occasional visit to a library. But then, I found what I think is the best free coworking space available – college campuses.
Here's why I think college campuses make great coworking spaces.
Why College Campuses Make Great Coworking Spaces 
Doing my work from campus made a lot of sense. I lived in a college neighborhood, so the campus was always a defining feature for me.
My son's daycare was also by campus, so it worked out well. I could drop him off in the morning, then make my way over to school to get some work done. At the end of the day, I could swing by the daycare and pick him up, then make our way home. When we moved to a different house farther away from campus, we kept my son in the same daycare, so it's still been easy for me to drop my son off at daycare, then head off to campus to do work. 
When you think about it, college campuses are built for coworking. Consider all the features they have:
Nice buildings and tons of comfortable spaces to work from. Finding a good table to work from has never been a problem.
Free WiFi everywhere.
Plenty of outlets you can use, so I can easily charge all my devices.
Lots of young people working, which gives a lot of energy to the place. 
Tons of food options, so I can always get a good lunch or snack. 
Water fountains (and filtered water even). 
Clean public bathrooms. 
Lots of bike parking. And during the day, it's pretty safe to leave my bike locked up outside because there's so much foot traffic from students.
All these features were a major improvement from working in a coffee shop. While I like coffee shops, the popular ones are always really crowded during the day, which makes finding a spot to work difficult. In a coffee shop, I always had to buy coffee too, which meant spending a few dollars every day on something I didn't always need. 
By contrast, I've never had issues finding a comfortable spot to work on campus. There are so many tables and places to work that if I can't find somewhere to work in one place, I can easily head to another.
No one ever bothers me either, even though I'm not a student. If it's a public college, I think they always have to be open to the public during the day, so access has never been an issue for me. It also helps that I look pretty young. Even though I'm in my mid-30s, I can easily pass for a grad student. If you're older (or look older), maybe you'll feel more self-conscious working next to a bunch of students, but I feel like a student when I'm here.
Since there are so many different buildings to work from, I can also switch up where I'm working from, although I've found myself sticking to three main places (which I'll talk about in more detail in the next section). 
Where To Work On A College Campus 
I've found myself gravitating towards three main places on my college campus. The first is the student union. There are two places in the union that work out particularly well. The first is a seating area near a Starbucks. It's nicknamed "the Cube" because it's shaped like a cube and has huge windows all along the walls. Interestingly enough, it's where I did all my studying back when I was in law school.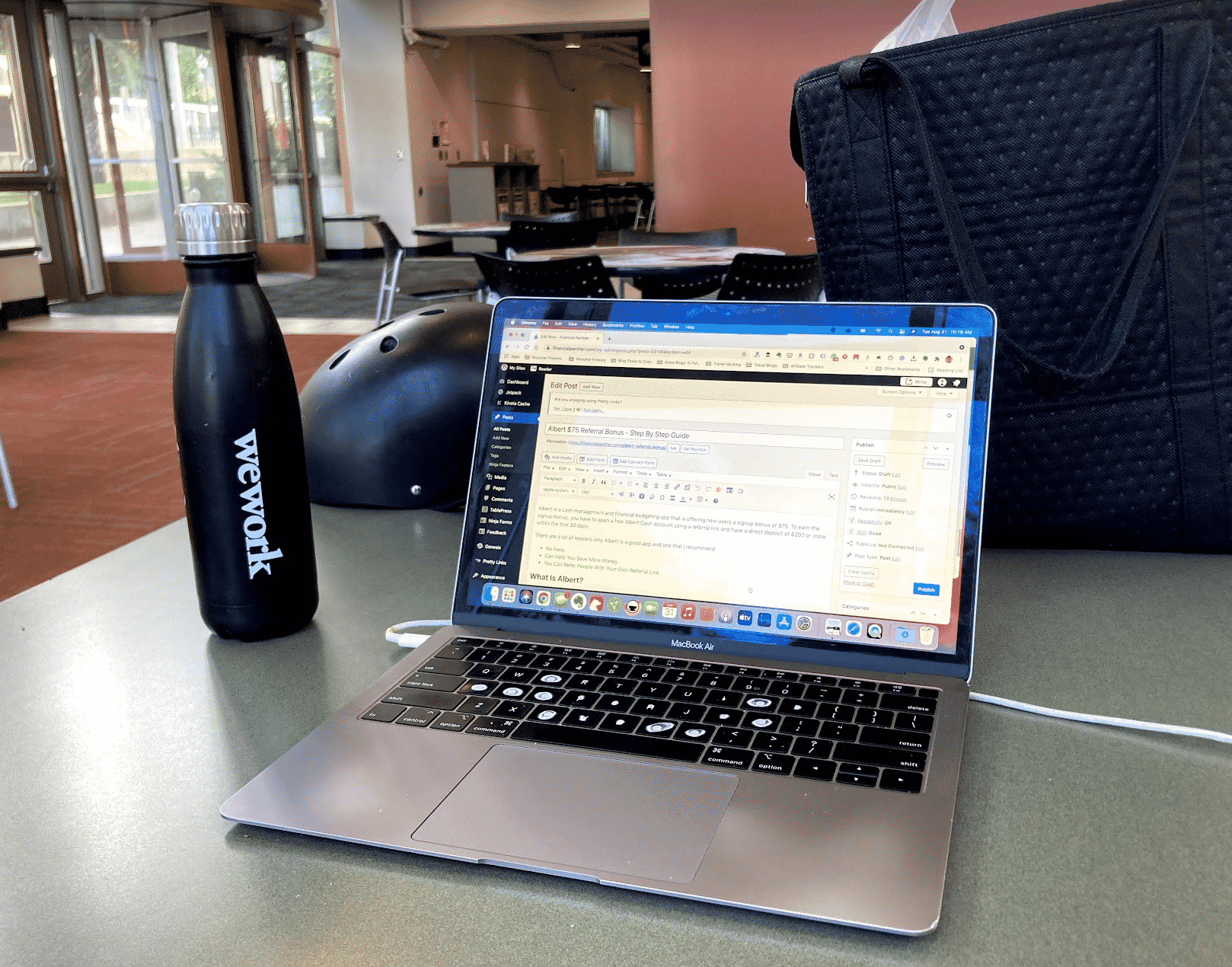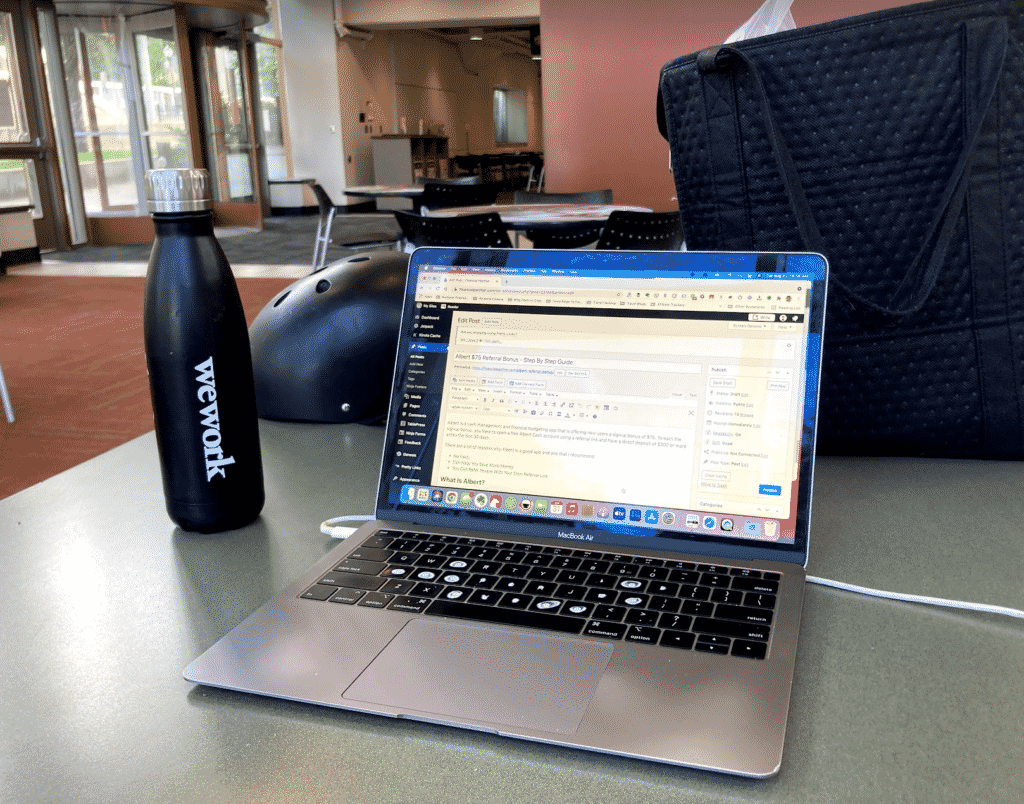 In the summer, the Cube works out really well because most students are on summer break, so there's always plenty of seating. It's a bit less convenient during the school year since a lot of the good tables get taken pretty quickly in the morning, but if I get there early enough, I can usually snag a decent table. 
Another option in the student union is the bowling alley in the basement. You wouldn't think of a bowling alley as a good place to work, but it's surprisingly comfortable. It's not busy during the day (who bowls in the middle of the school day, after all). There are a ton of tables with outlets nearby. And you can order cheap food there too.
The final place I discovered that's a great spot for me to work is the alumni center. This is a big building that usually holds events and conferences, but there's a great seating area with a fireplace, tables, and lots of plugs. It's super comfortable and almost always empty. I don't think a lot of students realize this is a place that's open to students.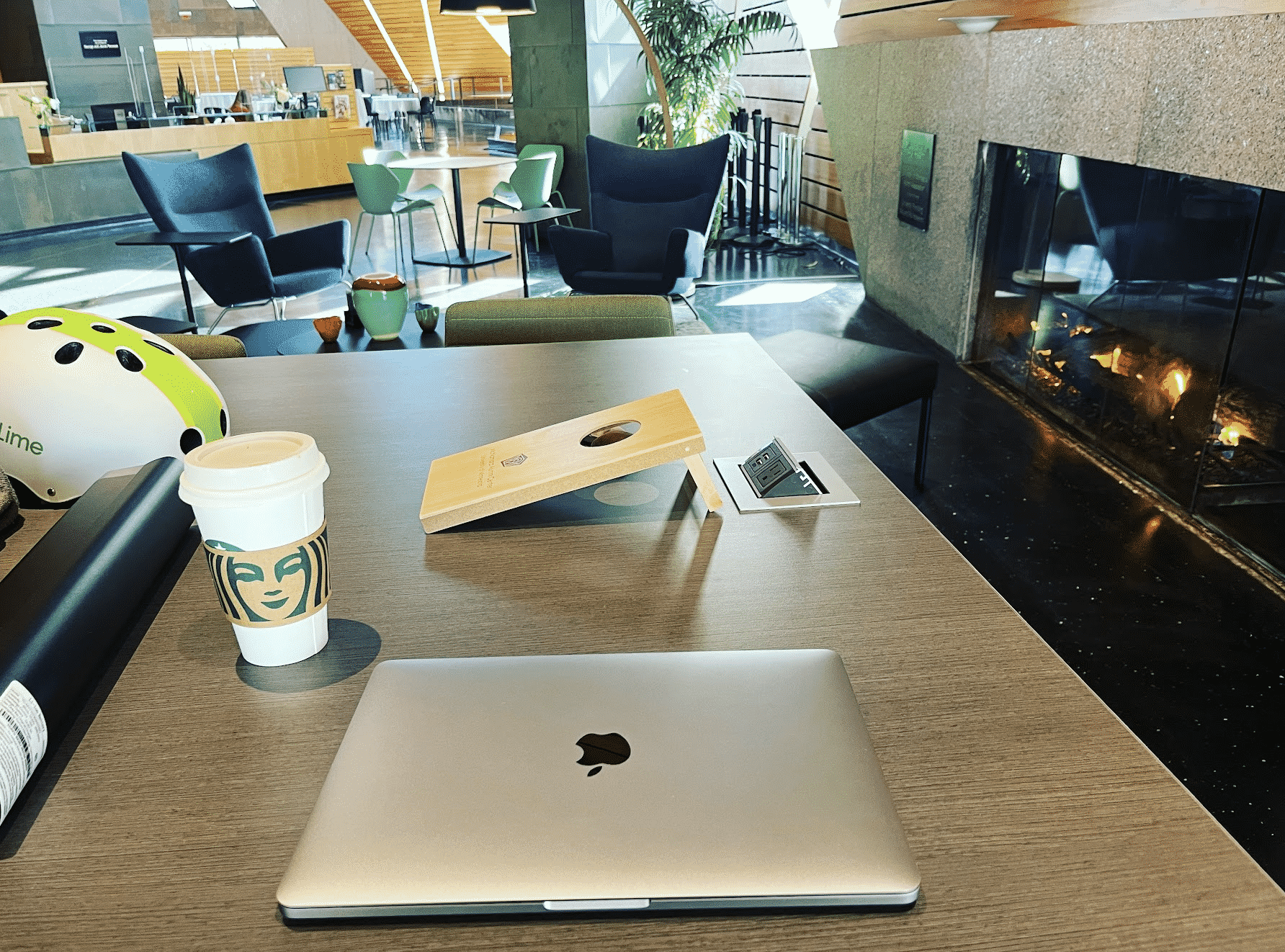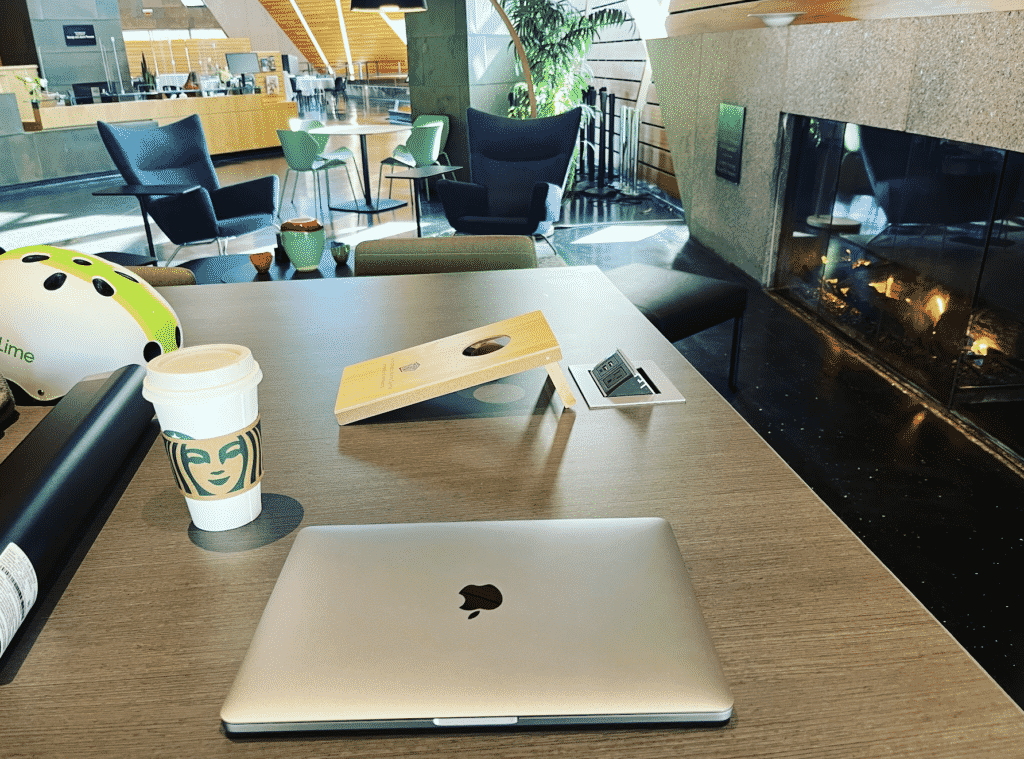 Saving the $200 per month has been nice. Sure, I don't have a fancy formal coworking space anymore. But it doesn't matter too much when you have great places like this to work from.  
Final Thoughts 
The biggest benefit of using a college campus as a coworking space is that it's free. I can even bring my own coffee from home if I want to! 
I've always been a fan of college campuses. Whenever I visit new cities, I almost always check out the local colleges to see what they look like. The nice thing is if you're looking for a free coworking alternative, I can probably bet that you have a college campus near you that would make for a great, free coworking space. 
I did like my WeWork membership a lot. But since I realized I could work from campus and get a lot of the same feel, I haven't felt like I need to get a coworking membership. Until something changes, this is what I'll be doing for a while.