DoorDash scams are a headache many Dashers have to deal with. There are countless stories of drivers getting scammed for thousands of dollars by unscrupulous thieves. Here's a news story of a driver that lost $1,000 to a scammer. Here's another one where a driver lost nearly $2,000. It can be a devastating amount of money for anyone to lose.
Fortunately, if you're careful and follow the advice in this post, you can make sure you don't fall for any of these scams.
In this post, we'll take a look at some of the most common DoorDash scams, how they work, and what you should do so you don't fall victim to any of these scams.
DoorDash Scams 
While there are countless scams possible, most of them work in the same way – the goal of the scammer is to steal your money or get free food. Here are the main scams you should be aware of as a Dasher. 
1. The Fake Customer Service Rep Scam 
This is the most common scam that Dashers fall for and can be the most devastating financially. In this scam, the scammer places a small order at a nearby restaurant. The order will typically be for something like a soda or a cookie at McDonald's or a similar fast-food restaurant. 
After the Dasher accepts the order, the scammer then calls the Dasher and pretends to be a DoorDash customer service representative. Because the scammer placed the order themselves, they know your name and the order details, which they then use to convince you that they work for DoorDash. For example, they'll call and say, is this [your name]? Then they'll say, I'm calling about your current order for [customer name].
Typically, the scammer will tell you that there's an issue with your account or with the order and that you'll need to cancel the order and secure your account. They'll then ask you to provide your login details and read back any two-factor authentication codes that are sent to you. By doing this, the scammer can gain access to your DoorDash account (since you've now given them your login details). The scammer then changes the bank account you have on file to their own, then cashes out your earnings. If you have a sizeable balance built up, you can lose a lot of money.
Fortunately, DoorDash has taken steps to reduce the impact of this scam. The most important thing they've done is made it so that there's a waiting period between when you change your bank account and when you can cash out your earnings. This waiting period effectively stops most scammers from immediately stealing your money, although they can still get your money if you don't notice the change. 
The most important thing you can do to avoid falling victim to this scam is to never give your account information to anyone claiming to be a DoorDash representative. DoorDash has made it clear they will never ask for your login information. If you do receive a call like this, your best bet is to immediately hang up, then contact DoorDash support. DoorDash will likely pay you for the order and will ban the scammer's DoorDash account. 
2. The Customer Says You Didn't Deliver Their Food 
The second most common DoorDash scam is where the customer makes a false claim that they didn't receive their order. 
Customers do this for one reason – they want to get free food. By claiming they didn't receive their order, DoorDash will likely refund them or give them a credit. In turn, this scam hurts Dashers, who can get terminated over these false claims. Restaurants are also hurt by this scam because DoorDash may do a chargeback on the restaurant to cover the cost of the meal.  
Unfortunately, this is something you will likely have to deal with at some point if you regularly deliver with DoorDash. The best way to avoid issues with this scam is to have a good delivery record on DoorDash. I have thousands of successful deliveries under my belt and a high customer rating, so a claim by a customer that I simply didn't deliver their order doesn't hold as much weight since it seems out of character for my account. 
Another thing you can do to avoid getting hurt by this scam is to document your deliveries. Some Dashers wear body cams or GoPro cameras while they are Dashing. This gives video evidence you can use to support yourself in case a customer makes a false claim.
If you have a feeling a customer might try to lie about a delivery, taking photos of the food at the delivery location can also be helpful. If I have a bad feeling about a delivery, I'll always snap a photo of the food at the address, then text it to the customer with information about where I placed the order. This lets the customer know I documented the delivery – making it less likely they'll try to claim I didn't deliver their order – and gives me photographic evidence that I delivered the food.
One good thing is that most customers today request contactless delivery. This is good for Dashers because it sends photo evidence to both DoorDash and the customer showing the food was delivered. The burden of any lost food then falls on the customer because they opted for contactless delivery.
So what happens if a customer lies and says you didn't deliver their order? When a customer makes a false claim like this, DoorDash will send you a contract violation notice in the Dasher app saying that the customer claims they didn't receive their order. You'll be able to provide a response to DoorDash in the app explaining your side of the story. Be thorough with what you did and provide any evidence to support yourself. For the most part, DoorDash won't deactivate you unless this becomes a recurring issue (in other words, one claim that you didn't deliver an order isn't going to get you deactivated).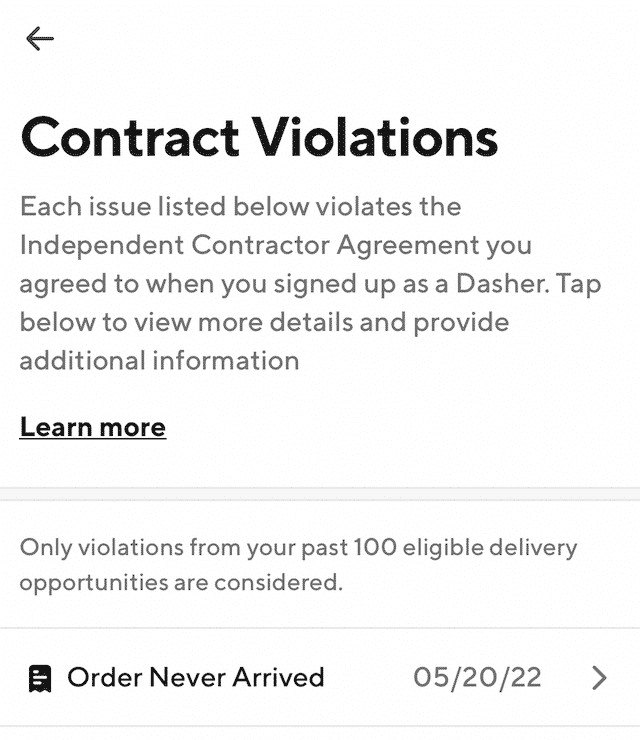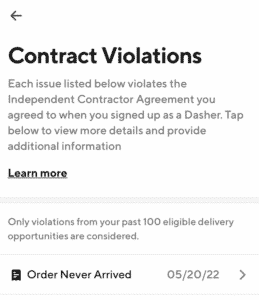 One thing I don't recommend doing is confronting the customer. There are a lot of viral videos out there of Dashers confronting customers that made these false claims. While it can be satisfying to yell at a customer for lying about a delivery, it's always going to end up worse for you. If the customer complains to DoorDash about you confronting them, you're likely going to get deactivated. My advice is don't ever confront customers. Just explain to DoorDash what happened and provide all the evidence you can to support yourself.
Unfortunately, DoorDash rarely does anything to help you, even after you provide all the supporting information to them. Whenever I've submitted information to support myself, I've always received a canned response basically ignoring everything I said. That being said, unless this happens a lot, DoorDash likely won't do anything to you.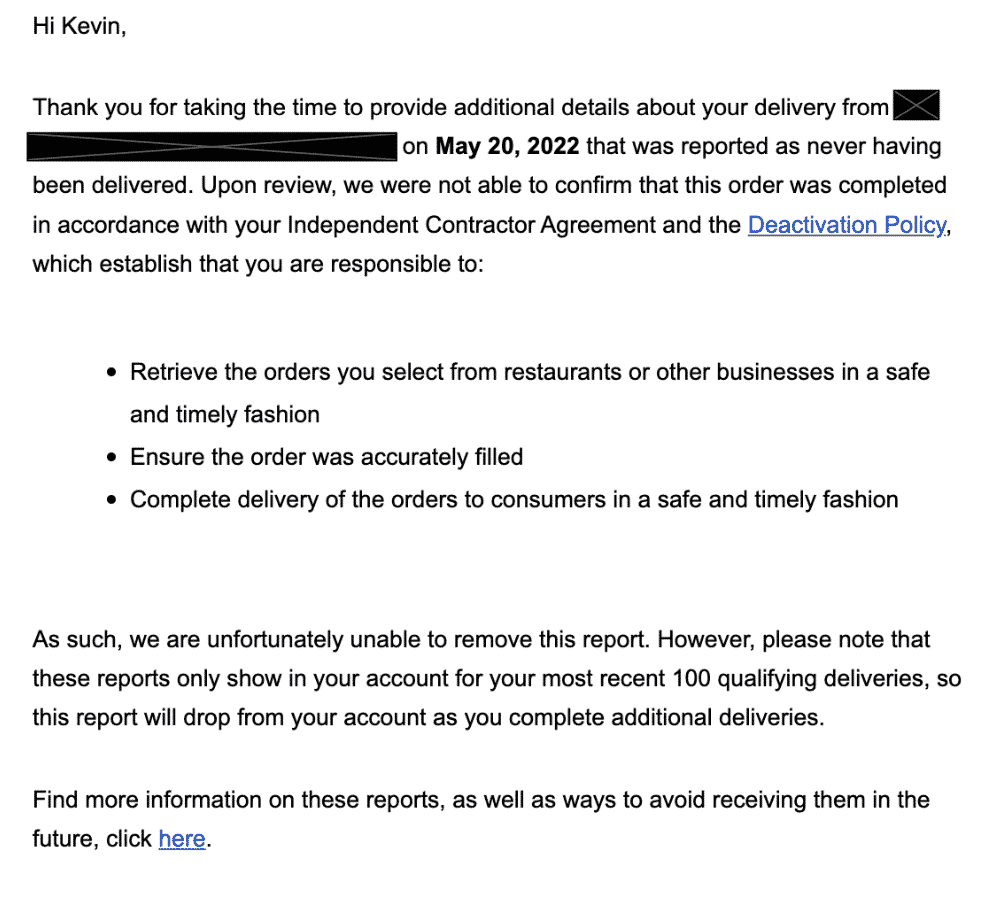 3. The Customer Picks Up The Food Before The Driver Gets There 
The final DoorDash scam you should be aware of is when a customer places an order on DoorDash, then goes to the restaurant and picks up the food before you get there. Since they know the name that is on their order, they'll ask for the order as if they are the Dasher picking up the food. When you arrive, the food won't be there anymore and the customer gets to cancel the order and get a free meal. 
Unfortunately, there's not much you can do to avoid this scam. All you can do is contact DoorDash support and let them know that the food was already picked up. You should get a half-payout when this happens, so you'll at least get something for your time. It's not ideal, but that's the best way to handle this scam.
Final Thoughts 
These are the main DoorDash scams you should be aware of when you are working as a Dasher. Follow the tips in this post and you shouldn't have any issues with these DoorDash scams. 
If you've encountered other DoorDash scams that are worth mentioning, please feel free to leave them in the comments below.