DoorDash contract violations are one of the more annoying parts of dashing for DoorDash. And if you deliver for DoorDash long enough, you're likely eventually going to get one of these violations. 
So what are DoorDash contract violations? The short of it is that you'll get a DoorDash contract violation when you do something as a Dasher that DoorDash believes violates the independent contractor agreement you have with them. If you get too many contract violations, DoorDash may deactivate you, making it so you can no longer deliver for DoorDash.
In this post, we'll be taking a deep dive into DoorDash contract violations, explaining what they are and how they work, along with the types of DoorDash contract violations you need to think about.
DoorDash Contract Violations Explained 
DoorDash contract violations are essentially a warning you receive when you do something that violates DoorDash's independent contractor agreement. Here's how it works.
When you sign up for DoorDash, you sign an independent contractor agreement with DoorDash in which you agree you'll do certain things. Here's a copy of the independent contractor agreement I found on the DoorDash website.
For the purposes of this post, the most important part of the agreement is this section which states the following:
For each Delivery Opportunity accepted by CONTRACTOR ("Contracted Service"), CONTRACTOR agrees to retrieve the orders from restaurants or other businesses on time and safely, ensure the order is accurately filled, and complete delivery orders to consumers in a safe and timely fashion.
In essence, when you sign up to be a Dasher, you agree that you'll deliver orders on time, generally within the timeframes provided by DoorDash in the Dasher app. If you fail to do that, you're technically in breach of the independent contractor agreement. Hence why DoorDash calls these "contract violations."
If you receive a contract violation, you'll get a notice from DoorDash, usually in an email. The email will tell you which delivery had an issue and what the contract violation was. In addition, contract violations will appear in your Dasher app, in the Ratings section of the app. It looks like this: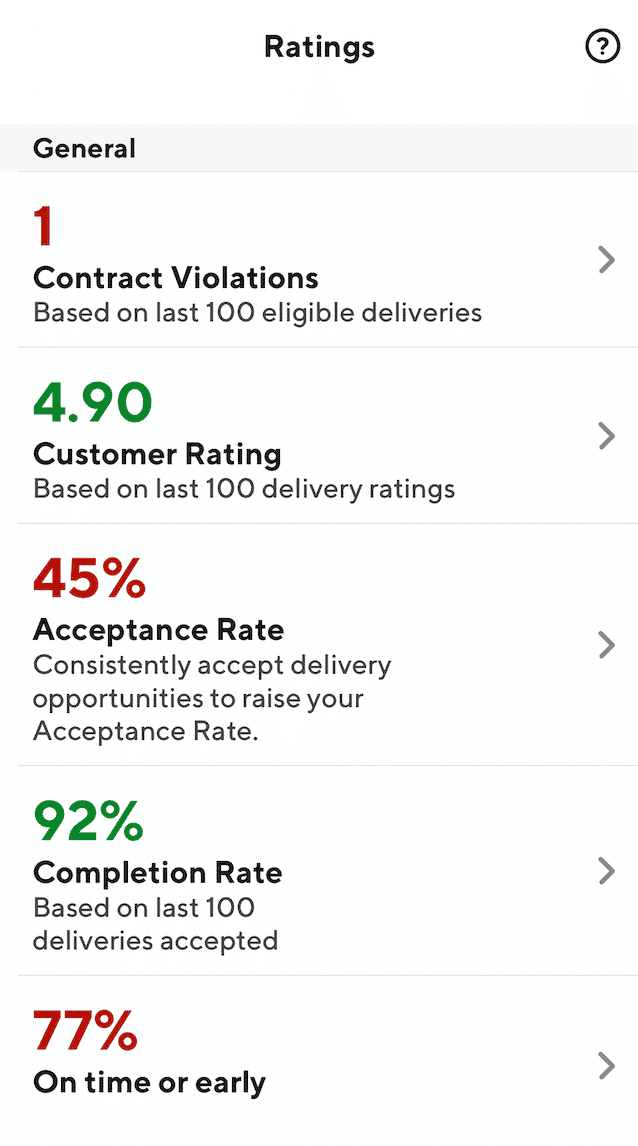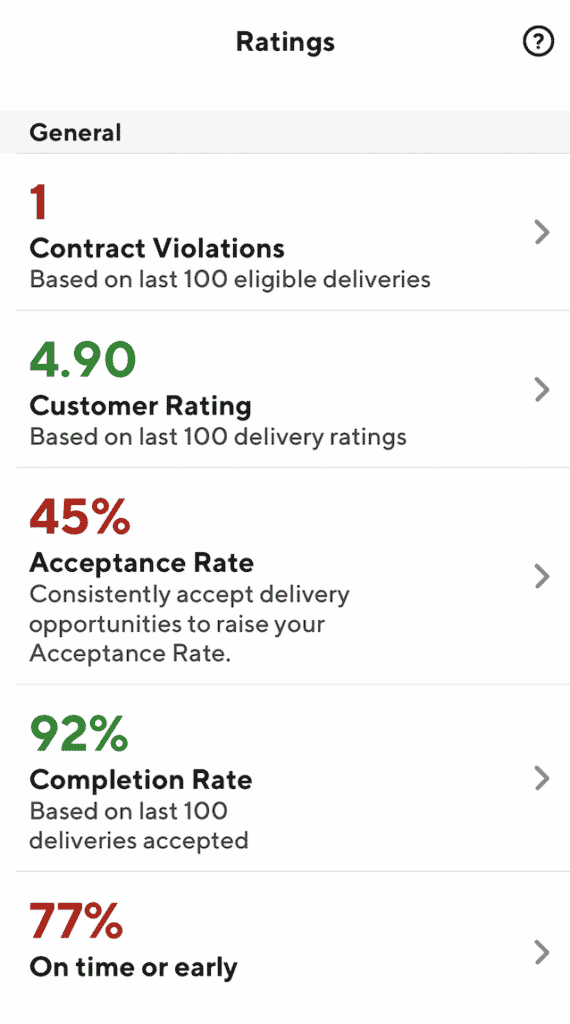 If you click on the contract violation section, you'll be able to see more detail about the violation. It'll show you when it happened, what the issue was, and which restaurant you delivered from.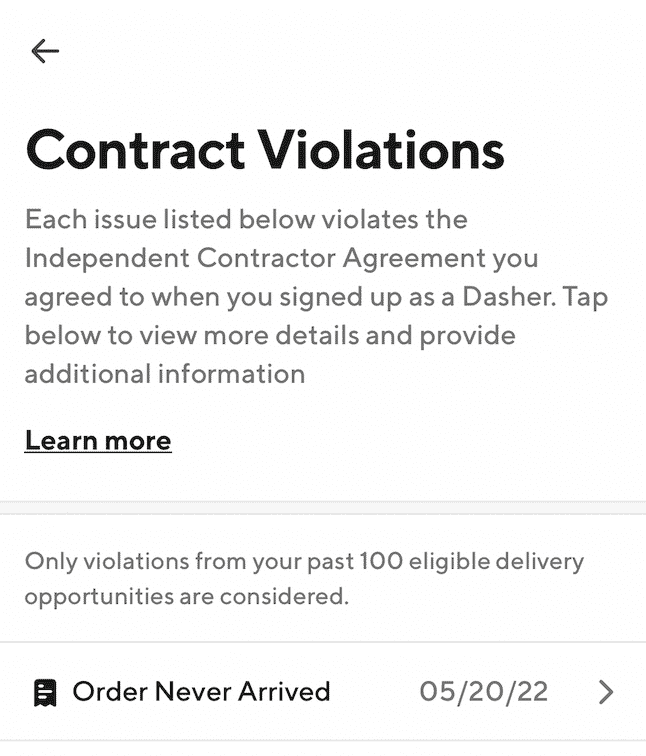 In the next few sections, we'll look at what type of contract violations you can get and importantly, how many you can get before you have to worry about being deactivated from DoorDash.
Types of DoorDash Contract Violations
There are two main types of DoorDash contract violations that you'll likely encounter as a Dasher. These include the following: 
"Extremely" Late Orders
Order Never Arrived
1. Extremely Late Orders
Extremely late orders are the most common violation you may receive. When you accept a DoorDash order, you'll receive two timeframes that you need to consider, The first is pickup time. DoorDash calculates when it expects you to be at the restaurant given when the order was placed and how far away you are from the restaurant. Under their terms, they expect you to be at the restaurant by the expected pickup time.
However, DoorDash gives Dashers a 10-minute grace period to arrive at the restaurant without receiving a contract violation. In practical terms, this means you actually need to arrive at the restaurant within 10 minutes of the expected pickup time. It's important to try to do this because otherwise, you risk a contract violation. 
The second timeframe you need to consider is the delivery time. This time is based on when you pick up the order and how this number is determined is based on your location and when you marked "start delivery" in your Dasher app. Again, like the pickup time, you need to deliver your order within this timeframe, but you also get a 10-minute grace period. That means so long as you complete the delivery within 10 minutes of the expected delivery time, you won't have to worry about a potential contract violation.  
2. Order Never Arrived 
If you don't deliver an order, you could receive an "Order Never Arrived" violation. This happens if the customer reports that the order was never delivered. To avoid this violation, make sure you deliver orders to the customer, ideally with the instructions they provided (i.e. if they want you to hand them the order, try to hand them the order).
There are Dashers that steal food, so in some circumstances, this can be a legitimate violation. Most of the time, however, this type of violation is the result of customer fraud (see DoorDash scams), where an order was delivered and the customer claims it wasn't delivered to get themselves a free meal. 
99.9% of customers aren't going to commit this type of fraud, but unfortunately, if you dash long enough, you will eventually probably run into this scam. If it's a no-contact, leave at the door order, you're likely in good shape – my understanding is that for leave at the door orders, the customer essentially accepts that they'll grab their order immediately from the door and assumes the risk that the order might not be there if they don't pick it up immediately.
Unfortunately, for orders where you hand the order to the customer, it's always possible someone could then make a false claim that their order was never delivered. This is what happened to me not too long ago when I delivered an order to a customer, who then put a false claim that I didn't deliver it.
How Many DoorDash Contract Violations Can You Get?
DoorDash does not say how many contract violations you can receive before you are subject to deactivation. Their deactivation policy makes clear that, in theory, any contract violation is grounds for deactivation. 
However, for these small types of contract violations (late order or order never arrived violations), you'll likely need multiple violations in a short period before you are subject to deactivation. One contract violation of this type is unlikely to lead to deactivation. If you have a good delivery record with DoorDash, such as high customer ratings and a history of delivering orders on time, you're likely to get more leeway with contract violations.
On the other hand, severe contract violations are likely to get you deactivated. Things like assaulting a customer or aggressively confronting a customer are likely to get you deactivated immediately. That's why if you receive an unfair contract violation (such as if a customer falsely accuses you of not delivering their order), don't confront them. This is likely to get you deactivated, even if you're in the right. 
I've been delivering for DoorDash since 2016 and I often have one active contract violation on my account most of the time. It's usually because of a late order. Since I multi-app, I sometimes run into a situation where I take too long to arrive at the restaurant. You obviously want to avoid getting this contract violation if you can, but even I mess up sometimes.
When You Won't Get A Contract Violation 
DoorDash knows that some restaurants are slower than others, so if you arrive at a restaurant on time but are waiting for a while, you won't get a contract violation for picking up the order late or delivering the order late. 
Similarly, if you get a stacked order (i.e. you are assigned to pick up and deliver two orders at the same time), you won't get a contract violation for late deliveries or late arrival to the restaurant. DoorDash makes this fact clear.
Finally, you may sometimes get orders that weren't picked up by other Dashers (maybe because the customer didn't tip). In that situation, the order may already be late. DoorDash understands this and doesn't penalize you for that either. 
How To Get Rid Of DoorDash Contract Violations 
Contract violations don't stay on your account forever. Instead, they'll remain on your account for the next 100 eligible deliveries. After you've completed 100 eligible deliveries, the contract violation will disappear from your account. I don't know what eligible deliveries mean, but I simply assume it means after 100 more deliveries, the violation will drop off my record. In short, if you keep delivering, eventually the contract violation will fall off your record.
You can also appeal any contract violations you receive. When you receive a contract violation, you'll get an option in the app to submit additional information about the delivery. Unfortunately, whether this does anything is unclear. I always submit additional information after receiving a violation, but I've never had a violation removed after submitting the additional information.
You'll see many people tell you to take photos of your deliveries or record the GPS location, and while I think this is a smart idea, I don't think it does much. Maybe it would matter if you got deactivated and had to file a formal appeal, but for getting rid of violations, I work under the assumption that I'm not going to get it removed by stating my side of the story. I still recommend submitting additional information anytime you receive a contract violation, but just don't count on it to do anything.
Finally, you can also avoid contract violations by simply avoiding getting them in the first place. This specifically applies to late deliveries. If you know you're not going to get to the restaurant within 10 minutes of the expected pickup time, it can often be better to simply unassign the order, rather than completing the order and getting a violation. Your DoorDash completion rate does matter, but if you have a high enough completion rate, then it's worth taking the small completion rate hit to avoid a contract violation.
Final Thoughts 
DoorDash contract violations are a part of doing DoorDash. You'll inevitably get a few of them if you do DoorDash long enough. But for the most part, they shouldn't impact your ability to Dash so long as you don't get too many of them. If I get a contract violation, I always make sure that I don't get another one until the old one has fallen off my account. 
It's important to note that you still receive full pay orders that had a contract violation, so you don't have to worry about your pay in those situations. The main reason to avoid contract violations is to avoid potential deactivation. Again, keep your violations to one active violation at a time. Anytime you get a violation, try to avoid getting a second one until the first one has fallen off your record.
I hope that helps.