Do DoorDash drivers pick up multiple orders? The short answer is yes, they do. DoorDash assigns orders based on an algorithm that (ideally) matches the best available Dasher with your order. To increase efficiency, they will often send double (or even triple) orders to nearby Dashers. That way, Dashers can make more money and deliver more orders in the most efficient manner possible.
In this post, we'll look at how DoorDash drivers pick up multiple orders and why it's especially good for Dashers to get double orders. 
Do DoorDash Drivers Pick Up Multiple Orders? 
As noted in the introduction to this post, DoorDash drivers can pick up multiple orders. Most of the time, DoorDash sends a single order to each Dasher, waiting until they complete the order before sending new orders.
However, during peak hours or when there are few Dashers online, DoorDash will send multiple orders to a single Dasher. They may also send multiple orders to Dashers where it would be more efficient to have the same Dasher pick up multiple orders (for example, if two customers in the same area order from the same restaurant). 
If a Dasher is delivering multiple orders for DoorDash, customers will see that the Dasher is delivering another order to a customer in the DoorDash app. This is helpful to keep customers notified that they aren't the only order that the Dasher is delivering. Some customers get confused when they see Dashers traveling in a different route or direction, so it's helpful that DoorDash lets customers know what is going on. 
In some circumstances, DoorDash also offers priority delivery for customers. For an extra fee, customers can pay to ensure that the Dasher will only receive one order from DoorDash. This isn't always available and I think it may depend on which city you live in with whether you can request priority delivery. I've never seen a priority delivery option in my city, but some people online have said they are able to pick priority delivery.
Earning More By Picking Up Multiple Orders 
For Dashers, picking up and delivering multiple orders is an excellent way to earn more money from DoorDash. That's because instead of delivering one order, you can earn more while doing a similar amount of work. For example, if you receive one order paying $6, then receive a second order paying $6 going in a similar direction, you've effectively doubled your earnings for the same trip. 
As a Dasher, you can receive multiple orders in two ways. The first is when you receive a double order. In this situation, DoorDash will send you two orders in a single delivery request. The map will show you which restaurants the orders are being picked up from and where the orders are going. The payout shown is the total payout for both orders. 
The second way you can receive multiple orders is if DoorDash sends you a delivery request while you are in the middle of a delivery. This one will look like a normal delivery request, showing you the pickup location, the delivery location, and the payout. The one difference from a regular order is that it'll show you the payout and say "Add to Route."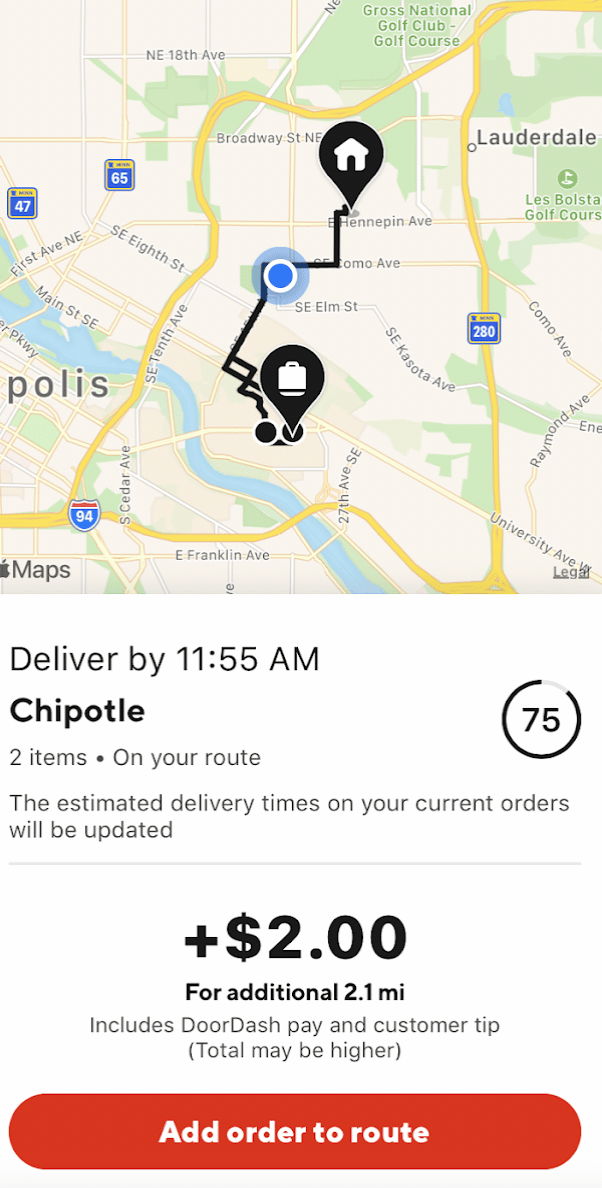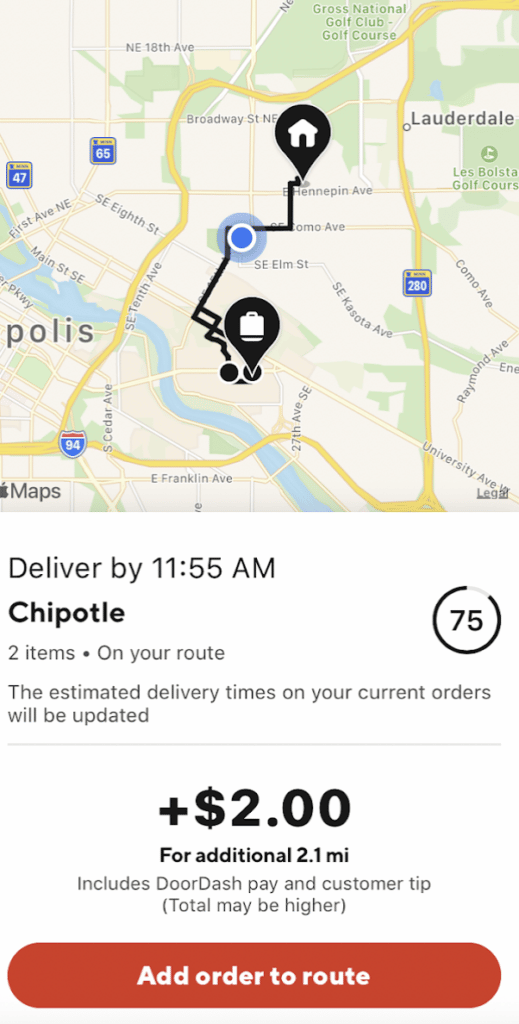 Beyond getting multiple orders from DoorDash, I also highly recommend multi-apping. That means running other delivery apps, including Uber Eats and Grubhub while you do DoorDash. The key is to accept delivery requests from multiple apps going in similar directions. It takes practice to learn how to do this properly, but once you figure it out, you'll dramatically increase your earnings. 
One important thing about delivering multiple orders is that late delivery contract violations don't seem to apply when you are delivering multiple orders for DoorDash. My guess is that DoorDash understands when you're delivering two orders, there's a chance that one could get delayed through no fault of your own, so they don't enforce late delivery contract violations. That being said, you should still aim to deliver your orders as fast as you can, but you can worry less about being late. 
Accepting And Canceling Orders Strategy
As a Dasher, a frequent thing that happens with DoorDash is that you'll receive a double delivery request where one of the orders looks good, but the other one is going too far away. Depending on your situation, it can make sense to accept the order, then unassign yourself from the less desirable order. This is something I do fairly regularly. 
To do this, you'll accept the delivery request, then go to the less desirable order. You may have to click "Jump To Task" to get to the correct order. From there, you can unassign yourself from the order that you don't want to do. That'll leave you with just the one order that you do want. 
Remember that your acceptance rate does not matter, but your cancellation rate does matter. If your cancellation rate falls below 80%, you could be subject to deactivation. In general, I keep my cancellation rate at around 90% or higher, which gives me a good buffer to cancel undesirable orders. 
The other thing to note is that when you do unassign yourself from one order, your payout will be different than what was offered. Unfortunately, you can't see which order had the better tip, so there's always a risk that the order you canceled was a high-tip offer. For the most part, being able to complete orders fast is more important to me, so keeping orders short and fast is preferrable to doing long orders that are paying a good tip.
Rearranging Deliveries Strategy
One final thing to know about picking up multiple orders is that DoorDash will automatically give you a route that it thinks is most efficient, but it might not be the most efficient routing for you, especially if you're multi-apping. Fortunately, you can rearrange your deliveries to best suit you. This is different from Uber Eats, which makes you go to each restaurant and customer in the order they assign. 
To rearrange your orders, you'll go to the order you want to complete and click "Jump To This Task." This will then put you on this order, which you can then complete.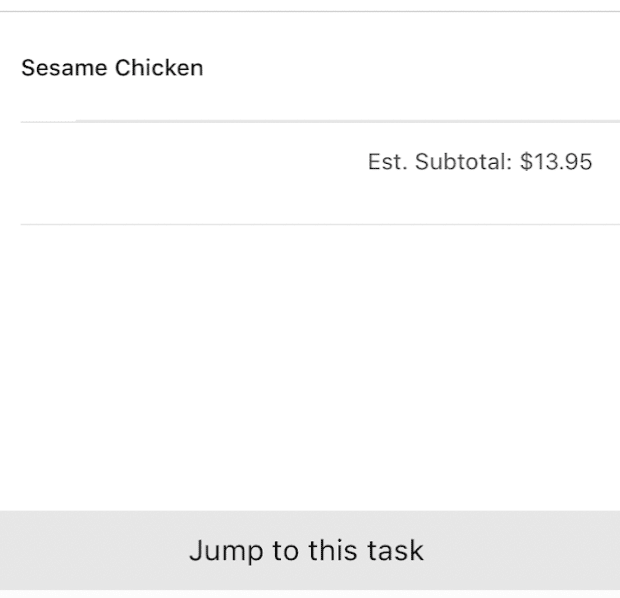 In short, just remember that whatever default route DoorDash gives, you can change it to suit what works for you. That means you can pick up orders in the order that makes sense for you and drop them off to the customer in the order that best suits you.
Final Thoughts
DoorDash drivers can pick up multiple orders. As a customer, this ensures that multiple customers are helped in the most efficient manner possible.
For drivers, picking up multiple orders is an excellent way to earn more money from DoorDash. Indeed, during my best earning times, I usually am receiving a lot of double orders from DoorDash. In rare circumstances, you can even receive a triple order, although that doesn't happen too often in my experience. 
When delivering multiple orders, try to create a route that works best for you. You want to be efficient, not only to make customers happy and keep your customer rating up but also so you can earn the most money possible.