February is in the books, so it's time to look back and see what I was able to make from my various side hustles last month.
As a bit of background for anyone who might be new here, for the past 5 years, I've tracked all of the side hustle income I've made from sharing economy and gig economy apps. It's a bit surprising to me, but over those years, I've made over $120,000 from these simple side hustles that almost anyone can do. It goes to show that seemingly small amounts do add up over time. And if you're strategic about how you side hustle, it's possible to bring in extra income without adding a ton of additional work to your plate.
February, unfortunately, ended up being a tough month for me on the side hustle front. A combination of a busy schedule, an active 11-month old child (now officially a 1-year old as I write this), plus terrible weather led to me having my worst side hustle month since I started tracking my side hustle income in the summer of 2016.
Here's the breakdown of my side hustle income for February 2021.
Side Hustle Income for February 2021
Total Side Hustle Income for February 2021 = $619.69 
February ended up being a low-earning side hustle month for me compared to other months. My previous worst side hustle month ever was $800. This month, I barely cracked $600.
Historically, February has always been my worst side hustle month. It's a short month, so that can partially account for the lower earnings. Most importantly though, it's the coldest month of the year here in Minnesota. I bike year-round, so I'm not afraid of the cold. But when it's really cold, it can be tough to motivate yourself to get outside for an extended period of time. 
What really made side hustling tough this month was the extended deep freeze that we (and much of the United States) suffered through. For about half the month, temperatures here in Minnesota never rose above single digits. That made biking pretty difficult for me. Almost all of my side hustles require me to spend time outdoors, so it's not exactly the most fun thing to do when it's below 0 degrees.
That said, even with the poor weather, I still at least made a little bit of money this month – some money is better than nothing. Below is a more in-depth look into my side hustle earnings for February 2021. 
Rover Income: $25.50 
February was an extremely slow month for my dog sitting business. Indeed, I didn't get a single boarding request for the entire month. I'm not really sure why things were so slow this month. Usually, I get at least one request, but things have been slower with the pandemic and with fewer people traveling. 
My lone Rover earnings this month came from a dog walking client. I have a neighbor that found me on Rover and occasionally asks me to walk her dog via the Rover app. This is a really easy dog walking client since I only have to walk down the block to pick up the dog. And as part of my monetizing my life strategy, I've been able to walk this dog while I'm picking up my son from daycare – essentially allowing me to get paid to pick up my son.
If you're interested in Rover, you can sign up to be a Rover sitter with this link.
Postmates/DoorDash/Uber Eats/Grubhub Income: $342.59 
February was the worst delivery month I've had in a long time. It wasn't due to lack of demand – my guess is that demand was still very high. What held me back was the weather, which made it difficult for me to do deliveries. There were snowy days. I've had some maintenance issues with my bike also that have slowed me down. And then the cold weather meant that there were a lot of days I sat curled up in a blanket rather than go outside. 
Here's the breakdown of my food delivery earnings with each delivery app in February: 
My hourly earnings were a bit lower than usual, with my weekly hourly earnings ranging from a low of $31 per hour to a high of $40 per hour. In total, I only worked 10 hours for the entire month, which means I made an hourly rate of $34.25. That's not bad, although it's not the $40 per hour that I've been able to pull off in most months. If I had put in a little bit more effort, I probably could have increased my earnings. 
The weather is warming up again, so my delivery earnings should hopefully get back to higher levels, although things have been getting busier that I've also found myself doing few deliveries. We'll see how things work out.
If you want to deliver for any of these apps, feel free to sign up using the links below.
Shipt/Instacart Income: $0
I haven't done Shipt or Instacart in a while. In the past when I was working in a coworking space downtown, I'd often pick up Shipt gigs since I could walk them through the skyway. With the pandemic though, I've been working from home, so I haven't had any reason to do Shipt or Instacart. I'll pick them up again at some point just to stay active.
If you're interested, you can sign up to be a Shipt shopper with this link. And you can sign up to be an Instacart shopper using this link. 
Trash/Flipping Income: $46.54
The flipping income this month has an interesting backstory. At the beginning of the month, my wife's car was stolen. Thankfully, no one was hurt and our insurance covered everything (comprehensive car insurance is a lifesaver). 
Our car was found a week later and when we checked it out, we discovered that the thieves had left some tools, a duffel bag, a True Religion hat, and a Smashburger gift card with a little over $5 on it. I'm all about making the best of a bad situation, so I put the tools in our toolbox, used the Smashburger gift card, and then sold the duffel bag and True Religion hat. I got $5 for the duffel bag, which I was happy to take. And then I sold the hat on eBay for $10. Along with the gift card, that's $20 I got back from the car thieves. There's a bit of satisfaction in knowing that I sold their stuff and made some money from them. 
The other sales this month were fairly normal things. One interesting thing I sold was a box of books that my wife found at her office. She's been clearing out an old storage room that the previous owner had and found a box of books that had been given out at a seminar. I listed up the entire box and got $24 for the books. They sold quickly too. 
ProductTube Income: $30 
ProductTube has been a bit slow lately, but it's still solid money for not much work. I usually try to do these gigs when I'm walking home after dropping my son off at daycare. For the most part, I can usually make around $20 to $30 most months for just a few minutes of work. If you don't have ProductTube on your phone, you should definitely get it. I think this is one of the more underrated side hustle apps out there in terms of how much you make and how long it takes you to do the gigs.
Gigwalk/EasyShift/Field Agent/Merchandiser/Observa/IVueIt Income: $26
I made $6 from Field Agent and $20 from IVueIt in February. For the past few months, Field Agent has had some good gigs. Specifically, they sometimes have "buy and try" gigs where you buy a specific product, try it out, answer a few questions about it, get paid a small amount, and get reimbursed for the product. 
This past month, I did two "try and buy" gigs for hard seltzer water. This let me get two free 12-packs of hard seltzer, which I think is a good deal. I don't normally buy hard seltzer, so it was a nice treat. 
The IVueIt gig was a bit of a pain to complete, but only because it was cold and I had to answer a bunch of questions and take pictures while I was outside. That gig paid $20 and didn't take me long to complete.
Related: IVueIt Review – Make Money Taking Photos
Google Opinion Rewards/Surveys On The Go/1Q Income: $13.04
Here's what I made with each of my short survey apps this past month:
My survey apps were a bit strange this month. For the first time, I made nothing on Google Opinion Rewards. I'm not sure why this happened. For some reason, I'm not getting any surveys on Google Opinion Rewards anymore. If anyone has noticed this, please let me know, 
I hit the $10 mark on Surveys On The Go this month, so was able to cash out my earnings. The secret with Surveys On The Go is to be strategic with which surveys you do. If the survey doesn't look very long, then they're worth doing. But if it does look long, your best bet is to get yourself disqualified from the survey as fast as possible. You get 10 cents just for attempting a survey, so as long as you can disqualify yourself within the first few questions, it'll be worth your time.  
Secret Shopping Income: $29 (plus free food) 
Secret shopping this month was business as usual. I got myself a few free meals and made a little bit of money as well. In a typical month, I seem to do somewhere between 5 and 10 restaurant secret shops. Marketforce is the secret shopping website I use the most, but I've also been getting some good shops from Intellishop and Second To None. 
For more information about secret shopping, check out my post: Restaurant Secret Shopper Jobs: A Strategy To Eat For Free And Hack Your Food Expenses. 
PrestoShopper Income: $40
Presto Shopper is slowing down, but I did manage to complete four gigs last month. These are the Covid safety checks at a retail store – all I had to do was go in, take a few photos, and then answer some questions in the app. They each paid $10 and we're well worth the time. Unfortunately, it looks like these gigs are coming to an end, so PrestoShopper probably won't be as big of an income source as it has been for the last few months. That's the nature of these gigs, they come and go, and you have to pivot with them.
ProductLab Income: $15 
If you do deliveries with DoorDash, then ProductLab is a no-brainer website that you should be using. You get paid each week by submitting a screenshot of your earnings. The website pays me $3 each week I submit my screenshots and I can then cash out once I hit $10 of earnings. It's basically passive income and I'll keep using it for as long as it exists. 
Medium Income: $52.02 
I was debating whether to start including the income I earn on Medium as part of my side hustle reports but decided that it might be helpful for people to see what you can do with Medium. 
For those of you that don't know what Medium is, it's a website where writers can publish their stories or articles. Medium readers pay $5 per month and whenever someone reads your article, you get a small portion of their membership fee. I started writing on Medium in January and made a little over $19. In February, I managed to make more than double that, hitting over $50 in earnings.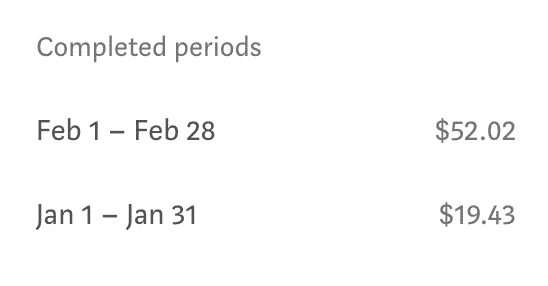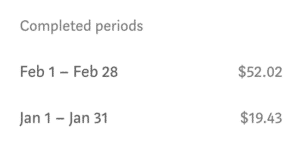 Medium is definitely not a get-rich-quick scheme by any means. But I do find it interesting. I'm essentially repurposing things I've written here for Medium, helping to give some of my writing a second life and generate a little bit of income from old posts and ideas that aren't getting much traction now. 
My thinking is that if you're someone who enjoys writing, it's worth writing on Medium to see what you can do. You definitely have to write a lot if you want to make any income – many of the top writers write new articles every day. I don't think that's a bad thing if you are trying to be a writer – the only way you get better at anything is to do it a lot. 
I'll probably continue to update my side hustle reports with my Medium earnings, just so people can see that earning even a little bit of money from writing is possible. 
And that concludes the February 2021 Side Hustle Report!
In my last side hustle report, I wrote that I suspected February was going to be a low-earning month. I was right about that. It ended up being my worst side hustle month in 5 years. 
That said, even with a busy schedule and a baby, I was able to make a little bit of extra money mainly doing things I was already doing. 
I think March will look better as the weather warms up. The delivery game still seems strong, so I think I can continue to make a decent amount from that. 
To see what I've earned in prior months, you can check out my past side hustle reports. I also have a huge post I wrote titled The Ultimate List of Gig Economy Apps. This is a regularly updated post that keeps track of all of the different gig economy and sharing economy apps that are out there. It's definitely worth reading if you're looking for more ideas on how you can generate extra income using the sharing economy and gig economy.