Welcome to Part 3 of my series detailing how I invest in my employer-sponsored retirement plans.  Today, we're going to look at the exact funds I contribute to in each of my employer sponsored retirement plans.  If you haven't already, be sure to check out Part 1, where I discuss my general investing philosophy, and Part 2, where I discuss the different types of employer-sponsored retirement plans.
For those of you that don't know, back in June 2016, I switched jobs (taking a $50,000 pay cut in the process).  I ended up rolling over all of my 401(k) contributions from my prior employer into my new employer's 457 plan.  Then I needed to figure out how to put my money to work.
Through my employer, I have access to three types of retirement plans:
A 457 Plan
A Defined Contribution Pension Plan
An HSA
All together, that's a little over $30,000 per year I can put away into tax-advantaged retirement savings!  (As of 2017).  Here's how I invest those contributions.
457 Plan
The first step when choosing investments is to look at what my choices are.  Here's a look at the fund options in my 457 Plan: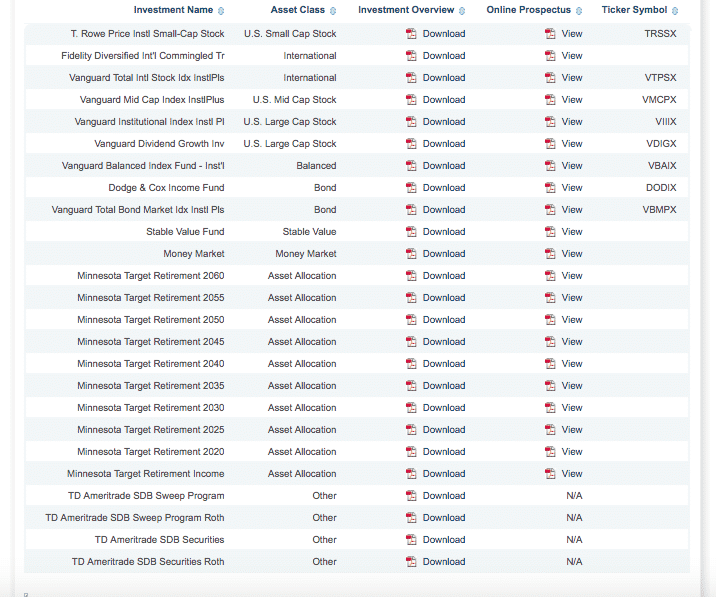 These are actually pretty good options.  If I wanted to make things super easy, going with one of the Target Retirement Funds would be totally fine.  Especially good is the fact that those funds only have a 0.12% expense ratio, which is really low cost.  If you have no idea what you're doing or just want to make things really simple, a low-cost Target Retirement Fund is completely appropriate.
I'm a bit more of a do-it-yourselfer though, so I opted to pick my own funds.  I'm also a big believer in equities over the long term, and since I think I have the stomach to withstand a few market corrections, I'm okay going with a 100% equity portfolio.  This is really key.  If you're going with an aggressive asset allocation, you have to keep telling yourself not to mess with your investments.  Otherwise, you're going to end up losing money.
Large Cap Investments
Immediately, my eye gets drawn to the Vanguard options (your eye should also get drawn to anything Vanguard!). And the meat of my portfolio goes to the Vanguard Institutional Index Fund (VIIIX).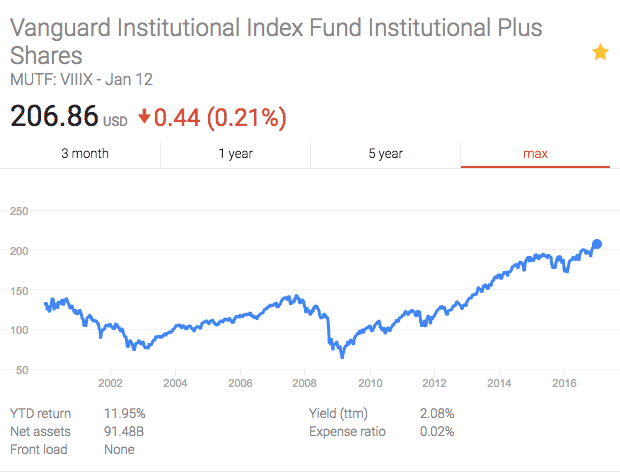 This fund is basically designed to track the S&P 500, which is the benchmark that almost everyone uses when thinking about their returns.  What makes this fund really good are the super low costs.  The fund has an expense ratio of just 0.02%, which is just crazy low.  If I really wanted to, I could probably put 100% of my contributions into this fund and be perfectly fine.  I allocate 40% of my 457 contributions here.
Mid-Cap Investments
There are studies out there that say weighting into other, more risky asset classes, results in higher yield over the long term.  This makes intuitive sense if you think about it.  The riskier the asset, the more return I should be able to get.  Otherwise, why would I (or anyone else) ever invest in it, right?
The key, of course, is to get the right level of risk.  That's why mid-cap and small-cap funds are a nice addition to your portfolio.  You still get safety in being invested in a ton of companies, but you're also invested in companies that have the potential to grow faster compared to traditional large-cap companies.
In terms of my options, again, I'm drawn to Vanguard, so right away, I'm looking at the Vanguard Mid Cap Index (VCMPX).
This is a terrific fund with an expense ratio of just 0.05%, which basically makes it a no-brainer in my book.  I allocate 12% of my 457 contributions into this fund.
Small-Cap Investments
When it comes to small cap, I don't have a ton of choices because, for some reason, my employer doesn't offer Vanguard small cap options, even though it offers Vanguard everywhere else.  Without a Vanguard option, I've instead just opted to go with the T. Rowe Price Institutional Small Cap Fund (TRSSX).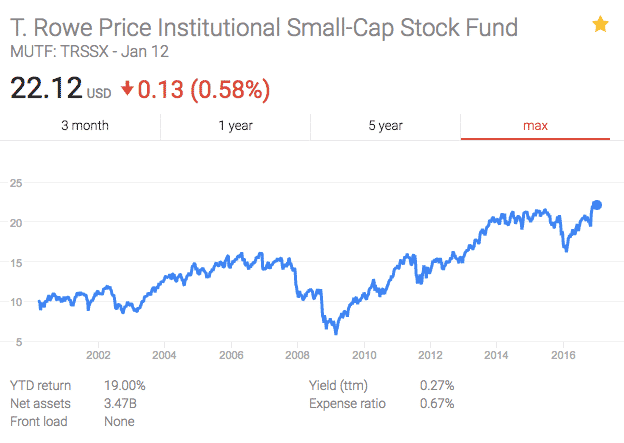 The expense ratio for this fund isn't great at 0.67%.  There's also another problem with this fund.  According to the prospectus, it's an actively managed fund.  Yikes!
I'm still sticking with this fund for a few reasons.  First, there are some arguments out there that active management is more acceptable in the small cap space due to an "inefficient small cap market."  Second, I do like tilting some of my investments towards small cap simply because it tends to outperform large cap over the long term, resulting in greater returns.  Third, small cap is a pretty small part of my portfolio, so I think it's okay to have a bit of money invested in this way.  It probably won't make or break me, is my guess.  I put 8% of my portfolio into small cap.
International Investments
With 60% of my 457 contributions invested in domestic funds, I thought it made sense to throw some of my contributions into international funds.  International funds aren't a necessity for sure, but there is research out there which suggests that adding an international allocation can increase returns and reduce volatility.
For my international allocation, it's no surprise – I go right to the Vanguard Total International Stock Index Fund (VTPSX).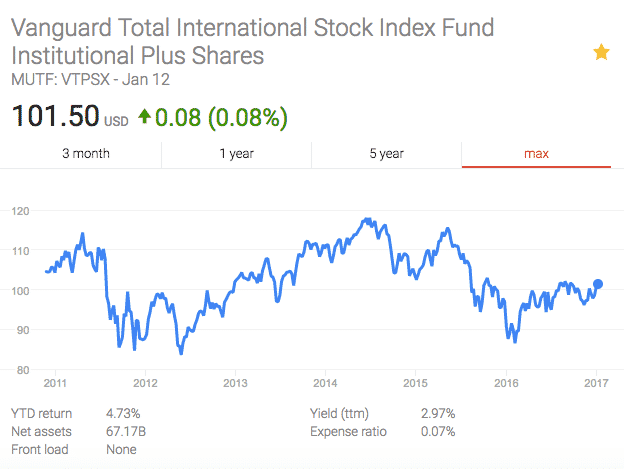 With a 0.07% expense ratio, this is a very cheap fund.  I put 40% of my 457 plan contributions here.
After it's all said and done, my 457 allocation looks like this:
Large Cap (VIIX) = 40%
Mid Cap (VCMPX) = 12%
Small Cap (TRSSX) = 8%
International (VTPSX) = 40%
92% of my allocation has an expense ratio of less than 0.07%, which I think is pretty darn good.
Pension
A bonus that I get with my job is access to a defined contribution pension, which essentially acts as another retirement account for me.  I'm required to put 5.5% of my salary into it and my employer throws in 6%.  What this means is that, even with maxing out my 457 plan, I still get to put in another 11.5% of my salary into another tax-advantaged plan.  Gotta love those sweet government benefits.
My pension has far fewer options to invest in, although that can sometimes be a good thing in order to avoid decision paralysis.  Here's a look at what my choices are for my pension plan: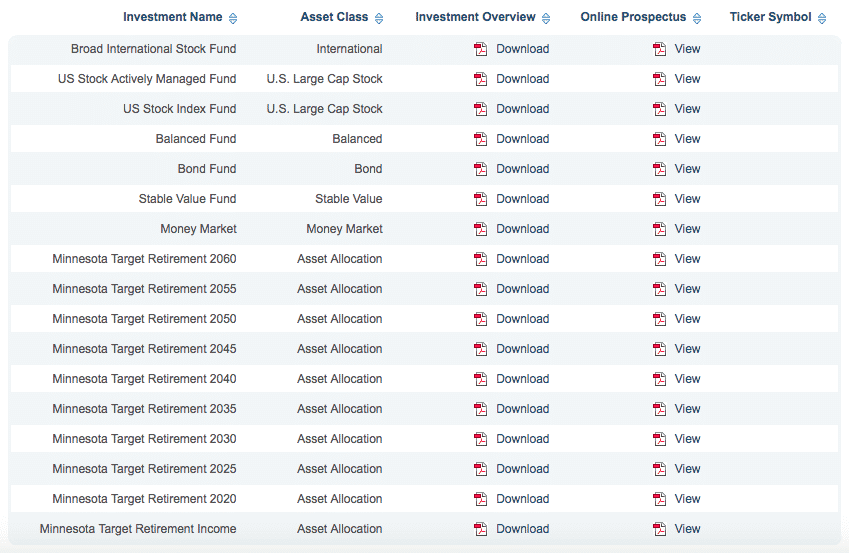 These funds aren't available to the public, so unfortunately, I don't have any ticker symbols for them.
Like my 457 plan, I could just go with a Target Retirement Fund.  My only problem with the Target Retirement Funds are that they allocate about 10% into bonds and I'd rather go with the 100% equity portfolio since I feel like I've learned enough over the years to handle the volatility.
Of these choices, my eye is immediately drawn to the first three funds, which my plan lists as the three most aggressive funds.
The fund labeled US Stock Actively Managed Fund is obviously out since I don't believe in active management.  Still, at only a 0.22% expense ratio, I could go for it if I really wanted to and I wouldn't feel so bad.
The Broad International Stock Fund is also out.  I  already have a pretty high amount of international exposure in my 457 plan, so I don't think I need any more over in this bucket.
Instead, I decided to contribute 100% of my pension contributions to the US Stock Index Fund.  According to the prospectus, the fund invests in over 2000 stocks and is designed to replicate the Russell 3000 index.  Most importantly, the entire fund is passively managed.  Basically, this is just a total stock market index fund, much like Vanguard's Total Stock Market Index Fund.  And the expense ratio for the fund is only 0.02%, making it a super cheap choice.  I'm putting my money here and just forgetting about it.
Health Savings Account
Finally, I thought I'd mention how I'm investing in my Health Savings Accounts (HSA).  My employer contributes $800 a year into my HSA, so it makes sense for me to use it and snag the free money.  At first, the options were terrible, but a few months ago, my HSA provider randomly decided to add three Vanguard funds.  Score!

Since I only opened up my HSA in 2016, I don't have a ton invested into it yet.  For now, I've just put 100% of my allocation into the Vanguard 500 Index (VFIAX).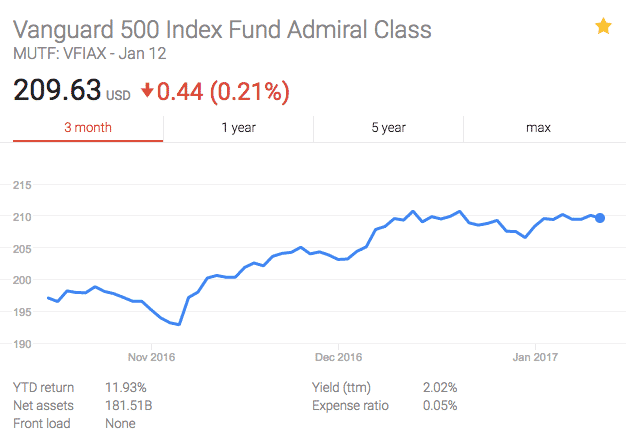 This is an S&P 500 index fund, and honestly, it's probably enough to get me to the finish line if I wanted.  I'll probably just leave it like this for the foreseeable future, although I may add some small cap and mid cap exposure as I start putting more money into it.
Takeaways
Are my choices perfect?  I have no idea.  People love to argue about every little tiny detail of your portfolio.  I say it's fine to be close enough.  It's not all that productive to try to optimize every tiny piece of your portfolio, and really, it's probably not even possible.
In the end, the main thing is to have a high savings rate and to keep your costs decently low. The funds I chose basically do that and I'm pretty happy with how I've allocated my contributions.  Now I just need to keep putting money away and stop over analyzing things.  The worst thing you can do is to mess with your investments too much. Just set up your contributions, rebalance it a few times a year (I automatically rebalance once per quarter), and leave it be!
With that said, I'm still open to suggestions if anyone sees a way to improve what I'm doing here.
How do you invest in your employer-sponsored retirement plans?
Related Reading:
How I Invest In My Employer Sponsored Retirement Plans, Part 1: My Core Investing Philosophy
How I Invest In My Employer Sponsored Retirement Plans, Part 2: Know Your Plans