One feature I think I'm going to add to this blog is real-time updates about some of the credit cards I open. I get a lot of credit cards every year – in a typical year, my wife and I will open around 10 to 12 credit cards between the two of us. In recent years, with higher spending due to increased property taxes, daycare expenses, and home renovation projects, we've been able to massively increase the amount of cards we get. Last year, we opened 16 cards between the two of us. This year, we've already opened 15 cards and will likely open another 2 or 3 cards before the year is over (I need to get a new Southwest Companion Pass, so that's going to be coming up). 
Several months ago, my wife and I took advantage of what I think has been the best deal in credit cards this year – the 90,000 Chase Ultimate Rewards offer from the card_name and card_name. Both of these cards are business credit cards from Chase that are (1) easy to get, (2) have no annual fees, and (3) have a fairly reasonable spend requirement (90,000 points after spending $6,000 in 3 months).
This is a great offer and one you should jump on if you can. In this post, I'll explain why I opened the Chase Ink Unlimited again, what the application process was like, and the best way for you to maximize your earnings on this card.
Another 90,000 Chase Ultimate Rewards Points
This is actually my third time opening the Chase Ink Unlimited this year, although it's now the second time I got the card while it's offering 90,000 Chase Ultimate Rewards points.
A quick note for those of you unfamiliar with the Chase Ink Unlimited. When you look at the offer, it'll say $900 cashback. It's not actually $900 cashback, but rather it gives you 90,000 Chase Ultimate Rewards points, which you can then use for cashback if you want. If you want to maximize your earnings though, it's better to use it towards travel. 
With that background out of the way, getting 90,000 Chase Ultimate Rewards points is a no-brainer for me. I have the Chase Sapphire Reserve which means I get access to the Chase Travel Portal at 1.5 cents per point, so at a minimum, those 90,000 Chase Ultimate Rewards points are worth $1,350 in travel. Even if I used them for cashback, getting $900 in cashback for $6,000 in spend would equate to a 15% tax-free rebate on my spending (remember, credit card points are earned tax-free, which means – especially for high-income earners – they're more valuable than other forms of income).
The Chase Ink Unlimited does require $6,000 of spend in 3 months to earn the bonus, which can be prohibitive for some people. This isn't a problem for me because I have to pay property taxes on my house and a rental property, not to mention I have monthly daycare costs that I can pay with a credit card.
I'm currently sitting on around 1 million Chase points in my accounts since I keep accumulating more points and haven't been able to spend them that quickly (it's harder to travel these days with two young children). Still, for me, getting a good return on the money I already have to spend is worth it. 
I ended up getting the card for both me and my wife, so after this is all said and done, I'll end up with another 180,000 Chase Ultimate Rewards points, worth at least $1,800 in cashback or a minimum of $2,700 in the Chase Travel Portal (and worth potentially much more if strategically transferred to certain airlines or to Hyatt).
What The Application Process Was Like For The Chase Ink Unlimited
The application process for the Chase Ink Unlimited is straightforward and fairly easy. In the past, I used to get instantly approved on my applications, but for whatever reason, I never get instantly approved anymore. However, I've never been denied either, so it's not a big deal that I'm not instantly approved.
There's always a bit of preparation I do before each Chase Business Card application. Ideally, I like to make it so I have no more than four active Chase Business Cards open at a time, so before I applied for my Chase Ink Unlimited, I closed the oldest Chase business card I had that had been open for at least a year. In this case, I had a Chase Ink Preferred that I opened last year that was over a year old, so I messaged Chase and had them close it before applying for my new card. To make sure it's registered as closed, I usually try to wait a few days after closing the card before applying for my new card. There's no actual rule that prohibits you from having more than four Chase Business Cards open, but I've been doing this for years and just feel comfortable doing it.
From there, I applied for my Chase Ink Unlimited. I always apply as a sole proprietor, using my full name as my business name and using my SSN as the business ID. When I applied, I used my rental property as my business, so for business revenue, I put the gross rent I get each year. After I applied, I got a message saying my application was under review (as I expected would be the case).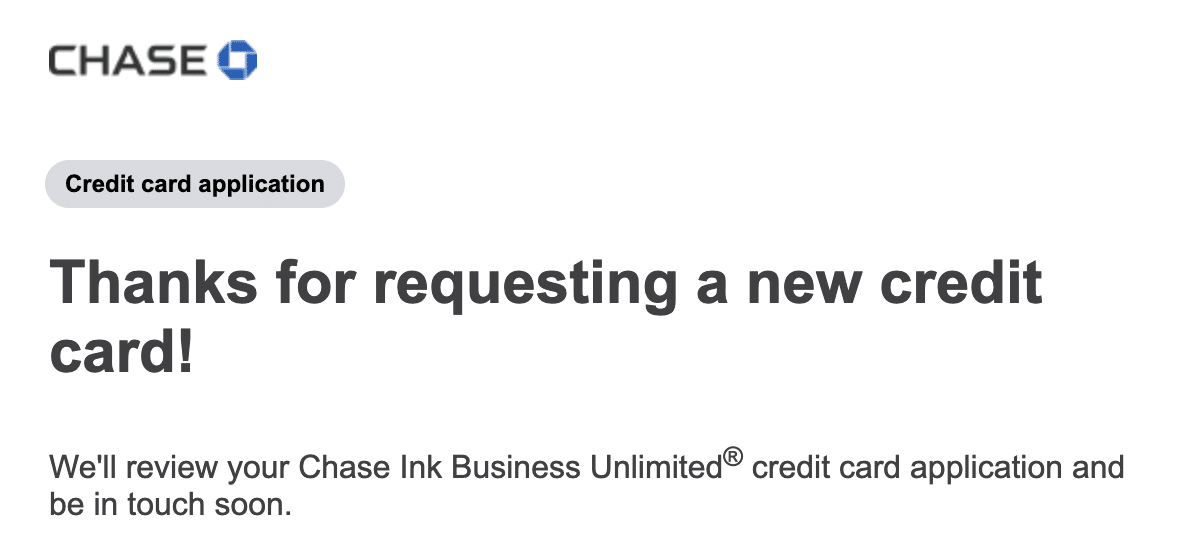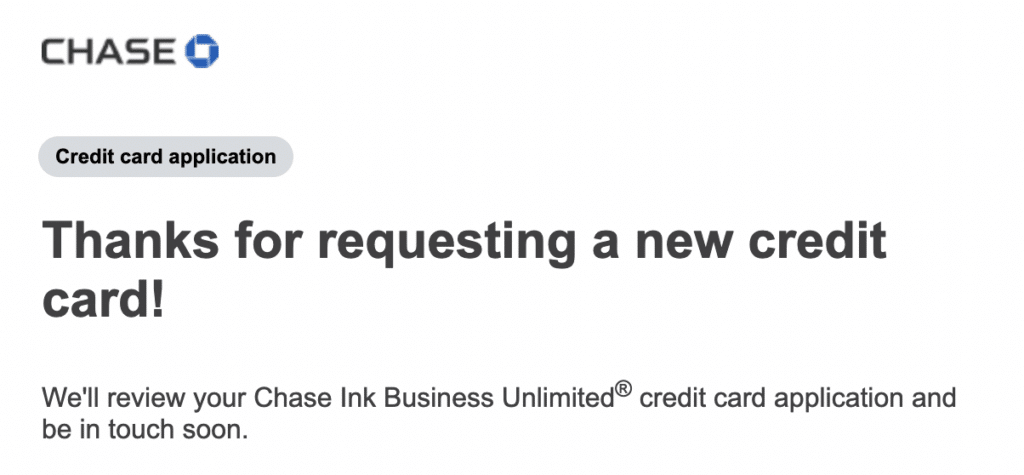 A short while later, I got a message from Chase asking me to upload documents to verify my date of birth and address. I uploaded a photo of my driver's license and a utility bill. I was approved a few days later.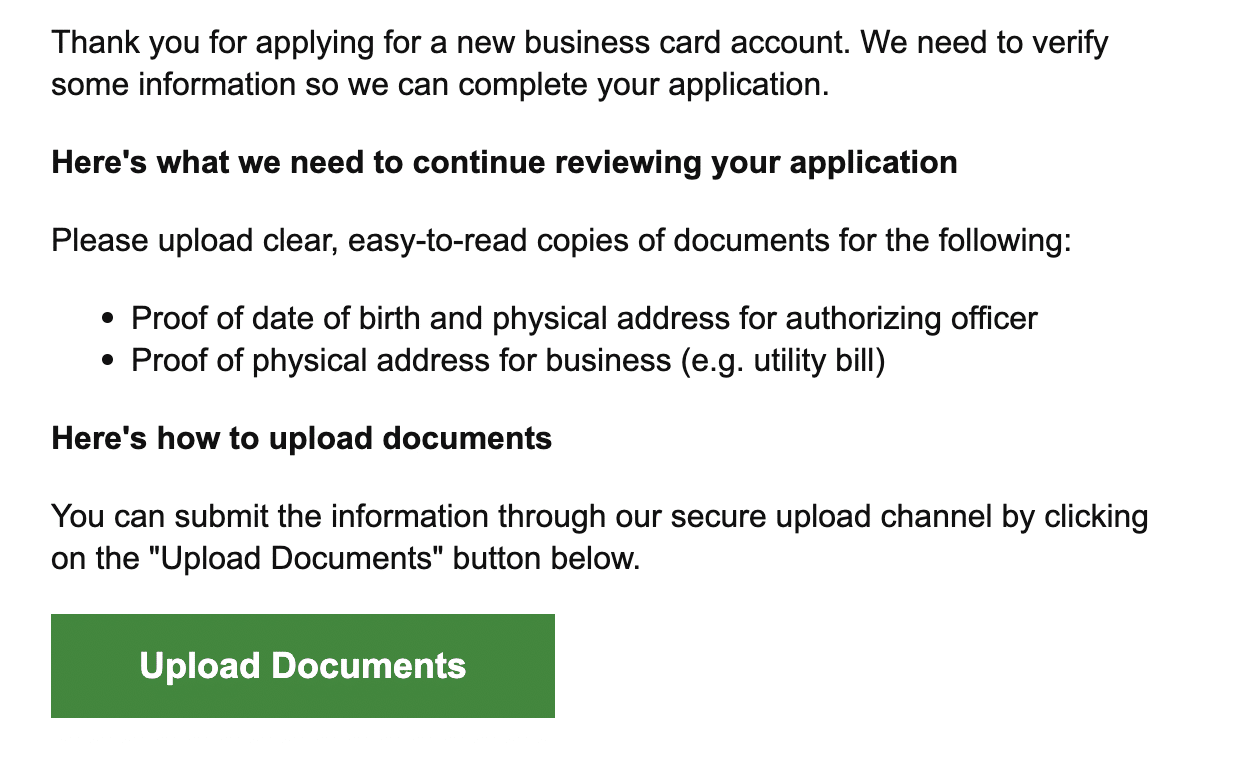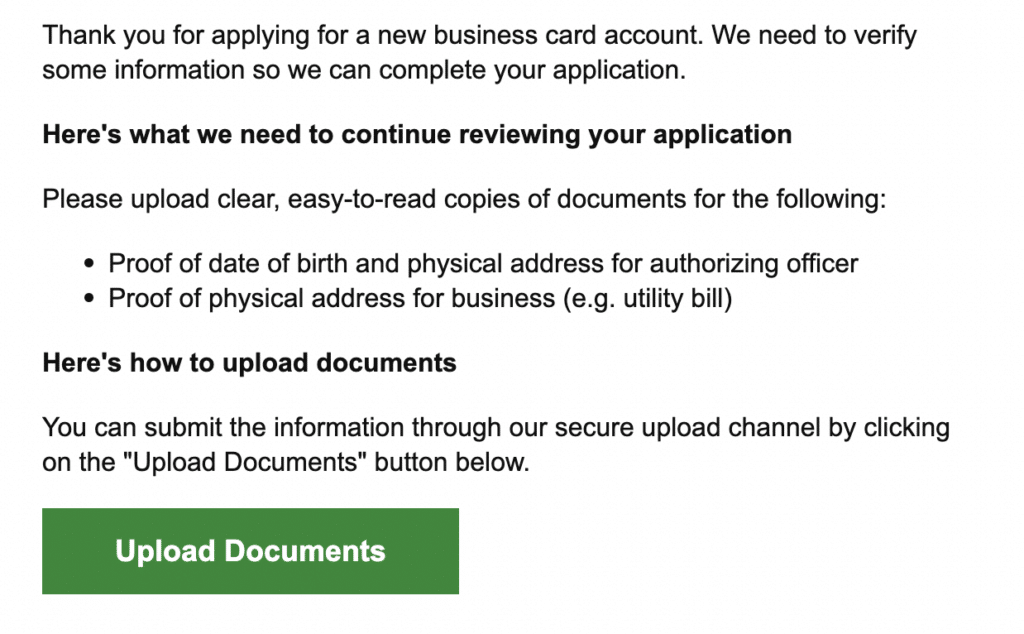 The process for my wife was the same. We first closed one of her Chase Business Cards that was over a year old. Then we applied for the Chase Ink Unlimited, received the same under-review message, and then had to submit documents to verify her address and date of birth. She was approved a few days later.
How You Can Maximize This Chase Ink Unlimited
In this section, I want to briefly go over some of the things to know about maximizing your earnings with the Chase Ink Unlimited.
First, getting the Chase Ink Unlimited is a no-brainer because it has no annual fee. And since it's a business card, it doesn't even appear on your credit report. The only evidence you'll see of this card on your credit report is a hard credit pull, which doesn't have much impact on your credit score, has no impact at all after 1 year, and disappears entirely after 2 years. 
Second, if you got this card earlier in the year when they were offering the 90,000-point bonus, you are still eligible to get it again. Unlike Chase Personal Cards which limit how often you can earn a bonus, Chase doesn't appear to limit how many times you can earn a Chase Business Card bonus. I've already opened 3 of these cards this year and I've been able to get the bonus each time without any issue. I've done the same in prior years.
Third, if you're concerned that you aren't eligible for this card because you don't have a business –  don't be. Sole proprietors are eligible for a Chase Business Card and you very likely have something that qualifies as a business. The way to think about it is this – do you earn or have the ability to earn money in any way outside of a W-2 job? If you're a regular reader of this blog, you probably have a side hustle of some sort. Even something as simple as delivering for DoorDash or Uber Eats or dogsitting with Rover would qualify you. Personally, I think there are very few people who earn 100% of their income from a W-2 job or have no other way to earn an income – and if you do only have 1 way to earn an income, I highly suggest diversifying at least a little bit. After all, you never know what might happen.
Fourth, if hitting the minimum spend requirement is an issue for you, you'll want to time your application to coincide with a large, necessary purchase. I have to pay property taxes twice per year, so April and October are always good times for me to get a new card. You most likely have large purchases that you can pay with a credit card as well, so figure out what those are and time your application to coincide with that. Make sure you apply early enough so that your card will be available when it comes time to make your purchase or pay your bill.
Finally, if you're a two-person household, you can refer your partner or spouse using a referral link for your Chase Ink Unlimited. So, what you would do is first apply for the card yourself (ideally using one of my referral links if you want to support this blog), then after you receive your card, you'd generate a referral link for your card and use that to refer your partner or spouse. You can generate a referral link using this Chase Refer-A-Business link. By doing this, you'll earn well over 200,000 Chase Ultimate Rewards Points between the two of you.
One last thing to note. If you're wondering why I focus on the Chase Ink Unlimited instead of the Chase Ink Cash, it's mainly because my spending doesn't meet the 5% categories of the Chase Ink Cash, so it's easier for me to get the Chase Ink Unlimited and earn 1.5% back on all of my spending. Either card is fine, however, but for me, the Chase Ink Unlimited makes more sense and earns me slightly more points.
Final Thoughts
The Chase Ink Cash and Chase Ink Unlimited are two great cards, made even better when they have their heightened 90,000-point offer. This is a can't-miss deal, so I always make sure to snag it when it's available.
For me, getting an extra 180,000 Chase Ultimate Rewards points will let me take some crazy trips. I just need to carve out some time to travel!