Is DoorDash safe? It's a fair question to ask if you're thinking about becoming a Dasher or if you're a customer looking to order food with DoorDash.
That being said, we do have to think about safety. If you're working for DoorDash to earn extra income, what is DoorDash doing to ensure you are safe? And what can you do to keep yourself safe? While we can all probably use some extra income, your safety still has to come first.
If you're a customer ordering food, you might wonder the same thing – is DoorDash safe for you? Will your food arrive from the restaurant in the same condition as when it left? Are the drivers delivering your food trustworthy and have they been background checked?
In this post, we'll answer the question of whether DoorDash is safe, looking at safety from the perspective of the customer and the perspective of drivers delivering food with DoorDash.
Is DoorDash Safe? 
In short, yes, DoorDash is generally safe for both customers and delivery drivers. At a minimum, it's at least as safe as any of the other major food delivery services in the United States (namely Uber Eats and Grubhub).
For customers, DoorDash takes steps to ensure customers are safe and food is delivered securely. Restaurants also take steps to ensure that food is safely delivered to customers. While there have been some recorded incidents of drivers tampering with a customer's food, these are rare incidents that are unlikely to happen to most customers. Indeed, whether you're ordering food through DoorDash or ordering food directly from a restaurant, the risk of food tampering is essentially the same (in other words, it's not unique to DoorDash).
For drivers, DoorDash has taken steps to make delivering for DoorDash safe. Importantly, they've also recently added safety features within the Dasher app that Dashers can use to call for assistance or get help.
Let's look in more detail at what DoorDash has done to make their app and the delivery experience safe for both customers and Dashers. 
Is DoorDash Safe For Customers? 
As mentioned previously, DoorDash takes steps to make ordering safe for customers – and especially so since the pandemic changed how we order food. Here are all of the things that DoorDash has done to make their app safer for customers.
1. Drivers Go Through Background Checks.
Every delivery driver for DoorDash has to complete and pass a background check before they can start delivering for DoorDash. DoorDash uses a company called Checkr, which checks both motor vehicle history and criminal history. Potential delivery drivers with major vehicle infractions or a problematic criminal history background will not be accepted.
2. Most Restaurants Seal The Food In The Bag.
The majority of restaurants seal orders in the bag before giving them to the driver, making it more difficult for Dashers to tamper with your food. Bags are typically sealed with a sticker or stapled shut. And while a driver can theoretically still tamper with your food, it's more difficult when the bag is sealed and you can see if your food has been opened.
3. Customers Can Request Contactless Delivery. 
Customers can request contactless delivery, which is when the driver leaves your order at your door and sends you a notification. You can then pick up your order without having to interact with anyone. This is not only a safer way to collect your delivery, but it's also more convenient. Whenever I order food with DoorDash, I almost always request contactless delivery. 
4. Customer Phone Numbers Are Hidden 
Dashers can call customers, but their phone numbers are hidden. Instead, when a Dasher calls you, it gets sent through the DoorDash system and the delivery driver only sees a DoorDash number. This works both ways – customers can't see the Dasher's phone number and Dashers can't see the customer's phone number. If you're worried about getting spam calls or getting harassed by drivers, the fact that your number is hidden can help prevent that. 
5. Drivers Are Supposed To Use Insulated Delivery Bags 
DoorDash drivers are supposed to use insulated delivery bags when delivering orders, which helps to keep food warm. DoorDash provides every Dasher with a free delivery bag in the DoorDash activation kit, which is nice since it means every Dasher should have a delivery bag. 
Is DoorDash Safe For Drivers? 
Over the past few years, DoorDash has taken more steps to ensure driver safety. 
One of the most important features that DoorDash has added is SafeDash, which is an option in the Dasher app that allows drivers to quickly call 911 or request a call from an ADT agent. Here's what SafeDash looks like in the Dasher app.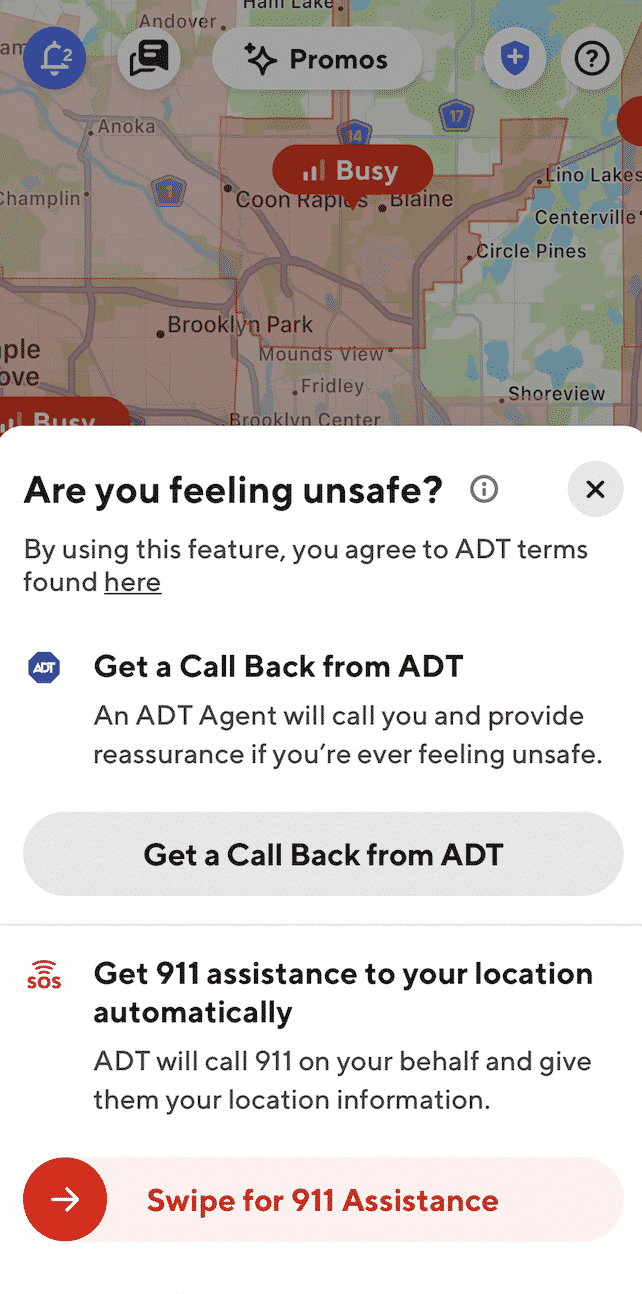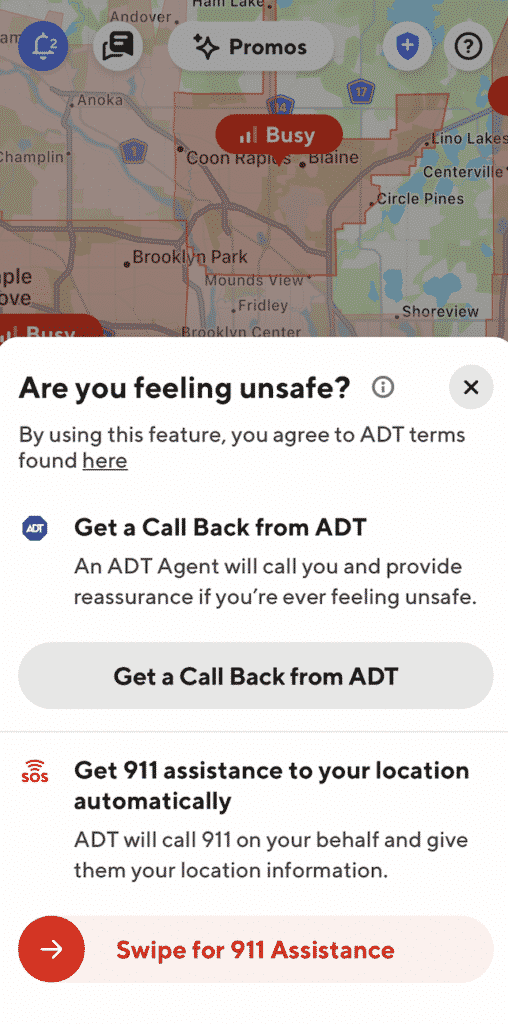 You can find the SafeDash options in the Dasher app by clicking the shield symbol at the top of the Dasher app (it looks like a blue shield with a plus sign in it). SafeDash gives you two options. The first is to request a call back from an ADT agent. When you tap that button, a trained ADT agent will give you a call to make sure that you are safe. 
The second option gives you the ability to quickly call 911 for assistance. If you activate that option, ADT will call 911 on your behalf and provide them with your location. There's a lot of comfort in having these two options available to you.
Here's a video from DoorDash that explains how SafeDash works.
Beyond SafeDash, DoorDash has also implemented some other safety features to help improve safety for Dashers. DoorDash recently added a new feature called "SafeChat." According to DoorDash, messages in the Dasher app are screened for offensive language and Dashers can report customers that text inappropriate messages. 
DoorDash has also added real-time safety alerts in its app. If there is a dangerous situation nearby, DoorDash will send you a notification letting you know about the situation. 
Finally, DoorDash has added a feature on the customer side reminding customers to turn on their porch lights when ordering food at night. This can help improve safety for Dashers, but more importantly, it makes it easier for Dashers to find the customer's address. For more information about these DoorDash safety features, check out this blog post from DoorDash.
As with anything, you still need to exercise your own judgment when delivering orders. If something makes you feel unsafe, get in touch with DoorDash and let them know. Your safety is always the most important thing to consider. 
A question that I do see occasionally is whether DoorDash is safe for female drivers. This is a legitimate question to ask – and unfortunately, as a young male, I don't often think of the safety implications of working on DoorDash, especially when I'm working at night.
Again, I think it comes down to your comfort level. Ideally, you want to stay in busy, safe neighborhoods. If you can, try to work during the day. Make sure people know where you are and what you're doing. Never go into someone's house. And use the DoorDash safety features if you feel threatened or uncomfortable. If you follow all these steps, you can keep yourself as safe as possible.
Final Thoughts 
In sum, DoorDash is safe. Drivers are background checked and restaurants take steps to make sure drivers don't tamper with orders.
I also like that they've taken concrete steps to make DoorDash safer for drivers too. I especially like how they've added SafeDash to the Dasher app, giving Dashers a way to get help if they're in an uncomfortable situation.
As with anything having to do with personal safety, be aware of your surroundings when you're Dashing. And don't do anything that makes you feel uncomfortable or puts you in a less-than-ideal situation. For most people, there will never be any issues with DoorDash safety.