It's a new month, which means it's time to recap my most recent side hustle earnings. For new readers, each month, I document exactly what I was able to earn from side hustling using gig economy and sharing economy apps. I've been using these apps for years, so I've gotten to the point where I have a good system in place to incorporate these different apps into my lifestyle. 
And doing this has worked out well for me. Indeed, I've been able to make over $100,000 in the past five years doing various side hustles that literally anyone can do.
In this post, we'll be looking at what I was able to earn from side hustling in January 2021. Let's see how I did. 
Side Hustle Income for January 2021
Total Side Hustle Income for January 2021 = $1,677.08
January was a surprisingly decent month for my side hustles. In most years, my side hustle earnings take a dip during the winter months, so it was a welcome surprise to see that I was able to make a little over $1,600 for the month. 
As usual, my delivery income made up the majority of my side hustle earnings. Even though we're in the middle of winter here in Minnesota, the weather in January was surprisingly warm. We also didn't have much snow, so there wasn't much slowing down my delivery hustle. 
The other big earnings this month came from dogsitting via Rover. Christmas and New Years' is usually a good time to make extra income from dogsitting and this past year was no different, even with the pandemic.
In the rest of this post, we'll take a more in-depth look int my earnings for January. 
Rover Income: $420.75 
Most of my Rover income in January was a carryover from a few dogs that I watched over Christmas and New Years'. I ended up watching one pup – a Boston Terrier – for almost 2 weeks. This pup worked out very well for my family and was a joy to have around for the holidays.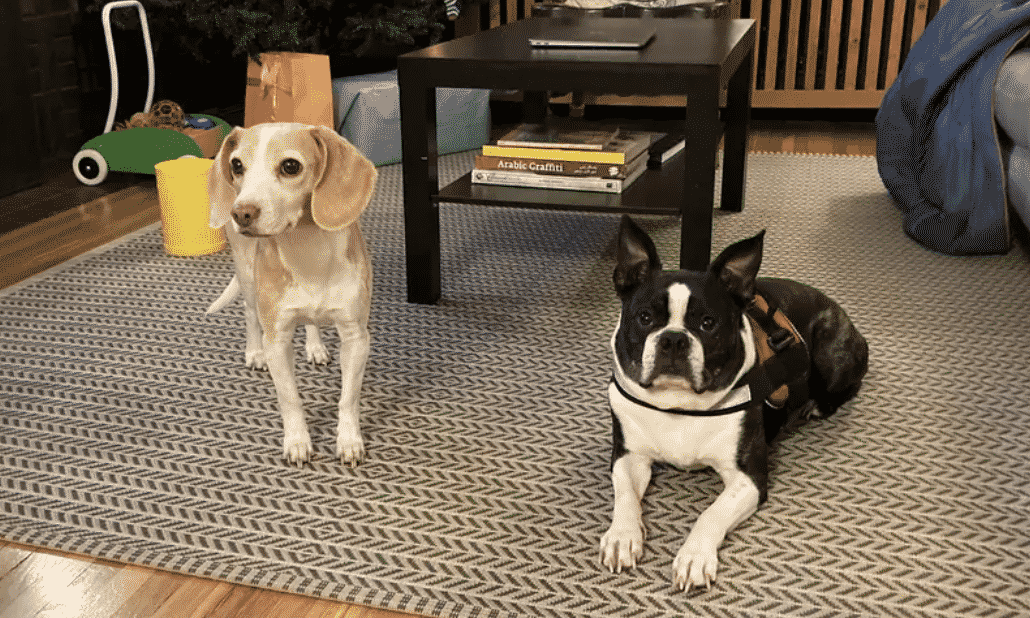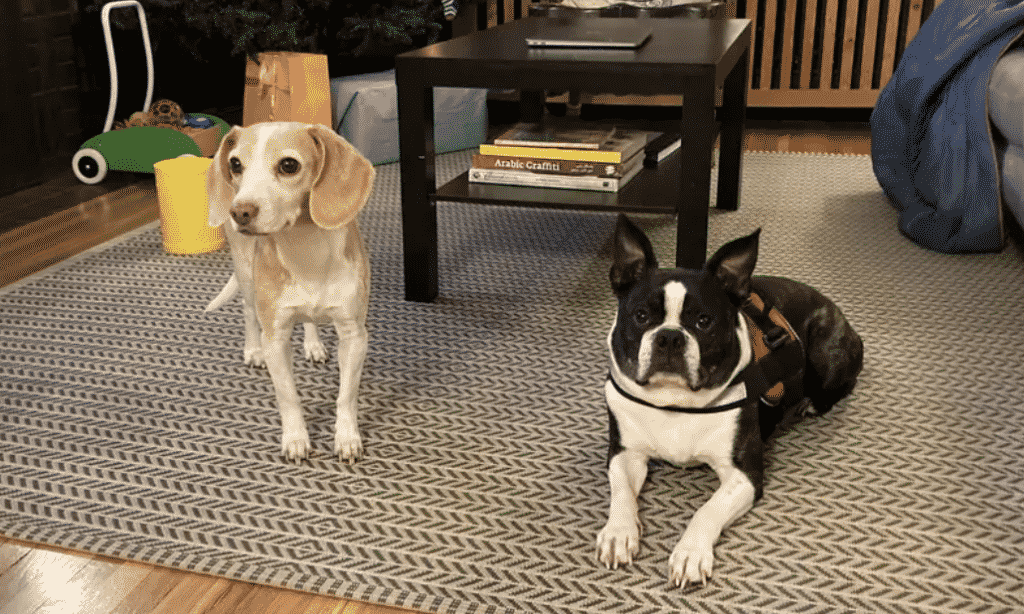 Dog sitting is a side hustle that works out very well during the holidays. If you aren't traveling anywhere, then adding a dog into your household is a nice way to brighten up your holidays. I sometimes travel during the holidays, but with the pandemic still raging, our family has been staying home. This gave us the opportunity to make some extra income without a ton of work.
Rover isn't exactly passive income. But out of all my gig economy side hustles, it's probably the closest one you can get to passive. This is especially the case if you already own a dog and don't have to change up your routine at all. I already have to take care of my dog, so watching a second dog isn't any additional work. 
Postmates/DoorDash/Uber Eats/Grubhub Income: $990.04
Deliveries were surprisingly lucrative in January despite the fact that we're deep in the throes of winter. Usually, my delivery earnings decline during the winter months since I do all of my deliveries on my bike. However, we had an unusually warm January, so I was able to get out and keep doing deliveries for most of the month. I do my deliveries in a college neighborhood, so it also helped that most of the college kids are now back for the semester.
Here's the breakdown of my food delivery earnings with each delivery app in January:
As usual, DoorDash was my highest earning delivery platform, primarily because it's the busiest one in my area and tends to pay a solid amount per delivery. Postmates is the one I do the least because of the terrible pay and low demand in my area. The other two delivery apps remained steady. I had a short period where I couldn't log into Grubhub because I needed to update my driver's license information, but that was addressed quickly once I got my info uploaded.
I ended up working between 4 and 8 hours per week. With the exception of one week where I averaged $31 per hour, the remaining weeks I was able to average $40 or more per hour (my highest hourly earnings in January were an excellent $47 per hour).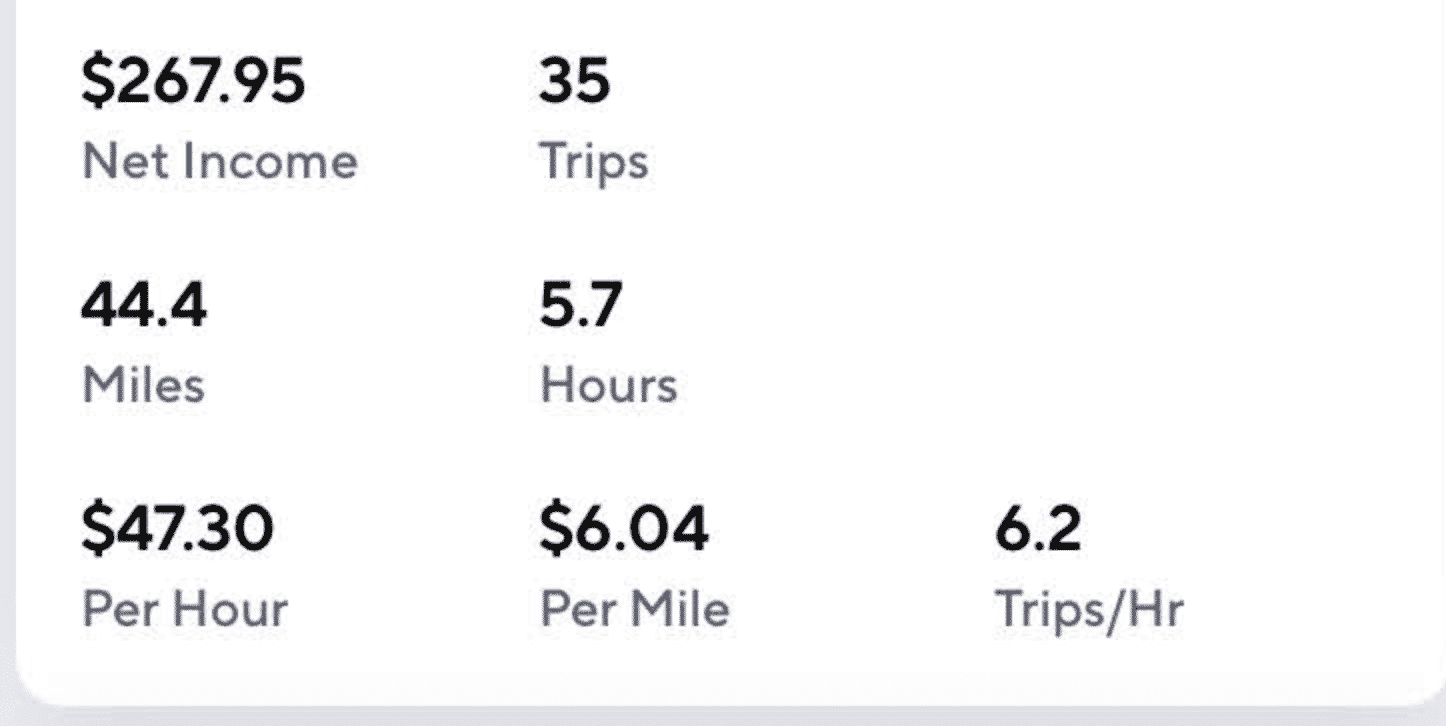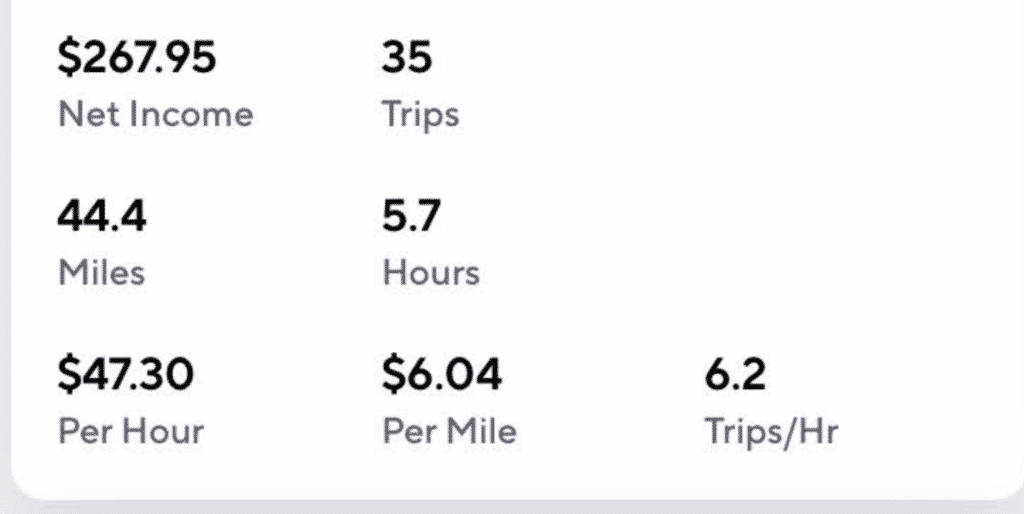 As always, I was able to earn this much by working during prime hours and running multiple delivery apps at the same time. I tracked my earnings using Gridwise, which is a free app that gives me an accurate picture of how much I'm working and what I'm making. 
February is likely to be a low earning delivery month since air temperatures have dramatically dropped into the single digits. As tough as I am, it's just not that fun doing deliveries when it's extremely cold like that. 
If you want to deliver for any of these apps, feel free to sign up using the links below.
Shipt/Instacart Income: $0
I didn't do any Shipt or Instacart deliveries in January. I know some people can make good money with these two grocery apps, but I haven't figured them out and if I'm delivering anything, I prefer delivering food with the food delivery apps, rather than having to both shop for deliveries and deliver them. These apps simply don't fit well with my lifestyle, so I really only do them if there's nothing else going on or I'm looking to switch things up.
If you're interested, you can sign up to be a Shipt shopper with this link. And you can sign up to be an Instacart shopper using this link. 
Trash/Flipping Income: $58.29
My flipping income this month all came from stuff that I sold on eBay. One interesting sale was a Kodak slide projector that my wife found in her office while she was clearing out an old closet. We had no idea if this thing still worked, but I saw that there was some demand for it on eBay. I ended up listing it as-is for $35 and to my surprise, someone bought it fairly quickly. It was super heavy, so it cost over $30 to ship, which the buyer also paid for. 
Why someone would want to spend almost $70 for a possibly broken old slide projector is beyond me, but it's a good reminder that a lot of the stuff we have that seems like junk might have value to the right person. Before the internet, it wasn't easy to find these people. Now though, we can find a lot of people in the world that want the stuff we have.
If you have stuff that you need to get rid of, take the time to see if someone might buy it. You might be surprised.
ProductTube Income: $25 
After two really high earning months, ProductTube came back down to earth in January. I have a pretty good system in place now where if I get a ProductTube gig that I can complete at Target, I can drop off my son at daycare and then walk over to the Target on my way home and make a few bucks. It doesn't take much time and allows me to make some income in the morning hours when I can't do much else to do.
Gigwalk/EasyShift/Field Agent/Merchandiser/Observa/IVueIt Income: $7
In January, I made $7 from Field Agent. Most of the Field Agent gigs I did were follow up assignments where I was paid $1 to answer a question on my phone. I also made $3 from a beer purchase gig where I was reimbursed for buying a 12 pack of beer at a liquor store and answering a few survey questions. I always like to grab the reimbursement gigs if they're convenient since it's an easy way for me to get some free stuff – and free beer is always a plus.
Google Opinion Rewards/Surveys On The Go/1Q Income: $3
I didn't make much from my short survey apps in January. This is fairly typical, as it seems like these apps are pretty quiet at the beginning of the year as compared to later in the year. Here's the breakdown of my earnings:
Surveys On The Go ended up at $0 because I didn't hit the $10 mark to cash out my earnings. I think I should be able to hit the $10 mark in this coming month, so this number should be higher in February.
Secret Shopping Income: $52 
My secret shopping income was pretty solid this past month. As usual, my earnings came from Marketforce and were primarily fast-casual restaurant shops. I like these shops because they allow me to earn some extra money and get free food as well. 
Another interesting shop I picked up was a car wash secret shop. Not only did this secret shop allow me to get a free car wash, but the shop also happened to pay $15 because it was a last-minute shop. That's a good deal.
For more information about secret shopping, check out my post: Restaurant Secret Shopper Jobs: A Strategy To Eat For Free And Hack Your Food Expenses. 
PrestoShopper Income: $10
Presto Shopper was quieter this month. I did one Covid safety check assignment at a retail store near my house. In most months, I tend to do more of these shops, but they were all snagged sooner than usual it seems. This one shop took me a few minutes to complete, so it was well worth my time.
ProductLab Income: $11 
I made $11 from ProductLab in January. ProductLab recently changed up its app so that you have to earn $10 before you can cash out. I tend to make $3 per week submitting screenshots of my DoorDash earnings, so I should earn approximately $12 per month from this app. It's fairly passive income, so if you are using DoorDash, it's worth adding ProductLab into your side hustle toolkit to make a few extra bucks.
ReceiptPal/Receipt Hog/Fetch/Coinout Income: $100
In January, I cashed out $100 via Fetch, which is one of the four primary receipt apps that I use. These receipt apps work by paying you small amounts for pictures of your receipts. I started using these apps back in 2015 and have been slowly earning about $100 per year for snapping photos of the receipts I get before I toss them. It's not a lot of money and you definitely won't get rich from these types of apps, but they're fairly passive as well. It only takes a few seconds to snap photos of my receipt before I toss them.
User Interviews/L&E Research/Respondent.io/QualNow Income: $10 
I made $10 from answering a QualNow survey that I received in my email. I'm not actually sure why I received this survey, but I won't complain when I get them because of how quick they are to complete.
And that concludes the January 2021 Side Hustle Report!
January was a solid month despite the fact that it's typically one of my lower-earning side hustle months. It always feels good to start off the year on a good foot. I suspect that February is going to be a lower-earning month. 
There's money to be made out there if you're willing to try things out. My advice is to figure out what works for you. I've been side hustling for over half-a-decade now, so I've gotten to a point where I have a good system in place to make side hustling work with my day-to-day life.
If you're interested in seeing what I did in prior months, be sure to check out my past side hustle reports. My past posts should hopefully give you some more ideas if you're looking for more ways to generate extra income. Be sure to also check out my Ultimate List of Gig Economy Apps, where I keep track of all of the gig economy apps that I know about.