It's been a busy month of work, meetings, and other stuff like that, but I still always have time to get some good side hustling in. Today's post shares what I made in June 2018.
If you're a new reader, each month, I share exactly what I earned from side hustling using sharing economy and gig economy apps. I share these reports for two reasons: 
To show you exactly what someone can make doing these side hustles while also working a full-time job; and
To inspire you and give you ideas so that you can do the same thing if you want to.
There are a lot of ways to make extra money out there. If you're smart, you can copy my style and try to do things that fit in well with your schedule. It's an idea I call monetizing your life, and almost anyone can do it! Just take the things you're already doing, and try to get paid for doing it. And, it can be fun too!
With that said, here's a look at my side hustle income in June.
Side Hustle Income for June 2018
Total Side Hustle Income for June 2018 = $2,168.18
As you can probably tell, June was a big side hustle month thanks to Airbnb – it made up 78% of my side hustle income for the month. The other 22% of my side hustle income came from all of the random stuff I do on the side, with the bulk of it coming from my three main side gigs: my dog sitting business through Rover, my dog walking business through Wag, and the bike deliveries I like to do on Postmates, DoorDash, and Uber Eats. 
I'd normally have done more during the month, but I got busy during the month with traveling and just doing other things. 
Anyway, below is a breakdown of my earnings for the month in each category:
Airbnb Income = $1,695.22
Airbnb was huge this month because along with renting out the guest room (as we normally do), we were also able to rent out our entire house for a weekend. Altogether, we ended up with 15 nights booked in June, with three of those nights being a full-house booking.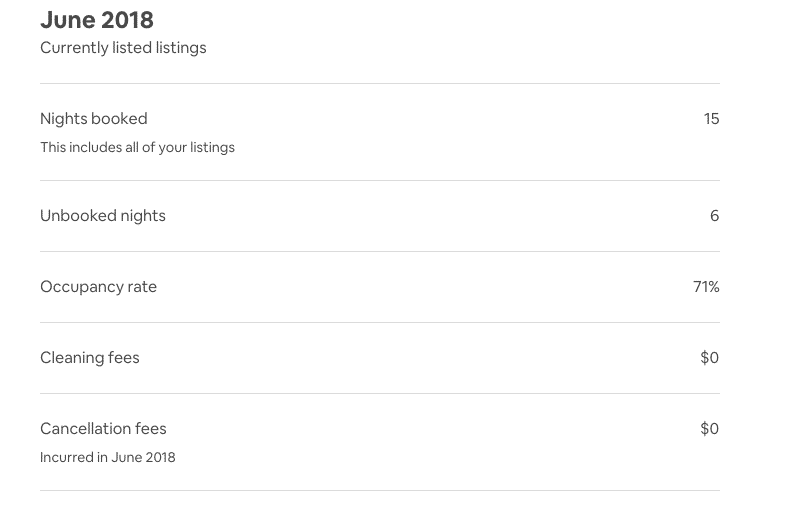 Going with the full-house listing is something that I've been experimenting with this year and I definitely see a lot of potential in doing this, as the rate of return on a whole house rental is huge. Regular readers may recall that my wife and I rented out our entire house for the Super Bowl back in February, which netted us an astounding $2,500 for two nights – enough to easily cover 2 months of our mortgage, insurance, and taxes. Obviously, that was a special event, so we can't expect that type of rate normally.
At the moment, I've set my whole house rental rate to somewhere in the $250 to $350 range and have made it so that only weekends are available. My idea here is that if someone books our place for a weekend, we just move out of our house for that time. We can make somewhere between $500 to $950 for a weekend, so that seems well worth it to me, especially since we can use the weekend to travel, go camping, or just stay at a family member's house. It's one way to basically fund our travels (see Montana Money Adventures for an example of someone using their home to fund their traveling).
Our June whole-house booking was for three nights and brought in a solid $938. To date, we've rented out our entire house twice, and both times, our guests were families with young kids. Since we're renting out the house that we live in, we're pretty particular about who stays there, and so, we've set up a few basic ground rules based on our experience so far: 
For the time being, we're only renting to families. The idea here is that families are much less likely to party and destroy our house. My experience with Airbnb has shown me that most people are good people, but still, better to be safe than sorry.
We're only renting to people who have good reviews already. I know everyone has to start somewhere, but it just seems easier this way to avoid any potential headaches.
The nice thing for me is that I don't need the money from Airbnb, so I have the freedom to be particular about who I let into my house. If you need the money, you might not have the luxury to do that. You can think of it as a sort of side hustle form of financial independence if that makes sense at all. 
Other than renting out our entire house, the rest of the month was fairly typical – guests in town for various school-related things. Nothing too exciting on that front other than the fact that our guest room continues to create significant income for us. 
If you're thinking about hosting on Airbnb and want to support this site, feel free to sign up to be a host using my referral link. I do think that Airbnb hosting is something that everyone should try out at least once, just to see if it makes sense for their life. 
Rover Income = $127.50
It's now been three years since I first started dog sitting with Rover, and at this point, I've got a nice, steady stream of repeat Rover clients. It's become a very easy side hustle for me now, and one that I think can do basically forever, regardless of where I am in my life. (in contrast, things like Airbnb and doing deliveries will probably go by the wayside when things like kids or other life things start happening)
In terms of specifics, we watched two dogs in June for three days each. Both were repeat pups that we've enjoyed watching in the past. 
Below is a picture of the older pup that we watched in early June. He's a little bigger than the pups we usually watch, but he's super calm and fits in very well with our lifestyle.
The other pup we watched in June is one of our favorite pups – a small toy poodle that is just awesome. We've watched him multiple times a year over the past two years.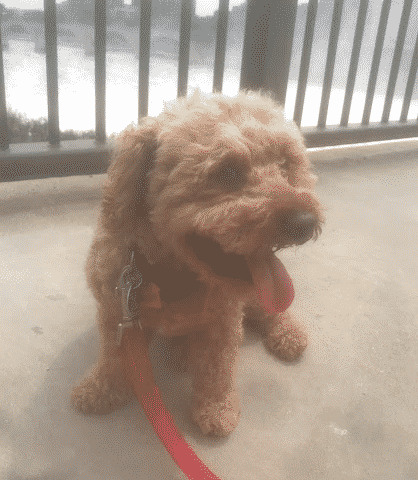 Remember, my key with Rover is that I already own a dog, so taking care of a second dog doesn't really add much additional work to my plate. While most dogs cost their owners money, in a way, my dog makes me money (I probably wouldn't be doing Rover if I didn't already own a dog). 
If you already have a dog, I think Rover is an easy side hustle to add to your life. I do think Rover is getting more and more saturated with sitters, but once you get established and have a good base of repeat clients, things really get easier. If you feel like supporting this site, sign up to be a Rover sitter here.
Postmates/DoorDash/Uber Eats Income = $105.49
Delivery earnings were down this month, primarily due to me just not going out and doing deliveries as much. Still, that's over $100 that I got paid to get outside and bike – some people pay that much each month just to go to cycling classes in a gym!
Here's a breakdown of my earnings for the month by platform: 
Postmates: $34.52
DoorDash: $44.04
Uber Eats: $26.93
In previous months, I'd done deliveries for an app called Clustertruck, but that app doesn't really work for my lifestyle since they basically kick you off the platform if you're not active every week (I sometimes go weeks without doing a delivery, so I can't really use an app like that). 
Amazon Flex is another app that I wish I could do, but they don't technically let you use a bike to do food deliveries, and as a result, most of the deliveries are basically unbikeable (i.e., the deliveries are way too far to do by bike). 
Bike deliveries are still my favorite side hustle, and I'm planning to write some more interesting content around these things (I've had tons of ideas swimming in my head, but just haven't been able to get the time to sit down and write about them). 
Make sure to check out these delivery apps and see if they have any good referral bonuses (if you click on my link, they should tell you what bonuses they are offering). They're constantly changing, but you can make some legit money if you take advantage of the referral bonuses (see my post here about how my wife and I made $50 an hour doing deliveries thanks to referral bonuses).
Wag Income: $117.60
Wag worked out well again this month. I'm still regularly going around doing Wag walks during my lunch hour, which is great because I'm basically getting paid to walk around during lunch. It keeps me a little healthier too, since instead of eating junk during the lunch hour, I'm out walking and getting exercise. 
My regular dog walking client is this guy here: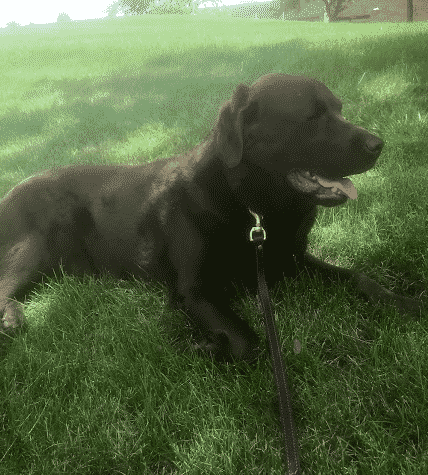 He's big and lazy, so we don't get to walk very far (he has a tendency to just plop down when he gets tired in the middle of the walk, and then I have to lure him along with treats). 
I'm still hoping to add some more clients to my roster just to keep things steady, but things seem to be working out well, especially since Wag keeps expanding and getting more well known here.
If you're looking for more info about Wag, be sure to read my in-depth post about my experience as a Wag walker. 
Trash Income = $26.01 
In June, I sold three trash finds. These included a small filing cabinet, a pretty nice TV stand we found at my mother-in-law's apartment, and a fold-up storage box thing we found from Ikea. 
The Ikea thing is the one worth talking about. A store down the street from my house was tossing out some stuff, and I happened to walk by and see that they were getting rid of a bunch of unopened Ikea fold up storage things. I managed to get my hands on one of them (another guy grabbed the rest of them).
Since the storage box thing was unopened, my wife had the brilliant idea of bringing this thing to Ikea and seeing if we could return it. We ended up getting $6.01 back in store credit! Ikea apparently limits you to three returns without a receipt per year, so if we get lucky, we can maybe return some other trash finds if we ever find anything in really good condition.
Admittedly, my trash game has been really weak this year – I just haven't been enthusiastic about looking for trash to sell (and the trash I have already is just sitting in my garage waiting for me to list it up). But it's nice I got some trash sold. 
Job Spotter Income = $12.40
Job Spotter continues to be a really easy app that I think everyone should have on their phone. You snap a picture of a hiring sign using the app, and then you get paid somewhere between 5 cents and $1 for the picture. It literally takes me 5 seconds to snap a picture of a hiring sign, so the return on your time is well worth it. I make a consistent $10 to $20 each month, which adds up over the course of the year.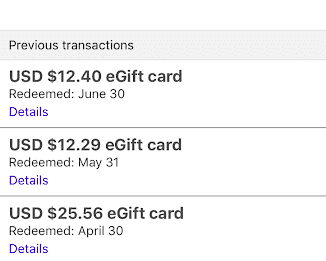 One reader told me that she uses Job Spotter for her Christmas gift money, which I think is a great use of this app. They pay you in Amazon gift cards, but since most of us buy stuff on Amazon anyway, it's basically the same as cash. If you just let this app add up over the course of the year (and if you're consistently taking pictures of hiring signs as you see them – and trust me, they are there!), you'll have plenty of money to cover at least part of your Christmas shopping. 
Read my in-depth review on Job Spotter if you're looking for more info about how Job Spotter works. 
Gigwalk/EasyShift/Field Agent/Observa/Merchandiser Income = $40.90
These group of apps are the "picture" apps I do. You basically go into stores and secretly take pictures of things for audit purposes. 
They also have secret shop gigs every once in a while, which can be lucrative. This month, I managed to snag a few Field Agent secret shop gigs at breweries near my house, and for some reason, they paid a bunch. I've never seen these brewery gigs before on the app, but it was nice to snag myself a free beer and get paid for it too. 
I also earned a quick 4 bucks from EasyShift doing an audit of a baby food aisle. It basically just involved going into a Target and taking pictures of the baby food aisle. 
I don't have referral links for all of these apps, but I do have one for Merchandiser, so feel free to sign up with that app if it makes sense for you and you want to support the site. 
ISecretShop Income = $40 
This app sort of sucks, but I've been testing it out for journalism purposes. The main benefit of secret shop apps is that you can use them to basically go out for free – although you have to do work too, so it's not exactly free. 
In this case, I got paid $40 to do a secret shop at a bar downtown. My food and drinks cost me about $40, so it was essentially like I got a free meal. 
One annoying thing about these secret shop apps is that they take a long time to pay you. I did this secret shop back in April and got paid for it in June. The terms say they pay net 60 days, so I know to expect this, but it's still annoying. 
I've been trying out this other app called Market Force and this one seems like a potential winner. I'll talk about it more in next month's side hustle report, as I just started doing it this month.
Google Opinion Rewards/Dabbl/IQ Income: $3.06
These short survey apps continue to stay on my phone and are the only survey apps I'm willing to do. They don't pay a lot, but they take so little time – 10 seconds or less to complete a survey – that I think the return is worth the effort. 
Google Opinion Rewards continues to be the best one. I think most people can make $2 a month for about 1 or 2 minutes of time per month. 
Dabble and IQ are both less reliable, but again, they take so little time that it's worth keeping them on your phone.
I recommend downloading all three of these apps and just leaving them on your phone. Google Opinion Rewards and Dabbl both don't have referral links, but 1Q has a referral link and I think I get 25 cents if you use my link. 
And that concludes the June 2018 Side Hustle Report! 
June was a pretty good side hustle month, obviously thanks to the huge returns I got from Airbnb. I think the important takeaway here is just how anyone can go out there and make money immediately and without a ton of risk. I do all of this on the side, and honestly, it's a lot of comfort knowing that if I needed to, I could probably keep myself afloat with all of this side stuff I do. 
If you're interested in learning more about how I earn money on the side, be sure to also check out my side hustle report page, where I have links to every side hustle report I've written since 2016.
I hope everyone else had a great June! Hit me up if you have any questions!