I know I'm super late getting this side hustle report out – but hey, better late than never. For those of you new to Financial Panther, each month, I document exactly what I earned in the previous month from side hustling using sharing economy and gig economy apps. In today's side hustle report, I'll be looking at what I earned side hustling in February 2018 (yeah, I know, really late considering the fact that we're almost into April now). 
I share these reports, not only because some people find them entertaining, but also because I think they demonstrate something very important. If you want to earn extra income on the side, you can do it. In today's world, I think everyone should be able to make at least a few hundred bucks a month doing something. And if you don't think you can, then you really aren't trying hard enough.
These side hustles might seem stupid to some people, and depending on how you live your life, they might very well be. For me, these side hustles are all part of my strategy of monetizing my life – essentially, getting paid to do the things I'm already doing. The point of these reports is to give you some ideas for your own life. These side hustles work for me, and hopefully, they can work for you too.
Remember, an extra $500 or $1,000 in a month might not seem like much. But consider how valuable that income really is – to generate the same amount passively, you need to have a portfolio of somewhere between $150,000 and $300,000. Or, you can generate the same amount just by figuring out ways to monetize your life.
Without further ado, here's a breakdown of what I made in February from sharing economy and gig economy apps:
Side Hustle Income for February 2018
Total Side Hustle Income for February 2018 = $3,555.79 
I guess the first reaction is, wow! I've had big side hustle months in the past, but without a doubt, this was my biggest side hustle month yet. Remember, this is all money I earned on the side while working a full-time job, so if I can do this, you can do it too.
Here's a chart I put together showing what my side hustle earnings have looked like over the past 12 months or so.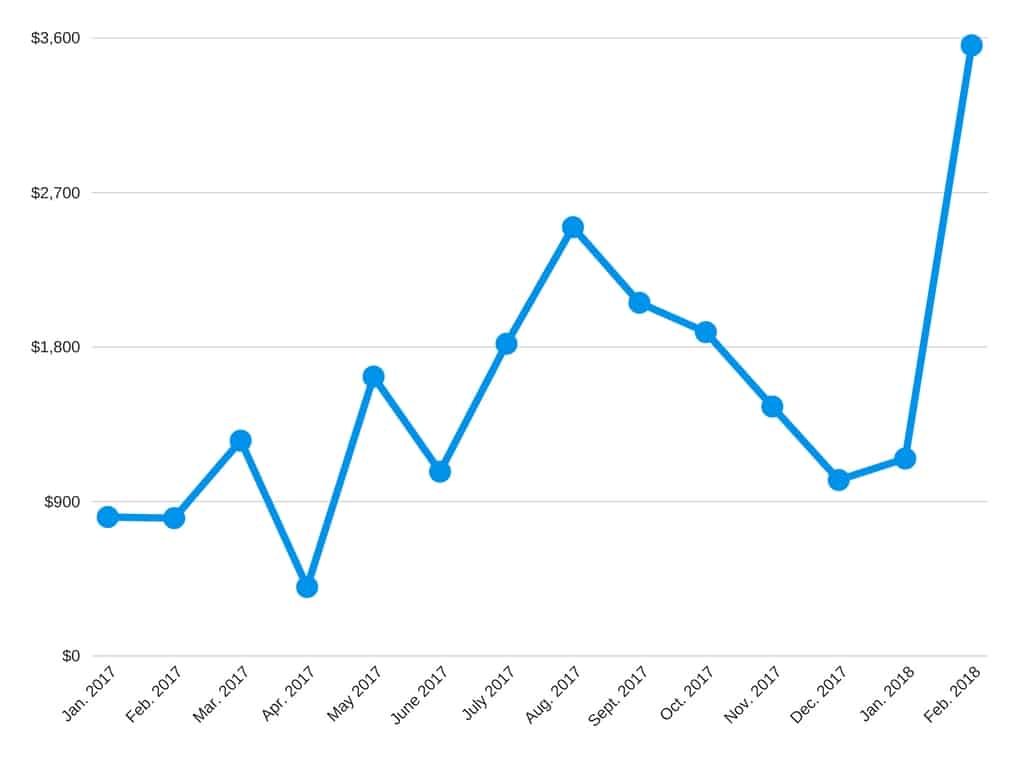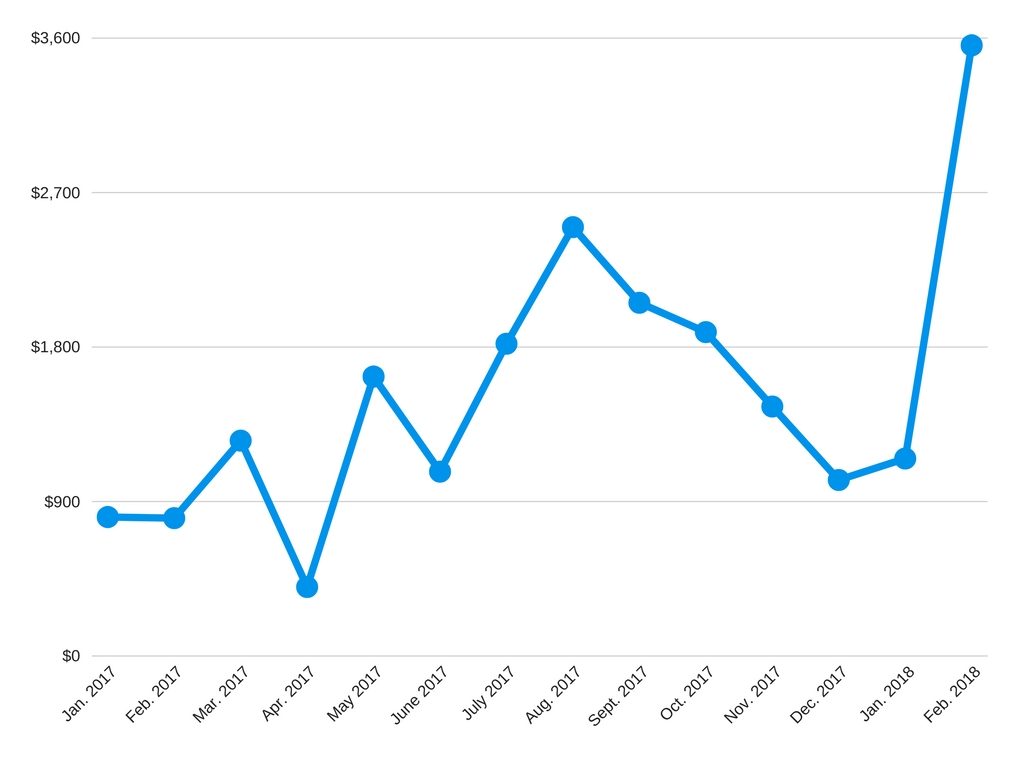 Admittedly, there were some unique circumstances in February that led to these type of earnings. Airbnb, in particular, was huge. But, even if we exclude all of the Airbnb income, I still pulled in close to $600 just doing random stuff on the side. Not bad at all.
Let's break down these earnings a little bit more: 
Airbnb Income: $2,975.96
As you can probably tell, my Airbnb income was off the charts for February! My previous highest earning Airbnb month was somewhere around $1,200, so this more than doubled that amount. What happened, you might ask?
February was a unique month because Minneapolis was host to Super Bowl 52 between the Patriots and the Eagles. As you can imagine, a big event like this creates a lot of opportunities to generate income from your house. Knowing this, my wife and I made the decision to list up our entire house on Airbnb to see what would happen – our plan was that if we snagged a guest, we'd move out for the weekend (and probably take a trip somewhere warm), and if we couldn't find a guest, we'd just rent out our guestroom as usual.
A few weeks before the Super Bowl, we got a request to rent our house for two nights to a family of four from Boston – an attorney, his wife, their babysitter, and their 2-year old kid. This worked out perfectly for us. Obviously, one of the big fears of having people stay in your house is getting your house trashed by partiers. But, since this was a family staying at our house, we basically didn't have to worry about that at all. We came home to our house in the exact same condition that we left it in.
It was a profitable stay, to say the least – about $2,500 of income for just two nights of hosting. And all we had to do was take some time to deep clean our house for our guests. Definitely well worth it.
Instead of sticking around for Super Bowl weekend, my wife and I decided to use our Southwest Companion Pass and flew to Arizona for free. While it was close to 0 degrees in Minnesota, we were basking in 80-degree weather while hiking out in Saguaro National Park (about 2 hours south of Phoenix). It was nice to get outside and enjoy some sun in February – it's been a long winter, so that was a good little respite.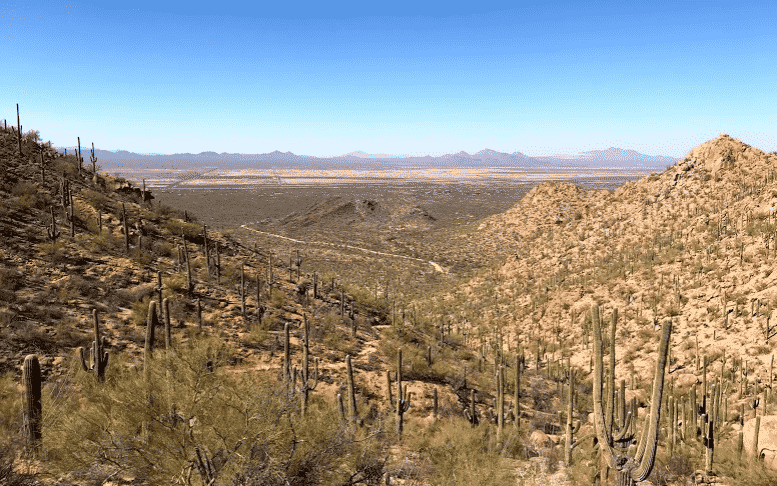 There's a lot you can take away from our own experience. No matter where you live, there are probably events that come up that will draw guests into your area. Even if you aren't interested in being a full-time Airbnb host, you can still use your home to take advantage of these special events. In fact, the IRS even seems to encourage you to use your house like this – under the "Master's Rule," you can rent your house out for 14 days or less per year and keep all of that income, completely tax-free. There are pretty much no other ways to earn completely tax-free income out there.
Of course, it's also important to keep expectations realistic. Everyone has the same idea (especially when it's a really big event like the Super Bowl). The supply of Airbnb listings in my neighborhood skyrocketed during this span, which I think led to a lot of disappointed hosts. The reason I was able to get my house rented out was probably a combination of luck and the fact that I'm an Airbnb Superhost and have been hosting for 2 years.
The rest of the month was fairly typical for February in Minnesota. We made about $500 from guests staying in our spare room. And as usual, all of our guests were in town for school-related things. 
Rover Income: $318.75
The Rover income continues to be solid. In February, we watched two dogs for about a week each – one was a repeat guest pup and the other was a new pup that we'd never watched before.
Our repeat guest was a dog that we'd watched about a year ago, and it worked out perfectly again. I've said it before, but when you're setting up your dog sitting business, your goal is to get a good base of repeat dogs. Once you've watched a dog once, you know exactly what to expect and it makes things so much easier.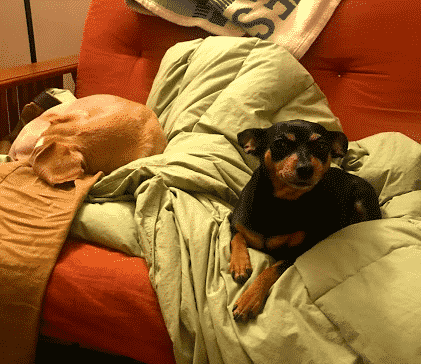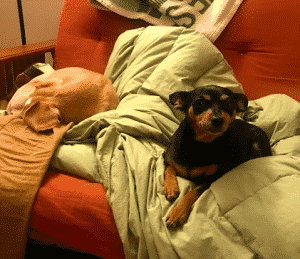 Our other pup for the month was a new pup that we probably won't watch again. He was a small Pomeranian, and not a bad dog per se, but he kept peeing inside our house when we weren't looking. We're used to accidents happening and it's not a deal breaker by any means (even Financial Pup, at seven years old, still does that once in a while – just one of the joys of dog ownership), but it was just a bit too much of a pain for us because he kept doing it when we weren't watching him.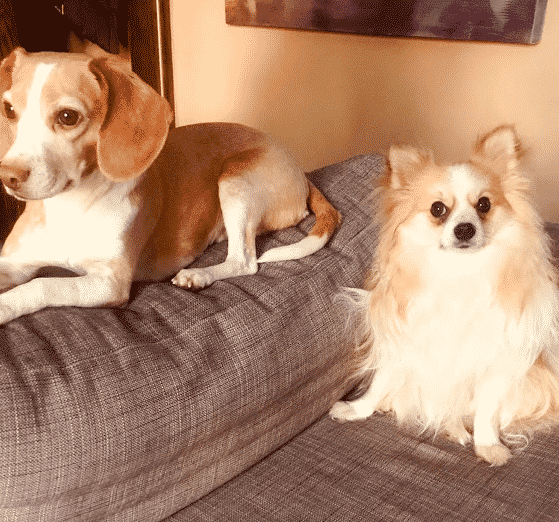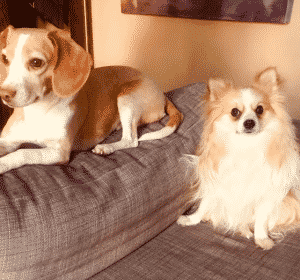 Anyway, that's one of the downsides of Rover – you never quite know how a dog will act until they're actually in your house. In my experience, most are great dogs. But every once in a while, you'll get some duds too. 
Postmates/DoorDash/Uber Eats Income: $86.13
It was a fairly typical delivery month for me, considering it's still the winter here and I'm not out biking as much. My delivery earnings broke down like this:
I've been doing a lot more DoorDash lately mainly because they're the only delivery app in my market that tells you where the delivery is going before you accept the order. I do a lot of my deliveries on my way home from work now, and when it's cold, I don't want to spend a ton of time biking out of my way to make a delivery. Hence, why I stick to DoorDash when I want to do some biking, but don't want to risk going out of my way. 
The only other interesting thing on the delivery front is that, while I was in Arizona, I did two Postmates deliveries. Postmates is unique in the delivery app world because they let you do deliveries in any city that they operate in. I've got a sort of grand plan to do at least one delivery in every single Postmates city. While I was out in Arizona, I managed to snag an order in Phoenix and in Tucson and did a delivery in each city.
Trash Income: $0
I was too lazy and didn't sell any trash in February. I still have a decent stash of trash stored in our garage, so I just need to pick it up in the coming months. 
Wag Income: $84
Wag continues to bring in a steady $100 or so per month. The nice thing is that, due to my work location, I'm able to earn almost all of my Wag income during my lunch break. This is a great way to monetize your lunch hour you if work anywhere that has residential buildings nearby. Instead of spending 10 bucks on lunch, I'm usually able to make about 15 to 20 bucks during lunch. It's not a ton of money, but it adds up over time. 
One dog that I've really enjoyed walking is this guy: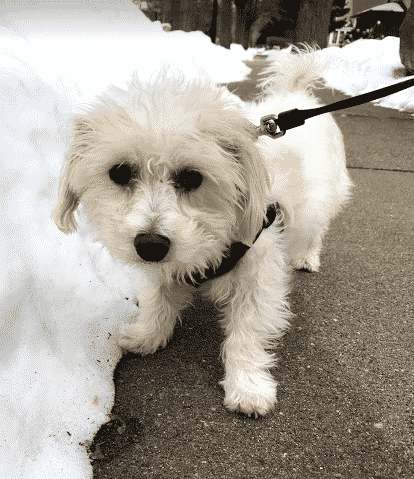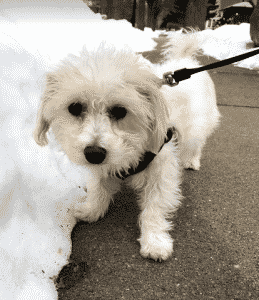 It seems like Wag might be picking up a little bit more due to some aggressive marketing from them, so hopefully, this leads to more regular walks during my lunch hour. One of my regular dog walking clients seems to have moved away, but I'm starting to pick up walks from some new clients. For more info about how Wag works, make sure to check out my post about my experience as a Wag Walker.
Amazon Flex Income: $76.50
Maybe a year ago, I signed up for Amazon Flex but never heard anything back from them. For whatever reason, in February, I received a random email that said I was now signed up and could go and grab some gigs.
As a bit of background, Amazon Flex is basically Amazon's delivery service. From what I can tell, there are three types of Amazon Flex gigs:
Delivering stuff from their main warehouse (this seems to be more delivering packages that people order from Amazon).
Delivering stuff for Amazon Prime Now (this is delivering things like groceries and similar stuff that people order and want delivered within 2 hours using their Amazon Prime Now service).
Food deliveries (Amazon has their own food delivery service, so this is the same as delivering food on Postmates, DoorDash, and Uber Eats). 
The main problem with Amazon Flex (for me, at least) is that they require you to use your car to do deliveries. I don't like driving, and if I'm driving around delivering stuff, it sort of defeats the purpose of why I'm doing deliveries in the first place. My whole point of doing deliveries is because its a way for me to monetize my life – essentially getting paid to bike and exercise.
Still, in the interest of journalism, I decided to give Amazon Flex a shot so that I could report back to you all about what it's like. The Amazon warehouse deliveries were way too far away for me to do that. That would have required a 30-minute drive just to get to the warehouse – so a total waste of time for me.
Interestingly though, the Amazon Prime Now deliveries are located in an old warehouse building less than a mile from my house (I literally could walk there, if I wanted to). I signed up for a 1-hour shift, went over to the building, and checked myself in on the Amazon Flex app. The warehouse building basically has a bunch of Amazon workers loading orders, which drivers then grab and deliver.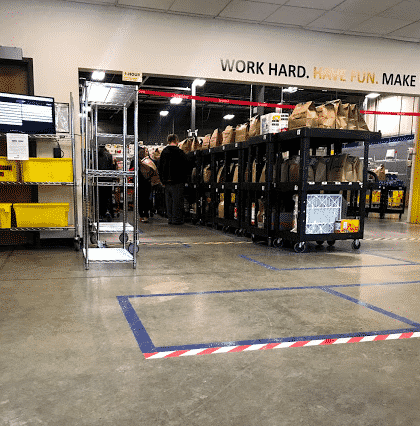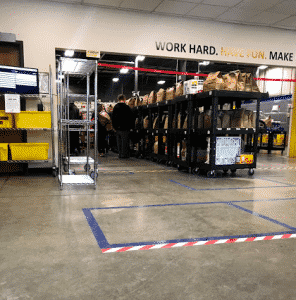 I didn't have any orders and never received an order to deliver for the entire hour that I sat there. Honestly, I have no idea if I was supposed to do something else, but I did get paid $18 just to sit there. I don't think I'll try it again, but I might so that I can at least share what it's like delivering stuff for Amazon.
The better deliveries were the Amazon food deliveries. These were the same as doing deliveries on Postmates and other food delivery apps. I had one food delivery where I earned an astounding $27 for a delivery that took me less than 30 minutes to complete. Even the other deliveries I did, which took 15-30 minutes each to complete, paid at least $10 to 15. I'm not exactly sure why they pay so much, but it's definitely interesting and seems like it can be extremely profitable.
I'll keep Amazon Flex in my side hustle arsenal for now. Really, the only issue is that you have to drive to complete your deliveries, and that's not something I want to do.
JobSpotter Income: $12.17
Another easy month from JobSpotter. Everyone should have this app on their phone. The time it takes to snap a picture of a hiring sign is minimal – 30 seconds at most. Read my in-depth review of Job Spotter for more info. 
Google Opinion Rewards: $2.28
I don't do survey apps usually since I find them boring and they take way too much time for the return, but these Google Opinion Rewards surveys, while not high paying, only take about 30 seconds or so to complete. You don't get a ton of surveys to do, so you're not going to get rich from these, but 2 bucks a month or something for essentially a few minutes of your spare time is worth it to me. 
I recently downloaded another similar app called Dabbl, which works similarly to Google Opinion Rewards (basically surveys that you do on your phone that take 30 seconds or less to complete). If anyone knows other similar apps like these, let me know. There seem to be more of these type of apps then I can keep up with.
And that concludes the February 2018 Side Hustle Report!
Another big month is in the books. March will be a lower earning month, but still a solid earning month I think. For a lot of people, figuring out ways to save extra money is hard – you might just not be able to squeeze any extra income out of your budget. But anyone can make extra money. And you can do it pretty easily if you're willing to hustle.
If you have any questions for me about these side hustle reports, feel free to leave a comment down below. 
Be sure to also check out my side hustle report page if you're interested in seeing what I've made in other months. You can also check out my most recent side hustle reports below if you're looking for quick access to other side hustle reports.
I think in the future, I might start creating a list of all of the side hustles that I've done since not all of the side hustles I do are done on a monthly basis. In the meantime, make sure to check the other side hustle reports to get an idea of other side hustles you may have missed.
January 2018 Side Hustle Report – $1,147.67
December 2017 Side Hustle Report – $1,022.53
November 2017 Side Hustle Report -$1,450.57 
October 2017 Side Hustle Report – $1,884.13